Sailboat Blog
The Sailboat Blog keeps you in touch with the additions and changes made to sailboat-cruising.com website.
Whenever a new article gets uploaded, you'll be the first (after me!) to know about it.
To subscribe to my Sailboat blog (no e-mail address necessary), RIGHT-click on the orange RSS button and then copy-and-paste the URL of this site's RSS feed into your RSS reader. OR...
Or click on the Google, My Yahoo!, My MSN, or Bloglines button if you keep a personalized home page there. Follow their instructions.
Apr 17, 2017
Is The Cutter Rig Sailboat the Best Choice for Offshore Cruising?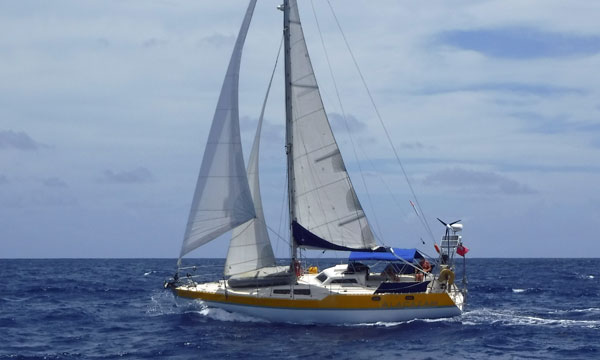 The cutter rig sailboat is many sailors' first choice of cruising boat, although it's not quite as efficient to windward as a sloop. But on any kind of reach it's the real deal - and here's why
Continue reading "Is The Cutter Rig Sailboat the Best Choice for Offshore Cruising?"
---
Apr 25, 17 08:00 AM

Want to avoid brokers fees? Then take a look at these selected cruising sailboats for sale privately by their owners.

Apr 24, 17 06:20 PM

'Hummingbird of Itchenor' is a 50 ft luxury catmaran built 1997 by Northshore Yachts in the UK.

Apr 24, 17 02:45 PM

Here's where people with sailing equipment for sale advertise their stuff entirely free of charge. If you're looking for used sailing gear or other used boating accessories, here's where to find it!
---
Didn't find what you're looking for?
           Use this search feature to find it... 
Custom Search