Are You a Sailboat Fanatic?
There's something about a sailboat. Size isn't it - large or small - they all have it. Nor do they have to be stunningly beautiful or hugely expensive.
It's not about what they are; it's more about what they can deliver.
Simple pleasure, high adventure or genuine white-knuckle challenge.
Perhaps just a day sail on the lake; or a trip along the coast; a voyage across an ocean maybe; or even a circumnavigation of the world.
And best of all, by utilising nature's free and sustainable energy resource - the wind. Pure freedom.
They are beguiling machines, sailing boats.
An Offshore Cruising Sailboat
Owning a cruising sail boat, particularly a sailboat designed for offshore and ocean sailing, can change your life.
With a few gallons of fuel, adequate food and water aboard she'll take you thousands of miles leaving a carbon footprint in her wake that would delight the most ardent environmentalist.
With such a sailing vessel you could go the whole nine yards, sell your shoreside assets, cast off the shorelines together with the tedium of life ashore and set off on bluewater cruising life of freedom and adventure.
A surprising number of families do just this. But let's not get ahead of ourselves...
---
The Cruiser/Racer Option
And a very popular option it is too. Perfect for 'around the cans' club racing and just the thing for the summer vacation family cruise to foreign ports.
You can expect good performance from these types of sail boats, and their skippers tend to be capable and competitive.
Owners of cruiser/racer sailboats tend to get a great deal out of their investment.
As if if to prove the point, a few weeks after this pic was taken (April 2012), Bandas (the boat illustrated here) went on to take three firsts in the cruiser class races at the Bequia Easter Regatta. Of course, if I'd entered Alacazam...
---
Or Perhaps a Weekender Sailboat?
Along with thousands of other family sailors, a small 'trailerable' sail boat that you can 'moor' in your driveway and tow astern of the family car may be the preferred option.
Just find a suitable slipway from which to launch and recover your pride and joy, and you can forget all about expensive marina berthing fees.
---
One Hull, Two Hulls, Three Hulls...
The one thing that alarms newcomers to sailing is the monohull's initial tendency to fall over.
OK, we all know that it quickly reaches equilibrium and heels no further when the righting moment comes into effect, but living on a slope is something we monohull sailors have to come to terms with.
There're no such problems for multihull sailors, although the peculiar lurching motion of high-volume catamarans in particular does take some getting used to.
On sailing a trimaran for the first time, you'll be acutely aware of two things; their blistering pace and their lack of space below. We felt no shame in being overtaken by the cruising trimaran shown here...
---
But Always the 'Right' Sailboat
OK, the little beauty shown here may not be your ideal choice of cruising sail boat, but you can be sure that someone loves her.
You can't really expect a small sailing boat designed for weekend sailing to take you across an ocean in any kind of safety or comfort.
Conversely you wouldn't want a large heavy displacement boat for occasional jaunts along the coast. You need the right kind of boat for the use you intend to put it to. Even so, all sail boats are a compromise - you can never have everything.
Sail boat manufacturers have of course recognised this, and have tried to cover all the bases with their various designs. Some succeed eminently, others - particularly those that try to meet high expectation at a low cost - somewhat less so.
As my grandfather used to say to me, "You can't make a silk purse out of a sow's ear". He knew nothing of sailing or boats, but he wasn't wrong...
---
A Sailing Fanatic?
Whether you're a paid-up, certifiable sailboat fanatic or just curious about those of us who are, you'll find something of interest by cruising around in this website. Who knows where you'll fetch up...
---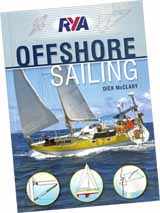 If you like what you read on these pages, you're sure to enjoy my book 'Offshore Sailing'.
Published by the RYA (Royal Yachting Association) and with a foreword by Mike Golding of Vendée Globe fame, it contains much of the information on this website and more besides.
So if you wish to get your hands on a copy, and have been unable to beg, borrow or steal it elsewhere, you might just have to...
---