Custom Search
The Different Types of Sailboats
If you're a sailboat fanatic like me, all types of sailboats will attract your attention. Some more so than others admittedly, but all will have something about them that catches your eye.
If you're not a fanatic (not yet, that is) but just an interested observer, then the first thing you'll notice about a sailboat will be how many masts it has and the configuration of its sails.
This observation alone will enable you to identify the five main types of sailboats — sloops, cutters, ketches, yawls and schooners.
"What about multihulls?" I hear you say. Yes, they can make great cruising boats too, but we'll get to them later...
Sloops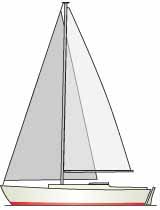 Sloops are single-masted sailboats.
If they have just two sails — a foresail and a headsail — then they're a Bermudan sloop, the purest type of sailboat.
That's unless they're cutter rigged like the one shown below...
read more about sloop rigged sailboats...
---
Cutters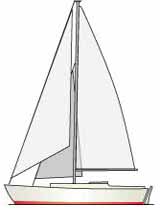 A cutter-rig sailboat has an additional sail (the staysail) set on its own stay between the foresail and the headsail.
A sloop rigged in this way would no longer be identified as a Bermudan sloop, but would be more accurately described as a cutter-rigged sloop.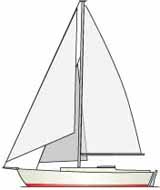 Some cutters (like the one shown here) have the foresail set forward on a bowsprit, with the inner forestay permanently rigged to the stemhead where the foresail otherwise would be, or to strongpoint further aft on the foredeck.
read more about cutter rigged sailboats...
---
Ketches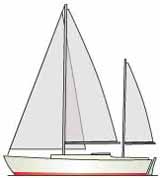 A ketch is a two-masted sailboat, a main mast forward and a shorter mizzen mast aft.
But not all two-masted sailboats are ketches — they might be yawls.
A ketch may also sport a staysail, with or without a bowsprit, in which case it would be known as a cutter-rigged ketch.
---
Cat Ketches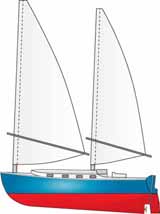 Cat-ketch sailboats are recognised by the lack of any standing rigging to support their pair of unstayed masts.
And yes, if the after mast is taller than the foremast then it's called a cat-schooner sailboat.
read more about ketch rigged rigged types of sailboats...
---
Yawls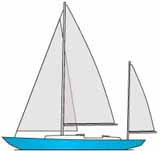 Yawls have their origins as old-time sail fishing boats, where the small mizzen sail was trimmed to keep the vessel steady when hauling the nets.
Much like a ketch, the difference being that the yawl has the mizzen mast positioned aft of the rudder post whereas the ketch has its mizzen mast ahead of the rudder post.
You'll not be surprised to learn that a yawl with a staysail is known as cutter-rigged yawl.
---
Schooners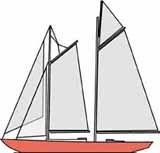 A schooner is a two-or-more masted sailboat, in which the aft-most mast - the mainmast - is the same height or taller than the foremast.
The one shown here is gaff cutter rigged, with a topsail set on the mainmast.

Many sailors agree that of all the different types of sailboats, a schooner under full sail is one of the most beautiful sights afloat.

---
Gaffers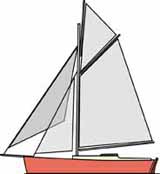 Gaffed-rigged sailboats, or 'gaffers', have their mainsail supported by a spar - the 'gaff' - which is hauled up mast by a separate halyard.
Often these types of sailboats are rigged with a topsail, as shown here and in the gaff schooner above, which really adds some grunt in light airs.
All this comes at a price of course, both in terms of material cost and weight aloft, which is why very few modern yachts are fitted with gaff rigs these days.

Artwork by Andrew Simpson
---
Return to: Sailboat Cruising (Home Page)
---