Navionics+ 46XG Central & Western Europe Electronic Chart.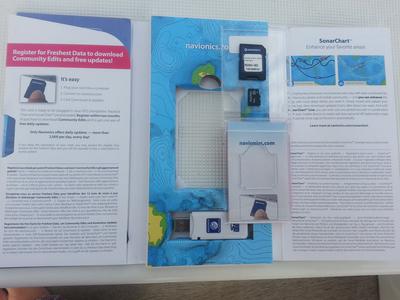 Micro SD format with SD adapter and USB adapter. 

Bought June 2016. Will update 27th March 2017 before it travels to London.
I have downloaded and updated the complete area that the chart covers (see below). You will not be able to download updates, but it will continue to function after June 2017.

Works with Raymarine and other chart plotters - check Navionics site for compatibility. 

In original packaging. Plug into your plotter and it just works.
Price new at least £175. Will sell for £90 inc. delivery to UK address.
Area Covered: EUROPE WEST - From Holland to Algeria and from Azores to Sardinia. Iberian Peninsula, France, English Channel and Sardinia. European inland waters (French and Holland canals, Switzerland/Italian lakes, Lake Balaton, Valence, Tisza, River Rheine/Main, Berlin Lakes, Mittellandkanal, Dortmund-Ems-Kanal, Austrian Danube River).

Please contact Barry for further details...
---
Raytheon L760 Chart Plotter
Removed in a refit. Works.
Will ship with pre-paid shipping.
$275 firm.

Please contact Jack for further details...
---

Unused Mantus 29Kg Anchor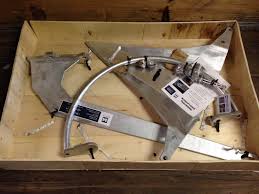 Mantus Anchor Unassembled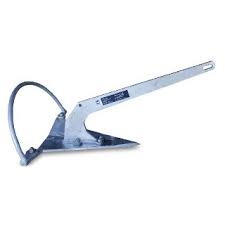 Mantus Anchor Assembled
I have a brand new Mantus 29kg Galvanised anchor. I got over excited and ordered it only to realise there is no way it will work as my primary anchor due to the design of the bow roller on my boat.  I can't afford to a new custom Bow Roller so have no need for the Mantus now.
I felt that the Mantus in all the tests were the best new style of modern anchor.
I would be happy to organise shipping.
The anchor cost me 748 Euros (I live in France), but I would be happy to let it go and have it delivered for £500 is possible.
One of the useful features is that the anchor can store flat and you can simply bolt it together with six bolts.  So this could be a great Storm anchor for anyone planning some Blue Water Cruising.
Hope someone might find this useful. 

Please contact William Parton in Cannes, France for further details...
---
WANTED! 
Wanted, GARMIN Chart UK & Ireland for Garmin 550 GPSmap 550 chart plotter.
Contact Rob Boyle at royboyle@me.com if you have one to sell.

Brunton Autoprop H5-380


Up for sale is a one year old feathering AutoProp for sailboats. This prop is made by Bruntons and sold by AB Marine (and a few others). The model number for this prop is H5-380. It is a 15" diameter (right hand rotation) and fits a one inch prop shaft. Pitch is fully automatic, and no adjustment is ever necessary.
I purchased this prop new and used it for one season on my 1988 Catalina 34 sailboat. This prop was used in fresh water (Lake Erie). The Catalina 34 had a Universal M25XP engine rated at 23 horsepower. I removed this prop when I sold the boat as I was hoping to use it on the 38 foot sailboat that I was purchasing. Unfortunately, I could not. My new boat had more HP and a larger prop shaft.
http://ab-marine.com/feathering/auto-prop/
If you have a Catalina 34 with the Universal M25XP engine, this prop is a perfect fit. It would likely fit any sailboat of similar size and horsepower. Please note: I paid $3600 for this prop, and prices have gone up a bit from there. My price: $1650.
I will ship this prop to any Continental USA location for free.
Call or text: 419-261-2099
Assorted Sailing Gear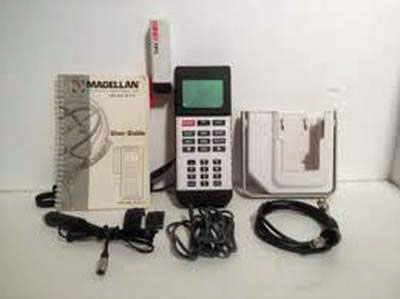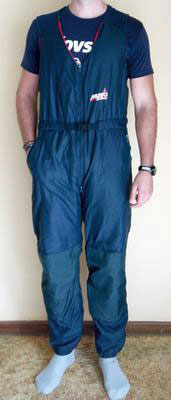 This is not junk or worn-out. Like new, looked after and professionally cleaned and kept vacuum sealed when not in use.
1 X BMS Heavy Weight (USCG Approved) offshore jacket and trousers. Supreme quality. Jacket design includes safety harness belt and fixing points. Size Large. Red
1 X HellyHansen offshore jacket. White/Blue Large (MENS 54-56). HELLY HANSEN'S BEST SELLING WATER RESISTANT SAILING JACKET – Euro standard.
1 x Musto Yachting Sleeve-less (Dungarees) Trousers. Polyester Fleece Lining, Acrylic coated nylon outer shell. Navy/Red. Size XL.
1 X Nor'wester Yachting jacket and trousers ((Dungarees). Ideal for South African offshore sailing. The garment is made of 'K-Tech' hydrophilic breathable waterproof material. Made exclusively for Cape Union Mart. Size L RED
1 x size 8 cruising boots. Plastimo Navy blue/white natural rubber. Non-slip razor cut rubber outsole with drainage channels. Removable footbed.
1 x Magellan GPS Nav DLZ-10. Complete with mounting bracket. Ideal as stand alone or cockpit use.
6 x Atlantic Class1 life jackets.
3 x 15 x 58 fenders. white/blue
1 x Harken ¾ sailing gloves.
1 x Laser World full finger gloves.
Together with other small items, waterproof torch, diving goggles, 2 pairs of flippers and a grab bag.
All this for the low price of R8,500 (or nearest cash offer)
Please contact Dewald in South Africa for further details...
Sterling 11 Dinghy For Sale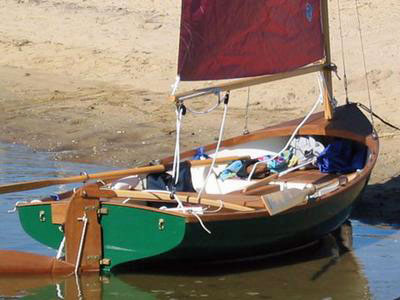 Built by Sterling Boat Works, Moscow, PA. 
Sterling Boatworks made one of the prettiest small boats around. She is made of fiberglass with teak fittings and trim.
She has a Marconi cat rig and can carry 4 people with her relatively wide beam.
She was conceived for easy rowing, comfortable sailing or motoring - the kind of boat in which you tour a harbor.
Year Built: 2005
LOA:11 feet,
Beam:5 feet,
Draft: 2'11" board down, 8" board up.
Sail Area: 80 sq. ft. (tan bark sail)
Custom green hull. Includes trailer and
2007 Mercury 3.5 HP. All is in excellent condition.
Health issues forces sale. 
$4,500.00 Located on north shore of Long Island, NY.
Call 718 934-3428
Please contact owner Tom Paolillo for further details...
Detroit Diesel Engine
671 Detroit Diesel Engine with 2:1 transmission for sale.
Located in Western N.C.  
Asking price:  $4,500.  
Engine is raw water cooled & runs good.

Please contact Ron for further details...
Stainless Steel Gantry, Demountable and Adjustable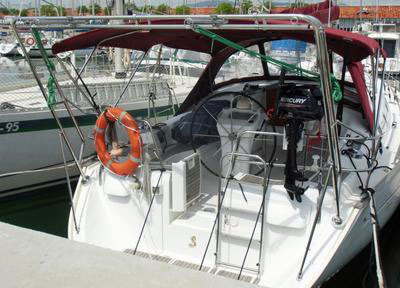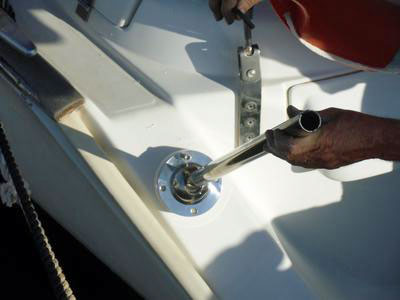 Opportunity!
For sale separately.
Stainless steel arch, practically new, under warranty, made in 316 stainless steel and polished to best quality. 
To be delivered in its original packaging with manual instructions for the installation. 
Purchased to be used as a davit. I sell it complete with pulleys, ropes, cleats, shackles etc, all in 316 stainless steel. Excellent in its finish, it is solidly constructed with the double arch reinforced main tube of 316 stainless steel, 35mm diameter, strongly attached to it through their heads made from a block of stainless steel 316. 
Its buttresses of side mounting made of stainless steel 316 that are anchored strongly in the balcony of the stern and/or deck, complete another set of struts that anchor in the transom through a bases-rectangular luminaires. 
This gantry is one of the only ones on the market that allows the passage of cables through the inside of the tube. It is totally aimed at the integration of solar panels, wind generator, radar, antennas, and a wide range of accessories (not included).
 Perfectly adaptable to boats ranged from 30 to 45 feet.
Adjustable in height and inclination: 
1. Adjustment of the height from 1800mm to 2400mm.
2. Adjustment of the width from 1500mm to 3000mm.
On Sale for €1,950. The transport is at the buyer's expense. 

No dealers.
Please contact Eugenio (in Béziers, France) for further details...
Magma Marine Stainless Nesting Pots and Pans
Magma 10 piece "Marine Edition" 18-10 stainless triple ply, pots and pans with 2 detachable handles. Used 3 times.
Handles have slight heat blemish that does not affect looks or performance.
Designed specifically for cruising galleys and RVs.
See photo of box for sizes of pots and pans. Box is original, packaging is not.
Asking Price - $99.00
See Amazon link for further info: https://www.amazon.com/gp/product/B002TV7QD2/ref=oh_aui_search_detailpage?ie=UTF8&psc=1
Please contact John for further details...
New Ships Barometer for Sale
Plastimo Brass ships Barometer.
Unused still in original box.
Contact Mrs.M.Knott by email at maureen.knott@ntlworld.com.
Hertford, UK
Canvas Covers for Yamaha 30 for Sale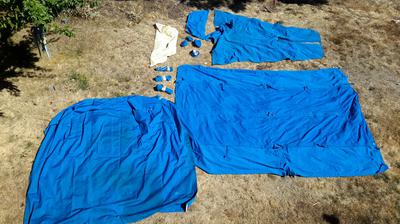 Complete set of canvas covers for Yamaha 30. $100 extra for mainsail cover.
Contact Dirk at hapibeli@gmail.com
Galiano Island, BC, Canada

Sails, Masts and Fittings for Norwalk Island 26' Sharpie
Sails were custom made by Leitch McBride on Vancouver Island. The mainsail is 228 square feet and the Mizzen is 74 square feet.  Sails are of high quality and as new condition.
Included is the main mast that is made of fiberglass; it could do with a polish or paint.  
The booms and mizzen masts are made of wood and it may be cheaper to make them yourself instead of paying for the shipping.
Included is all stainless steel fittings for the masts.  
Sails cost $4,500 new. will sell all for $1,800 Canadian Dollars.  
Contact sfclarke@xplornet.ca or call Frederick Clarke on 250 697 6271
'Bad Boy Xtreme' Wifi Signal Enhancer
I have a brand new 'Bad Boy Xtreme MJ' Wifi Signal Enhancer (It's brand new, and still in its box) that I would like to sell.
Asking US$380
Contact me (Nick Forsberg) at nickstlucia@gmail.com or on +1758 4843115.
Helly Hansen XP Mens Offshore Sailing Jacket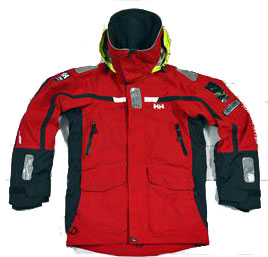 Helly Hansen XP Mens Offshore Sailing Jacket Size S/M
This is a High end Yachting jacket that would cost £400 to buy new.
Dimensions:

Length 77cm, back: 81cm
Armpit to Armpit: 60cm
Shoulder to Sleeve: 84cm
Armpit to sleeve 61cm
Asking £150 or near offer

Contact the seller (Martin from Kidderminster, UK) at enquisiter@live.co.uk

Freiberger Yacht Sextant
Boxed, as new and unused since the 1970s.
New price £650 (approx $1,000), so please make me a sensible offer.
Marine Sight Reduction Tables NP401 volumes 2, 3 and 4 are included.
Please
email Colin
for more info...
Henri Lloyd Ladies Ocean Jacket & Salopettes
Worn only twice.
Henri Lloyd ladies size S Ocean sailing gear - comprising jacket, salopettes and sailing boots size 6.
Although 10 years old these items have been worn only on two days and have been carefully stored. They are in excellent condition.
Price is £275 and if not collected the postage would be £25.

All enquiries to Tony Houghton on 01732 750313 

or by email...
---
Helly Hanson Offshore Sailing Jackets
Matching pair of Helly Hanson offshore sailing jackets.
Male jacket and large female jacket size 12.
Can be sold as a pair or individually.
The coats have hardly been worn as our boating was done almost entirely on European waterways.
The price is £75 each or £120 for the pair.
Location Warrington, Cheshire UK.

Please contact David for further details...
---
EZ HAUL Cart, by Republic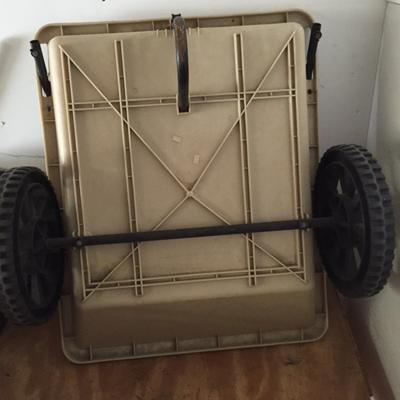 Sturdy utility cart.
Handle folds down for easy storage.
$15 and it's yours!
Please contact Donna for further details...
---
3 Anchors for Sale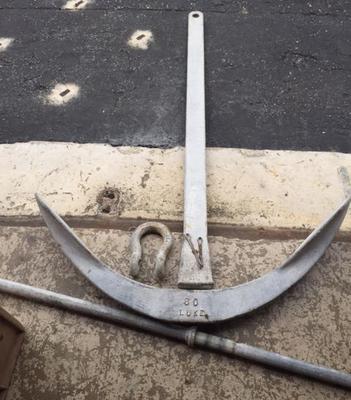 80lb Luke Anchor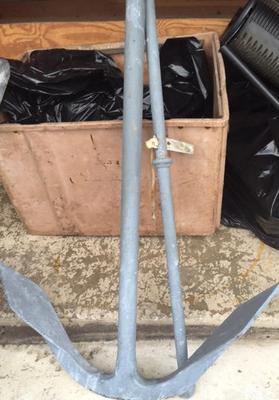 45lb Fisherman Anchor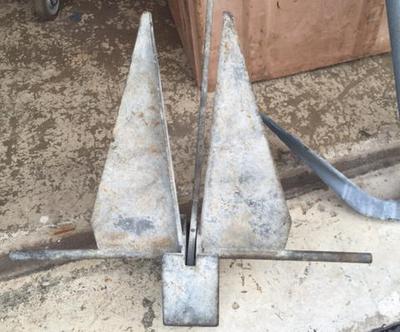 Danforth Kedge Anchor
3 Anchors were used on our 41' Morgan and dinghy.
Great back-up anchors.
Luke 80lbs.
Fisherman I think is 45lbs.
Last one, have no idea My husband took care of knowing all this stuff. (sailboat-cruising.com - it's a Danforth anchor Donna)
Sailing days are over, sadly husband no longer able to get around nor can I get him to remember much info about anchors. 
You are welcome to all 3 for $150. Just come to Fort Lauderdale, Florida to get them!
Please contact Donna for further details...
---
Trinka Sailing Dinghy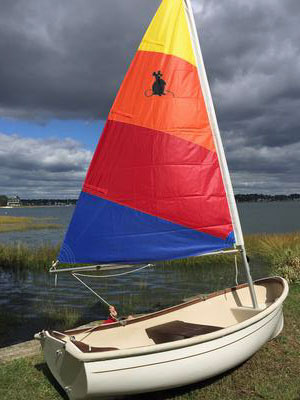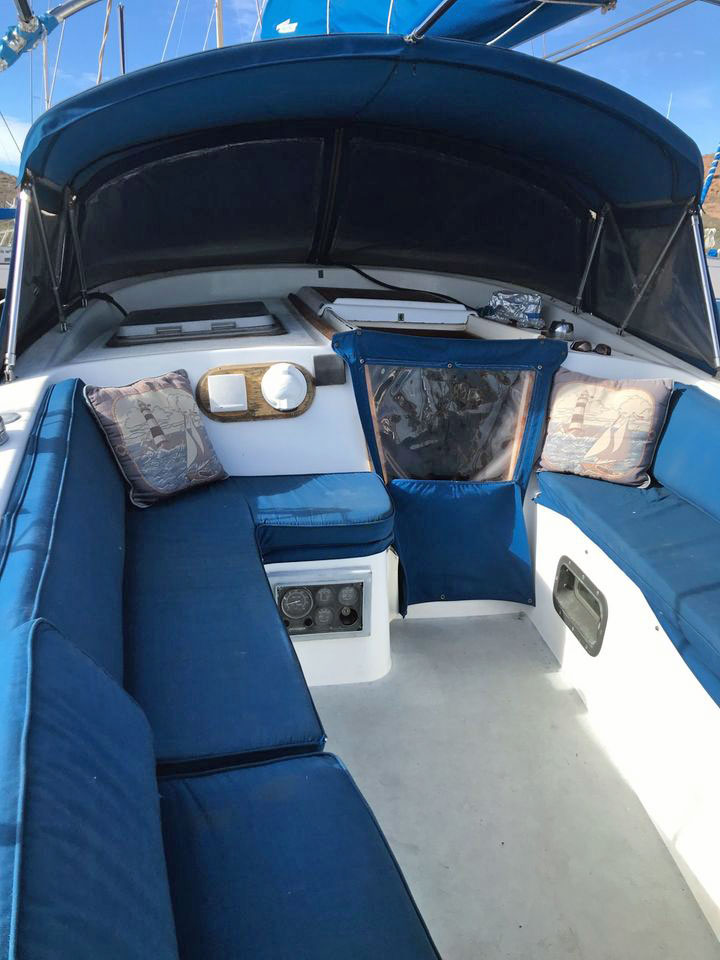 'The Best Rowing/Sailing Dinghy in the World!' 8 ft, rarely used, excellent condition, rainbow sail, self-bailer, new teak floorboards.
Canvas rail shows wear but would be classified as good condition. More photos available.
Asking $2,000 (New one costs $4,256!)

Please contact Paul (in Norwalk, CT, USA) for further details...
4hp Mercury Outboard Motor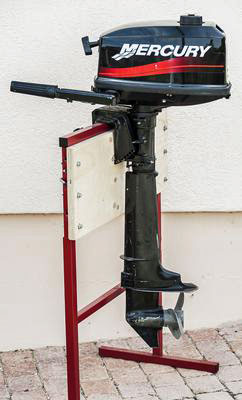 2-stroke. Complete with stand if required. Excellent condition.
I'm selling it because it was the main propulsive power that was on my Jouet 24 when I bought it. But I always felt it was a wee bit to small for the job. So I have upgraded to an 8hp, and this engine is now redundant.

No idea what price to ask. Any offers?
Alistair Scott, Gland, Switzerland
Please contact Alistair for further details...
A Harken Furling Gear & a 

Hasler Self-Steering Gear for Sale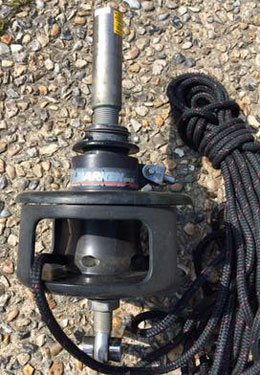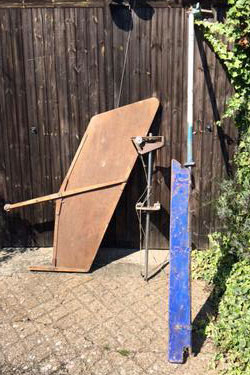 Both items for sale by Paul Stringer from East Sussex, UK.
The Harken MKIII Furling Gear came from a J124 and was replaced for new when the J needed a new rod forestay. It is weathered and a couple of the luff foils are a bit bent. It hasn't had a huge amount of use and has been in store for several years. It comes with about 14.5 metres or 47.5' of luff spar, new Torlon balls, a feeder and furling line. Luff spar measures 28.5mm X 20.75mm or 1.1" X 13/16" in old money. Price is £475.
The Hasler Vane Gear came from my 1966 Nicholson and has spent most of its life in store. It is grubby and dusty but hasn't been messed around with. It has the adjusting lines with a worm gear and the trim tab from the Nicholson.

Contact Paul at  prstringer1@gmail.com
Tasar Dinghy and Sails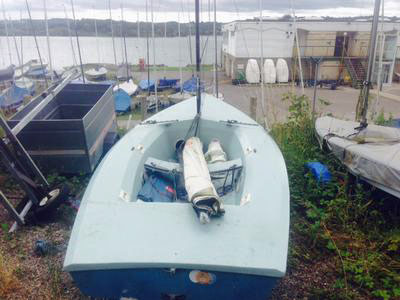 Tasar Dinghy, including:~
Main Sail and Jib;
Mast;
Boom;
Rudder and Tiller;
Dagger Board;
Contact the owner, Connor Wilkes of Bristol, UK at 10wilksey@gmail.com
Musto Navigators Case
Has been looked after. Excellent condition, no damage or wear.
Price £20. Collect, or post at cost
Contact Jon Seabright on 01708342587 (that's in Romford, Essex UK) or email him at jonseabright@gmail.com
Heart Interface Combi Inverter/Charger Freedom Marine 20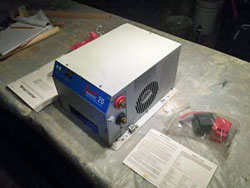 I have a Heart Interface Combi Inverter Charger Freedom Marine 20. Almost 100% sure that this has never been used. Bought a house and this was in the garage, in the original box.  
Take a look at the picture. There isn't a scratch on the thing and the wiring has never been hooked up, manual is still there, and terminal covers are still in the factory plastic wrap.  

Make me an offer, buyer will have to pay shipping as well (or local pickup if your in the area).  Item location is Burbank, CA, USA
Message me if you want additional photos, or have questions... don't know much about any of the technical details of the item, but I will do my best to answer. 
Please
email Steve
for more info...
Vic Carpenter 24 Sailboat Parts
I have everything from a VC 24 sloop except the hull.
Beautiful spruce mast, boom, many sails, spinnaker like new, Autohelm still in the box, all hardware and fittings, including railings, pulpit and lifelines etc.
All in excellent condition. Stored inside for many years.
Any reasonable offer on any or all parts will be considered.
Location - London, Ontario
Please
email Ted
for more info...
Fender Socks For Sale...
Fender Covers 'Fenderfits'
Large size - 33cm(wide) x 91cm(high) - in Navy Blue 
These are new and perfect condition fender covers in their original packaging.  
We love this brand and have always used them as they are really nice quality, double thickness and they last a long time.
 I can recommend them fully; they are just too small for our fenders and we made a mistake in our ordering!
I HAVE NINE AVAILABLE TO SELL!!!! 

The price is £20 each plus P&P or happy to do a deal for more than one sold at one time! 

PayPal only, and thank you very much for looking!  Any questions feel free to ask me! 

For more info read the blurb from Fenderfits website.

Please
email Vivienne
for more info...
Navionics 46XG West Europe Card for Chart Plotter
SD card for chartplotter. Year 2012.

EUROPE WEST - From Holland to Algeria and from Azores to Sardinia. Iberian Peninsula, France, English Channel and Sardinia. European inland waters (French and Holland canals, Switzerland/Italian lakes, Lake Balaton, Valence, Tisza, River Rheine/Main, Berlin Lakes, Mittellandkanal, Dortmund-Ems-Kanal, Austrian Danube River).

Only choose CF for Pre-2012 Raymarine plotters. 

The vectorized XL9 charts are developed using the Navionics exclusive full Seamless Technology which provides clearly legible charts without clutter, holes or discontinuities at every zoom level. With the same great details of the current XL3 charts at up to 16 zoom levels, XL9 charts offer a wealth of information on navaids, tide and currents, port services - details greatly appreciated by sports fishermen and navigators alike. 

XL9 cartography is available on preprogrammed generic SD (Secure Digital) or CF (Compact Flash) cartridges that are readily available with expandable memory for future developments. Navionics charts are compatible with leading chartplotters such as Raymarine, Furuno, Lowrance, Humminbird, Geonav, Eagle, Northstar and many PC based navigation software. 
The plug-and-play feature of the charts eliminates the need for consumers to download CDs or unlock codes. XL9 charts are easy-to-use and provide better value added, by covering a greater area for a reduced cost.
Please contact Jussi Hämäläinen for price etc...
Boating Safety Equipment
New:
West Marine waterproof 25w 580 vhf radio
3 flares hand held
6 glow sticks
Emergency flashing beacon, antenna mount
Air horn, hand held
2 fire extinguishers B1
Anchor, chain, 5/8" 250' rope for 40' boat
Used but good:
10 flotation jackets in zipper bag 2 not
West Marine floor heaters
LG dehumidifier
West Marine deck chairs
DC Cooler
2 deep cycle marine cranking batteries 1 year old, maintained
Located at Fortman Marina, Alameda, California
Take all for just $400!
Please call Chris on 4083908743, or contact him by email...
July 2014
Vintage Sextant and Sight Reduction Tables
A 1941 Husun Sextant by Henry Hughes and Sons in a beautifully restored mahogany box, including a complete set of Air Navigation Tables.
Asking Price: £350
Contact the seller at Symuskrat@hotmail.com
August 2014
Aqua Meter Model 185 Gemini Ocean Passage Compass Binnacle Deck Mount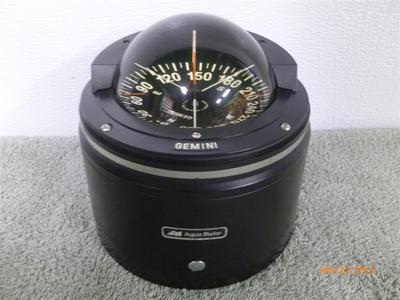 Compass is new with original box, but no directions.
Lighted dial has been tested and it does light up.
Contact John at box44@att.net
February 2015
Ladies Musto MPX Performance Jacket & Salopettes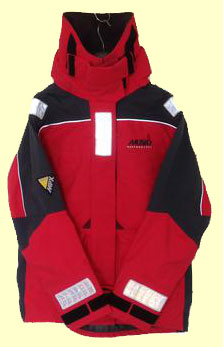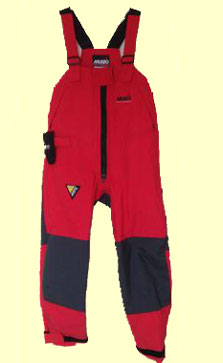 Ladies Musto MPX Performance Jacket & Salopettes - Size 12
As new condition, only worn once. £300 plus £25 postage and packing.
Contact terencecharleswright@gmail.com
Musto Gore-Tex HPX Ocean Jacket
Selling a Brand New Musto Gore-Tex HPX Ocean Jacket - SM1650
Size: Medium. 
Colour: Red/Dark Grey. 
RRP: £500+ Looking for £300. 
Email: richard.marriot123@gmail.com. Gloucestershire.
Ladies Trapeze Harness
This Magic Marine Ladies Trapeze Harness has only been used a few times as a back-up and comes with the Magic Marine Bag.
Price £35
Contact Jon Seabright on 01708342587 (that's in Romford, Essex UK) or email him at jonseabright@gmail.com
Para-Tech Sea Anchor, 18ft dia. 
Suitable for vessel 35ft to 48ft up to 17.8 tons. 
Including: Deployable Storage Bag. Heavy Duty Swivel and Shackle, Float Line and Instruction Manual – NEVER USED (thankfully). 
€750 plus shipping
Email: fergusandkay@pylades.net
Fergus Quinlan (Ireland)
May 2014