Too Cold for Mermaids

by David J Forsyth
David J Forsyth, author of 'Too Cold for Mermaids', recounts how his lifetime dream of sailing from Canada to the UK in his own boat was cut short, but cherishes the memory of the resulting 2,500 nautical mile cruise aboard his Alberg 29 sloop.
In Pursuit of a Dream
From a very early age, the idea of sailing to exotic ports on my own boat intrigued me. It was a romantic notion based on my love of Robert Ballantyne's novel, 'The Coral Island'.

David J Forsyth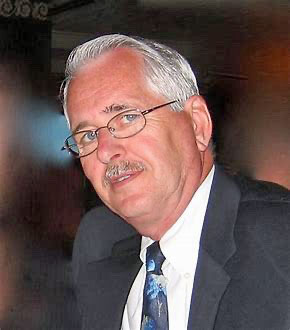 David J Forsyth has published two books to date. The first, titled 'Dafydd', is an account of growing up on an Ontario farm in the 1950s.
The second, 'Too Cold for Mermaids', describes David's sailing adventures in the Great Lakes and on the North Atlantic.

As you might expect, Ballantyne's book featured coconut palms, parrots, sandy beaches, and tropical trade winds. Of course, life is not all palm fronds and gentle breezes, but the pursuit of a dream can, in itself, be a great adventure.

My quest began in earnest at a work-related seminar wherein the presenter talked about achieving goals. He used an analogy...
"You can tread water and wait for something to happen, or you can swim toward shore."
I was more than half-way to retirement, and had done nothing to convert my dream into a reality. I was treading water!
"Begin", said the presenter, "by making a list of all the things you can do to reach your objective."
I started my list with, 'read about the sailing adventures of others' and 'identify the desirable features of a suitable boat.' Then I wrote positive affirmations on post-it notes and stuck them up on the bathroom mirror.
Two of my three children were in college at the time, and we still had a mortgage to pay, so I couldn't afford to buy a boat, but I walked to a nearby bank on my lunch hour and opened a savings account which became known as 'the boat account.'
It grew slowly at first, but I found new ways to save, and each time I was tempted to buy something, I asked myself...
"Do I want this more than a sailboat?" Most often, the answer was, "No!"
It took a decade to acquire the funds for the right boat, but in the interim, I learned what I had to know about cruising. I enrolled in the local sailing club's thirty-hour 'basic keelboat' course, read everything I could find about sailing and sailboats, and kept adding to my list of things I could do to reach my goal.
I rented twenty-four-foot Sharks from the sailing club, signed up for a live-aboard course, and crewed on a local Alberg 30 for a retired ship's carpenter. He was ill-tempered and abusive, but he had a wealth of knowledge based on his service with the Blue Funnel Line. I studied navigation, obtained a marine radio license, and attended boat shows from Toronto to Annapolis, Maryland.
When I eventually acquired my own twenty-nine-foot Alberg masthead sloop 'Alice Rose', I spent years refitting her while sailing in the Great Lakes. To further my knowledge of cruising, I crewed for other skippers on passages from Toronto to Newfoundland and Labrador, and from Fort Lauderdale to Maine.
Two weeks beyond schedule, following years of preparation, I set out for Sydney, Nova Scotia with the intention of crossing the North Atlantic to Flores in the Azores. From there, along with my long-time friend and only experienced crewmember, I planned to sail to the UK.
Fate had a different agenda. At Quebec City we had a mechanical problem that cost us a week and several hundred dollars. At Matane, three weeks behind schedule, my crew learned of an urgent family matter and disembarked to return home in haste. With my plan in tatters, my wife and I sailed the remaining 400 nautical miles to Sydney, put 'Alice Rose' up on the hard, and returned home.
My friend, now consumed with a family member's health issues, was an integral part of my cruising plan. During the winter, while 'Alice Rose' huddled in a boatyard beneath a tarpaulin, I confronted the fact that my dream was irretrievably lost.
The following spring, I returned to Nova Scotia, and with the help of several friends, each willing to crew for a period of a week or two, I sailed 'Alice Rose' home via Halifax, Boston, New York, the Hudson River and the Erie Canal.
I had dreamed of cruising warm tropical waters some day, but had been confined to the frigid North Atlantic, where the sea is Too Cold for Mermaids.
Looking back over those years of cruising, I do not regret the loss of my dream quite as much as I cherish the adventure of cruising that 2,500 nautical mile loop aboard 'Alice Rose', my twenty-nine foot masthead sloop.
David J Forsyth
Sep 29, 23 05:38 PM

Sailing characteristics and performance predictions, pics, specifications, dimensions and those all-important design ratios for the Hanse 400 sailboat...

Sep 29, 23 03:17 AM

Interested in the Gulf 32 sailboat? Here are the pics, specs and performance predictions you're looking for...

Sep 28, 23 04:04 PM

Sailing characteristics and performance predictions, pics, specifications, dimensions and those all-important design ratios for the Fuji 35 sailboat
---