The S&S 34 Sailboat
The S&S 34 is a cruising and racing fibreglass monohull sailboat that was designed by Olin Stephens from Sparkman and Stephens. It has a skeg-hung rudder and a Bermuda rig with a large, overlapping headsail. It is a proven cruising yacht that is well suited for short-handed sailing, and also a successful racing yacht that has won many prestigious events.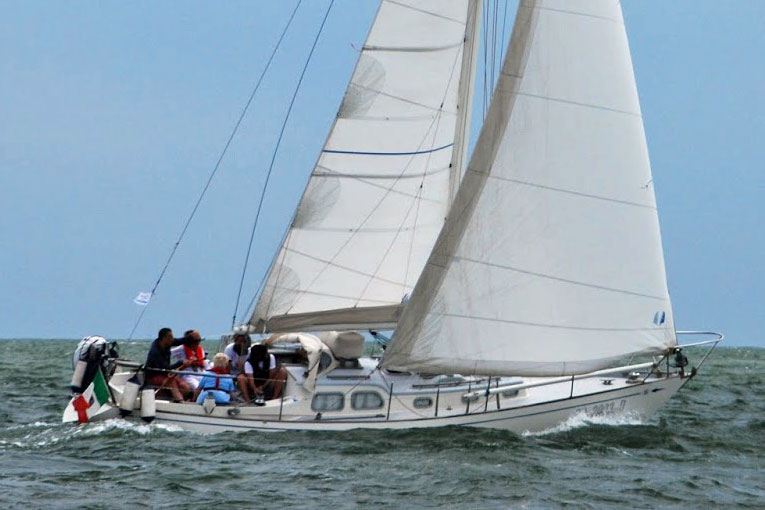 An S&S 34 powers to windward under full sail
Published Specification for the S&S 34
Underwater Profile: Fin keel & Skeg-Hung Rudder;
Hull Material: GRP (Fiberglass);
Length Overall: 33'5" (10.2m);
Waterline Length: 24'2" (7.4m);
Beam: 10'1" (3.1m);
Draft: 5'9" (1.8m);
Rig Type: Masthead sloop;
Displacement: 9,195lb / 4,171kg;
Designer: Sparkman & Stephens;
Builder:  Winfield & Partners/Aquafibre (UK);
Year First Built: 1968;
Owners Association: Sparkman & Stephens Owners Association
---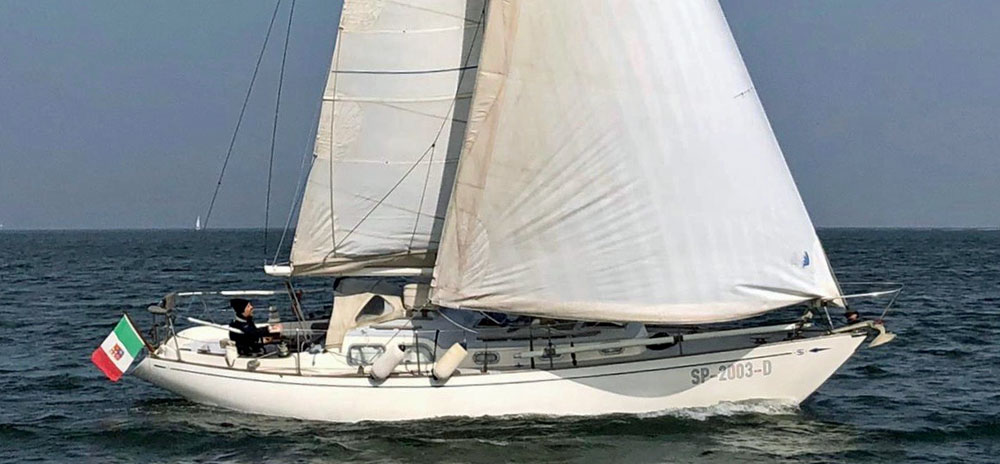 Although 'Morning' is no longer for sale, the interesting pics and text of the original advertisement are available here for the benefit of anyone researching this classic sailboat.

Published Design Ratios for the S&S 34
1. Sail Area/Displacement Ratio: 16.5
2. Ballast/Displacement Ratio: 58.7
3. Displacement/Length Ratio: 291
4. Comfort Ratio: 24.3
5. Capsize Screening Formula: 1.9
read more about these all-revealing numbers...
---
Summary Analysis of the Design Ratios for the S&S 34
1.A Sail Area/Displacement Ratio of 16.5 suggests that, in the right hands, the S&S 34 will have enough performance to leave most other sailboats of similar waterline length well astern.
2. A Ballast/Displacement Ratio of 58.7 means that the S&S 34 will stand up well to her canvas in a blow, helping her to power through the waves.
3. A Displacement/Length Ratio of 291, tells us the S&S 34 is clearly a heavy displacement cruising boat. You can load her down with all your cruising gear and equipment and it will hardly affect her waterline. Not an ideal choice for coastal sailing, but she'll come into her own on an offshore passage in testing conditions.
4. Ted Brewer's Comfort Ratio of 24.3 suggests that crew comfort of a S&S 34 in a seaway is similar to what you would associate with the motion of a coastal cruiser with moderate stability, which is not encouraging news for anyone prone to seasickness.
5. The Capsize Screening Formula (CSF) of 1.9 tells us that a S&S 34 would be a safer choice of sailboat for an ocean passage than one with a CSF of more than 2.0. 
---
Cruisers' Questions about this Sailboat...
About 200 boats have been built, approximately 50 in the United Kingdom and the remainder in Australia. The first boats were built by Winfield & Partners/Aquafibre in the UK, and later by Swarbrick & Swarbrick in Australia. Swarbricks continue to build S&S 34 boats to order from the original moulds.
The S&S 34 has a long history of racing success, both in crewed and solo events. Some of the highlights are:


The first production S&S 34 built was Morning Cloud, owned by Sir Edward Heath, who won the 1969 Sydney to Hobart Yacht Race and a class win in the Fastnet Race;

S&S 34 designs were overall or prize winners in every Sydney-Hobart race from 1969 to 1974;

They were placed 1st and 2nd in the 1979 Parmelia Race and won the 1996 Lord Howe Island Race;

Deerstalker won the 1989 North Sea Race, another Fastnet class win in 1991, and a win in the 1992 Round Britain and Ireland Race;

The S&S 34 has also been used for several single-handed sailing circumnavigations, such as by Jon Sanders in Perie Banou (1981–82), David Dicks in Seaflight (1996–97) and Jesse Martin in Lionheart (1998-1999);

Jessica Watson unofficially became the youngest ever solo non-stop unassisted sailor on her S&S 34 Pink Lady in 2010.
The S&S 34 has a hull speed of about 7 knots, which can be exceeded in favourable conditions. It has a performance rating of about 0.900, which means it can sail about 90% as fast as an ideal boat of the same length. It is comparable to other similar boats such as the UFO 34 and slightly faster than the Contessa 32.
The S&S 34 is designed to be a comfortable cruising yacht that can accommodate up to six people in two cabins. It has a spacious saloon with a dinette table, a galley with a stove and sink, a navigation station with a chart table, and a head with a toilet and shower. It has ample storage space for gear and provisions, as well as water tanks and batteries. It is well-ventilated and insulated, and has good headroom throughout.
The S&S 34 is a well-balanced and responsive boat that can be sailed and handled by a single person or a small crew. It has a simple and efficient rig with a masthead sloop configuration, a roller-furling genoa, and a slab-reefing mainsail. It has a tiller steering system with a skeg-hung rudder that provides good feedback and control. It has a reliable and economical diesel engine that can power the boat at about 6 knots.
The S&S 34 is a very safe and seaworthy boat that can withstand harsh conditions and heavy weather. It has a strong and solid fibreglass hull that is reinforced with longitudinal stringers and transverse frames. It has a deep and heavy lead keel that provides stability and reduces the risk of capsize. It has a self-draining cockpit with high coamings and a bridgedeck that prevents water ingress. It has a sturdy mast and rigging that can handle high winds and waves.
The above answers were drafted by sailboat-cruising.com using GPT-4 (OpenAI's large-scale language-generation model) as a research assistant to develop source material; to the best of our knowledge, we believe them to be accurate.
---
Sep 29, 23 05:38 PM

Sailing characteristics and performance predictions, pics, specifications, dimensions and those all-important design ratios for the Hanse 400 sailboat...

Sep 29, 23 03:17 AM

Interested in the Gulf 32 sailboat? Here are the pics, specs and performance predictions you're looking for...

Sep 28, 23 04:04 PM

Sailing characteristics and performance predictions, pics, specifications, dimensions and those all-important design ratios for the Fuji 35 sailboat
---