Hi


The Sailboat Cruiser
The Sailboat Cruiser is the free monthly (OK, monthly-ish) newsletter of sailboat-cruising.com and sets out to bring you the news, views and general musings of, well, me - Dick McClary, a sailboat cruiser and creator/owner of the website.
If you like this newsletter, please feel free to email it to your friends.
If one of your friends did forward this to you and you like what you read, please subscribe by visiting The Sailboat Cruiser
---
Newsletter #52 - September 2019
What's in This Issue:
---

On those rare occasions when I'm unable to concoct a suitable excuse for avoiding a trip to the supermarket with Mary, she will always know where to find me - at the magazine stand.

Following a recent excuse rejection I was browsing through the sailing magazines in Sainsbury's when I came across an article entitled 'How much anchor chain?'...

It quickly became apparent that this wasn't the usual depth/scope related approach, but an entirely different 'Rule of Thumb' based on wind strength.

In today's crowded anchorages, we often need to deploy the minimum length of anchor rode that will keep our boat secured, rather than the luxury of a whole load more for peace of mind. So I read on...

Here's the gist of what the author, Katy Stickland, had to say:

Rule of Thumb #1:
Maximum wind strength expected no more than the top end of a Force 4 (16kn), depth of water 8m or less, boat length 10m.

Chain to be deployed = 16m (wind strength in knots ) + 10m (boat length) = 26m.

Rule of Thumb #2:
As RoT #1 but Force 7 (33kn) expected.

Chain to be deployed = 33m + 10m = 43m.

For deeper anchorages up to around 15m, multiply the wind speed by 1.5 which would mean that for the Force 7 wind in a depth of 12m:

Chain to be deployed = (33m x 1.5) + 10m = 60m.

This of course doesn't allow for any current that may be flowing through the anchorage, but Katy discusses this in the Yachting Monthly source article.

Any thoughts?

Source: Yachting Monthly, August 2019

---


On sailboat-cruising.com we invite boat owners to advertise their boats for sale entirely free of charge, and many do as you can see further down this page.

This is a great deal for sellers, but what about potential buyers? Several have asked:

"Are there any risks in buying a used boat direct from the owner rather than through a professional yacht broker, and if so what are they?"

Clearly, I couldn't leave this question unanswered.
---


Earlier this year I had a chance to look around Tyrell Bay Marina, a new full-service marina and boatyard nearing completion in the northern end of Tyrell Bay, Carriacou.

First impressions? It's impressive!

It's going to be popular with both mega-yacht captains and the smaller cruising yachts. The marina can currently accommodate 120 40 foot cruisers, and the hardstanding is vast.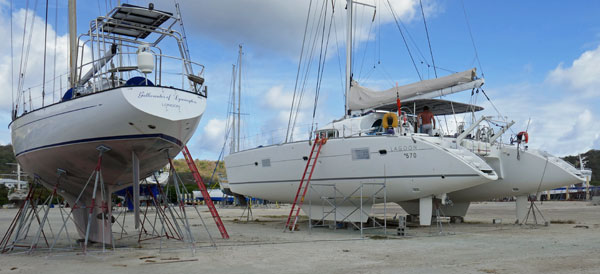 With a 150 ton, 32 foot beam travel lift it's going to be a popular yard with multihull skippers too.

Looking at their rates and prices for long-term hurricane storage ashore, they may well be providing a summer home for 'Alacazam' at the end of next season.

More about Tyrell Bay Boatyard & Marina...

---


A bit quiet at the yacht club bar? Lack of scintillating conversation? Want to liven things up?

Try saying "Of course, a catamaran makes a lot more sense than a monohull for cruising."

That should do it.

At that point I would normally wander off to seek less combative conversation elsewhere, but this time I've thrown my hat into the ring too. I may regret it...
---


Nasty stuff, sunlight. Given too much, it can turn our skin a little crispy - and it has a similar effect on our sails too.

We're all aware that it's the UV (Ultra-Violet) component of light that does the damage, but not all of us take the care that the skipper of the elegant flush-decked cutter below has done to protect his sails when they're not powering his boat.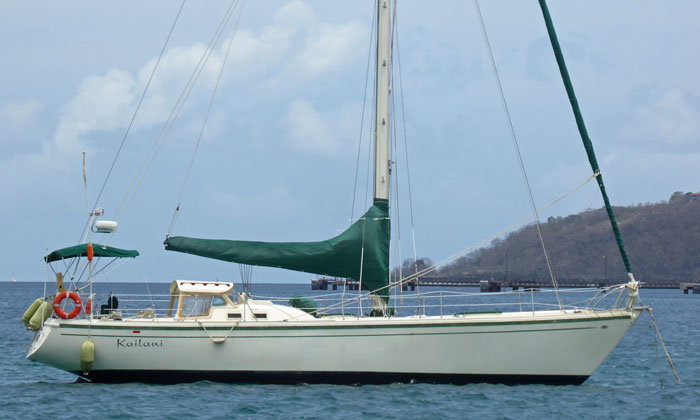 Not so the skipper of the boat below...

For some reason the headsail has not been completely furled, leaving the clew exposed to the sun. It may be that he has run out of furling line, which can be easily resolved by putting a few more turns around the drum.

When completely furled the sacrificial strip will protect the headsail - provided it's on the right side of the sail of course.

You'll see most inmast furling mainsails left like this. Presumably there's too much thickness at the clew to get it completely furled inside the mast. It's important that this corner of the sail is protected by a sacrificial layer of sailcloth on both sides of the sail.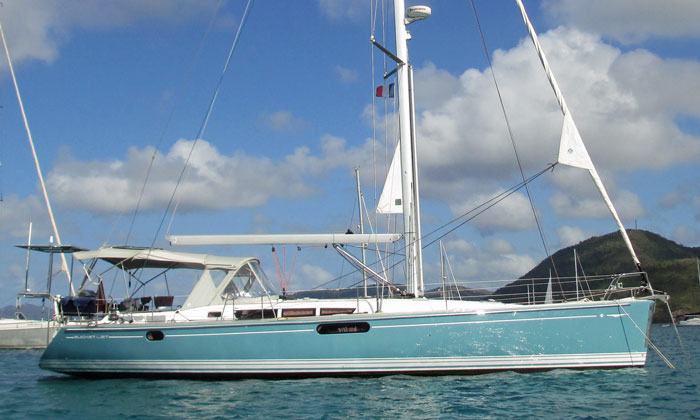 ---


There were no suggestions as to the make/model of last month's mystery boat - not even wrong ones - so I've left it for you to have another attempt as I'm very keen to find out more about her.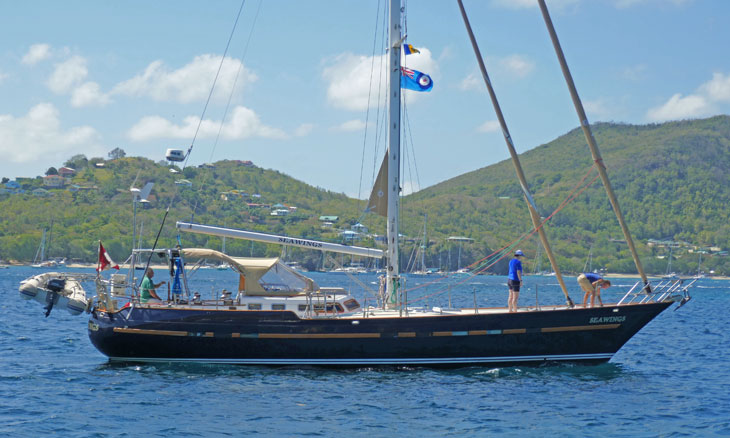 I took this pic of 'Seawings', a handsome canoe-sterned cutter, in Bequia's Admiralty Bay in March 2019.

Any ideas anyone?

If so, please let me know by clicking here...
---

If you're thinking of selling your cruising boat - or know someone who is - remember you can advertise it entirely free of charge on sailboat-cruising.com - which is what the owners of these boats have done...

'Elsa Jane', an Irwin 43;

'Shadowmere', a Hallberg Rassy 41;

'Jerrican', a Dix 43;

'Our Lady', an Allied Seawind;

'Firefly', a CSY 44;

'Baremka', a 1974 Dufour 34;

'Aleria', a Bowman 57 Staysail Ketch;

'Coconut', a Contest 41S;

'Crush-n-Brew', a Hunter 31;

'Tetamanu', a Jeanneau Sun Odyssey DS 43;

'Random', a Ranger 33;

'Dos Libras', a Catalina Morgan 45CC;

A Pacific Seacraft Flicka 20;

A Formosa 51;

'Merrimist', an Ericson 38;

Want to check out a whole load more?

Then take a look at the full list of monohulls for sale here and multihulls for sale here...


Don't forget...
If you're thinking of looking at a secondhand sailboat, or just want to be aware of what to look for - and when to walk away no matter what - then you really ought to take a look at my eBook 'How to Avoid Buying the Wrong Sailboat'


---

It's always worth taking a look at what visitors to sailboat-cruising.com are getting rid of. Remember that one man's junk is another man's gold!

Among other items this month, we have:
Raymarine M92650s Radar 2kw Radome with Cable and 18"scanner;
24ft Paratech Parachute Sea Anchor;
Water Deck Fill;
Rocna 20kg Anchor;
Waste Deck Fill ;
Perko Gas Tank Vent;Diesel Deck Fill;
Westerbeke 7.5kw marine diesel generator;
Simrad IS12 Depth Transducer;
Raymarine E120 Chartplotter;
Shark Drogue;
Barracuda 600 Anchor Windlass;
Iridium Go Satellite Phone;
Take a look at these and all the other stuff at used cruising gear for sale...

---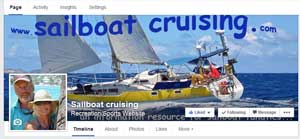 Sailboat-Cruising.com has a Facebook Page!

Clicking the image here will take you right to it, where you can browse through many more posts and articles.

Please take a look, and feel free to make a post - and don't forget to 'Like' us of course...

Thanks!

Visit sailboat-cruising.com's Facebook Page...
---
And finally...
If you know anyone who might be interested in the contents of this newsletter, please forward it to them. It's not secret!

And this newsletter can be a two-way thing. If you've read anything you'd like to comment on, or perhaps there's an event you'd like to see announced in a future newsletter, then please let me know.

See you next month!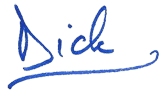 Dick McClary
Go to Sailboat-Cruising.com's Home Page...
---