Island Hopping, Virgin Islands
Caribbean Island Hopping by Sailboat

Part 3: The Virgin Islands
The first two parts of Caribbean Island Hopping saw us sail down through the Leeward Islands & the Windward Islands, from Anguilla through Grenada. Here in Part 3, we're island hopping across from St Maarten to the British Virgin Islands (the BVIs) and the American Virgin Islands (the USVIs).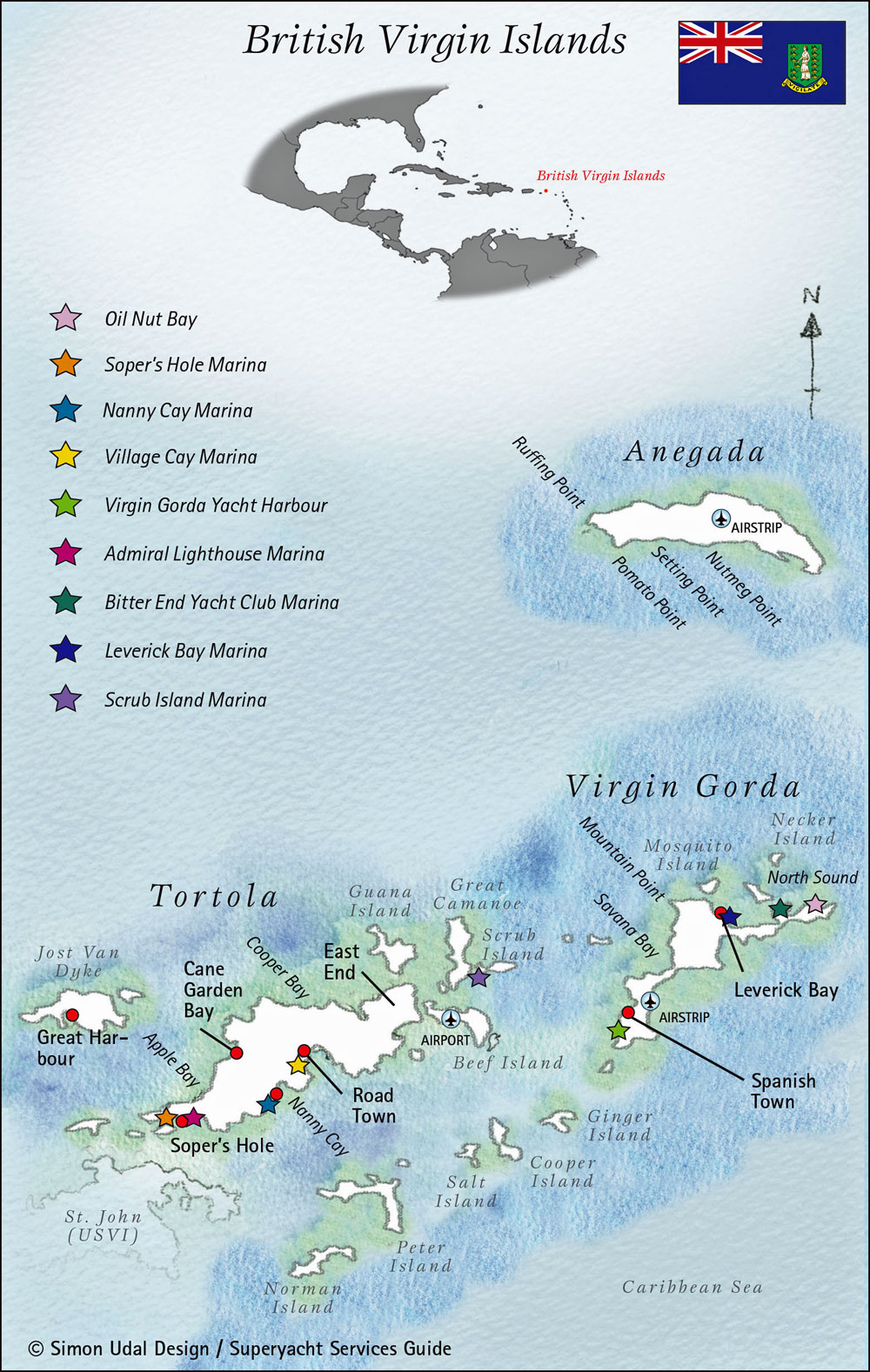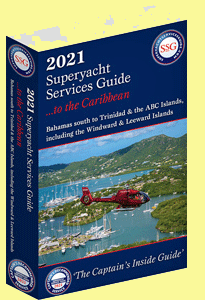 The above map of the BVIs, and that of the USVIs which follows below, are reproduced with the kind permission of their creators 'Superyacht Publications Ltd' and are taken from their super-useful Superyacht Services Guides for the Caribbean in which they make recommendations for all yachting services in each of the islands.
Four main islands make up the BVIs; they are Anegada, Virgin Gorda, Tortola and Jost van Dyke - each of which have a number of anchorages with shoreside bars and restaurants.

Other smaller islands with anchorages (or moorings) include Cooper Island, Peter Island, Norman Island, Guana Island and Great Camanoe.
Clearly, nothing in this article should be used for navigation. You must use up-to-date charts and pilots for that.
---
Island Hopping through the British Virgin Islands (the BVIs)
Currency of the BVIs:  US dollar ($)
Official Language: English
Ports of Entry: 
Virgin Gorda: Spanish Town, and Roadtown at the Government Dock;
Jost van Dyke: Government Dock in Great Harbour;
Tortola: Road Town and the West End (Soper's Hole).
Note: Anchoring on coral is prohibited. Any skipper caught doing so will suffer a hefty fine - and rightly so.
If you've sailed over from St Maarten (being the closest departure point in the Leeward Islands), odds are you'll have decided to enter the BVIs through the Round Rock Passage to the south of Virgin Gorda.
Virgin Gorda
Heading north along the west coast of Virgin Gorda, the earliest opportunity to complete your entry formalities will be at Spanish Town.
We chose to anchor in St Thomas Bay and dinghy in. If there's surf breaking over the reef to the starboard side of the marked channel, you may be alarmed to see surfers streaking down towards you.
Alternatively, you could continue north along the Sir Francis Drake Passage to Gun Creek in Gorda Sound...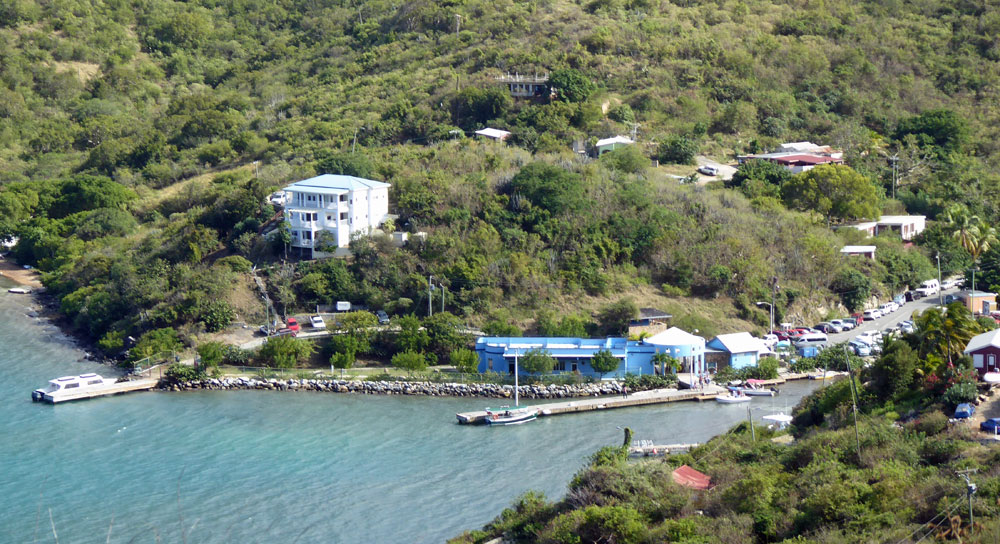 Customs & Immigration Offices at Gun Creek in the southwest corner of Gorda Sound
Gorda Sound (or North Sound as it sometimes called) is entered from the north through the marked channel between Cactus Reef and Colquhon Reef.
You'll find a choice of anchorages in Gorda Sound; the Bitter End Yacht Club, Robin Bay, Gun Creek, Leverick Bay, Drake's Anchorage and Vixen Point.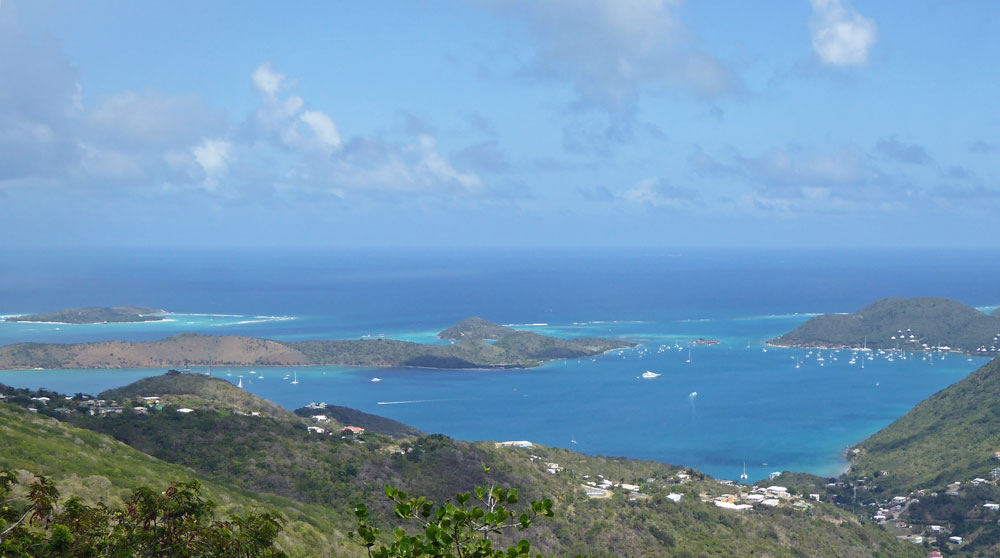 Gorda Sound, looking north
Two things are immediately obvious on entering BVI waters:

The high number of charter boats, most of which are catamarans in the 45' to 55' range, and
The number of commercial moorings laid to accommodate them.
This means that finding a spot to anchor can be something of a challenge. For a long-term sailing couple like us, paying $35 a night for a mooring is not an attractive option, and is something to be avoided wherever possible so it's best not to arrive late in the day.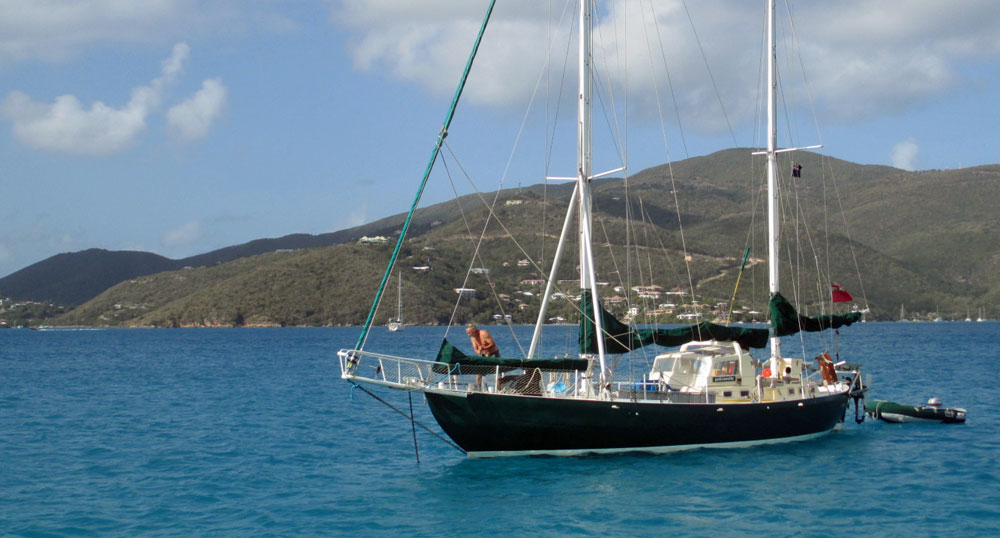 The skipper of this Joshua 40 drops the hook off Vixen Point in Gorda Sound.
From the Vixen Point anchorage all the hotspots of Gorda Sound are explorable by dinghy, but if marinas are your preference there are plenty of those to choose from too.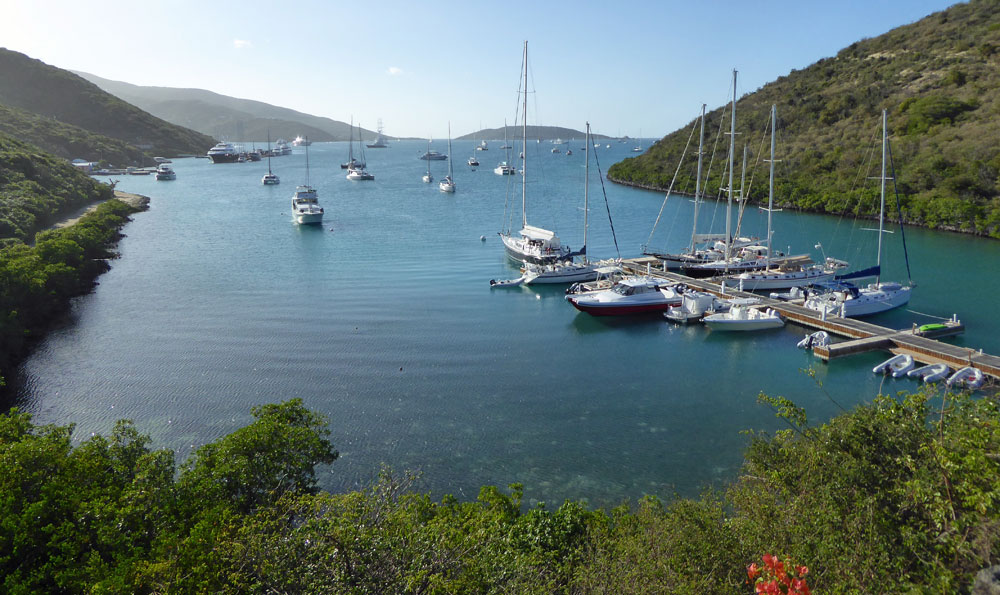 A sheltered marina and moorings at Biras Creek, Virgin Gorda
One of the places you won't want to miss is The Baths, an area of huge granite boulders, rock pools and sandy beaches at the southern end of Virgin Gorda. The whole area is a Marine Park.
It's a daytime 'anchorage' only, but with no anchoring allowed you must pick up one of the Marine Park moorings.
The Baths - there's no anchoring allowed here.
It was our intention to sail north to Anegada next but weather conditions persuaded us that a broad reach to Norman Island would be far more enjoyable.
Norman Island
The main anchorage on Norman Island is 'The Bight', a large and very sheltered bay. Mooring buoys abound of course, but there are some spots to anchor off the northern shore.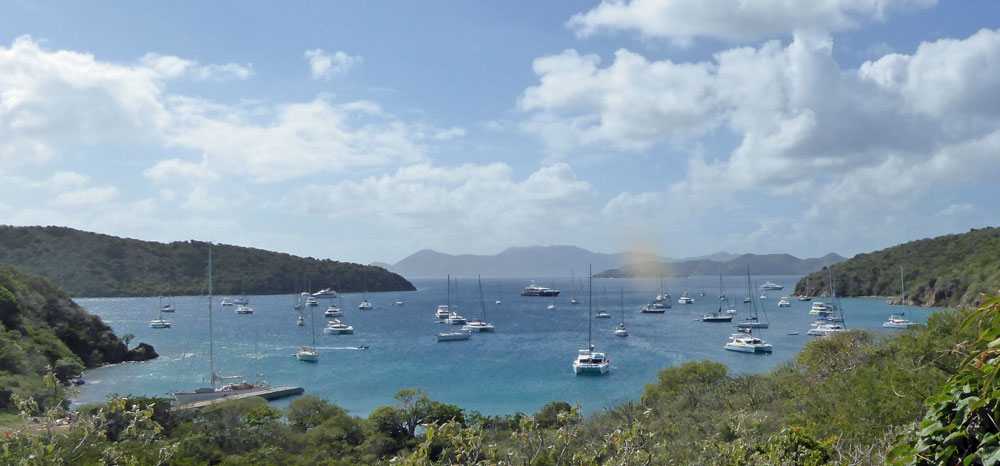 'The Bight', with St John (the USVIs) in the background
Norman Island is reputed to be the island upon which the Scottish author and poet Robert Lewis Stevenson based his classic book 'Treasure Island', although that particular claim to fame is also shared by the Hebridean island of Unst in the far north of the UK.
Norman Island has some of the best hiking trails in the BVIs, from one of which we discovered Benures Bay. This idyllic bay is the opposite of The Bight in many ways, with no moorings, charter boats, restaurants, bars or other shoreside 'attractions'.
Walkers are advised to give the wild cattle and goats a wild berth, but the many butterflies are much more approachable!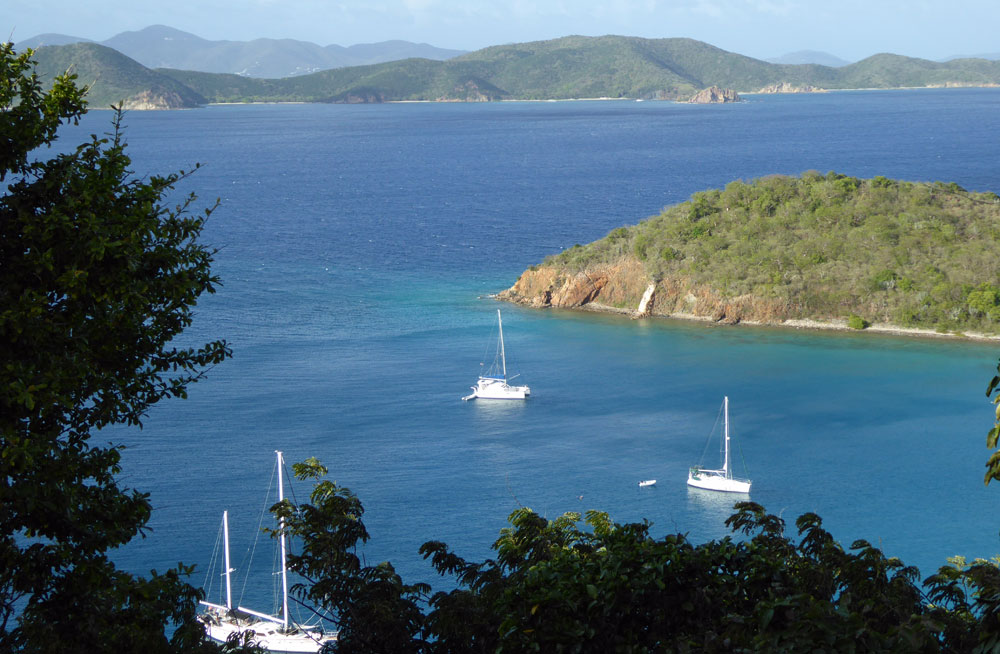 Benures Bay, with Peter Island in the background - there are no moorings here!
Just around the corner from Treasure Point on the eastern tip of The Bight are some spectacular caves, which are well worth a visit. Dinghy across and, if you want to venture inside, take a torch.
Tortola
Leaving Norman Island in our wake, we resisted the temptation to drop by The Indians for the excellent snorkelling and continued towards Sopers Hole on Tortola.
But Sopers Hole was full to overflowing, with all moorings taken and no space to anchor. Consequently, we continued through Thatch Island Cut towards Cane Garden Bay on the west coast of Tortola where, after beating against a 25kn wind, we picked up a mooring in the middle of the bay.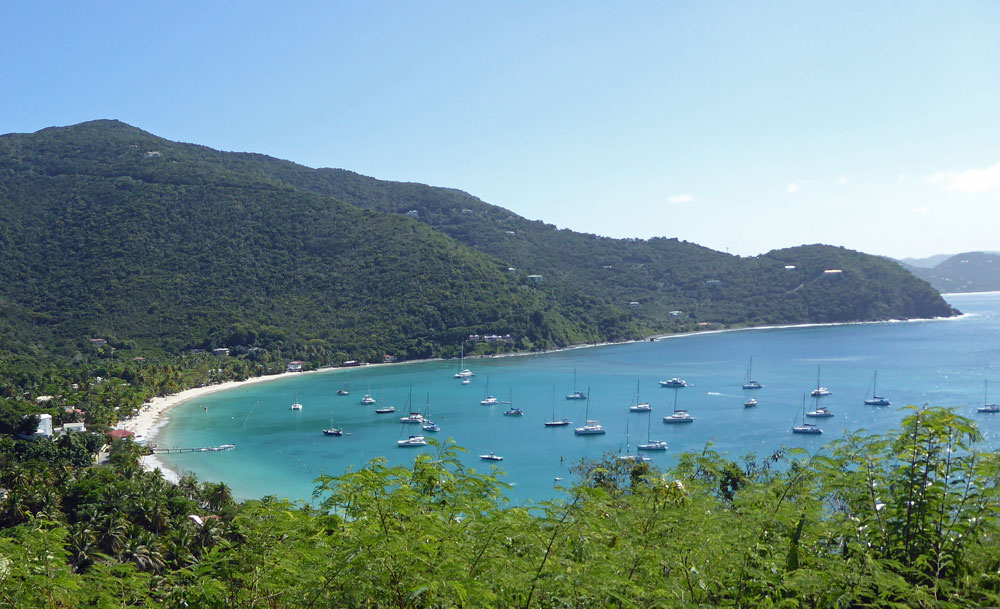 Cane Garden Bay, one of the most beautiful anchorages of the BVIs
Exploring ashore, we discovered 'De Wedding Beach Bar & Restaurant' at the southern end of the beach. With its stunning views of the bay, abundant bird and marine life, it became a favourite lunchtime venue.
Close by was the Callwood Rum Distillery, whose marketing ploy was to tempt in tourists with the offer of some free rum tasting. It would have been discourteous not to participate - and as my pal Bill would say "It doesn't make you a bad person".
Just off for a spot of rum tasting. I may be some time...
Further exploration inland involved Public Transport - the local bus, enroute for Tortola's capital Rhode Town.
The route took us past Brewers Bay, which looked to be an attractive anchorage.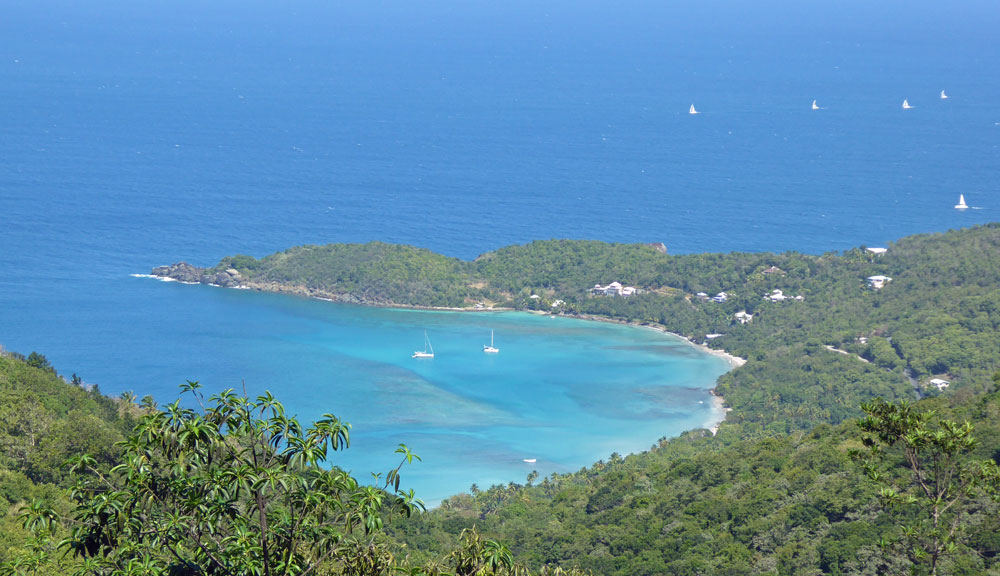 Brewers Bay; beware the coral and cables
However, navigation into the Brewers Bay anchorage can be tricky due to the coral reefs, and anchoring in the southern part of the bay is prohibited owing to the presence of cables on the seabed. The two yachts in the pic seem to have found good spots.
The bus continued to Rhode Town...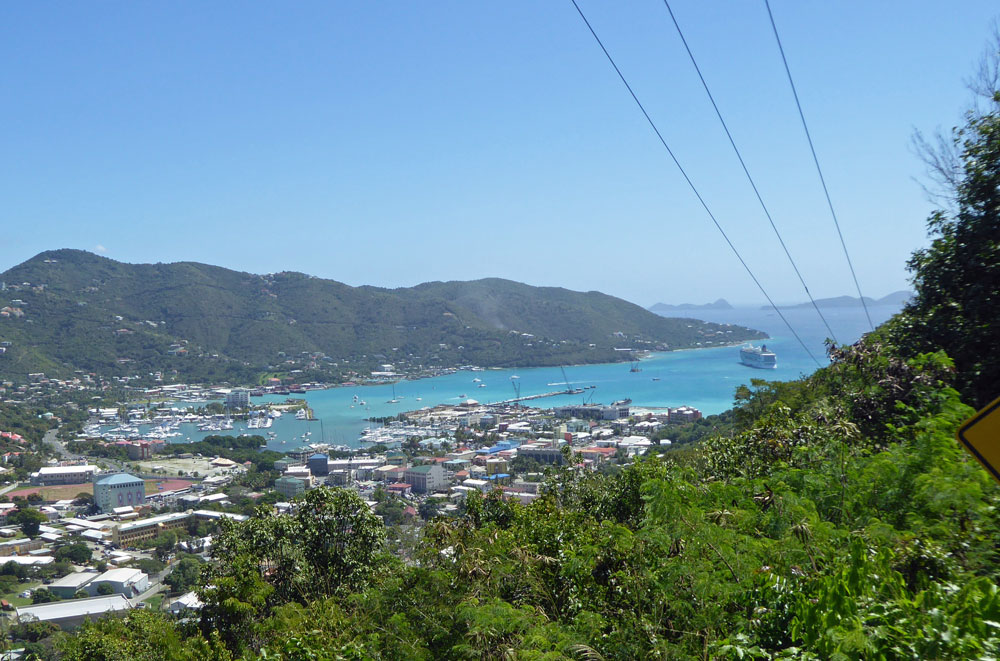 Rhode Town, the capital of the British Virgin Islands
Road Town is the Capital of both Tortola and of the BVI's. There's a large, full-service marina at Road Harbour - The Village Cay Marina - and several unattractive (by BVI standards) anchorages.
We decided against sailing there, the lure of spending some time in Jost van Dyke proving irresistible...
Jost van Dyke
After a short but brisk sail from Cane Garden Bay to Jost van Dyke we dropped the hook in Great Harbour, one of the Ports of Entry to the BVIs. The island was named after a 17th century Dutch pirate, Joost van Dyk.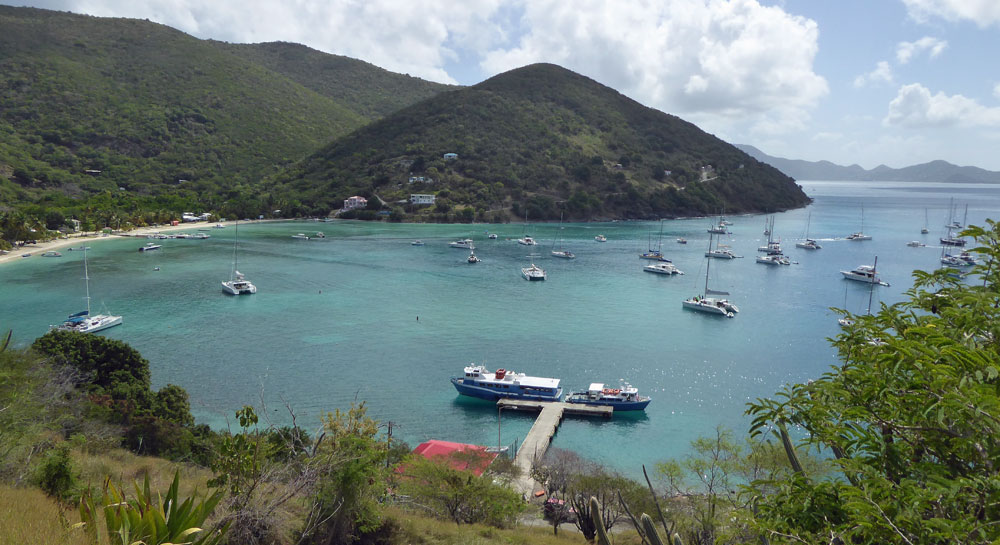 Great Harbour on Jost van Dyke, where you'll find the Customs & Immigration Offices
Ashore there are a number of excellent bars and restaurants, the most famous of which is Foxy's Bar, owned and operated by Philicianno 'Foxy' Callwood MBE.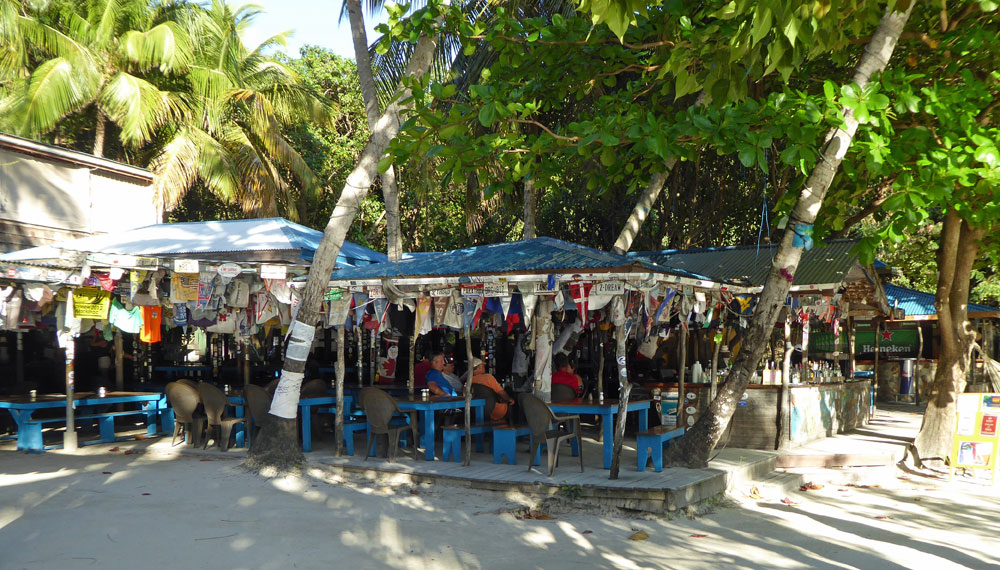 Foxy's Bar, at the eastern end of Great Harbour on Jost van Dyke Island
Foxy was honored in 2009 by Her Majesty the Queen for ambassadorship at home and around the world, his countless contributions to tourism and undaunted efforts to preserve the heritage of his homeland.
Strolling the length of the beach, we continued westward on the track to White Bay...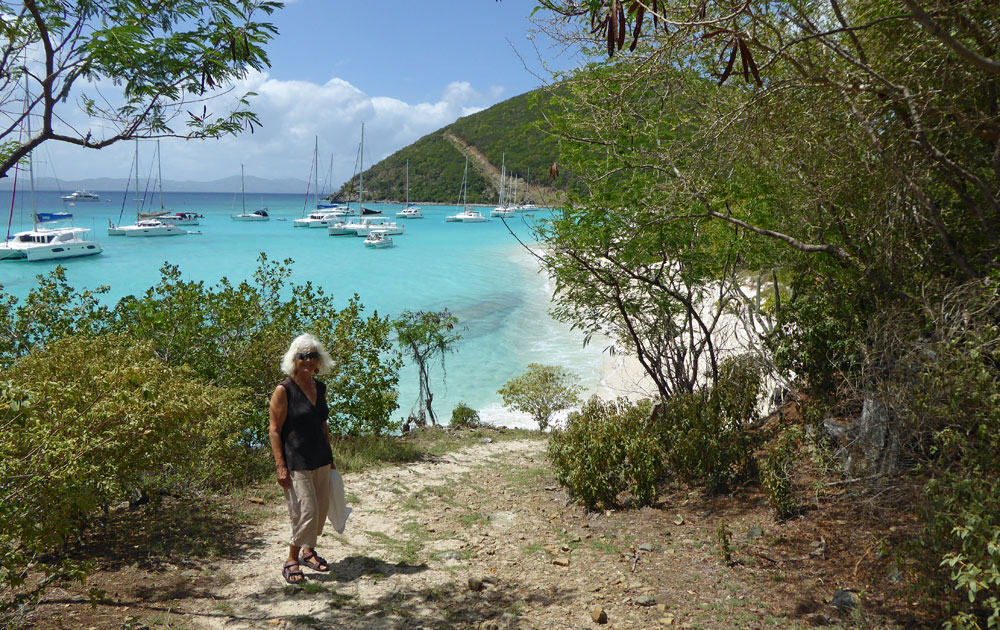 The track to White Bay, at the western end of Jost van Dyle with Great Tobago Island on the horizon
Similarly packed with moorings and an impressive selection of beach bars and restaurants ashore, the reef-strewn entrance to White Bay calls for some careful navigation.

Probably, White Bay's claim to fame is as the home of The Soggy Dollar Bar where the famous 'Painkiller' rum cocktail was concocted.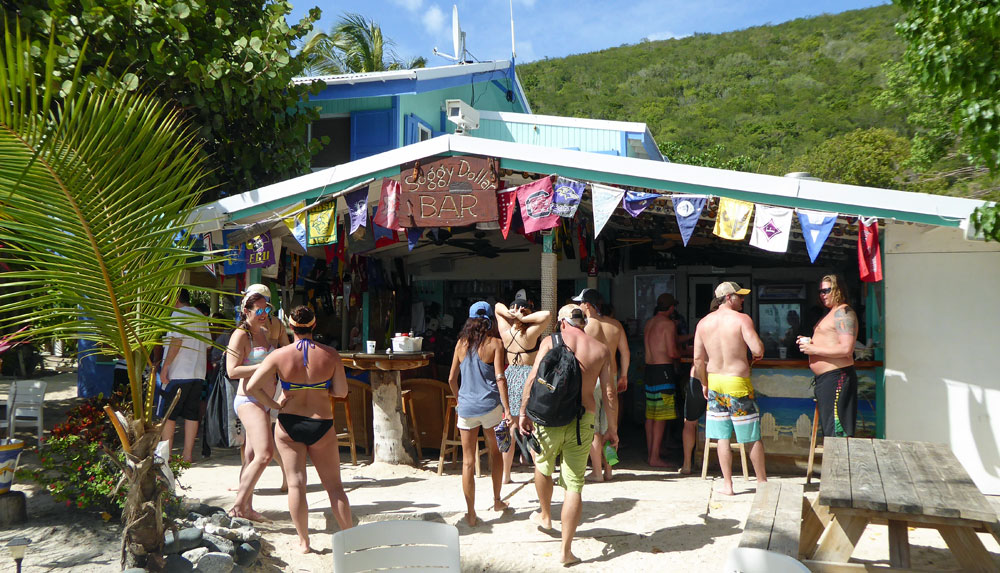 The aptly named Soggy Dollar Bar, at White Bay on Jost van Dyke
The 'Painkiller' is a blend of rum (traditionally Pusser's Rum) with 4 parts pineapple juice, 1 part cream of coconut and 1 part orange juice served on the rocks with a generous amount of fresh nutmeg on top.
You have a choice of numbers 2, 3 or 4, which designate the amount of rum.
Painkiller #2: 2 parts rum;
Painkiller #3: 3 parts rum;
Painkiller #4: 4 parts rum;
Painkiller #5? Don't even think about it!
Conscious of the walk back to Great Harbour, we stayed with the low-octane version!
The following day, we moved Alacazam around to Little Harbour. Much less crowded than Great Harbour and with fewer facilities ashore, Little Harbour is popular with cruisers seeking a little more space to themselves.
Little Harbour on Jost van Dyke, with Tortola in the background
From Little Harbour we hiked over to East End Harbour at Diamond Cay, where we were pleased to sate our thirst at Foxy's new venture here - 'Foxy's Taboo Bar'.
There were no moorings here; just a quiet, peaceful, exquisite anchorage.

East End Harbour on Jost van Dyke, overlooking the anchorage to the south of Little Jost van Dyke Island
Little Jost van Dyke Island, home of the Diamond Cay National Park, is very much a nature island providing seabird nesting grounds for boobies, terns and pelicans.
We got heavily rained-on on the walk back to Little Harbour, but it was made well worth it by this stunning remnant of a rainbow...
Rainbow's end over Sandy Spit
From Jost van Dyke, we would have liked to have left BVI waters and sailed to the USVIs. However, Brits and Europeans must have a US visa in their passport or they won't be allowed in. In a non-reciprocal arrangement, US citizens may visit the BVIs without any such encumbrance.
OK, maybe the USVIs next time.
We departed our new favourite island, Josh van Dyke, and set out on a beat to windward towards the northern end of Guana Island.
Great Camanoe
Rounding the point, we tacked into Lee Bay on Great Camanoe and were surprised to find that we had the anchorage to ourselves.
Lee Bay on Grand Camanoe, one of the few anchorages in the BVIs not taken up by an over-abundance of mooring buoys
Grand Camanoe is a private island and off-limits to visitors; no landing is allowed. There are no moorings in Lee Bay and, as a consequence, no charterers.
Soon we were joined by a few other like-minded cruisers enjoying the peace and solitude.
After a couple of days we moved on, taking the passage between Great Camanoe and Little Camanoe before anchoring at Marina Cay.
A pleasant anchorage lies between Marina Cay and Great Camanoe
Here we dinghied ashore to enjoy a sundowner (a rum-punch of course) at the aptly-named Sunset Bar.
Our island hopping sojourn was now coming to an end. We sailed back to Virgin Gorda, where we checked out at Gun Creek before setting out to return to the Leeward Islands of the Eastern Caribbean.
Our course took us to the north of Saba Bank, down the west side of Saba, Statia and St Kitts to Nevis, where we checked and anchored off Pinney's Beach.
Note:
In September 2017, the BVIs were hit by two devastating hurricanes - first the category 5 'Irma' and then the even stronger 'Maria'. 
The damage caused was extensive, but now as I write this some four years later, things are up and running much as before.
Mary and I on our sailboat 'Alacazam' have not yet returned to the BVIs since the hurricanes, so some of the places may have changed since the photographs here were taken. 
Island Hopping through the USVIs

Well, maybe next time...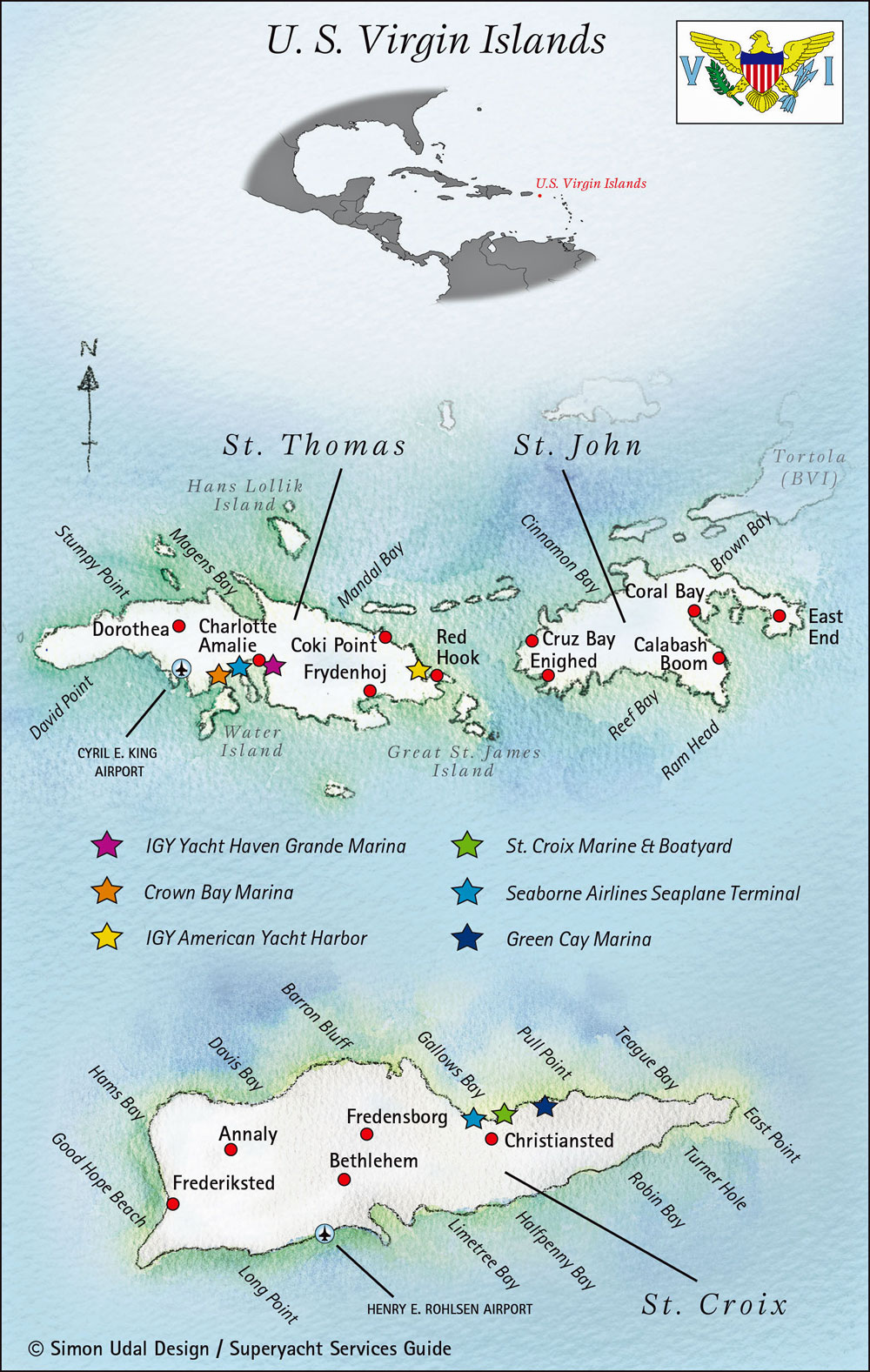 And finally...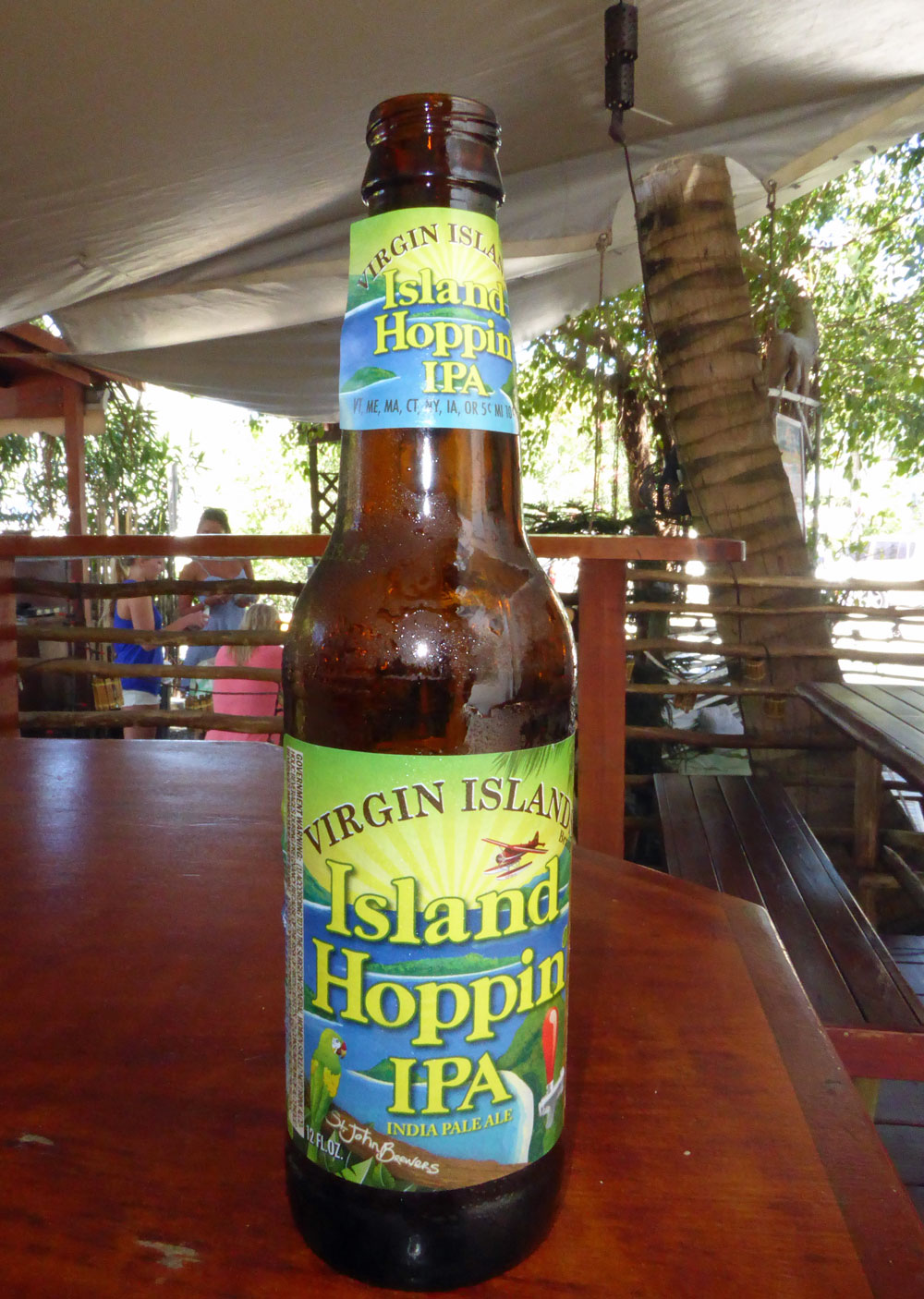 Island Hopping bottled!
Jun 07, 23 01:51 AM

Looking for used sailboats for sale that are capable of crossing an ocean? These cruising yachts are already in the Caribbean, but what are the risks and benefits of buying out there?

Jun 04, 23 08:32 AM

If you're looking for a unique Bluewater Cruising Yacht for sale in the Caribbean, then 'Shindig' is certainly worth a look...

Jun 04, 23 06:26 AM

Here's where people with sailing equipment for sale advertise their stuff entirely free of charge. If you're looking for used sailing gear or other used boating accessories, here's where to find it!
---