'Resolute', an Irwin 37 Sailboat for Sale
'Resolute', a 1980 Irwin 37 MK IV is located in Michigan City, Indiana USA with the slip already paid ($3,000 value) for the season, through 31st October 2022 and guaranteeing you a slip for next year.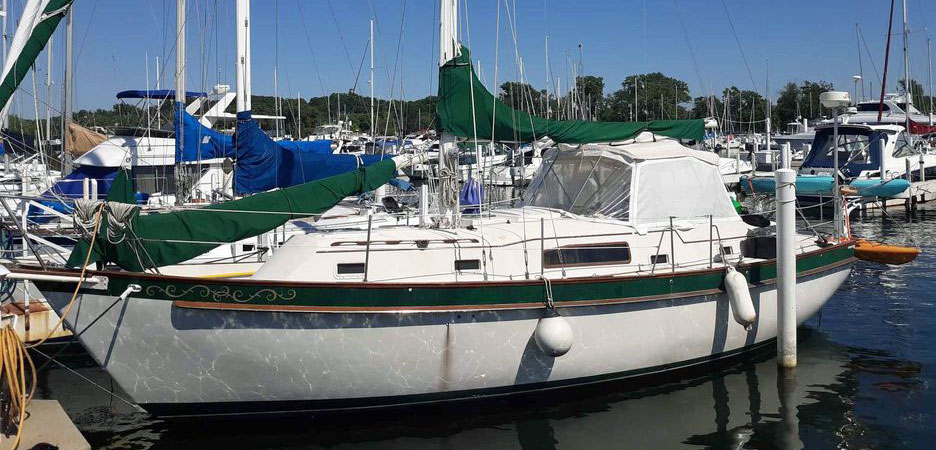 'Resolute', a 1980 Irwin 37Mk IV Cutter


The sand dunes are the only thing between you and the beach/lighthouse.
With 2 bedrooms (each with their own bathroom), a dining area and full kitchen (2 fridges and an ice box) it is like have a beach side condo at a fraction of the cost.
'Resolute' is right in the middle of the most desirable pier section in the marina, plus the people are great and pet friendly.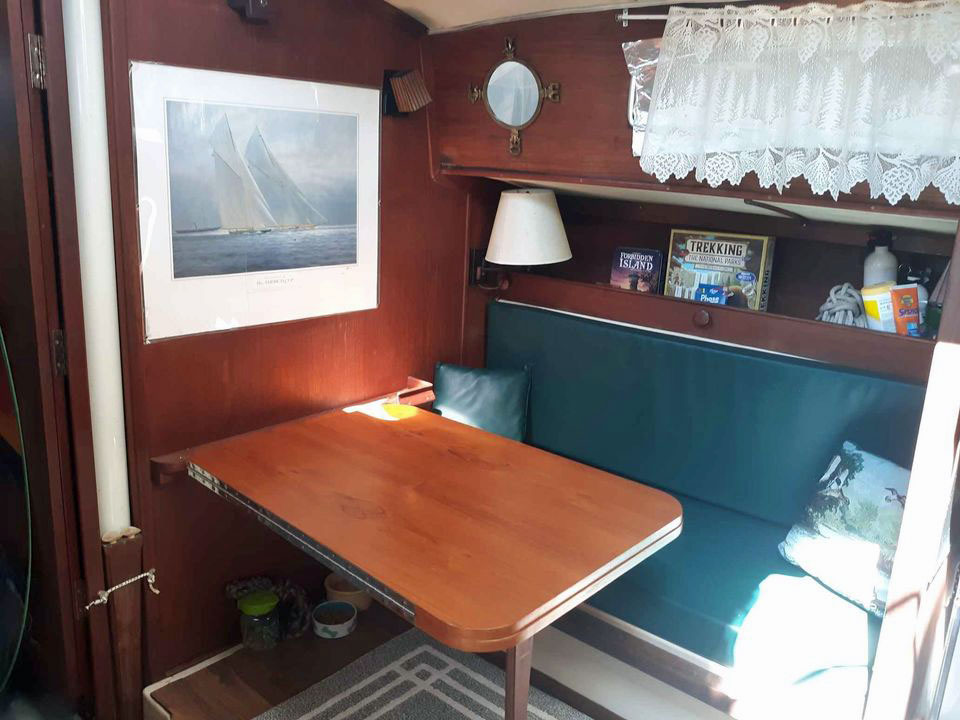 The fold-out table in the saloon


Irwin 37 Dimensions:
Length 37'0"
Beam 11'6"
Draft 4'0"
Displacement 20,000lbs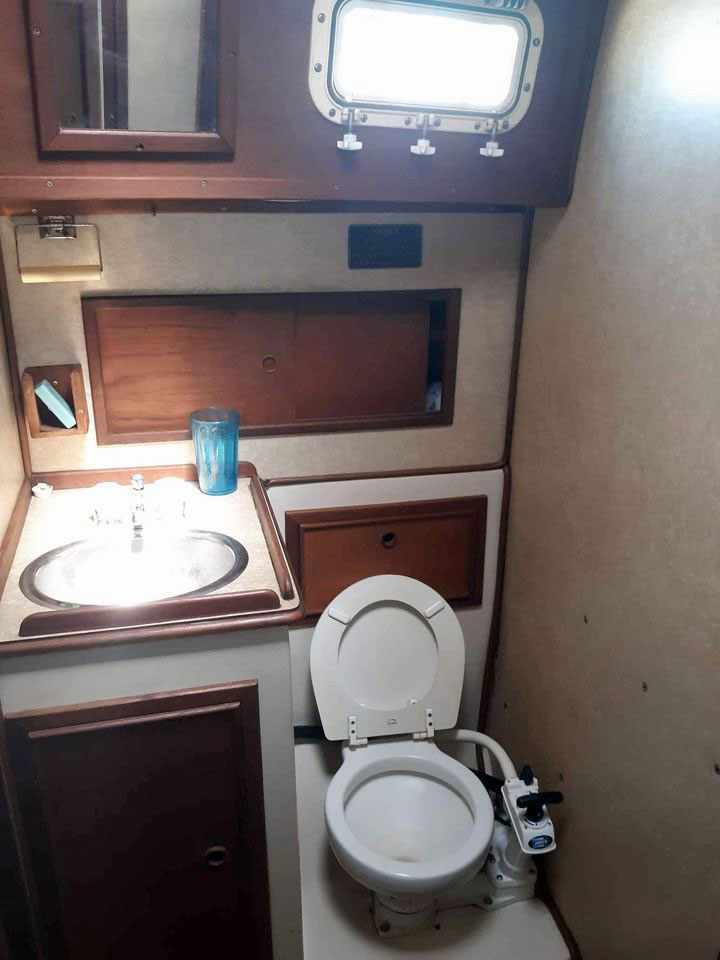 The head


Survey available to serious inquires, conducted in November. Found cutlass bearing with 30% left and suggested refinishing the rudder to prevent water infiltration and freeze damage. Both can be done at the same time when pulled for the winter, but neither needs immediate attention.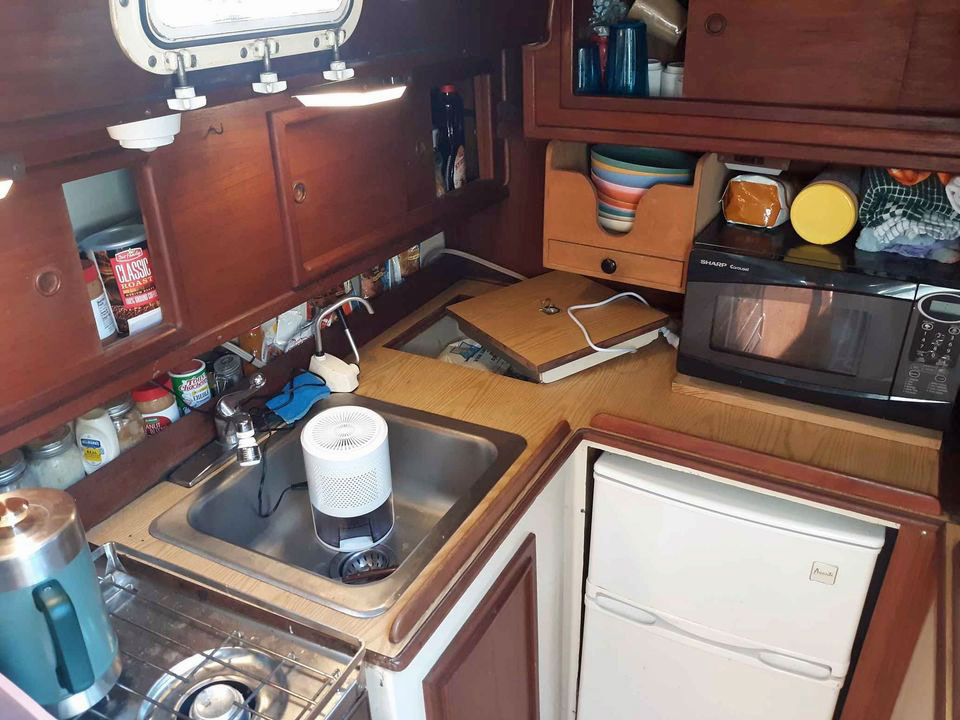 The galley


Sails:
1 fully battened mainsail 259 ft2,
1 cruising spinnaker,
1 135% furling genoa,
1 staysail.
Includes custom cradle.
Perkins 4-108 50hp diesel engine with 80-gallon tank.
2 battery banks for appliances and lights and a separate starter battery, all maintained by a ProSport HD20 battery charger and maintainer.
20lb propane cylinder for gimbled stove/oven.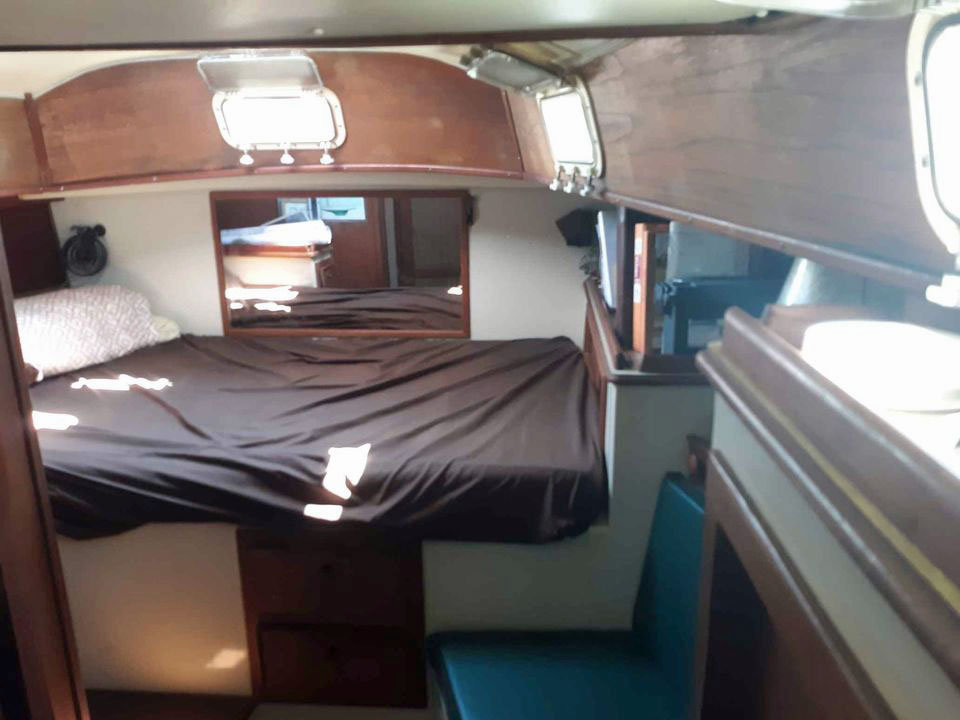 The double berth in the aft cabin


'Resolute' has never been in saltwater.
No soft spots or blisters were found in the hull or deck, hull is solid fiberglass.
80-gallon freshwater tank, 6-gallon 12v hot water tank (it is also heated by the engine when it runs).
Has a full vinyl enclosure and screen mesh enclosure for the canopy top, along with a vinyl and screen cover for the hatch.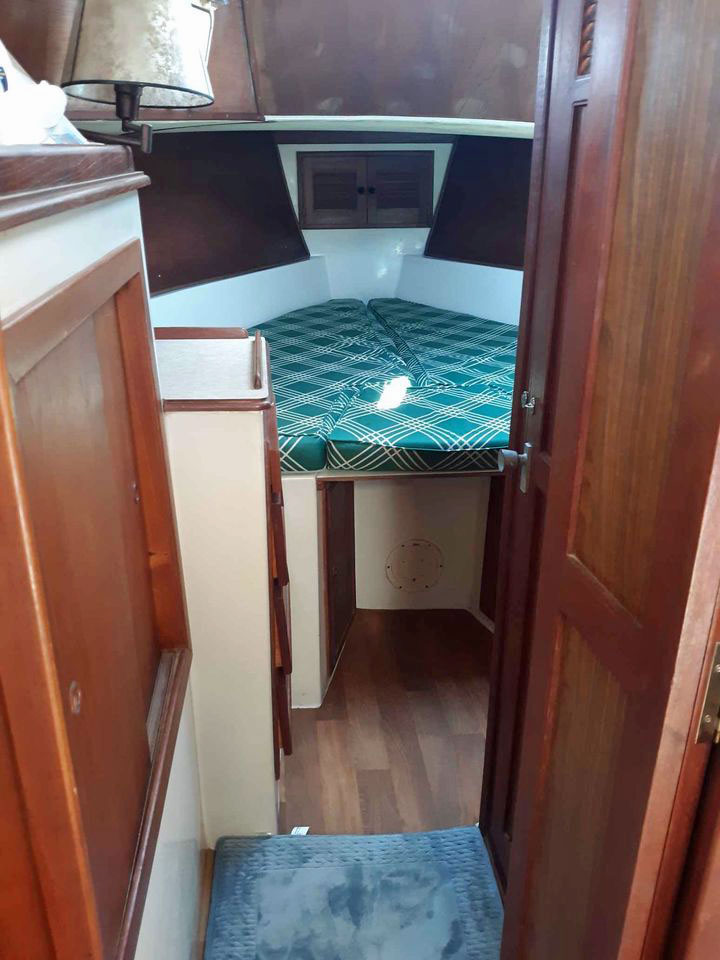 The double berth in the forecabin


2 heads with 2 separate holding tanks.
Has a custom canvas cover for winter storage and custom covers for the sails.
Custom cushions for the seats.
30amp shore power.
Bronze 3 blade propeller on ss shaft with spare propeller.
24" steering wheel with auto pilot.
1 CQR anchor with 12v anchor windless and remote, 1 storm fluke.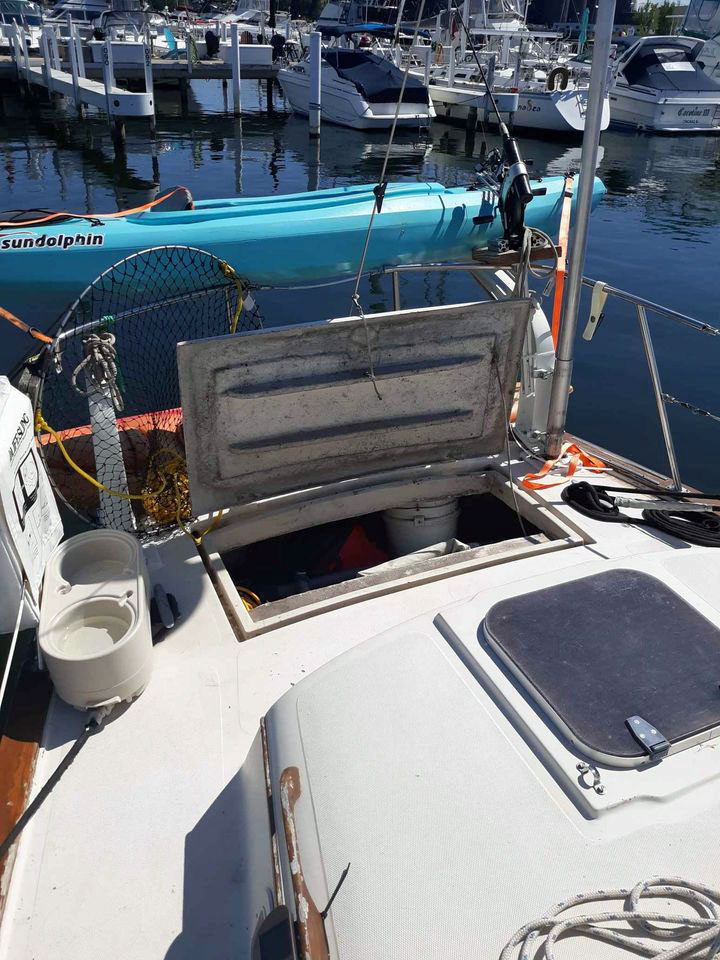 The aft deck


Includes all coast guard safety equipment and is registered with the coast guard - she's ready to travel the world.
Radar;
Chartplotter;
Depth sounder;
Speedometer;
GPS;
2 marine radios;
Compass;
Bluetooth radio with 2 cockpit speakers;
Microwave;
12v fridge/freezer;
Standard 120v fridge/freezer;
Icebox;
3 burner propane stove with oven;
Stainless steel rigging with Barlow winches for the sails, all sails run to the cockpit and can be single-handed I'm told.
Tons of storage everywhere.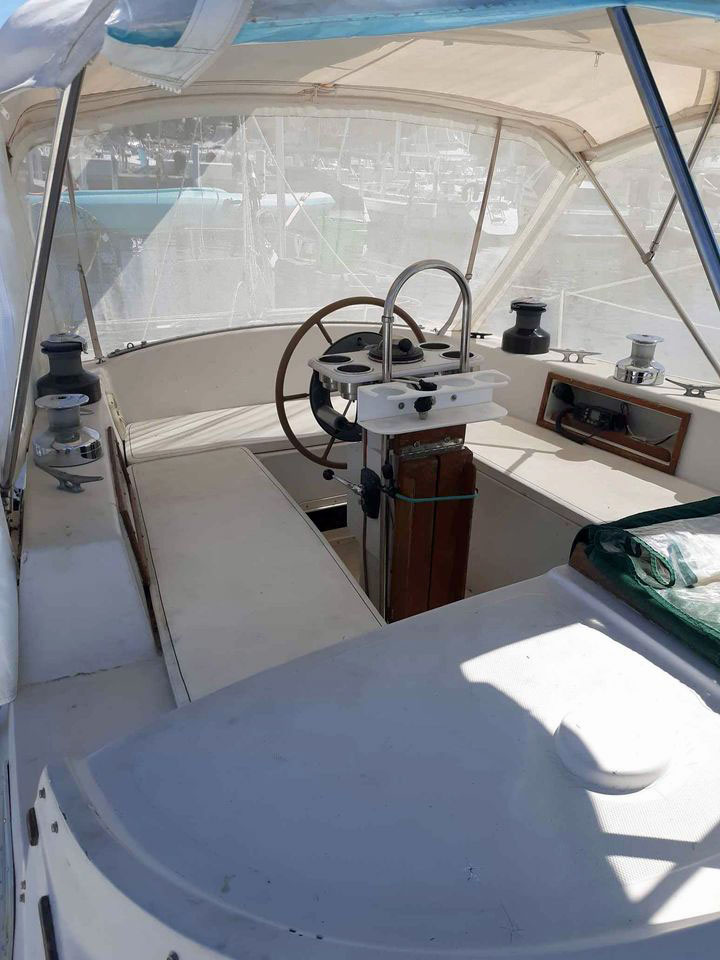 The cockpit can be fully enclosed


We love the boat and so did the previous owners; we are a family of five and it has gotten small as the kids are getting big.
Being an hour from home though and an hour from Chicago, it has been the best location we could have picked besides the Florida Keys to escape every weekend with our family.
The park the marina is in is right next to the zoo and has concerts all through the summer, we had front row seats to the fireworks at our slip.
It has some of the best steelhead and salmon fishing on Lake Michigan and would make a perfect weekend home or live aboard.
Asking Price for the Irwin 37 'Resolute'...

The Owner is asking $32,000 for 'Resolute'
---
Jun 07, 23 01:51 AM

Looking for used sailboats for sale that are capable of crossing an ocean? These cruising yachts are already in the Caribbean, but what are the risks and benefits of buying out there?

Jun 04, 23 08:32 AM

If you're looking for a unique Bluewater Cruising Yacht for sale in the Caribbean, then 'Shindig' is certainly worth a look...

Jun 04, 23 06:26 AM

Here's where people with sailing equipment for sale advertise their stuff entirely free of charge. If you're looking for used sailing gear or other used boating accessories, here's where to find it!
---