Pacific Seacraft Crealock 37
'Hero', a Pacific Seacraft Crealock 37 Sailboat for Sale

by owner Jim Seal
'Hero', my Pacific Seacraft Crealock 37 is currently sailing in the Caribbean (since July 2021) and is scheduled to return to the US east coast late spring 2023.
Update! 'Hero' is now on the hard at Bert Jabins in Annapolis, MD, so interested parties can take a look at her there.
She has had all her systems upgraded and improved upon since we purchased her in 2015. We have plans for extensive land travel in the next few years and sadly will be offering her for sale.
The Crealock 37, a sailboat designed by renowned maritime designer W.I.B. Crealock, has long been a favorite amongst sailing enthusiasts. Its timeless design combined with its rugged construction and outstanding performance make it an attractive option for those looking for a true blue-water cruiser.
Analyzing the design ratios of the Crealock 37 gives a clear understanding of its potential performance. The Sail Area/Displacement (SA/D) ratio is 16.41, which is indicative of a moderate cruiser. This ratio signifies the balance between the sail area and the boat's weight, with a higher number generally indicating a faster, more performance-oriented boat.
The Ballast/Displacement ratio of the Crealock 37 is 40.21%. This demonstrates the boat's ability to resist capsizing, with a higher number indicating better stability. This is a crucial feature for those looking to undertake long-distance cruising, particularly in rough conditions.
The boat's Displacement/Length (D/L) ratio is 324.48. This is slightly higher than some other boats in its class, indicating a heavier boat with more volume. This translates into more onboard storage and living space, a significant advantage for those planning extended trips at sea.
The Comfort Ratio of the Crealock 37 stands at 33.95. This indicates the boat's motion in a seaway, with a higher number representing a more sedate and comfortable ride. This makes the Crealock 37 well-suited for cruising rather than racing.
A Capsize Screening Formula (CSF) of 1.73 suggests that the Crealock 37 has good seaworthiness. The lower the number, the better the boat's theoretical capsize resistance, making it a safe choice for offshore voyages.
The original design of the Crealock 37 is a cutter rig, but alternative options are available. These include a sloop and a ketch design, each with its unique benefits and considerations for cruising performance and handling.
The Crealock 37 is renowned for its build quality and attention to detail. The boat is sturdy, well-constructed, and built to last, as evidenced by the many vintage models that are still sailing today.
In terms of strengths, the Crealock 37 scores highly for its safety, comfort, and efficiency. The boat's design ratios indicate good stability and performance, while its construction quality ensures reliability and longevity.
However, like all boats, the Crealock 37 does have some weaknesses. Some users find the boat a bit challenging for single-handed sailing due to its size and weight. Others may prefer a lighter, more performance-oriented boat.
Despite these minor criticisms, reports from seasoned sailors and accredited marine journals suggest a high level of satisfaction with the Crealock 37. Many praise its sturdy construction, comfortable interior, and excellent seaworthiness, confirming its reputation as a top choice among sailors.
The Crealock 37 is also popular on the secondhand market, with prices typically ranging from $75,000 to $150,000. The price can vary significantly depending on factors such as model year, condition, and included equipment.
When compared to other similar sailboats in its class, the Crealock 37 holds its own. Other boats may be faster or more modern, but few can match the Crealock 37's combination of comfort, seaworthiness, and design integrity.
The Crealock 37 is a boat that invites and conquers challenges, able to withstand various weather conditions and navigate challenging waters. The sense of accomplishment in successfully sailing a Crealock 37 adds to the thrill and adventure of the sailing experience.
The Crealock 37 is more than just a sailboat; it's a lifelong partner for countless maritime adventures. The boat's design and construction reflect a deep understanding of the sailor's needs, resulting in a vessel that is both practical and inspiring.
The Crealock 37 sailboat offers significant interior space and comfort. The well-designed cabin features ample living space, plenty of storage, and a practical galley for preparing meals, making it an ideal choice for long-term cruising.
A notable feature of the Crealock 37 is its moderate draft, allowing the boat to venture into shallower waters. This opens up a world of possibilities for exploration and adventure, taking sailors to less-traveled parts of the globe.
The Crealock 37 comes equipped with modern navigation tools, ensuring safe and efficient sailing across all water bodies. The onboard electronics are designed to make sailing the Crealock a comfortable and enjoyable experience.
The Crealock 37 embodies the inherent feeling of freedom that comes with cruising at sea. Its robust capabilities and comforting layout allow sailors to venture far from the shore, embracing the challenge and adventure that comes with sailing.
The Crealock 37 seamlessly merges the sense of adventure with home-like comfort, creating an atmosphere that is both thrilling and relaxing. This balance makes it an ideal companion for those seeking a long, sustained journey at sea.
Owning a Crealock 37 is not just about owning a boat; it's about owning a piece of maritime history. The boat's timeless design, consistent performance, and impressive build quality ensure that it holds its value well, making it a wise investment.
The Crealock 37's proven record for long voyages means it is more than capable of providing comfort and safety across different sea conditions. Its sturdy construction minimizes the need for repairs, making it a reliable and cost-effective choice for prospective buyers.
A Crealock 37 sailboat speaks volumes about its owner's passion for authentic sailing experiences. Owning a Crealock 37 is about embracing the unique relationship between the sailor and the sea, encapsulated in a craft designed to handle anything the ocean can throw at it.
If you are drawn to the classic, timeless appeal of the Crealock 37, you will be rewarded with a boat that offers dependable performance, sturdy construction, and a comforting interior environment.
Whether you are a seasoned sailor or a beginner, the Crealock 37 offers an engaging sailing experience that commands respect and admiration from the global sailing community.
In conclusion, the Crealock 37 is a well-crafted combination of sturdy construction, exceptional seaworthiness, and aesthetic appeal. Its outstanding performance, ruggedness, and beautiful craftsmanship have earned it a stellar reputation amongst sailing enthusiasts around the world.
Sailing on a Crealock 37 is about understanding the harmonious balance between man and nature. It's about harnessing the wind's energy to chart your course across the vast expanse of the sea, embracing the freedom, challenge, and adventure that comes with it. Whether you're looking at a Crealock 37 for sale or simply dreaming of the open sea, this vessel promises a unique and unforgettable journey.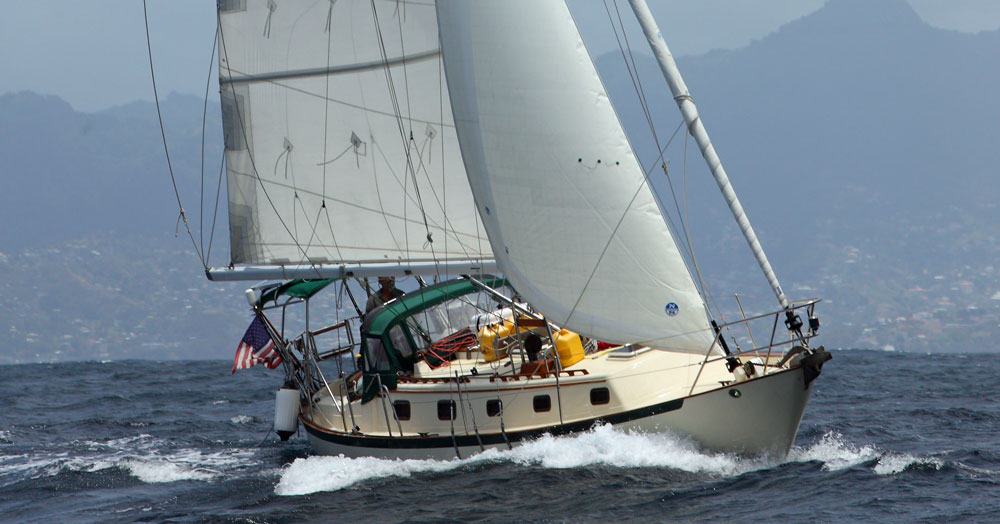 'Hero', my Pacific Seacraft Crealock 37.
We can deliver her to any port on the east coast of the USA.
'Hero' is perfect for a liveaboard couple, and can accommodate 5-6 for overnights.
Her first owner kept her in freshwater near Burlington, Vermont, for the first 20 years, so she has avoided a lot of saltwater wear. She's a very stable and reliable vessel with classic good looks.
Accommodation layout
Material & Dimensions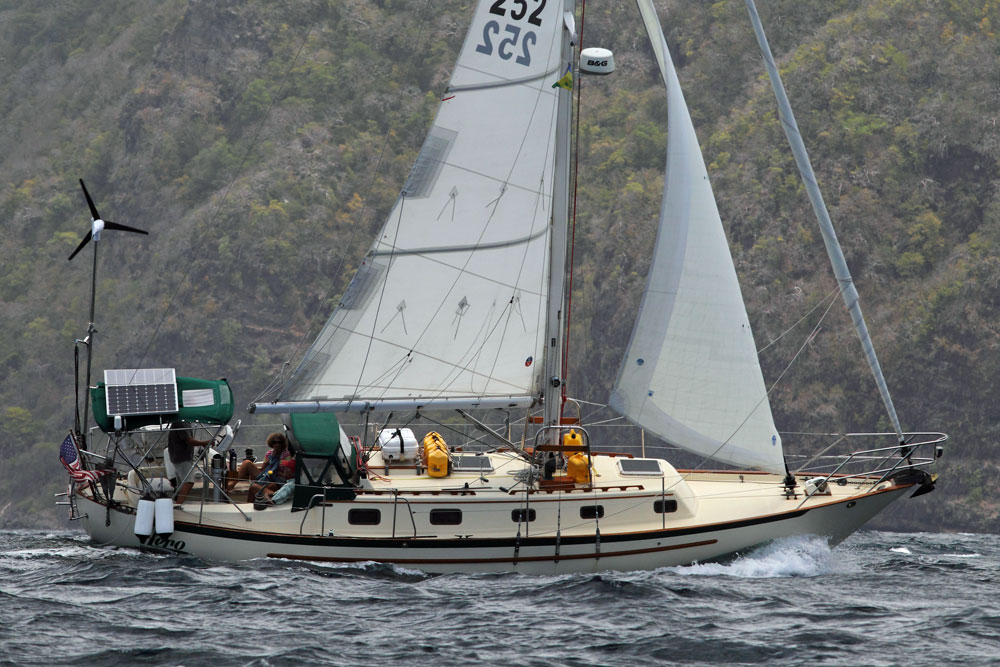 'Hero' reaching comfortably under full main and staysail only
Sails, Rigging & Deck
Main: 272

ft

2, good condition. Two reefs, lazy-jack system;

Primary jib: North Sails 452ft

2

, 125% 3Di Nordac Offshore Ply (2020);

Staysail: North Sails 90% 3Di Nordac Offshore Ply (2021);

Backup jib: Doyle high clew, Condition good;

Asymmetric spinnaker: 860

ft

2, with ATN Tacker;

Orange Storm Trysail 86

ft

2

;

32-inch diameter Edson wheel with leather cover;

Block and tackle arm attached to wind generator pole for raising outboard engine onto rail;

Standing rigging, both furlers, boom vang and all lifelines replaced;

Barient 2-speed self-tacking main winches;

Lewmar 30 two-speed winches mounted to the mast;

Lewmar 30 self-tacking two-speed winches on the cabin top;

Sunbrella bimini and dodger, mainsail and windlass covers.
'Hero', having a canoe stern, is a 'double-ender'.
Engine & Mechanicals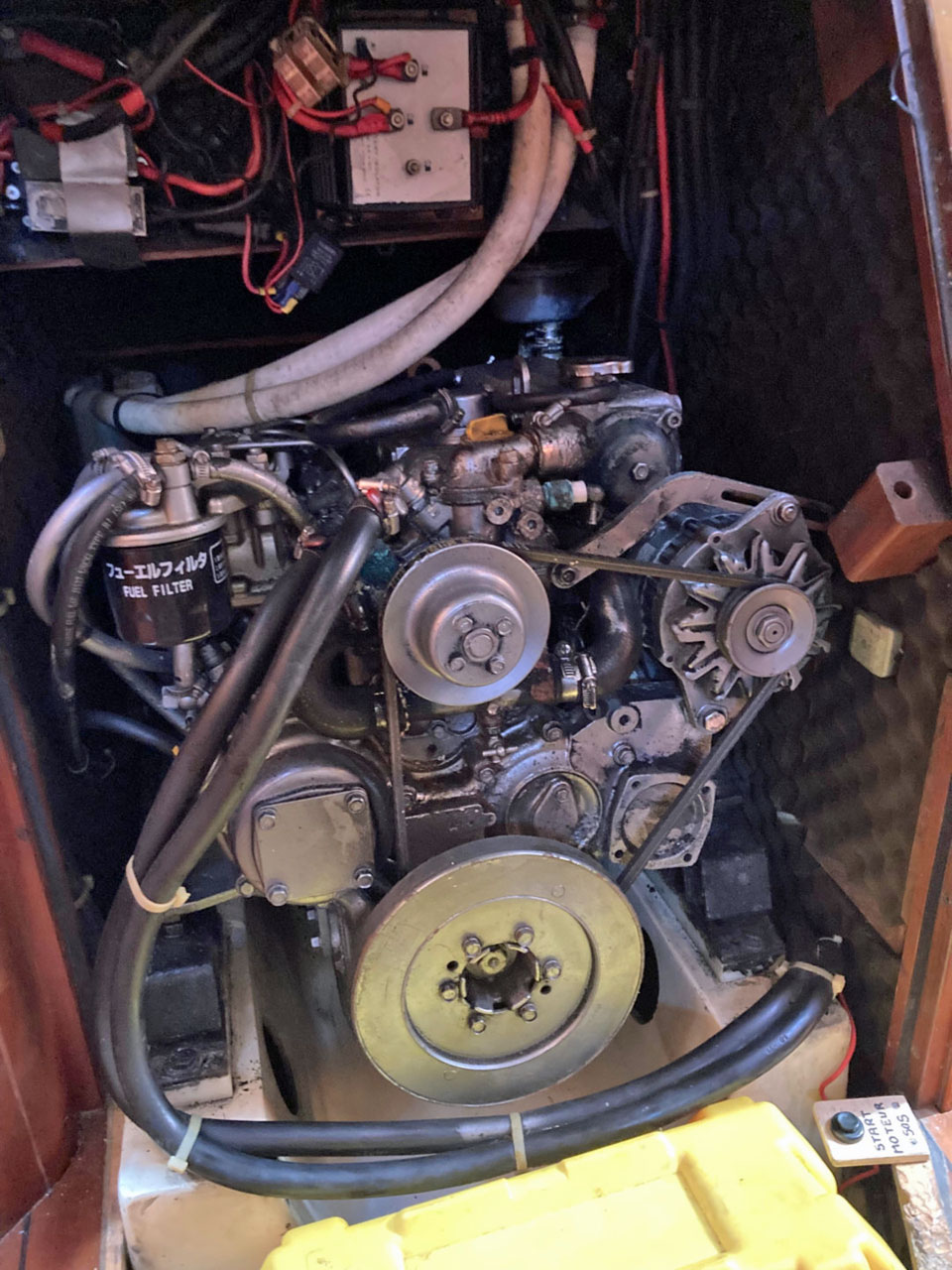 Her Yanmar 4JH2E 50 hp diesel engine
Electronics, Navigation & Renewable Energy Equipment
Her B&G Chartplotter is mounted at the wheel
Interior/Galley/Comforts
'Hero' is a very clean boat;

Two hatches and 10 ports for excellent air flow;

All LED interior lighting, including red lighting for night sails;

OzeFridge fridge/freezer combo. Compressor with twin cold plates, freshwater cooling. All refrigeration insulation replaced;

Hot pressurized water (engine provided with 6 gallon tank) for hot showers;

Spectra model 200T watermaker - 7 gallons of freshwater per hour;

Interior analog clock and barometer;

All interior and cockpit cushions replaced;

Interior wood walls/tables refinished;

Galley countertops and sink replaced with Corian;

Galley and head faucets with hot and cold pressurized, filtered water;

Durable Groco manual head;

Handheld shower spray and freshwater foot pump in head;

Galley has saltwater and freshwater foot pumps;

Lee cloth on port side;

Force 10 two-burner stove and oven;

Force 10 propane fueled cabin heater;

Two propane tanks secured in ventilated stern locker;

Propane grill mounted to stern rail;

Fusion Stereo AM/FM/CD/DVD Wifi player w/NMEA control at chartplotter, Infinity 8" speakers in the cockpit, Bose 101 speakers in the salon;

32-inch wifi TV mounted in the salon;

Three 7-inch Caframo fans mounted in the salon and v-berth;

Multiple USB ports and AC power access in cabin;

Bimini and stern rail hardware replaced;

Teak cockpit table with folding leaves.
Looking aft, showing the quarterberth on the port side
Safety Gear
Her deck-mounted Datrex 4-person canister liferaft
More Pics, Asking Price & Owner's Contact Details...
1 - Hero's Interior
The galley is on the starboard side at the foot of the companionway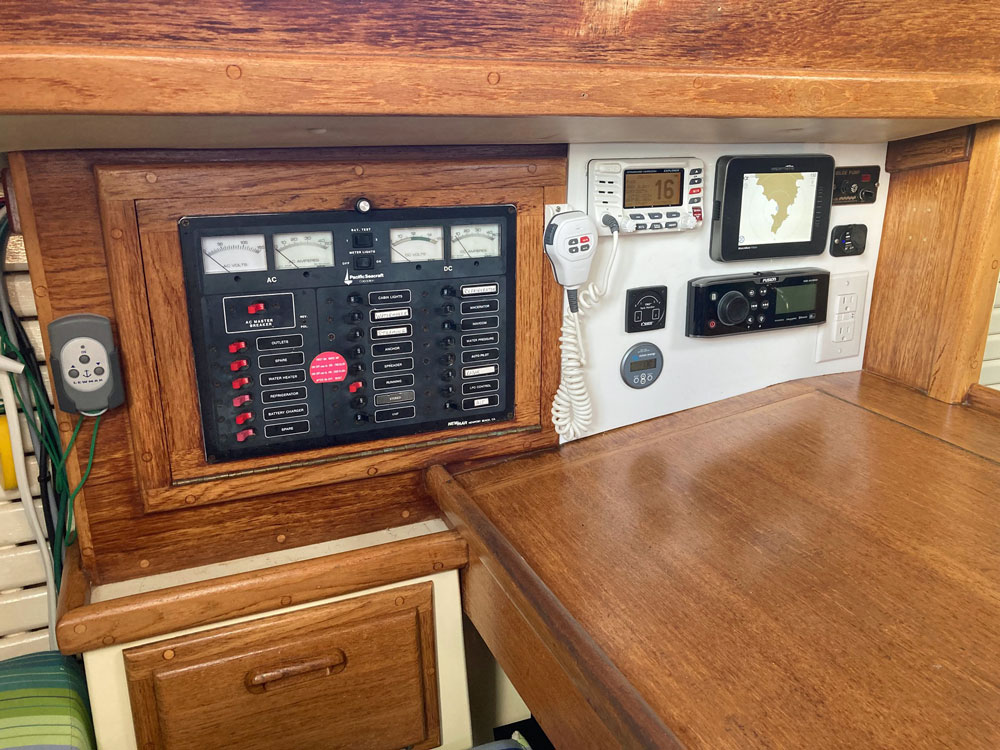 The navigation station is on the port side at the foot of the companionway
The main cabin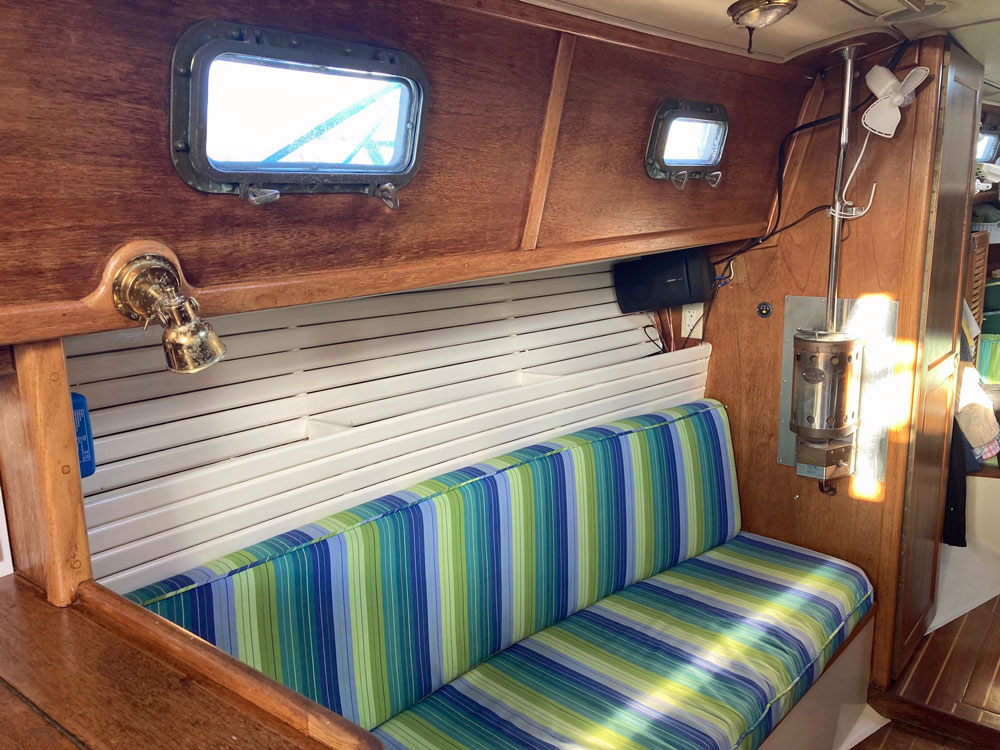 A Force 10 propane fueled cabin heater is mounted on the forward bulkhead
Plenty of solid handholds throughout the interior
The forward cabin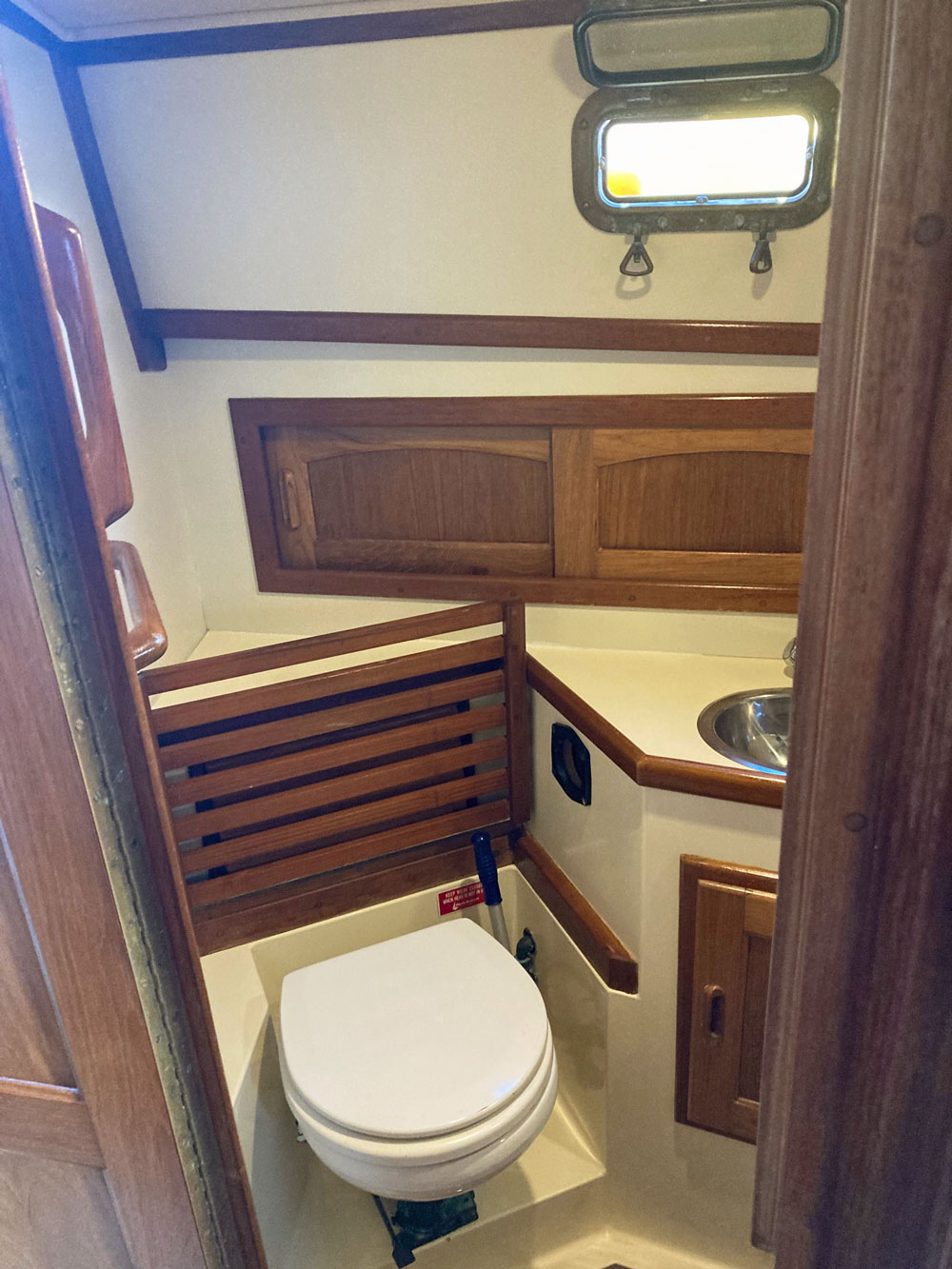 The head...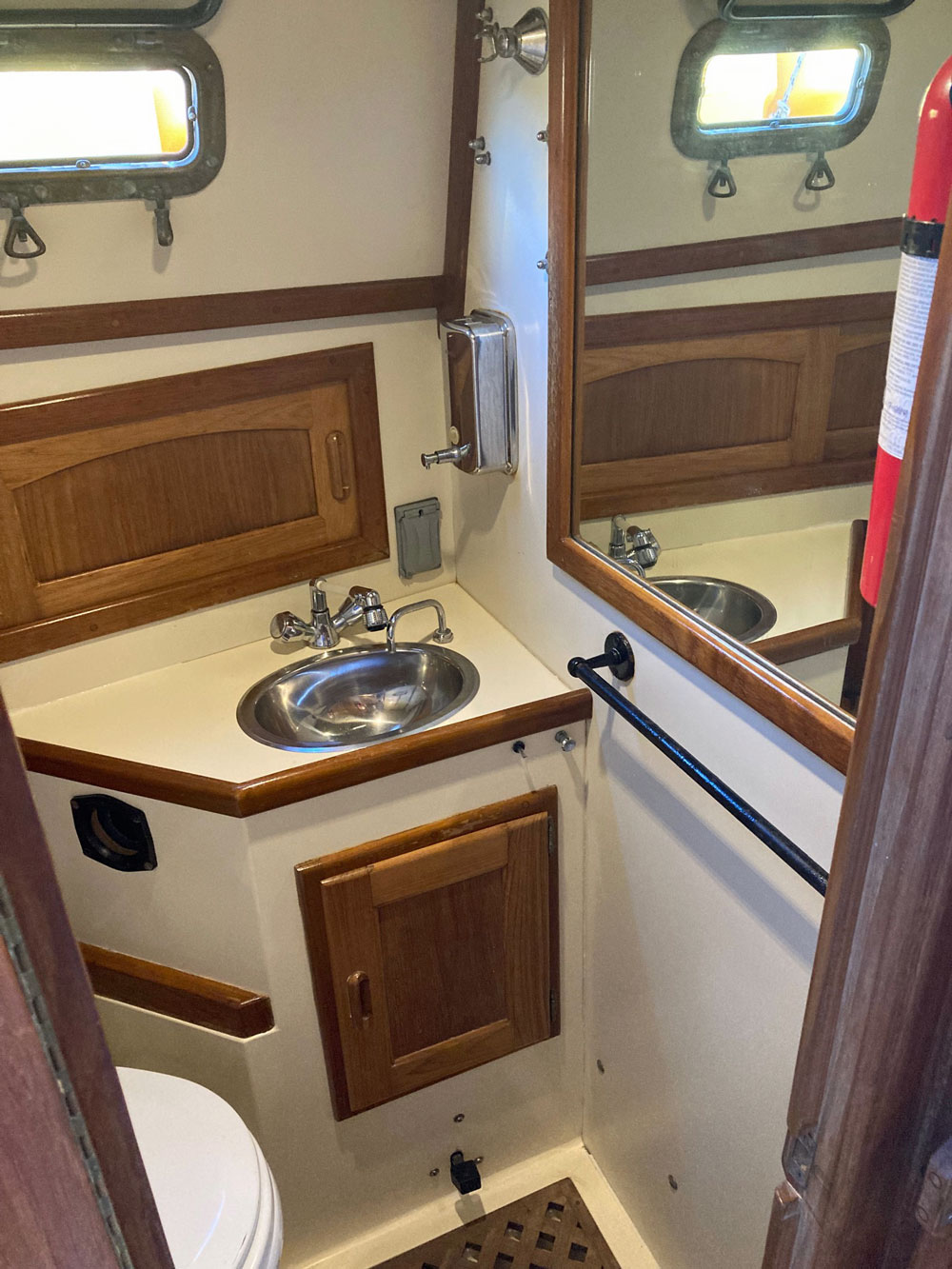 ...and wash basin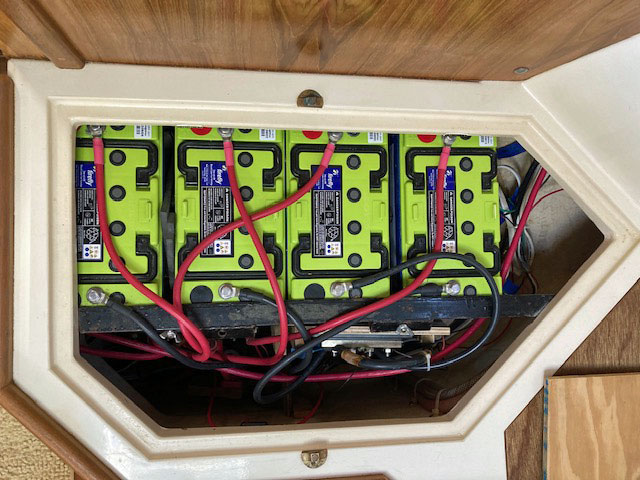 Four Firefly AGM 12v batteries make up the domestic bank, totalling 464Ah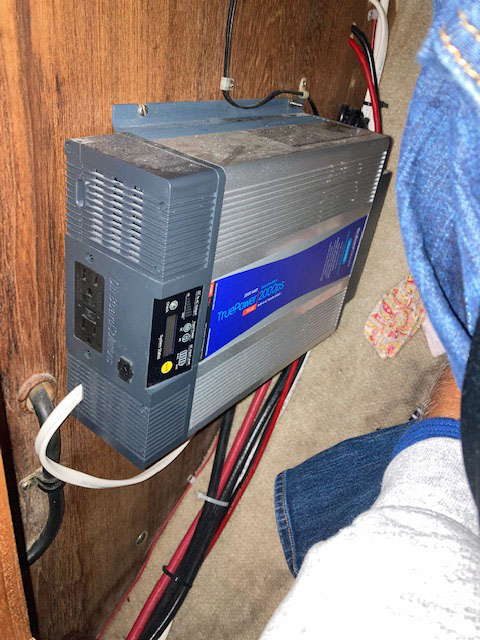 Pro Marine 2000 Watt inverter
The Spectra model 200T watermaker makes 7 gallons of freshwater per hour
2 - Exterior Pics...
Showing her fin keel and skeg-hung rudder
Her North Sails 90% 3Di Nordac Offshore Ply staysail
The 350 Watt solar array is mounted to bimini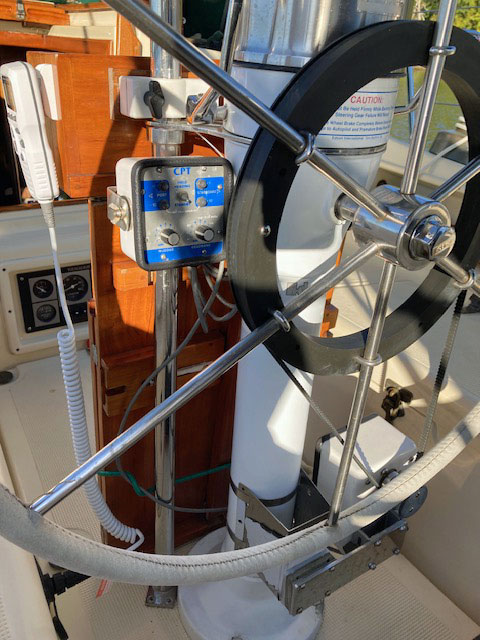 The wheel-mounted CPT Autopilot system
3 - Asking Price and Contacting the Owner
'Hero'
I'm asking $139,000* for 'Hero', my 1992 Pacific Seacraft Crealock 37 cutter.
*Now $125,000!
If you wish to get in touch, you can find my contact details here...
Owner: Jim Seal
Based on Published Design Ratios for the Pacific Seacraft Crealock 37:

Her Sail Area/Displacement Ratio of 15.6 suggests that she will need a stiff breeze to get her going. In light conditions, unless you've got plenty of time on your hands, motor-sailing may be the way to go.

Her Ballast/Displacement Ratio of 38.8 means that she's likely to benefit from being reefed early to keep her sailing upright in a moderate breeze.

Her Displacement/Length Ratio of 334 tells us she is clearly a heavy displacement cruising boat. You can load her down with all your cruising gear and equipment and it will hardly affect her waterline.

Ted Brewer's Comfort Ratio of 33.4 suggests that the comfort of her crew in a seaway would be similar to that associated with the motion of a moderate bluewater cruising boat - a predictable and acceptable motion for most seasoned sailors.
Sep 29, 23 05:38 PM

Sailing characteristics and performance predictions, pics, specifications, dimensions and those all-important design ratios for the Hanse 400 sailboat...

Sep 29, 23 03:17 AM

Interested in the Gulf 32 sailboat? Here are the pics, specs and performance predictions you're looking for...

Sep 28, 23 04:04 PM

Sailing characteristics and performance predictions, pics, specifications, dimensions and those all-important design ratios for the Fuji 35 sailboat
---