The Cabo Rico 38 Sailboat

Specs & Key Performance Indicators
The Cabo Rico 38, a heavy displacement aft-cockpit cutter, was designed by Bill Crealock & Dennis Garrett and built in Costa Rica by Cabo Rico Custom Yachts Inc.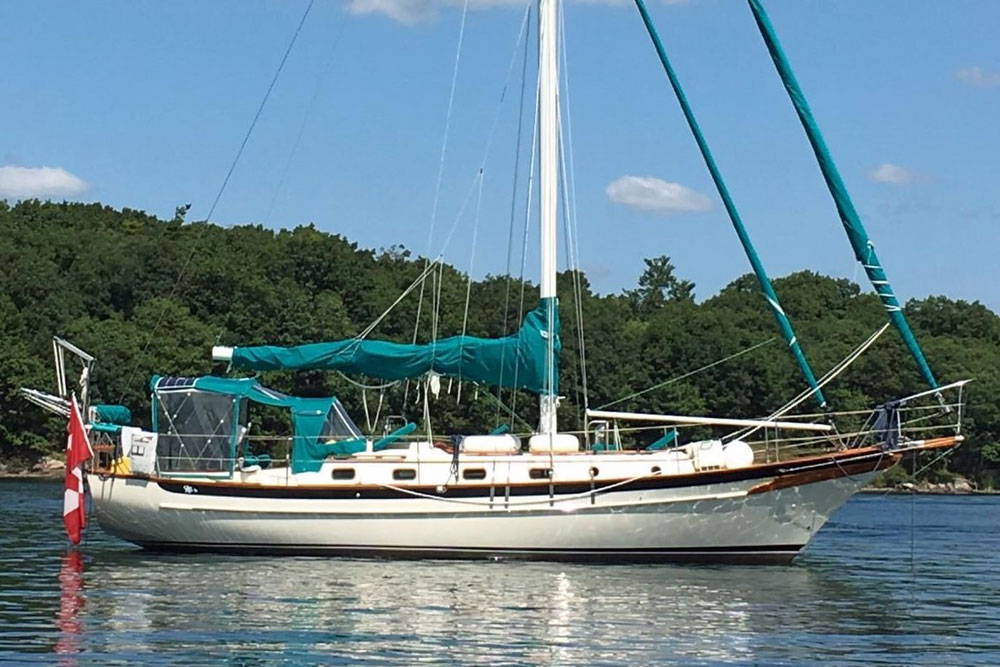 Cabo Rico 38


Published Specification for the Cabo Rico 38

Underwater Profile: Long keel
Hull Material: GRP (Fibreglass)
Length Overall: 38'0" (11.6m)
Waterline Length: 29'3" (8.9m)
Beam: 11'6" (3.5m)
Draft: 5'0" (1.5m)
Rig Type: Cutter
Displacement: 21,000lb (9,525kg)
Designer: Bill Crealock & Dennis Garrett
Builder: Cabo Rico Custom Yachts (Costa Rica)
Year First Built: 1970
Number Built: 200
---
Published Design Ratios for the Cabo Rico 38
1. Sail Area/Displacement Ratio: 20.5
2. Ballast/Displacement Ratio: 37.1
3. Displacement/Length Ratio: 375
4. Comfort Ratio: 39.4
5. Capsize Screening Formula: 1.7
Summary Analysis of the Design Ratios for the Cabo Rico 38
1. A Sail Area/Displacement Ratio of 20.5 suggests that, in the right hands, the Cabo Rico 38 will have enough performance to leave most other sailboats of similar waterline length well astern. 

2. A Ballast/Displacement Ratio of 37.1 means that a sailboat like the Cabo Rico 38 (which doesn't have a stiffness-enhancing bulb keel), is likely to benefit from being reefed early to keep her sailing upright in a moderate breeze.
3. A Displacement/Length Ratio of 375, tells us the Cabo Rico 38 is firmly in the ultra-heavy displacement category. Load her up as much as you like and her performance will be hardly affected, not that it was ever startling. Few if any sailboats are built to this displacement category these days - but they remain popular with some long-distance sailors.
4. Ted Brewer's Comfort Ratio of 39.4 suggests that crew comfort of a Cabo Rico 38 in a seaway is similar to what you would associate with the motion of a moderate bluewater cruising boat - a predictable and acceptable motion for most seasoned sailors.
5. The Capsize Screening Formula (CSF) of 1.7 indicates that a Cabo Rico 38 would be a safer choice of sailboat for an ocean passage than one with a CSF of more than 2.0. 
---
---
Cruisers' Questions about this Sailboat...
The company was founded in 1965 by John Schofield, a British manager of a Leyland automotive plant in San Jose, Costa Rica, who started building power boats as a hobby.


In the early 1970s, the company launched its first sailboat, the Tiburon 36, a ketch designed by Bill Crealock;

In 1977, the Tiburon 36 evolved into the Cabo Rico 38, a cutter that became the company's most popular and iconic model;

In 1983, the company opened a sales office in Fort Lauderdale, Florida, and expanded its dealer network to Europe and Asia;

In 1987, the company was bought by Fraser and Edi Smith, two Canadians who introduced new models and improved the quality and design of the boats;

In 1992, the company acquired David Walters Custom Yachts, which produced the Cambria line of luxury sailboats;

In the 1990s and 2000s, the company collaborated with other designers such as Mark Ellis and Chuck Paine to create new models ranging from 34 to 56 feet, including pilothouse versions;

In 2005, the company entered a Cabo Rico 56 in the Trans Pacific race and achieved an impressive second place in its class;

In 2010, the company faced financial difficulties and filed for bankruptcy protection;

In 2014, the company was reorganized and resumed production under new management.
The Cabo Rico 38 was designed by William (Bill) Crealock, a renowned naval architect who also designed the Tiburon 36, the Pacific Seacraft 34 and 37, and many other cruising boats.
The Cabo Rico 38 was built by Cabo Rico Custom Yachts in Costa Rica, starting from 1977 until 2005. About 200 hulls were produced in total.
The Cabo Rico 38 is a traditional full-keel cutter with a bowsprit, a low sheerline, and a lot of teak trim. It has a balsa-cored deck and hull, a keel-stepped mast, and an internal ballast. It is known for its strength, seakindliness, and quality craftsmanship.
The Cabo Rico 38 has been built with a variety of configurations to suit different preferences and needs. The standard layout has two cabins, one head, and a U-shaped galley to starboard. Some models have two heads, one forward and one aft, or a single cabin with more storage space. The salon can have either a straight settee or an L-shaped dinette to port. In 1990, a pilothouse version was introduced, with an enclosed steering station and more headroom.
Some of the common upgrades and modifications done to the Cabo Rico 38 include replacing the original Perkins engine with a more reliable Yanmar or Beta engine, adding solar panels, wind generators, or watermakers for more self-sufficiency, installing roller furling systems or electric winches for easier sail handling, upgrading the electronics and navigation equipment, and adding davits, arches, or dinghy hoists for more convenience.
Some of the pros of owning a Cabo Rico 38 are:


It is a well-built and well-designed boat that can handle any weather conditions;

It has a beautiful and cozy interior with lots of teak joinery and fine details;

It has a loyal and supportive owners' association that can provide advice and assistance.

Some of the cons of owning a Cabo Rico 38 are:


It is an expensive boat to buy and maintain, especially if it needs major repairs or restoration;

It is not very fast or responsive in light winds or tight quarters;

It has limited headroom and storage space compared to some newer designs.
The above answers were drafted by sailboat-cruising.com using GPT-4 (OpenAI's large-scale language-generation model) as a research assistant to develop source material; to the best of our knowledge, we believe them to be accurate.
---
Other sailboats in the Cabo Rico range include:
---
Sep 29, 23 05:38 PM

Sailing characteristics and performance predictions, pics, specifications, dimensions and those all-important design ratios for the Hanse 400 sailboat...

Sep 29, 23 03:17 AM

Interested in the Gulf 32 sailboat? Here are the pics, specs and performance predictions you're looking for...

Sep 28, 23 04:04 PM

Sailing characteristics and performance predictions, pics, specifications, dimensions and those all-important design ratios for the Fuji 35 sailboat
---