'Bel Canto', a C&C 36 Sailboat for Sale
SORRY, NOW SOLD!
For more boats like this one that are currently for sale please go to
Cruising Sailboats for Sale...
Although this boat is no longer available, the pics and text are retained here for the benefit of anyone researching this particular make/model of sailboat.
Asking Price and previous owner's contact details have been deleted.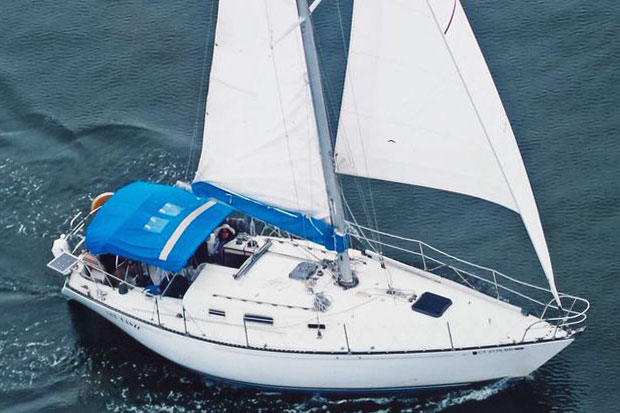 'Bel Canto', a C&C 36 Sailing Racer/Cruiser


'Bel Canto', a C&C 36 Sailing Racer/Cruiser is 36ft overall, has a 12ft beam, draws 6ft and is of 12,000lb displacement.
She's a masthead sloop with Navtec rod rigging, a fin keel and spade rudder. She's constructed of thick fiberglass with teak trim, with a bridge deck for blue water sailing and cocktail parties.

We purchased our 'Bel Canto' 11 years ago after owning and actively racing a Pearson 30 over 30 years. We planned to do extensive cruising and very little racing but wanted a rugged sailboat with a good turn of speed and windward ability. We also wanted a bright, comfortable and livable craft that handled well in all conditions.
'Bel Canto' has lived up to all those expectations in many trips across and up Long Island Sound as far as Nantucket and Martha's Vineyard.
'Bel Canto' is easy for a couple of seniors to sail, with roller furling, a mainsail that drops into a StackPack with integrated cover, and lines led back to cockpit.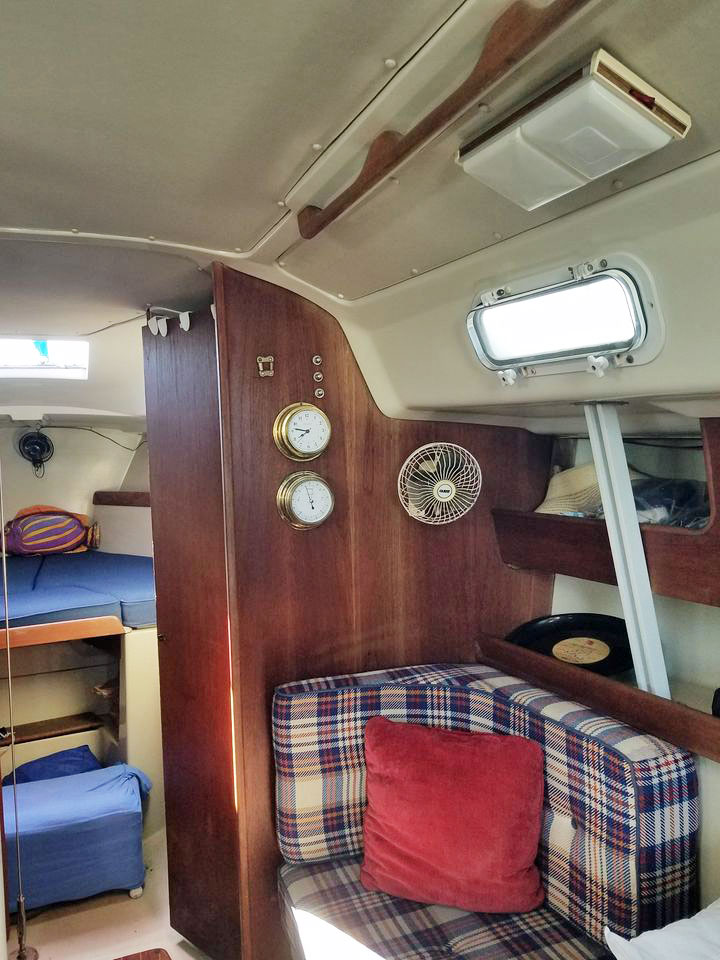 Salon, starboard side looking forward


Based at Norwalk YC, the cockpit sits 6 comfortably for sailing and 10 for cocktails. A full bimini, with top cutouts for sail trimming, provides shade.
Double lifelines and wide decks are safe for our grandchildren who loved to sail, invite friends and have sleepovers.
Plenty of room with v-berth, single and double settees and quarter berth.
We would be still enjoying her, but have reached the age where handling a lively sailboat is beyond our physical abilities.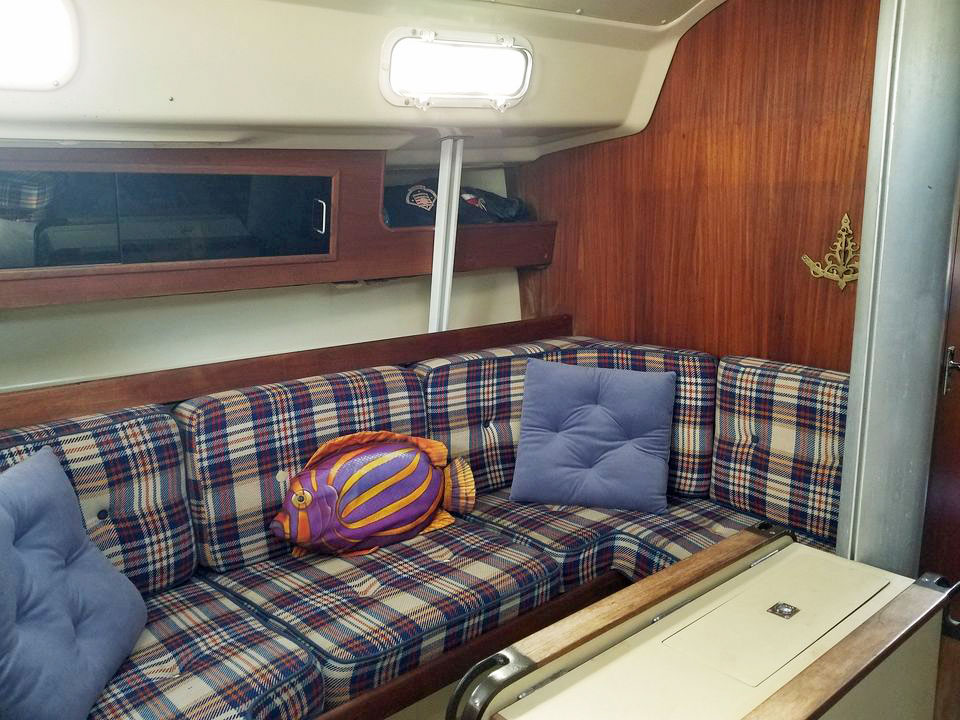 Folding Pedestal Table in main cabin


GEAR & WHAT'S NEW:
BOTTOM:

When the boat was purchased in Fall 2011, she was stored indoors to dry thoroughly. In the spring, the bottom was sanded down and re-glassed. Then two coats of barrier paint were applied.
The bottom has been painted each year with highest grade ablative Petit bottom paint.
Summer 2021, the boat was hauled, the keel bolts were tightened and sealed.
ENGINE:
Original Yanmar 30GM raw water-cooled engine, 3 Cylinder, 30 HP Diesel . It has been maintained and runs well. 20-gallon fuel tank. Boat burns approximately 1 gallon per hour.
2022: New fuel pump, 2 bilge pumps, filters
2021: New manifold
2018: New throttle and gearshift
2013: New Martec 2 blade folding prop
STEERING:
Edson steering system with a Destroyer wheel and compass binnacle
Autohelm 3000 auto pilot system with power plug on deck
2018: New chain and control cable.
ANCHORS:
Fortress Anchor with 20 feet of 1/4 inch chain, 200 feet ½ inch anchor rode.
Also, one 20 lb Danforth spare with anchor line.
Bel Canto's hydraulic backstay adjuster


RIGGING:
Navtech Stainless Steel Rod Rigging.
2015 Replaced lower shrouds
2011 new halyards
Adjustable Hydraulic Backstay
Running Fore stay on track
Boom Vang 
SAILS:
Mainsail: Loose footed, reconditioned 2022. Easily drops into North Stackpack with lazy jacks and built-in cover.
Roller furling 135 Dacron jib.
2 Mylar 150% jibs judged in Fair condition. Have not raced the boat so have not used them.
1 Storm jib
1 Spinnaker, a bit elderly but usable for cruising. Spinnaker Pole with trigger ends.
All lines are led aft to a self-tailing winch


DECK & SAIL HANDLING GEAR:
2 Lewmar #42 2-speed winches port and starboard in cockpit
2 Barient #27 Self tailing winches port and starboard in cockpit
1 Self tailing Lewmar #16 Cabin top
2 Barient #18 Cabin top port and starboard
1 Barient #10 Mid Cabin top
1 winch on boom for reefing
5 Winch Handles: 3 Stainless Steel Barient lock-in; 2 Floating
Chargeable power Winch It that can be used on all winches.
Topping Lift
Inboard, Full Length Genoa Tracks with Cars
Full Length Toe Rail, Port and Starboard
2nd Jib Halyard
Mainsheet System on Traveler
A reef line with jammer mounted in boom
Internal Harken Main Outhaul System
Hydraulic Backstay Adjuster
3 Large Snatch Blocks
2nd Spinnaker Halyard
Jib Furling System, 2 tracks, line on starboard side
All lines are led aft to a self-tailing winch and stoppers on cabin roof, so sails can be controlled from the cockpit.
Instrument panel
ELECTRICAL:
2 Circuit Breaker Panels plus Main Circuit Breaker
110 Volt AC Shore Power Inlet with Cord
2 Deep cycle marine batteries, new fall 2020 and summer 2021
New wall mounted battery switch
Electrical panel and boat interior re-wired 2016
2 cigarette lighter outlets in nav station and v-berth for cell phone charging
1 AC outlet in galley
2 oscillating fans in v-berth and main cabin
Solar panel mounted off cockpit for trickle charging
Shore power inlet and extension cords
The Galley
ELECTRONICS:
Knotmeter
Depthsounder
Wind Speed/Direction (masthead instruments need wiring)
Older chart plotter mounted inside that needs updating, but not necessary. Antenna replaced in 2015. Apps on tablets, phones and computers are easy to use
VHF radio mounted at nav station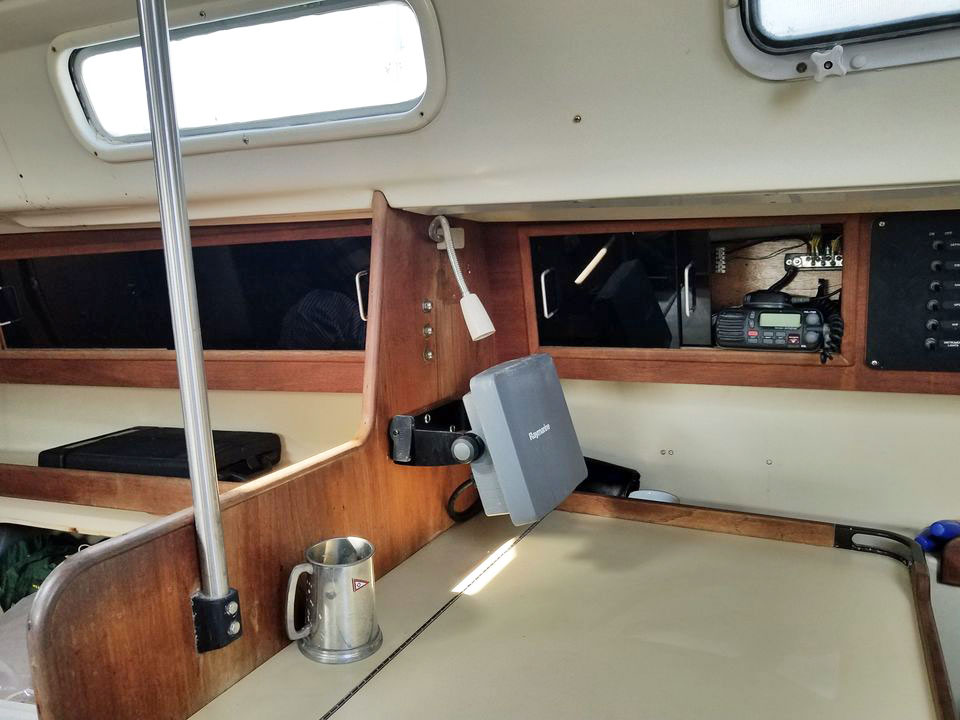 The Nav Station
PLUMBING, GALLEY & HEAD:
In 2016 the plumbing in the boat was reorganized and replaced. It had water tanks beneath the port dining area of the cabin. These were removed since the boat was not being used for extensive offshore cruising and extra storage was desirable.
1 fresh water 40-gallon tank remains under the starboard settee. The storage tank beneath the V-berth has been converted for use as a 25 gal holding tank with a Y-valve. If the buyers plan extensive off shore cruising the plumbing is there to install flexible tankage beneath the settee area.
In 2016 the galley faucets, sink and head were replaced, with new hoses. 12 VDC pressure water system was installed and a foot pump at the sink for fresh water There is no hot water heater, but space for installing one. The head has a shower with drain and good storage.
In 2016: the gimbaled 3 burner stove with oven was replaced with the same model but like new. The propane tank, with cut-off switches on the panel and wall, is in the port rear locker.
2 roomy insulated ice boxes
Head compartment with shower


The forepeak


INTERIOR:
Four opening ports with screens in main cabin.
Opening hatch in main cabin
Hatch in v-berth replaced 2014
The blue V-berth cushions are in very good condition. Removable insert.
The main cabin has original plaid upholstered cushions that show their age; however, they are comfortable and can be recovered. The blue quarter berth cushion also shows age.
Folding Pedestal Table in main cabin
Full length hanging locker, wet locker, abundant storage
Large nav station desk with storage inside
The quarter berth
SAFETY GEAR:
6 PDF's
Stern Mounted Boarding Ladder
Double Life Lines with Gates
Solid Bottom Boson's Chair
Fire Extinguishers
US Coastguard Signal Flares
Man overboard sling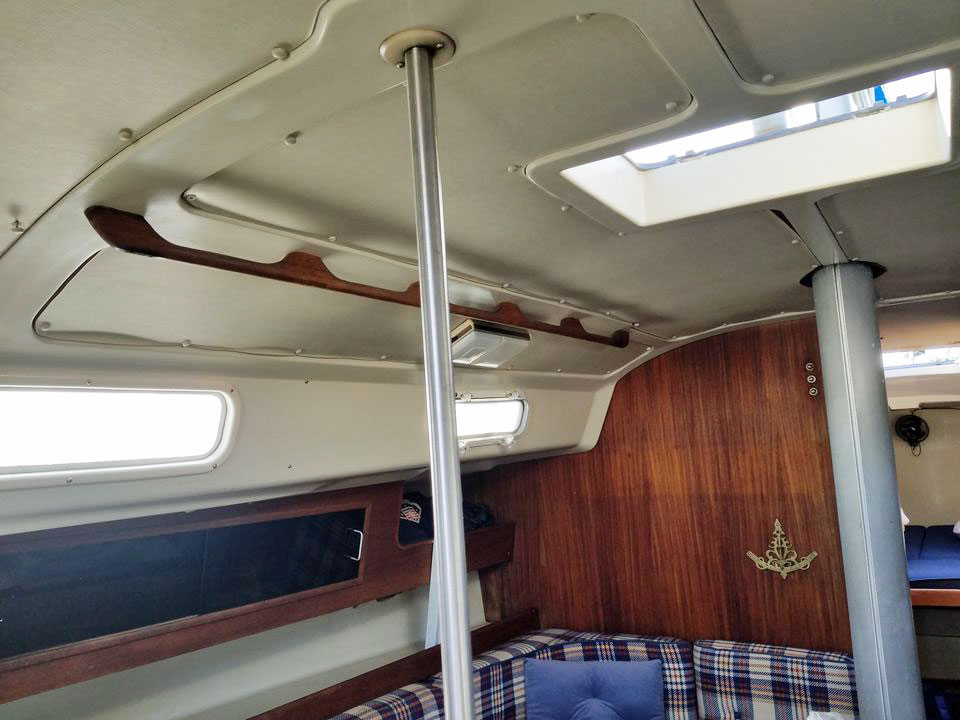 Deck Hatch over main cabin


MISCELLANEOUS:
Full bimini, with top cutouts for sail trimming, provides shade. Bimini frame is fine but the cover needs repair.
Custom cockpit table, easily stowed.
Dock lines
Life Jackets
Swim stern ladder
Outboard engine mount.
Handheld GPS
Radio and CD player with stereo speakers in cockpit and remote
Manual bilge pump
Full medical kit
'Bel Canto' is ready to sail and enjoy. However, as a lady of a certain age, she does show signs of wear. The gelcoat has nicks and wear spots from sheets and halyards. The Lewmar winches could be re-chromed, but work well as is. In very heavy rain, there is a minor leak, possibly from the handrails.
But the new replacement of a yacht like this could cost a quarter of a million dollars, and the return on a little TLC cannot be overestimated. Owning 'Bel Canto' will provide all the joy of capable, fast cruising or respectable club racing.
---
Sep 29, 23 05:38 PM

Sailing characteristics and performance predictions, pics, specifications, dimensions and those all-important design ratios for the Hanse 400 sailboat...

Sep 29, 23 03:17 AM

Interested in the Gulf 32 sailboat? Here are the pics, specs and performance predictions you're looking for...

Sep 28, 23 04:04 PM

Sailing characteristics and performance predictions, pics, specifications, dimensions and those all-important design ratios for the Fuji 35 sailboat
---