The Contessa 28 Sailboat

The Contessa 28, a masthead sloop, was designed by Doug Peterson and built in the UK by Jeremy Rogers Ltd. 
A Contessa 28 with a furling headsail and slab reefing on the main
Published Specification for the Contessa 28
Underwater Configuration:  Fin keel with spade rudder
Hull Material: GRP (Fiberglass)
Length Overall: 27' 8" / 8.43m
Waterline Length: 22' 0" / 6.71m
Beam: 9' 5" / 2.87m
Draft: 4' 10" / 1.47m
Rig Type: Masthead sloop
Displacement: 6,970lb / 3,162kg
Designer: Doug Peterson
Builder: Jeremy Rogers Ltd
Year First Built: 1977
Published Design Ratios for the Contessa 28
Sail Area/Displacement Ratio: 14.9
Ballast/Displacement Ratio: 40.2
Displacement/Length Ratio: 292
Comfort Ratio: 22.9
Capsize Screening Formula: 1.9
Summary Analysis of the Design Ratios for the 
Contessa 28
1. A Sail Area/Displacement Ratio of just 14.9 suggests that she'll need a stiff breeze to get her going. In light conditions, unless you've got plenty of time on your hands, motor-sailing may be the way to go.
2. A Ballast/Displacement Ratio of 40.2 means that she'll stand up well to her canvas in a blow, helping her to power through the waves.
3. A Displacement/Length Ratio of 292, tells us she's clearly a heavy displacement cruising boat. You can load her down with all your cruising gear and equipment and it will hardly affect her waterline. Not an ideal choice for coastal sailing, but she'll come into her own on an offshore passage in testing conditions.
4. Ted Brewer's Comfort Ratio of 22.9 suggests that crew comfort in a seaway is similar to what you would associate with the motion of a coastal cruiser with moderate stability, which is not encouraging news for anyone prone to seasickness. 
5. Her Capsize Screening Formula (CSF) of 1.9 tells us that she would be a safer choice of sailboat for an ocean passage than one with a CSF of more than 2.0. 
---
Contessa 28: A Classic Cruiser-Racer
The Contessa 28 is a classic cruiser-racer designed by Doug Peterson and built by Jeremy Rogers Ltd in the UK since 1977.
The Contessa 28 is a 27.67 ft (8.43 m) masthead sloop that has a reputation for being fast, seaworthy and well-balanced. It is a moderate displacement sailboat that is slightly underpowered, but very stable and stiff, with a good righting capability if capsized. It is best suited as a coastal cruiser, but some owners have sailed it across oceans and even around the world.
Overview
The Contessa 28 is a classic example of the IOR (International Offshore Rule) influenced designs of the late 1970s and early 1980s. It has a sleek and elegant profile, with a low freeboard, a long overhang at the bow and a reverse transom at the stern. It has a moderate beam of 9.5 ft (2.9 m) and a draft of 4.75 ft (1.45 m) with a fin keel.
The Contessa 28 was designed by Doug Peterson, an American naval architect who is famous for his successful racing yachts such as Ganbare, Ragamuffin and Checkmate. Peterson also designed the Contessa 32 and the Contessa 35 for Jeremy Rogers Ltd., a British boat builder that specializes in high-quality fiberglass yachts.
The Contessa 28 was launched in 1977 as a smaller and cheaper alternative to the Contessa 32, which was already a popular cruiser-racer at the time. The Contessa 28 was aimed at both the racing and cruising markets, offering good performance and handling as well as comfortable accommodation for up to six people.
The Contessa 28 was produced until 1983, with about 150 boats built in total. Some of them were exported to other countries such as Canada, Australia and New Zealand. Today, the Contessa 28 is still a sought-after boat among sailors who appreciate its classic lines, solid construction and versatile capabilities.
Accommodation
The Contessa 28 has a spacious and practical interior layout that can accommodate up to six people in two separate cabins and the saloon. The interior is finished in teak veneer with white bulkheads and headlinings, giving it a warm and cozy feel.
The forward cabin has a V-berth that can be converted into a double berth with an infill cushion. There is also a hanging locker, storage shelves and an opening hatch for ventilation and light.
The saloon has two settees that can be used as single berths or converted into a double berth on the port side with an infill cushion. There is also a folding table that can seat four people comfortably. The table has storage compartments inside for cutlery and crockery. There are also storage lockers and shelves behind and under the settees.
The galley is located on the starboard side of the saloon, aft of the settee. It has a two-burner gas stove with oven and grill, a stainless steel sink with a manual water pump, an icebox and ample storage space for food and utensils.
The navigation station is located on the port side of the saloon, aft of the settee. It has a large chart table with storage drawers underneath, an instrument panel with switches and gauges, a VHF radio and a quarter berth behind it that can be used as an extra sleeping space or as storage space.
The head is located on the starboard side of the boat, between the saloon and the forward cabin. It has a marine toilet, a washbasin with a manual water pump, a shower with an electric pump, a mirror and storage lockers.
The Contessa 28 has a water tank capacity of 20 gallons (90 liters) and a fuel tank capacity of 10 gallons (45 liters). It also has a 12V electrical system with two batteries, a shore power connection and a battery charger.
Hull and Deck
The Contessa 28 has a solid fiberglass hull that is hand-laid with woven rovings and a chopped strand mat. The hull is reinforced with stringers and bulkheads that are bonded to the hull with fiberglass. The deck is also made of fiberglass with a balsa core for stiffness and insulation. The deck is joined to the hull with an inward flange that is bolted and bonded with sealant.
The Contessa 28 has a white gelcoat finish on the hull and deck, with a blue cove stripe and boot top. Some boats have a blue hull or other colors as well. The deck has a molded non-skid pattern for traction and safety. There are also teak handrails, toe rails and trim on the deck for aesthetics and comfort.
The Contessa 28 has a spacious and uncluttered cockpit that can seat six people comfortably. The cockpit has a tiller steering system that is connected to a spade rudder. The tiller can be folded up when not in use to create more space in the cockpit. There is also a large cockpit locker on the port side that can store sails, fenders, lines and other gear.
The Contessa 28 has a wide and flat foredeck that makes it easy to work on the sails and anchor. There is an anchor locker on the bow that can store an anchor, chain and rode. There is also a bow roller for easy anchoring. The Contessa 28 has a stainless steel pulpit, pushpit, stanchions and lifelines for safety. There are also cleats, fairleads, winches, tracks, blocks and jammers for sail handling.
Mast and Rigging
The Contessa 28 has a single-spreader masthead sloop rig that is simple and efficient. The mast is made of aluminum and is deck-stepped on a stainless steel tabernacle that allows it to be lowered for canal or bridge clearance. The boom is also made of aluminum and has slab reefing with two reef points. The mainsail has a loose-footed design that allows it to be trimmed more easily.
The Contessa 28 has stainless steel standing rigging that consists of the forestay, backstay, upper shrouds, lower shrouds and intermediate shrouds. The forestay has a roller furling system that allows the genoa to be reefed or furled from the cockpit. The backstay has an adjustable tensioner that allows the mast bend to be controlled for different wind conditions.
The Contessa 28 has Dacron running rigging that consists of the main halyard, genoa halyard, spinnaker halyard, topping lift, main sheet, genoa sheets, spinnaker sheets, reefing lines and outhaul. The halyards are led to the mast base and then to the cockpit through organizers and clutches. The sheets are led to the cockpit through turning blocks and winches.
The Contessa 28 has a sail area of 365 sq ft (33.9 sq m) with 100% foretriangle. The typical sail inventory includes a mainsail, a roller furling genoa, a spinnaker and a storm jib. Some boats may have additional sails such as a drifter, a staysail or a cruising chute.
Keel and Rudder
The Contessa 28 has a fin keel that is made of cast iron and is bolted to the hull with stainless steel bolts. The keel has a ballast weight of 2,800 lbs (1,270 kg) and provides stability and performance for the boat.
The Contessa 28 has a spade rudder that is made of fiberglass with a stainless steel stock. The rudder is attached to the hull with two pintles and gudgeons. The rudder provides good maneuverability and responsiveness for the boat.

The above text was drafted by sailboat-cruising.com using GPT-4 (OpenAI's large-scale language-generation model) as a research assistant to develop source material; we believe it to be accurate to the best of our knowledge.
---
Other sailboats in the Contessa range include: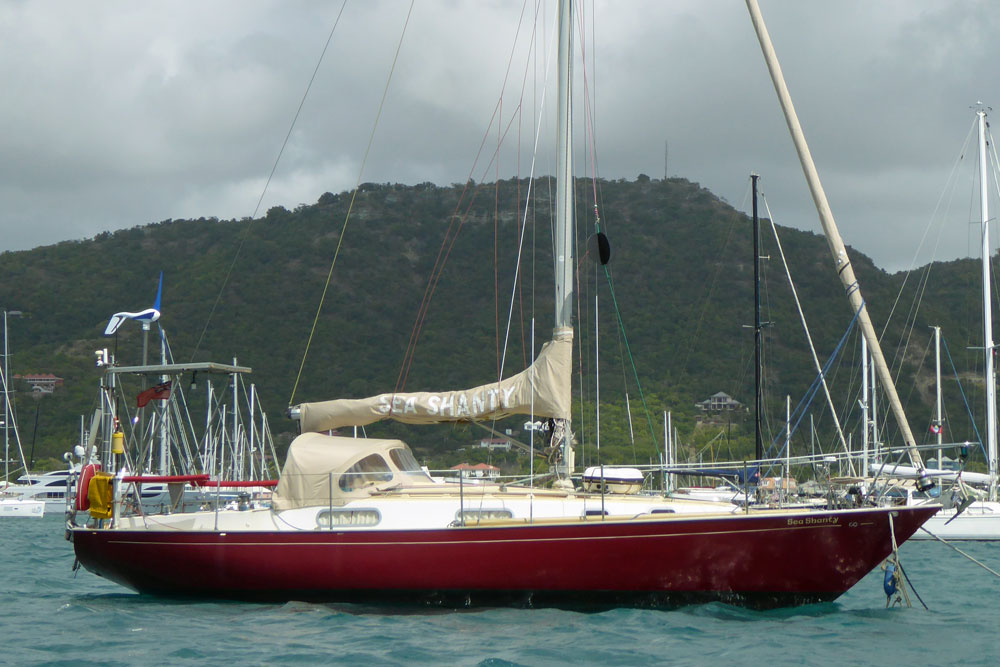 The Contessa 32
---
Nov 29, 23 08:35 AM

Here's where people with sailing equipment for sale advertise their stuff entirely free of charge. If you're looking for used sailing gear or other used boating accessories, here's where to find it!

Nov 10, 23 02:34 AM

My 47' Cheoy Lee sailboat is for sale. Designed by Bill Luders, she is a beautiful and functional liveaboard cruising yacht.

Oct 30, 23 04:22 PM

This article explores the journey of chartering a sailing yacht, from the initial planning stages to the final touches. It provides insight into the joys and challenges of embarking on a voyage of dis…
---