The Ericson 39 Sailboat

Specs & Key Performance Indicators
The Ericson 39 is a sailboat designed by Bruce King and constructed by Ericson Yachts, a company based in the United States. This model was produced from 1970 until 1980. Throughout this period, a total of 137 boats were manufactured.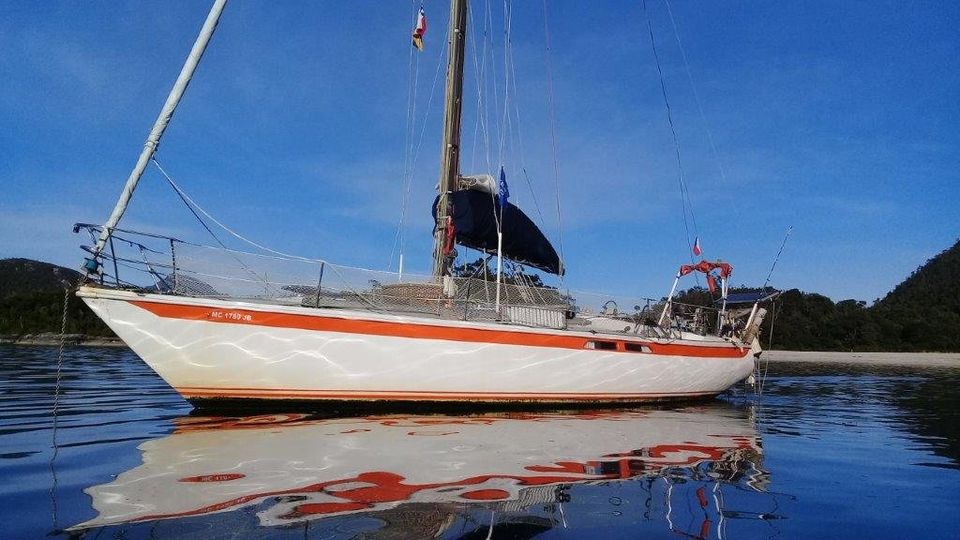 The Ericson 39
Published Specification for the Ericson 39

Underwater Profile: Fin keel with skeg-hung rudder
Hull Material: GRP (Fibreglass)
Length Overall: 39'0" (11.9m)
Waterline Length: 30'0" (9.1m)
Beam: 11'4" (3.5m)
Draft: 5'11" (1.8m)
Rig Type: Masthead sloop
Displacement: 19,000lb (8,618kg)
Ballast: 9,500lb (4,309kg)
---
Published Design Ratios for the Ericson 39
Sail Area/Displacement Ratio: 16.6
Ballast/Displacement Ratio: 50.0
Displacement/Length Ratio: 314
Comfort Ratio: 35.4
Capsize Screening Formula: 1.7
---
Performance Predictions based on the Design Ratios
Based on the provided Design Ratios, the Ericson 39 sailboat is expected to have a reasonably good performance.
With a Sail Area/Displacement Ratio of 16.6, it is likely to approach its maximum hull speed readily and satisfy the sailing performance expectations of most cruising sailors in the right conditions.
The Ballast/Displacement Ratio of 50.0 indicates that the boat is likely to be stiff and powerful, standing up well to her canvas in a blow and helping her to power through the waves.
With a Displacement/Length Ratio of 314, the Ericson 39 falls into the category of a heavy displacement boat. This suggests that the boat can be loaded with all cruising gear and equipment without it significantly affecting her waterline. While this may not be ideal for coastal sailing, the boat is likely to perform well on an offshore passage in testing conditions.
The Comfort Ratio of 35.4 suggests that the Ericson 39 has the motion of a moderate offshore cruising boat, likely providing a predictable and acceptable motion for most seasoned sailors.
Lastly, the Capsize Screening Formula of 1.7 suggests that the Ericson 39 is better suited for ocean passages, having a higher resistance to capsize in strong winds and heavy seas compared to boats with a CSF of more than 2.0.
---
The Designer
Bruce King Yacht Design is a noted yacht design team, credited with creating a range of impressive sailboats.
Aside from the Ericson 39, the team also designed the iconic Ericson 35, which is well-regarded in the sailing community. Other standout designs include the Ericson 29, a compact but capable cruiser, and the larger, more luxurious Ericson 46.
The team is also known for designing the Island Packet 350 and 370 models, both of which are renowned for their strong performance and high-quality construction.
Each design from Bruce King reflects careful attention to detail, a deep understanding of sailing requirements and a commitment to producing highly functional, aesthetically pleasing sailboats.
The Builder
Ericson Yachts was an American company established by Don Ericson in the 1960s.
Over the years, it built a reputation for designing and manufacturing high-quality fiberglass sailboats. The range of sailboats built by Ericson Yachts was extensive and included popular models such as the Ericson 25, Ericson 27, and Ericson 35, along with the aforementioned Ericson 39.
The company also introduced a series of "cruiser-racer" sailboats, which were designed to combine the comfort of cruising sailboats with the speed and agility of racing sailboats.
Despite their success in producing well-regarded sailboats, Ericson Yachts faced financial difficulties and ceased operations in the early 1990s. As such, they are no longer in business. Nonetheless, the sailboats they produced continue to be sought after in the used boat market due to their quality and performance.
The Ericson 39B
There were two versions of the Ericson 39 - The Ericson 39 and the Ericson 39B; both are sailboats designed by Bruce King and built by Ericson Yachts. Here are some key differences between the two models:

The Ericson 39:

Designed as a serious racer-cruiser with a flush deck, powerful sloop rig, and nicely finished mahogany interior.
Ericson 39B:

The mainsheet traveler is usually located aft, and those inspected have the wheel and pedestals mounted aft in the cockpit, which allows easier access to the offset companionway.
Please note that only 19 B models were built, while more than 100 flush deck 39s were launched before production ceased in 1979. Both models are considered to be good performers and are very stable/stiff with excellent righting capability if capsized. However, they each offer a unique set of features that cater to different sailing preferences.
Summary
In conclusion, the Ericson 39 sailboat, designed by Bruce King and built by Ericson Yachts, is recognized for its reasonably good performance and comfort, particularly suited for offshore cruising.
The design ratios indicate a well-balanced sailboat that can stand up to challenging conditions while maintaining a predictable and acceptable motion for its crew.
While Ericson Yachts is no longer in business, their legacy continues with the Ericson 39 and other models remaining in use and sought after in the second-hand market.
Feedback from the sailing press and owners often highlight the boat's solid build quality, good sailing performance, and the thoughtful design features that enhance usability and comfort.
Many owners appreciate its balance of comfort and performance which makes it a favored choice for both casual cruising and more ambitious sailing endeavors.
I wrote this article using GPT-4, OpenAI's large-scale language-generation model, as a research assistant to develop source material. I wrote the final draft in its entirety and believe it to be accurate to the best of my knowledge.
Dick McClary, creator and owner of sailboat-cruising.com
Nov 29, 23 08:35 AM

Here's where people with sailing equipment for sale advertise their stuff entirely free of charge. If you're looking for used sailing gear or other used boating accessories, here's where to find it!

Nov 10, 23 02:34 AM

My 47' Cheoy Lee sailboat is for sale. Designed by Bill Luders, she is a beautiful and functional liveaboard cruising yacht.

Oct 30, 23 04:22 PM

This article explores the journey of chartering a sailing yacht, from the initial planning stages to the final touches. It provides insight into the joys and challenges of embarking on a voyage of dis…
---