The Feeling 446 Sailboat

Specs & Key Performance Indicators
The Feeling 446, an aft cockpit sloop, was designed by Philippe Harlé and built in France by Kirie.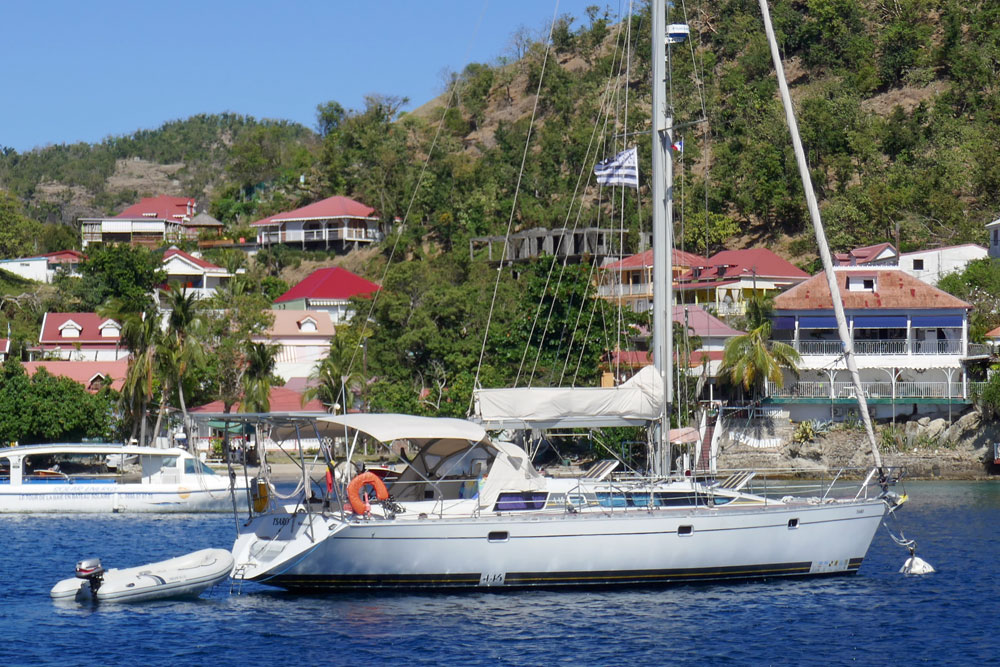 A Feeling 446
Published Specification for the Feeling 446
Underwater Profile: Fin keel with spade rudder
Hull Material: GRP (Fibreglass)
Length Overall: 45'3" (13.8m)
Waterline Length: 35'5" (10.8m)
Beam: 14'9" (4.5m)
Draft: 5'3" (1.6m)
Rig Type: Masthead sloop
Displacement: 19,900lb (9,026kg)
Designer: Philippe Harlé
Builder: Kirie (France)
Year First Built: 1990
---
Published Design Ratios for the Feeling 446
1. Sail Area/Displacement Ratio: 15.6
2. Ballast/Displacement Ratio: 30.2
3. Displacement/Length Ratio: 200
4. Comfort Ratio: 22.2
5. Capsize Screening Formula: 2.2
Summary Analysis of the Design Ratios for the Feeling 446
1. A Sail Area/Displacement Ratio of just 15.6 suggests that the Feeling 446 will need a stiff breeze to get her going. In light conditions, unless you've got plenty of time on your hands, motor-sailing may be the way to go.
2. A Ballast/Displacement Ratio of 30.2 means that a sailboat like the Feeling 446 (which doesn't have a stiffness-enhancing bulb keel), is likely to benefit from being reefed early to keep her sailing upright in a moderate breeze.
3. A Displacement/Length Ratio of 200, tells us the Feeling 446 is a light-to-moderate displacement sailboat. If she's loaded with too much heavy cruising gear her performance will suffer to a degree.
4. Ted Brewer's Comfort Ratio of 22.2 suggests that crew comfort of a Feeling 446 in a seaway is similar to what you would associate with the motion of a coastal cruiser with moderate stability, which is not encouraging news for anyone prone to seasickness. 
5. The Capsize Screening Formula of 2.2 tells us that a Feeling 446 would not be as good a choice of sailboat for ocean passage-making, owing to the increased risk of capsize in strong winds and heavy seas, when compared to a sailboat with a CSF of less than 2.0.
---
Any Questions?
There were two versions of the Feeling 446 built: a 3 cabin 'Owners' version and a 4 cabin 'charter' version. The charter version had a smaller galley and more berths.
The Feeling 446 has a spacious and bright interior with large windows and skylights. The accommodation varies depending on the version, but generally it has a large aft cabin with an ensuite head, a forward cabin with a V-berth and access to another head, and one or two smaller cabins amidships. The saloon has a U-shaped settee and a table that can convert to a double berth, as well as a navigation station. The galley is L-shaped and well-equipped with a stove, oven, fridge, freezer, sink and storage.
As mentioned above, there are two main accommodation layout versions for the Feeling 446: the 3 cabin 'Owners' version and the 4 cabin 'Charter' version. The Owners' version has a larger galley and more storage space, while the charter version has more berths and a smaller galley. Both versions have two heads, one of which is ensuite to the aft cabin.
The Feeling 446 has a masthead sloop rig with a fractional spinnaker pole. The sail area is 66.2 m², divided between a mainsail with slab reefing and lazy jacks, and a roller-furling genoa. There is also an option for a self-tacking jib or a gennaker for downwind sailing. The mast is deck-stepped and supported by a compression post.
The Feeling 446 has two keel options: a deep draft fin keel with a spade rudder, or a shoal draft shorter keel with a spade rudder. The deep draft version has a draft of 6'7" (2.0m), while the shoal draft version has a draft of 5'3" (1.6m). The ballast is 2,722 kg for both versions.
The Feeling 446 is designed to be a fast and comfortable cruising sailboat that can handle various sea conditions. She has a light-to-moderate displacement of 9,026 kg and a low centre of gravity that gives her stability and performance. She has a wide beam of 4.5 m that provides ample living space and stability at anchor. She has a balanced helm and responsive steering that make her easy to manoeuvre and tack. She can sail well in light winds with her large sail area, but she may need to be reefed early in stronger winds to avoid excessive heeling.
The average cost of a secondhand Feeling 446 depends on the year, condition, equipment and location of the boat. A quick online search shows that some examples of Feeling 446s for sale range from around €60,000 to €90,000 in Europe.
Yes, Kirié is still in business as of July 2023. Kirié is a French boatbuilder that was founded in 1927 by Louis Kirié. It specializes in building sailing yachts under the brand name Feeling. It also produces powerboats under the name Selection Boats.
The designers of the Feeling 446 are Philippe Harlé and Mortain & Mavrikios. Philippe Harlé was a prolific French naval architect who designed over 300 sailboats from dinghies to ocean racers. Some of his most famous designs include the Albin Vega, the Muscadet, the First 30 and the Gib'Sea series. Mortain & Mavrikios are a duo of French naval architects who have collaborated with various boatbuilders such as Jeanneau, Dufour, Beneteau and Feeling. Some of their designs include the Sun Odyssey 37, the Dufour 40, the Oceanis 411 and the Feeling 39.
The above answers were drafted by sailboat-cruising.com using GPT-4 (OpenAI's large-scale language-generation model) as a research assistant to develop source material; to the best of our knowledge, we believe them to be accurate.
---
Oct 02, 23 12:17 PM

It's true that the ketch sailboat with its split rig can make an attractive cruising sailboat for a short-handed crew, but there is a downside to these types of sailboats

Oct 02, 23 08:47 AM

Thinking of buying a Hanse 548 sailboat? Perhaps you should first take a look at these pics, specs and key performance indicators...

Oct 02, 23 04:56 AM

Thinking of buying a Hanse 458 sailboat? Perhaps you should first take a look at these pics, specs and key performance indicators...
---