The Flicka 20 Sailboat

Despite the diminutive size of the Flicka 20, these little sailboats have made impressive ocean passages and dealt with serious storms. Having proven bluewater capability, the Flicka 20 enjoys a cult following.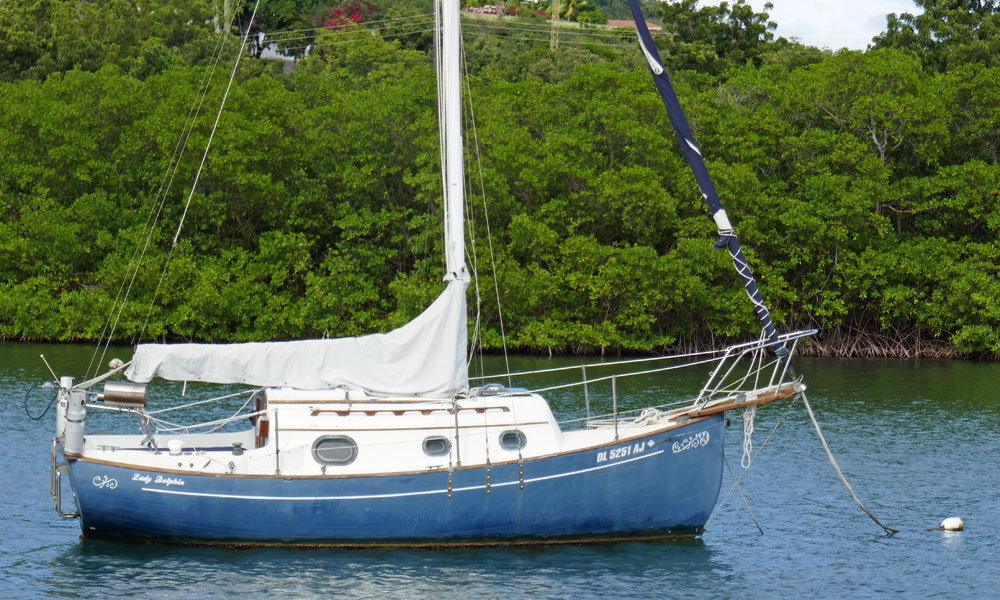 The Flicka 20, a diminutive pocket cruiser.
With just 20' on deck, there's enough accommodation and facilities below for a single-handed liveaboard cruiser. Their charm and character is undeniable.
Published Specification for the Flicka 20
Hull Type: Long keel with transom-hung rudder
Hull Material:  GRP (fibreglass)
Length Overall: 24' 0" / 7.3m
Waterline Length: 18' 2" / 5.5m
Beam: 8' 0" / 2.4m
Draft: 3' 3" / 1.0m
Rig Type: Cutter
Displacement: 5,500lb / 2,495kg
Designer: Bruce Bingham
Builder: Nor'Star Fiberglass Yachts and Pacific Seacraft (USA)
Year First Built: 1974
Year Last Built: 1999
Number Built: 400
Owners Association: Not known
Pacific Seacraft Flicka 20 for Sale
These don't come along very often and this one wasn't on the market for long, but we've left the ad live for the benefit of anyone researching these remarkable little boats.
Published Design Ratios for the Flicka 20
Sail Area/Displacement Ratio: 12.2
Less than 16 would be considered under-powered;
16 to 20 would indicate reasonably good performance;
Over 20 suggests relatively high performance.
Ballast/Displacement Ratio: 29.2
Under 40: less stiff, less powerful
Over 40: stiffer, more powerful
Displacement/Length Ratio: 447
Under 100: Ultralight
100 to 200: Light
200 to 275: Moderate
275 to 350: Heavy
Over 350: Ultraheavy
Comfort Ratio: 29.2
Under 20 indicates a lightweight racing boat
20 to 30 indicates a coastal cruiser
30 to 40 indicates a moderate offshore cruising boat
40 to 50 indicates a heavy offshore boat
Over 50 indicates an extremely heavy offshore boat
Capsize Screening Formula: 1.8
Under 2.0 (the lower the better): Better suited for ocean passages
Over 2.0: Less suited for ocean passages
Summary Analysis of Published Design Ratios for the Flicka 20
1. A Sail Area/Displacement Ratio of just 12.2 suggests that the Flicka 20 will need a stiff breeze to get her going. In light conditions, unless you've got plenty of time on your hands, motor-sailing may be the way to go.
2. A Ballast/Displacement Ratio of 29.2 means that a sailboat like the Flicka 20 (which doesn't have a stiffness-enhancing bulb keel), is likely to benefit from being reefed early to keep her sailing upright in a moderate breeze.
3. A Displacement/Length Ratio of 447, tells us the Flicka 20 is firmly in the ultra-heavy displacement category. Load her up as much as you like and her performance will be hardly affected, not that it was ever startling. Few if any sailboats are built to this displacement category these days - but they remain popular with some long-distance sailors.
4. Ted Brewer's Comfort Ratio of 29.2 suggests that crew comfort of a Flicka 20 in a seaway is similar to what you would associate with the motion of a coastal cruiser with moderate stability, which is not encouraging news for anyone prone to seasickness. 
5. The Capsize Screening Formula (CSF) of 1.8 indicates that a Flicka 20 would be a safer choice of sailboat for an ocean passage than similar ones with a CSF of more than 2.0. 
---
Mar 31, 23 08:51 AM

'Exhibit A', a Hunter 356 is in great condition, having had many recent upgrades, and is ready for her new owner to step aboard and sail away

Mar 28, 23 05:54 AM

The true cost of boat ownership will almost certainly be more than what you originally thought it might be; the components of cost are...

Mar 28, 23 05:33 AM

Here's where people with sailing equipment for sale advertise their stuff entirely free of charge. If you're looking for used sailing gear or other used boating accessories, here's where to find it!
---