The Nauticat 33 Sailboat
The Nauticat 33, a popular live-aboard ketch, was designed by W. Aarnipalo and built in Finland by Siltala Yachts.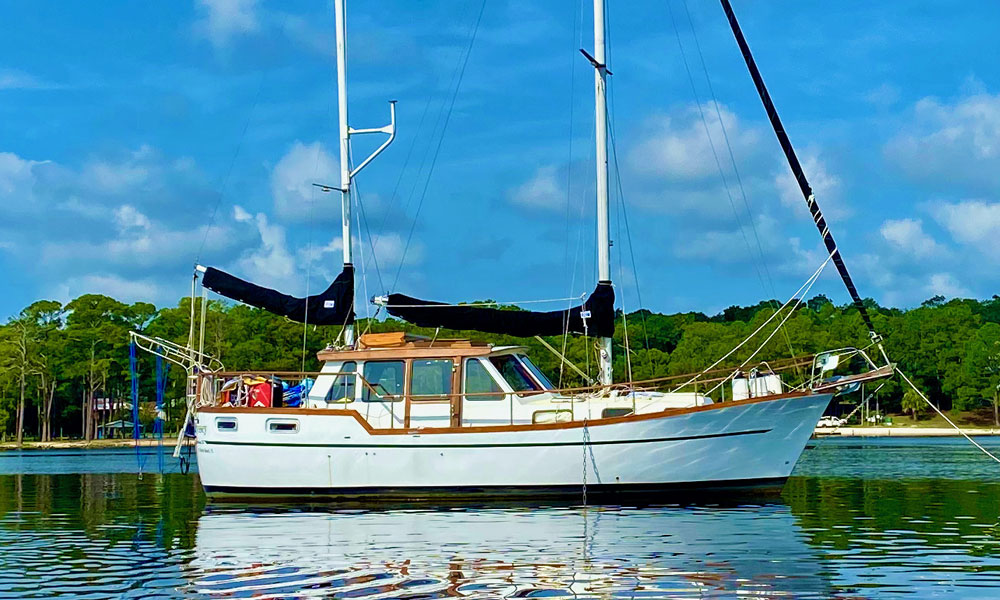 The hull of this Finnish-built Nauticat 33 motorsailer closely resembles that of a traditional Nordic fishing boat. She's a popular cruising yacht for the liveaboard sailor.
Published Specification for the Nauticat 33
Underwater Profile: Long keel

Rig: Ketch
Length Overall: 33'2" (10.1m)
Waterline Length: 28'2" (8.6m)
Beam: 10'8" (3.3m)
Draft: 5'1" (1.6m)
Displacement: 17,250lb (7,824kg)
Ballast: 5,150lb (2,336kg)
Construction: GRP (fiberglass)
Built by: Siltala Yachts (Finland)
Designed by: W. Aarnipalo
First Built: 1967
---
Published Design Ratios for the Nauticat 33
1. Sail Area/Displacement Ratio: 11.4
2. Ballast/Displacement Ratio: 29.9
3. Displacement/Length Ratio: 344
4. Comfort Ratio: 38.4
5. Capsize Screening Formula: 1.7
Summary Analysis of the Design Ratios for the Nauticat 33
1. A Sail Area/Displacement Ratio of just 11.4 suggests that the Nauticat 33 will need a stiff breeze to get her going. In light conditions, unless you've got plenty of time on your hands, motor-sailing may be the way to go.
2. A Ballast/Displacement Ratio of 29.9 means that unless the bulk of the ballast is concentrated in a bulb at the foot of her keel, the Nauticat 33 will have a tendency to heel excessively in a gust, and she'll need to be reefed early to keep her sailing upright in a moderate breeze. 
3. A Displacement/Length Ratio of 344, tells us the Nauticat 33 is clearly a heavy displacement cruising boat. You can load her down with all your cruising gear and equipment and it will hardly affect her waterline. Not an ideal choice for coastal sailing, but she'll come into her own on an offshore passage in testing conditions.
4. Ted Brewer's Comfort Ratio of 38.4 suggests that crew comfort of a Nauticat 33 in a seaway is similar to what you would associate with the motion of a moderate bluewater cruising boat - a predictable and acceptable motion for most seasoned sailors.
5. The Capsize Screening Formula (CSF) of 1.7 tells us that a Nauticat 33 would be a safer choice of sailboat for an ocean passage than one with a CSF of more than 2.0. 
---
A Few FAQs...
The Nauticat 33 is no longer in production. The last Nauticat 33 was built in 1996 after a production run of almost 30 years, during which more than 1200 Nauticat 33s were built.
There were two main versions of the Nauticat 33: the MkI and the MkII. The MkI boats (pre-1977 with hull numbers 1 to 440) had a long shoal-draft, encapsulated keel and a wooden wheelhouse. The MkII boats (post-1977 with hull numbers 441 to 1265) had a shorter fin keel with a skeg-hung rudder and a fibreglass wheelhouse. In addition, some MkII boats had a raised aft deck as an option. An updated model, the Nauticat 331, was introduced in 1997.
The Nauticat 331 is a newer and slightly larger version of the Nauticat 33, built by the same Finnish company, Siltala Yachts. It has a length of 10.4 m (34'1") compared to the Nauticat 33's 10.1 m (33'2"). It also has a deeper fin keel with a draft of 1.48 m (4'10") compared to the Nauticat 33's 1.4 m (4'7") or 1.8 m (5'11"). The Nauticat 331 has a similar layout and design as the Nauticat 33, but with some modern updates and improvements. The Nauticat 331 was built between 1999 and 2018, while the Nauticat 33 was built between 1966 and 1994.

The sailing press generally gave positive reviews to the Nauticat 33, praising its quality, comfort, and seaworthiness. For example, Yachting Monthly described the Nauticat 33 as "an attractive and solid motorsailer that will cruise at around 5 knots" and "a boat that will look after you in all weathers". 

The builders of the Nauticat 33 were Siltala Yachts, a family-owned company founded by Pentti Siltala in Finland in 1964. Siltala Yachts specialised in producing motorsailers under the brand name Nauticat. The company was one of the leading manufacturers of motorsailers in Europe, with more than 2800 boats delivered to over 40 countries. Unfortunately, Siltala Yachts ceased operations in 2018 due to financial difficulties.
The Nauticat 33 can sleep up to six people on board, depending on the layout. The standard layout has two double cabins: one forward with a V-berth and one aft with an offset double berth. There is also a convertible dinette in the saloon that can be turned into another double berth. Some boats may have different layouts, such as a single berth in the aft cabin or a U-shaped dinette in the saloon.

The Nauticat 33 has two keel options: a long keel and a fin keel. The long keel is found on the MkI boats and has a draft of 1.4 m (4'7"). The fin keel is found on the MkII boats and has a draft of 1.8 m (5'11"). The long keel offers more stability and directional stability, while the fin keel offers more maneuverability and performance.
The Nauticat 33 is not a fast or agile sailboat, but rather a steady and comfortable one. It is designed to handle rough seas and strong winds with ease, thanks to its heavy displacement, high freeboard, and powerful engine. It is also well-balanced and easy to sail, with good visibility from both the cockpit and the wheelhouse. The Nauticat 33 is ideal for long-distance cruising, coastal hopping, or living aboard.
The average cost of a secondhand Nauticat 33 varies depending on the age, condition, equipment, and location of the boat. According to YachtWorld, the current price range for a used Nauticat 33 is from £29,950 to £79,950, with an average price of £49,950.
The above answers were drafted by sailboat-cruising.com using GPT-4 (OpenAI's large-scale language-generation model) as a research assistant to develop source material; to the best of our knowledge, we believe them to be accurate.
---
Nov 29, 23 08:35 AM

Here's where people with sailing equipment for sale advertise their stuff entirely free of charge. If you're looking for used sailing gear or other used boating accessories, here's where to find it!

Nov 10, 23 02:34 AM

My 47' Cheoy Lee sailboat is for sale. Designed by Bill Luders, she is a beautiful and functional liveaboard cruising yacht.

Oct 30, 23 04:22 PM

This article explores the journey of chartering a sailing yacht, from the initial planning stages to the final touches. It provides insight into the joys and challenges of embarking on a voyage of dis…
---