The Nicholson 32 Mk10 Sailboat

Specs & Key Performance Indicators
The Nicholson 32 Mk 10, a heavy displacement long-keeled sloop, was designed by Charles Nicholson & Peter Nicholson and built in the UK by Halmatic Ltd.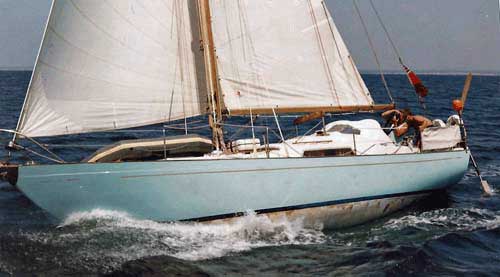 'Jalingo II', a Nicholson 32 Mk 10 beating to windward, helmed by an Aries windvane self-steering unit.
Published Specification for the Nicholson 32 Mk10
Underwater Profile: Long keel
Hull Material: GRP (Fibreglass)
Length Overall: 33'0" / 10.1m
Waterline Length: 24.0" / 7.3m
Beam: 9'3" / 2.8m
Draft: 5'6" / 1.7m
Rig Type: Masthead sloop
Displacement: 12,200lb / 5,534kg
Designer: Charles Nicholson & Peter Nicholson

Builder: Halmatic Ltd (UK)
Year First Built: 1978
Year Last Built: 1981
Number Built: ?
Owners Association: The Nicholson 32 Association
---
Published Design Ratios for the Nicholson 32 Mk10
1. Sail Area/Displacement Ratio: 16.7
2. Ballast/Displacement Ratio: 49.2
3. Displacement/Length Ratio: 441
4. Comfort Ratio: 40.
5. Capsize Screening Formula: 1.55
Summary Analysis of the Design Ratios for the Nicholson 32 Mk10
1. A Sail Area/Displacement Ratio of 16.7 suggests that the Nicholson 32 Mk 10 will, in the right conditions, approach her maximum hull speed readily and satisfy the sailing performance expectations of most cruising sailors.
2. A Ballast/Displacement Ratio of 49.2 means that the Nicholson 32 Mk 10 will stand up well to her canvas in a blow, helping her to power through the waves.
3. A Displacement/Length Ratio of 441, tells us the Nicholson 32 Mk 10 is firmly in the ultra-heavy displacement category. Load her up as much as you like and her performance will be hardly affected, not that it was ever startling. Few if any sailboats are built to this displacement category these days - but they remain popular with some long-distance sailors.
4. Ted Brewer's Comfort Ratio of 40.9 suggests that crew comfort of a Nicholson 32 Mk 10 in a seaway is similar to what you would associate with the motion of a heavy bluewater cruising boat. Pitching and rolling will be well damped - your cup of coffee on the salon table stands a reasonable chance of staying there in most conditions.
5. The Capsize Screening Formula (CSF) of 1.55 tells us that a Nicholson 32 Mk 10 would be a safer choice of sailboat for an ocean passage than one with a CSF of more than 2.0. 
---
Cruisers' Questions...
According to the Nicholson 32 Association, 369 Nicholson 32s were built between 1963 and 1981. The boats went through 11 model upgrades, from Mk I to Mk XI, with various changes to the hull, deck, cockpit, rig, engine, interior and windows. Some of the most noticeable differences are the raised freeboard and lowered coachroof of the Mk X and XI models, the enlarged cockpit and centreline companionway of the Mk X models, and the different window shapes of the Mk I to VIII and Mk X and XI models.
The Nicholson 32 has a length overall of 9.75m (32ft) for the Mk I to IX models and 10m (33ft) for the Mk X and XI models. The beam is 2.82m (9ft 3in) and the draft is 1.68m (5ft 6in). The displacement is around 6.5 tonnes (14,330 lbs) and the ballast is around 3.2 tonnes (7,055 lbs). The sail area is around 46 sq m (495 sq ft).
The Nicholson 32 is a lovely boat to sail, with a sea-kindly motion, good stability and balance, and a moderate speed. It can handle rough weather well and has a good track record of ocean crossings. It is not very agile or fast in light winds or tight manoeuvres, but it can be improved with a larger genoa or a bowsprit. The original engine was a BMC 1.5 diesel with 35hp, which was adequate but noisy and smoky. Many owners have replaced it with more modern and reliable engines, such as Beta or Yanmar.
Some of the advantages of owning a Nicholson 32 are:


It is a beautiful boat with classic lines and a timeless appeal.
It is well-built, strong and durable, with a high-quality finish.
It is comfortable and spacious inside, with a traditional layout and plenty of storage.
It is easy to handle and maintain, with simple systems and fittings.
It is affordable and holds its value well, with a loyal following and an active association.

Some of the disadvantages of owning a Nicholson 32 are:


It is prone to osmosis and may require peeling, drying and re-gelling.
It has a low freeboard and may take water over the toe-rails or windows in heavy seas.
It has a limited headroom of around 1.8m (5ft 11in) in the saloon and less in the forecabin.
It has a small cockpit that can be wet and cramped for more than two people.
It has a slow performance in light airs or upwind, especially with the original rig and engine.
Some recommended upgrades for a Nicholson 32 may depend on the model and condition of the boat, but here are some general suggestions:


Replacing the original engine with a more modern and reliable one, such as Beta or Yanmar. This can improve the performance, fuel efficiency, noise and emissions of the boat.
Installing new winches or upgrading the existing ones to self-tailing or electric models. This can make handling the sails easier and safer, especially for short-handed sailing.
Adding a bowsprit or a larger genoa to increase the sail area and improve the light wind performance. This can also balance the helm and reduce weather helm.
Updating the electronics and navigation equipment, such as GPS, AIS, VHF, radar, autopilot, etc. This can enhance the safety, communication and convenience of the boat.
Renewing the upholstery and cushions, or adding more insulation and ventilation to the interior. This can make the boat more comfortable and cosy, especially for long-term cruising.
The above answers were drafted by sailboat-cruising.com using GPT-4 (OpenAI's large-scale language-generation model) as a research assistant to develop source material; we believe them to be accurate to the best of our knowledge.
---
Other sailboats in the Nicholson range include:
Sep 29, 23 05:38 PM

Sailing characteristics and performance predictions, pics, specifications, dimensions and those all-important design ratios for the Hanse 400 sailboat...

Sep 29, 23 03:17 AM

Interested in the Gulf 32 sailboat? Here are the pics, specs and performance predictions you're looking for...

Sep 28, 23 04:04 PM

Sailing characteristics and performance predictions, pics, specifications, dimensions and those all-important design ratios for the Fuji 35 sailboat
---