'Falkor', a Privilege 42 Catamaran for Sale
SORRY, NOW SOLD!
For more boats like this one that are currently for sale please go to
Cruising Sailboats for Sale...
Although this boat is no longer available, the pics and text are retained here for the benefit of anyone researching this particular make/model of sailboat.
Asking Price and previous owner's contact details have been deleted.
The Privilege 42 catamaran was Cruising World's 1996 Boat of the Year.
'Falkor' was built in 1995 and is hull #6 - she's currently berthed in Chula Vista Marina, San Diego, California USA.
'Falkor', a Privilege 42 Catamaran
To our knowledge, 'Falkor' has never been chartered.  'Falkor' was originally a four stateroom, four head model; a previous owner repurposed the forward, starboard stateroom and head into a utility room that now houses the genset, watermaker, an Engle AC/DC refrigeration/freezer unit, tools and supplies.  
The fin keels of the Privilege 42 were originally layered with Kevlar with the intention of being beached; thus, in theory, you could perform much of your hull work without a haul-out if you can find the right conditions.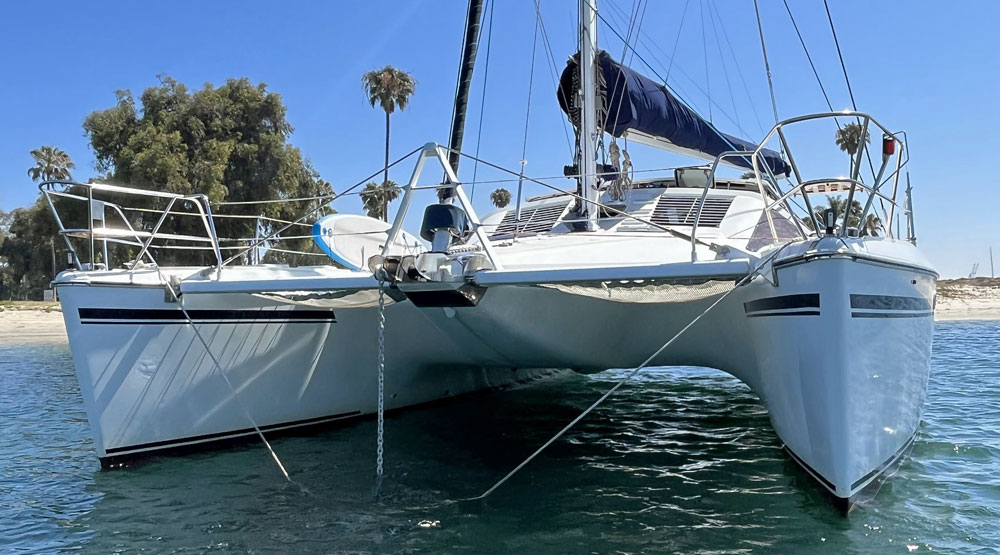 'Falkor's anchoring arrangement
'Falkor's Vital Statistics
Length: 42'0"
Beam: 23'0" 
Draft: 3'9"
Mast Height from Waterline: 62'0"
This is a true live-aboard vessel, equipped for a cruising lifestyle – NOT a day-sailor!  'Falkor' is ready to cruise to Mexico and beyond.  However, it must be said that compared to local real estate prices, this catamaran offers an unparalleled value to a handy, individual, couple or family looking to affordably live in the area and regularly enjoy the greatest views/on-the-water lifestyle possible in San Diego!

'Falkor' is primed for an electronics overhaul and/or re-powering, but existing systems are in serviceable condition for a competent sailor.
Current Mexico Temporary Import Permit (TIP) will be cancelled at buyer's request so that the vessel may be registered under a new permit under the buyer's name.

New hull striping and bottom paint in May 2022;
Last Survey March 2019;
Personal effects not included;
Turn-key and sail away!  Can be delivered for offshore delivery.
'Falkor' includes the following complimentary gear and equipment:

Sail Plan
Fully-battened Doyle Mainsail (2009) and Headsail (2015) in good shape; 
Storm Jib (never used); 
Spinnaker and sock (inspected and serviced in 2020) with almost-new hardware in new sail bag.  
Headsail is on a ProFurl roller furling headstay. 
All sails properly covered or stored at all times; 
Standing rigging is believed to be mostly original but is in good condition; 
Running rigging lines are of various ages but all in good condition; 
Spectra-type main halyard (2017) and control line for furler (2016); 
Seven Lewmar self-tailing manual winches (two 30 STs, one 40 ST, two 44 STs, two 50 STs) with Milwaukie 18v 'Winch Buddy'; 
ATN Top Climber with dedicated line.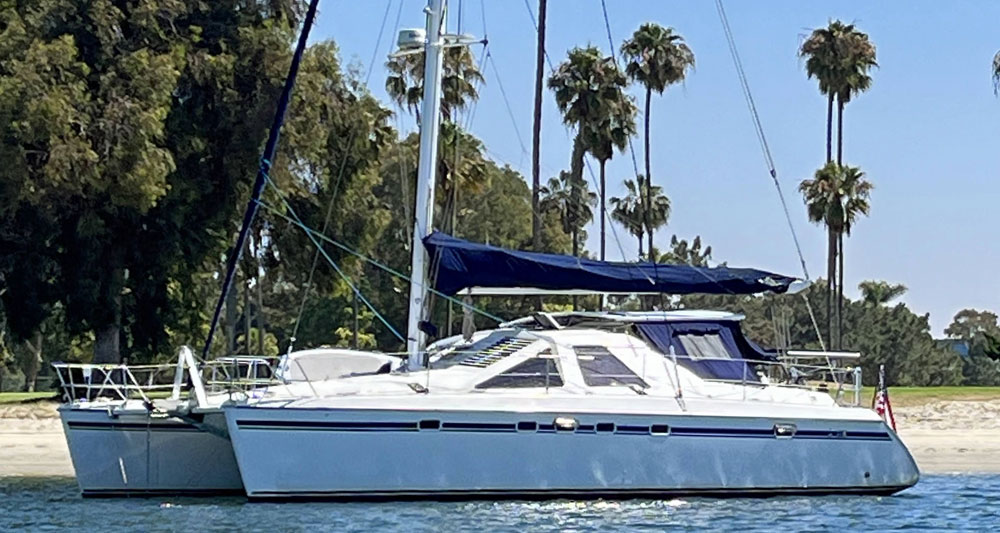 'Falkor's draft of 3'9" allows her to anchor close to shore
Auxilliaries
Two Yanmar 3GM30F 27hp auxiliary diesels (serial nos. 2S4404B and 2S4407B, approx. 7400 and 6700 hrs, respectively with Racor fuel filtration) turning 15x12 3-blade propellers via shaft drives; 
Oil sampled and tested with each oil change; 
New prop shafts, struts and cutlass bearings in May 2022; 
Engine mounts new in 2016 (extra set onboard); 
Original control panels, hours meters and throttles in poor but usable condition; 
New starting batteries in 2021; 
Two diesel fuel tanks of approximately 200 liters/53 gallons each (405 liters/107 gallons total capacity) monitored by Tank Tender; 
Numerous spare parts onboard including various belts, filters, gaskets, impellers, water pump housings and rebuild kits.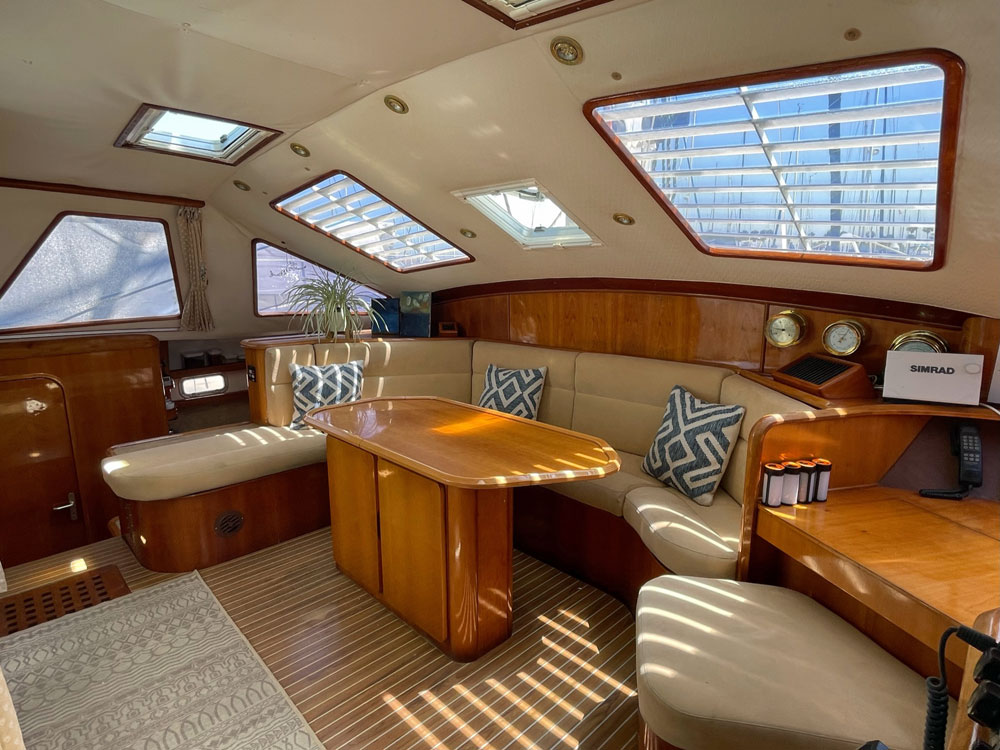 The saloon
Ground Tackle
Lofrans Monza Leopard 1200w 12v electric windlass (solenoid rebuilt in 2019) and complete ground tackle, including a Rocna 25kg main anchor with 225 feet of 10mm (3/8") chain rode on a Kong stainless steel swivel (anchor regalvanised in 2021 (chain flipped in April 2022); 
A Bruce 20kg secondary anchor with 30ft of chain and 200ft of 5/8" rode and a Fortress 20lb stern anchor with 15ft of 5/16" chain rode; 
Various other smaller and dinghy anchors; 
Bridle with stainless steel ABI chain grabber; 
Windlass foot switches located near the bow roller with a remote toggle switch at the starboard helm station.
Shore/Docking Tackle
Fenders (new covers in 2021) and dock lines (two sets: 3-strand for home dock and brand-new double braided line for guest dock/raft-ups) of adequate size and quantity for the size of the vessel; 
Serviceable shore power cord for 30amp service.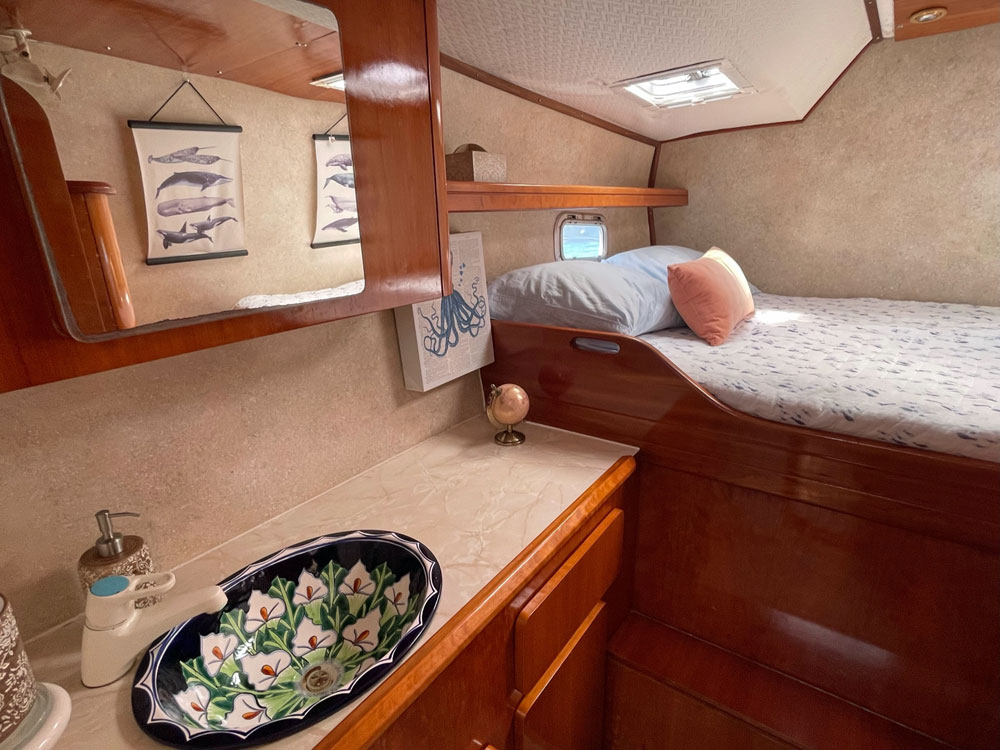 One of the 3 double cabins with en-suite facilities
Tender
Caribe Lite 11.5ft aluminum bottom rigid inflatable tender (Serial No. VE-EMD L1059H809) with high-quality inflatable dinghy wheels and replacement tubes; 
Powered by Yamaha Enduro 15hp two-stroke outboard (Serial No. 1074115 power head in excellent condition; 
Starts on first or second pull), both purchased circa 2009 and always covered with chaps (current chaps/covers made in 2020 with PTFE "forever thread") stored on stainless steel stern dinghy davits; 
Includes magnet-mounted navigation lights, outboard throttle extension and oars/mounts; 
Some spare parts for outboard.
Access to the interior
Cockpit
This is the biggest, best cockpit of any catamaran of this size. It is the main social area of the boat. A set of seating and sunbathing cushions provide comfort and relaxation, while allowing the owners and guests to participate in the sailing of the vessel or just kick back. This is facilitated by the wonderful insulated drinks locker in one of the cockpit lockers.
The large teak cockpit table on rigid stainless-steel legs, even when fully extended, does not prevent the safe and easy sailing of the boat. The table easily seats 8 comfortably with the addition of two West Marine Kingfish II deck chairs (2020);
Numerous cockpit lockers offer an amazing amount of storage space.  Custom hard-top bimini is a significant improvement over the factory, folding canvas bimini;
Canvas cockpit enclosure and dodger; 
Main sail stack pack cover; 
Winch covers, cockpit table cover, helm instrumentation covers and steering wheel covers – all in good condition; 
Complete set of closed-cell foam cushions; 
Polycarbonate and Perko door latch/lock in companionway doors new in 2020.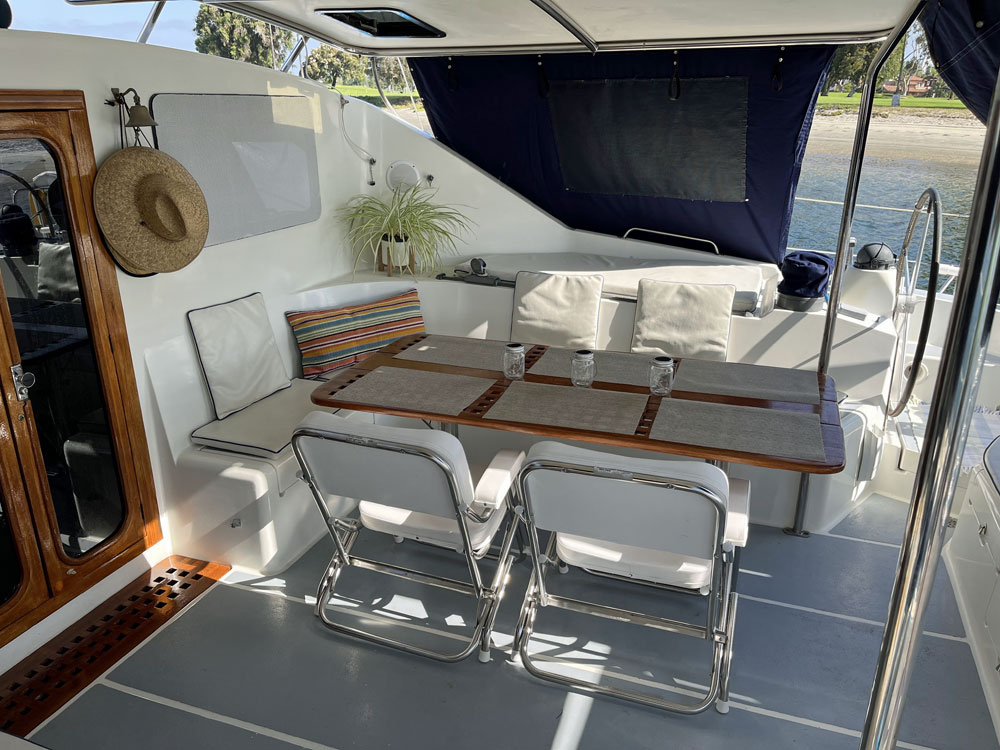 Plenty of space for entertaining in the large cockpit
Electrical
Phasor/Kubota 8.5kw AC Diesel generator installed circa 2000 with separate 25gal fuel tank (Serial No. ES D1005D, <3k hrs!); 
Four Kyocera 135w solar panels installed on a rack above the dinghy davits circa 2011 (540w total) feeding an Outback FlexMax 80 MPPT solar charge controller (2016); 
Xantrex Freedom 25 (2500w) modified sine wave inverter/charger with remote panel at nav station; 
Four 6v Kirkland signature 105 wet cells (house bank >5yrs old) - in 2S2P configuration gives 220ah at 12v with Link Lite remote monitor; 
Most lighting changed to LEDs.
Freshwater

Two stainless steel freshwater tanks with 500 liters/132 gallons total capacity monitored by Tank Tender; 
a Village Marine "No Frills" AC watermaker produces up to 95 ltr/hr (25gal/hr) installed circa 2008 – membranes approximately 5 years old, but limited use and regular flushing or pickling; 
Bimini rain catchment system with over 100sf of surface area! 
Three ways to heat water on 'Falkor': primary means of heating uses a Noritz on-demand propane water heater, plus an engine (port) heat exchanger circulates heat to a 10gal water heater tank that also contains a 110v heating element.
The navigation station
Navigation/Communications
Standard Horizon VHF radio at nav station with satellite speaker at helm; 
Uniden Handheld VHF (2020);
SIMRAD 3G Radar and NSS Evo2 Chartplotter and multiplexer (Note that chartplotter/radar is located at nav station, but accessible via tablet or phone (not included) remote app); 
ACR Class B AIS;
Raymarine ST6002 Autohelm with a Ratheon drive and remote control;
iCom M-802 SSB HF radio with an AT 140 auto tuner and USB PACTOR Modem;
Raymarine ST60 TriData depth finder, log, wind speed and direction instruments (needs an upgrade);
Two Plastimo 6in. compasses at helm station binnacles (only one in good condition); 
Additional GPS instruments; 
WiFi signal booster and router; 
LED tricolor, anchor and navigation lights; 
Seth Thomas ship's clock; 
Precision barometer; 
Various cruising books and charts.
Safety
ACR 706 EPIRB (tested and battery replaced in 2019); 
Three self-inflatable life jackets with good cartridges and an assortment of throwable and class three jackets; 
Dan Buoy Man Overboard system (throwable) New in 2021; 
Yellow horseshoe buoy; 
Emergency tiller;
Life lines and stanchions in good shape, mostly original; 
Six fire extinguishers new in 2020; 
Galley smoke and carbon monoxide detector new in 2019; 
Assorted flares and signaling devices; 
Radar reflector; 
LifeSling Man Overboard system (missing the lifelines mount/case); 
Life raft pictured is inoperable; 
Escape hatches likely inoperable.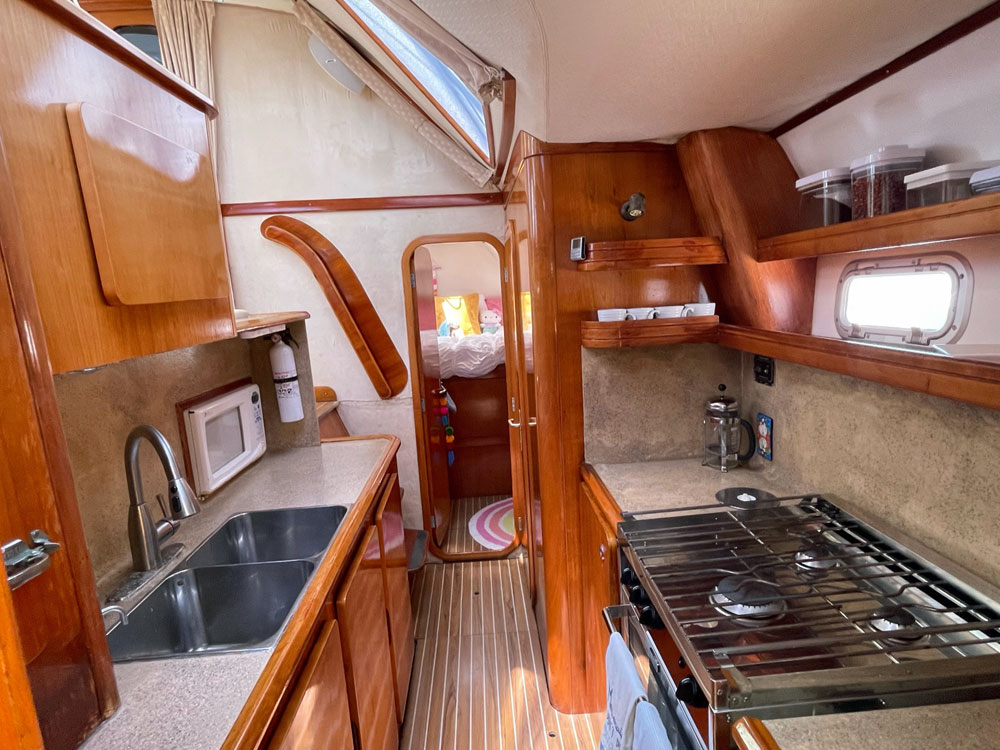 The galley
Galley
Force 10 three-burner propane stove with oven and broiler installed 2015; 
Saltwater foot pump at sink next to freshwater faucet; 
Microwave oven; 
Sea Frost 110v AC holding plate freezer, a Sea Frost 110v AC and 12v DC holding plate refrigerator and a portable AC/DC Engle 35qt fridge/freezer; 
Portable stainless-steel BBQ used for cockpit grilling; 
Two 5-gal fiberglass propane tanks; 
Complete set of Corelle dishes, Magma stainless pots and pans and utensils.
The Force 10 3-burner gas cooker
Interior
The hulls of the Privilege 42 have a headroom of 6 ft 4 in (1.93 m) and the saloon a headroom of 6 ft 5 in (1.96 m). Perfect for taller captains and crew!
Alcantara fabric covered settee cushions and aft salon wall;
Cherry wood interior - veneer is failing in multiple locations, but still looks great in most visible areas, especially in salon and aft staterooms;
Talavera sinks in aft staterooms;
Three queen-sized mattresses! 
Marine Aire 12k BTU heat pump/air conditioner and Passport II control panel; multiple 12v fans and space heaters;
17 deck hatches and 10 porthole windows for excellent airflow and natural light while underway or at anchor;
All hatches are original with varying degrees of hazing, but all in good shape;
Retractable screens are inoperable (or, at least, I've never tried to pull them out all the way!);
3 Jabsco heads (one electric) with one 30gal holding tank in port forepeak locker with Dometic vent filter (note holding tank plumbed to only one head).
One of the 3 head/shower cubicles
---
Nov 29, 23 08:35 AM

Here's where people with sailing equipment for sale advertise their stuff entirely free of charge. If you're looking for used sailing gear or other used boating accessories, here's where to find it!

Nov 10, 23 02:34 AM

My 47' Cheoy Lee sailboat is for sale. Designed by Bill Luders, she is a beautiful and functional liveaboard cruising yacht.

Oct 30, 23 04:22 PM

This article explores the journey of chartering a sailing yacht, from the initial planning stages to the final touches. It provides insight into the joys and challenges of embarking on a voyage of dis…
---