Hi


The Sailboat Cruiser
The Sailboat Cruiser is the free monthly (OK, monthly-ish) newsletter of sailboat-cruising.com and sets out to bring you the news, views and general musings of, well, me - Dick McClary, a sailboat cruiser and creator/owner of sailboat-cruising.com.
If you like this newsletter, please feel free to email it to your friends.
If one of your friends did forward this to you and you like what you read, please subscribe by visiting The Sailboat Cruiser
---
Newsletter #61 - October 2020
What's in This Issue:
---

Dr Michael Cohen MD, one of our Guest Authors, has submitted a superb 2-part article on navigation - but not as we know it.

Entitled 'Navigation: It's Not Just for the Birds', Dr Cohen has dedicated his article to Professor Marvin Creamer who died August 12, 2020 at the age of 104.

Professor Creamer remains the only person to circumnavigate the globe without the use of any navigational instruments - no GPS, electronics, radio, compass, sextant, and not even a wristwatch.

His circumnavigation lasted from 21 December 1982 to 17 May 1984. He stands alone as a testament to what Tristan Gooley has called 'Natural Navigation' which is the art of finding your way through the world using clues from nature.

A natural navigator learns how to read the stars, sun, moon, wind, water, land, animals, and plants to establish where he is and in which direction he is heading.


Navigation: It's Not Just for the Birds...

---

Whilst no other rig sails closer and faster to windward that a high aspect ratio, fin-keeled sloop there are some very good reasons why less performance-orientated rigs make more effective cruising boats.

The addition of a staysail transforms a sloop into a cutter, whilst the addition of a mizzen mast to a sloop makes it a ketch.

Not that there's anything too controversial there - both cutters and ketches have their afficionados who will ethusiastically attest to their cruising qualities.

In both rigs the main advantages over the sloop are:
The total sail area is spread over 3 sails rather than the 2 of the sloop, providing easier handling for a short-handed crew;
The additional sails offer greater flexibility in terms of reefing and balancing the boat;
These benefits are maximised in the cutter/ketch rig; properly known as the staysail ketch, and a fine example of which appears below: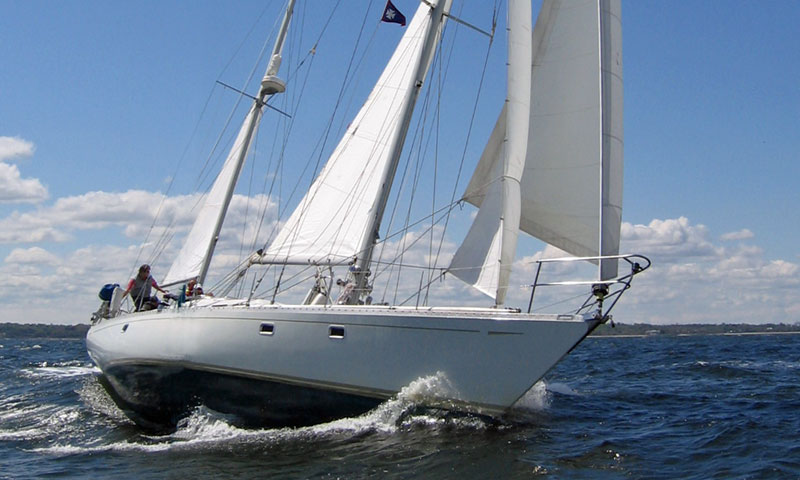 As with the Bowman 57 staysail ketch shown above, now you have 4 sails to play with: headsail, staysail, mainsail and mizzen.

And with a mizzen staysail set on a stay between the top of the mizzen mast and the foot of the main mast - you can go one further.

At anchor, the mizzen sheeted in hard amidships provides a steadying influence, keeping swing and yaw to a minimum.

But it's not all a plus of course; there are several negatives which apply to a staysail ketch:
Hard on the wind the mizzen provides little or any drive, adding only performance-sapping drag and weight;
Similarly the staysail shielded as it is by the headsail (normally a high-cut 'Yankee') contributes little power to windward;
Cost. All that additional hardware - spars, sails, winches, jammers, running and standing rigging - doesn't come cheap.
Off the wind though, they are a delight to sail.
A few more examples of staysail ketches:


---

OK, I'll admit it; the prospect of going aloft is for me no longer a joyful one. Not that I've ever fallen off, it's just that I always feel as though I might.

I've done what I can to minimise the likelihood of needing to go up there, primarily by replacing the incandescent Combined Tri-Colour/Anchor Light with a much more reliable LED version.

Still, from time-to-time go aloft we must, as so much other stuff is up there that can demand our attention - the VHF antenna, the wind indicator, the anemometer and the spinnaker halyard block for example.

Researching the various methods of going aloft I came across a webbing strap, luff-groove mast ladder from Recovery Marine.

These are not new of course, but compared to other versions on the market this one seemed particularly good value.

I had a few questions so contacted Recovery Marine of New Orleans, Louisiana for a chat with the company's head honcho.

Guess what? I managed to secure a 10% discount off the Mast Ladder's already competitive price for visitors to Sailboat-Cruising.com!

---

I ask a small favour. Next time you're reading an article on sailboat-cruising.com, you'll see a red heart, bottom-right of the screen.

If you think the page is worthy of your appreciation, click the heart and spread the love - it will give kudos to the page in the eyes of Google, Bing and Yahoo etc and me a warm feeling of eternal gratitude.

Maybe that's stretching it just a bit, but thanks anyway.

---

More and more of you seem to have taken an interest in the secondhand sailboats offered for sale by their owners, clearly looking forward to the time when you're able to inspect them close up in the days/weeks/months ahead.

As those of you who've asked for the owners' contact details know, I've offered you the opportunity to download our 3 used sailboat-related eBooks at a discount price.

The 'Boat Buyer's Bundle' I've called it. You clearly like a bargain so it seems only fair to also offer it to the readers of this newsletter too, even if you're not ready to make contact with the owner...

---

There were quite a few suggestions for last months Mystery Boat, including:

After some more research I'm pretty sure it's a German Frers designed Swan 51.

Thanks everyone for your input.

Let's see how you get on with this month's Mystery Boat:



Mary and I spotted this beauty anchored off Goran Haven, Cornwall UK during one of our recent hikes along the coastal path. Note the mizzen pinned amidships to reduce any swinging on the anchor.

Any ideas anyone?

If so, please let me know by clicking here...

---

---

It looks like the used sailboat market is picking up a little. Here's what we've got since the publication of the previous newsletter...
'Windsmith II', a Niagara 42;
'Life is Good', an Amel Super Maramu 2000;
'White Wings III', a Colvic Victor 50;
'Abeona', a Catana 42 Catamaran;
'Kesh', a Wauquiez Gladiateur 33;
'Sea Note', an Endeavor 43;
'Strummer', a Hinckley Pilot 35;
'Aphroditi', a Bavaria 37 Cruiser;
'Zoya', a Beneteau Oceanis 41;
'Footloose IV', a Lavranos;
'Sea Otter Too', a Columbia 29;
Don't forget...

If you're thinking of looking at a secondhand sailboat, or just want to be aware of what to look for - and when to walk away no matter what - then you really ought to take a look at The Boat Buyer's Bundle...

---

It's always worth taking a look at what visitors to sailboat-cruising.com are getting rid of. Remember that one man's junk is another man's gold!

Among other items this month, we have:
50amp, 125volt Shore Cables;
Weems & Plath Star Finder;
Hydro-Generator;
Sig Marine Diesel Cabin Heater;
Women's Foul Weather Gear;
Pacific Wind Pilot;
ICOM SSB Radio;
Opticrom Marine II Binoculars;
Lewmar Bowthruster;
Catalina 30 Winter Cover;
Sailomat 800 Windvane Self-Steering Gear;
Raymarine ST60+ Wind Instrument;
Stainless Steel Anchor Windlass;
Charts & Pilot Books;
Burke Marine Seabrake Drogue GP30 & Tow Kit;
Freiberger Sextant;
Safety Harnesses;
Intermatic Heatwave Heater;
Anchor Chain;
Take a look at these and all the other stuff at used cruising gear for sale...
---
And finally...
If you know anyone who might be interested in the contents of this newsletter, please forward it to them. It's not secret!

And this newsletter can be a two-way thing. If you've read anything you'd like to comment on, or perhaps there's an event you'd like to see announced in a future newsletter, then please let me know.

See you next month!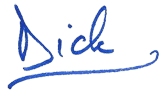 Dick McClary
Go to Sailboat-Cruising.com's Home Page...
---