The Willard 30 Sailboat
The Willard 30, a long-keeled cutter was designed by Bill Crealock and built in the USA by The Willard Company.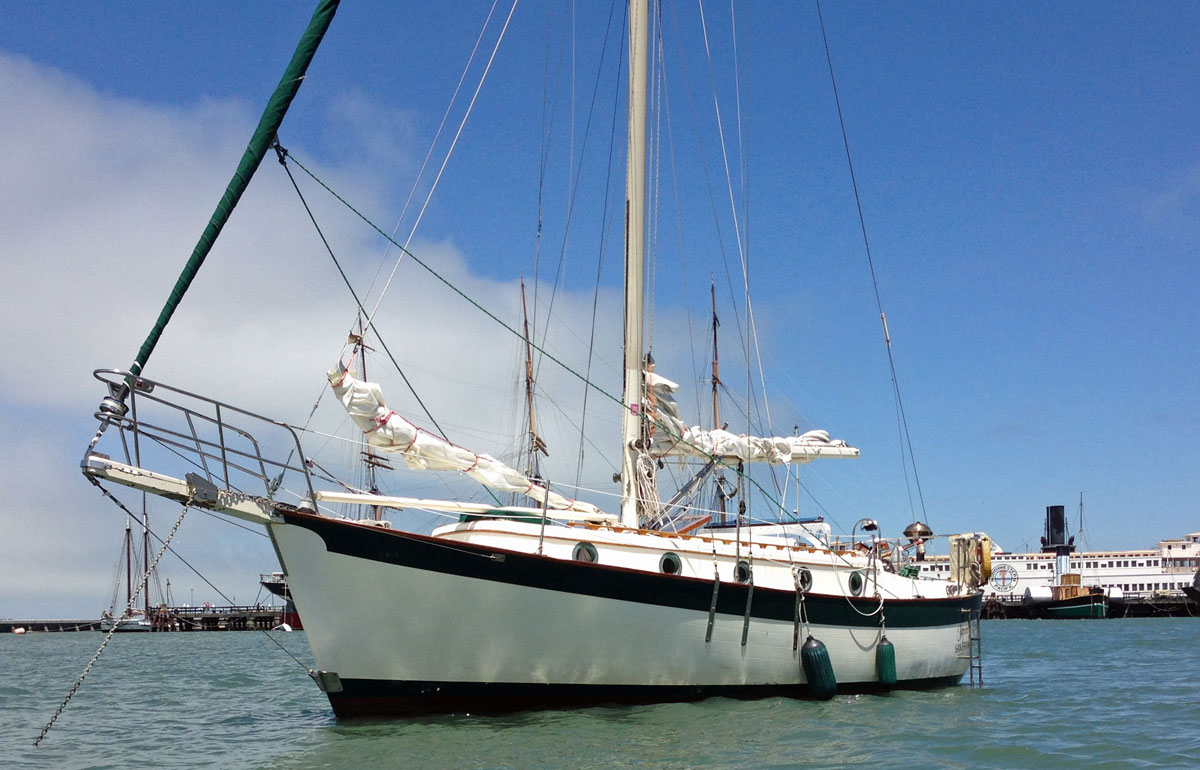 A Willard 30 cutter, sporting a bowsprit mounted furling jib and a hanked-on boomed staysail
Published Specification for the Willard 30
Underwater Profile: Long keel
Hull Material: GRP (Fibreglass)
Length Overall: 30'0" (9.14m)
Waterline Length: 27'6" (8.4m)
Beam: 10'5" (3.18m)
Draft: 4'8" (1.4m)
Rig Type: Cutter
Displacement: 17,000lb (7,711kg)
Designer: William Crealock
Builder: The Willard Company (USA)
Year First Built: 1973
Number Built: 30
Owners Association: Willard Owners
---
Published Design Ratios for the Willard 30
1. Sail Area/Displacement Ratio: 14.3
Less than 16 would be considered under-powered;
16 to 20 would indicate reasonably good performance;
Over 20 suggests relatively high performance.
2. Ballast/Displacement Ratio: 38.2
Under 40: less stiff, less powerful
Over 40: stiffer, more powerful
3. Displacement/Length Ratio: 365
Under 100: Ultralight
100 to 200: Light
200 to 275: Moderate
275 to 350: Heavy
Over 350: Ultraheavy
4. Comfort Ratio: 41.0
Under 20 indicates a lightweight racing boat
20 to 30 indicates a coastal cruiser
30 to 40 indicates a moderate offshore cruising boat
40 to 50 indicates a heavy offshore boat
Over 50 indicates an extremely heavy offshore boat
5. Capsize Screening Formula: 1.6
Under 2.0 (the lower the better): Better suited for ocean passages
Over 2.0: Less suited for ocean passages
read more about these all-revealing numbers...
---
Summary Analysis of the Design Ratios for the Willard 30
1. A Sail Area/Displacement Ratio of just 14.3 suggests that the Willard 30 will need a stiff breeze to get her going. In light conditions, unless you've got plenty of time on your hands, motor-sailing may be the way to go.
2. A Ballast/Displacement Ratio of 38.2 means that unless the bulk of the ballast is concentrated in a bulb at the foot of her keel, the Willard 30 will have a tendency to heel excessively in a gust, and she'll need to be reefed early to keep her sailing upright in a moderate breeze - and she'll be prone to rolling. 
3. A Displacement/Length Ratio of 365, tells us the Willard 30 is firmly in the ultra-heavy displacement category. Load her up as much as you like and her performance will be hardly affected, not that it was ever startling. Few if any sailboats are built to this displacement category these days - but they remain popular with some long-distance sailors.
4. Ted Brewer's Comfort Ratio of 41.0 suggests that crew comfort of a Willard 30 in a seaway is similar to what you would associate with the motion of a heavy bluewater cruising boat. Pitching and rolling will be well damped - your cup of coffee on the salon table stands a reasonable chance of staying there in most conditions.
5. The Capsize Screening Formula (CSF) of 1.6 tells us that a Willard 30 would be a safer choice of sailboat for an ocean passage than one with a CSF of more than 2.0. 
Jul 01, 22 03:18 AM

Interested in the Tartan 34 sailboat? Here are the pics, specs and performance predictions you're looking for...

Jun 29, 22 02:45 PM

'Endeavour' is a very special Tartan 34C, as you will see from the cutter rig modification, Ratcliffe wind vane auxiliary rudder self-steering, SSB radio, radar, and more.

Jun 28, 22 12:11 PM

The broad beam, large cockpit and spacious salon of the Dudley Dix Hout Bay 40 make for a very comfortable sailboat to live aboard and sail.
---