The Willard 30 Sailboat
The Willard 30, a long-keeled cutter was designed by Bill Crealock and built in the USA by The Willard Company.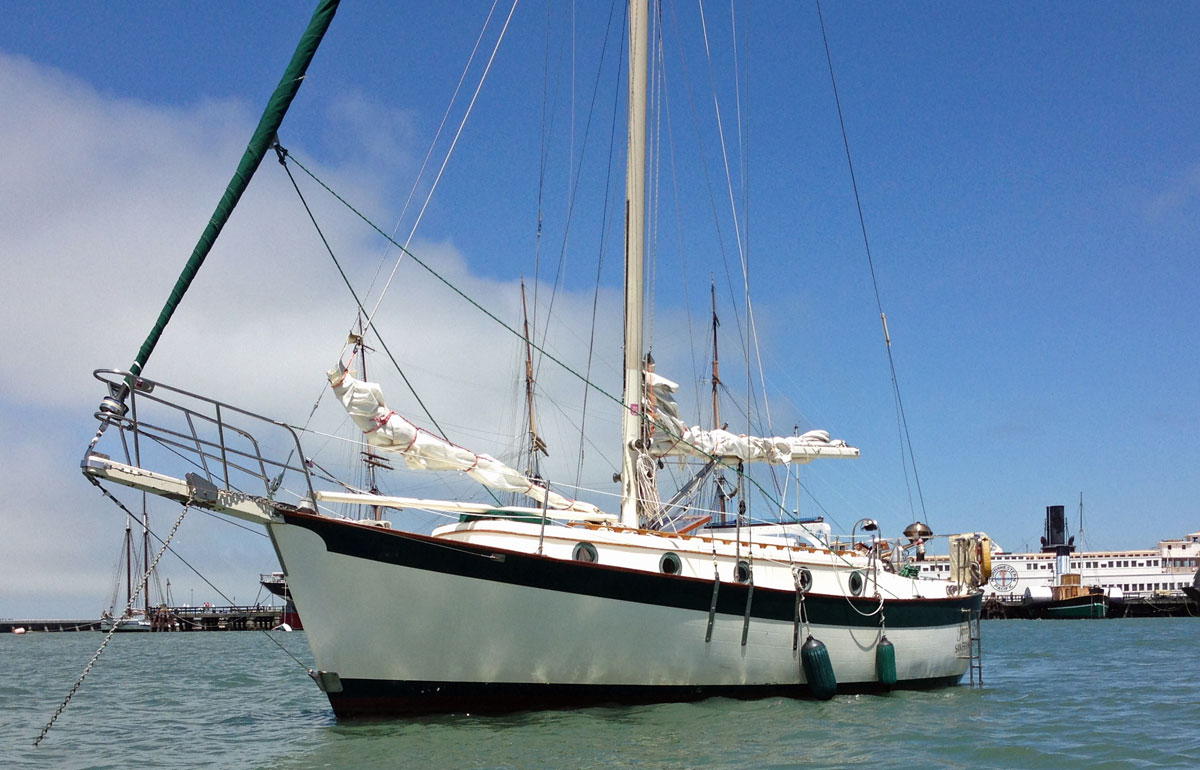 A Willard 30 cutter, sporting a bowsprit mounted furling jib and a hanked-on boomed staysail
Published Specification for the Willard 30
Underwater Profile: Long keel
Hull Material: GRP (Fibreglass)
Length Overall: 30'0" (9.14m)
Waterline Length: 27'6" (8.4m)
Beam: 10'5" (3.18m)
Draft: 4'8" (1.4m)
Rig Type: Cutter
Displacement: 17,000lb (7,711kg)
Designer: William Crealock
Builder: The Willard Company (USA)
Year First Built: 1973
Owners Association: Willard Owners
---
Published Design Ratios for the Willard 30
---
1. Sail Area/Displacement Ratio: 14.3
2. Ballast/Displacement Ratio: 38.2
3. Displacement/Length Ratio: 365
4. Comfort Ratio: 41.0
5. Capsize Screening Formula: 1.6
Summary Analysis of the Design Ratios for the Willard 30
1. A Sail Area/Displacement Ratio of just 14.3 suggests that the Willard 30 will need a stiff breeze to get her going. In light conditions, unless you've got plenty of time on your hands, motor-sailing may be the way to go.
2. A Ballast/Displacement Ratio of 38.2 means that the Willard 30 will have a tendency to heel excessively in a gust, and she'll need to be reefed early to keep her sailing upright in a moderate breeze - and she'll be prone to rolling. 
3. A Displacement/Length Ratio of 365, tells us the Willard 30 is firmly in the ultra-heavy displacement category. Load her up as much as you like and her performance will be hardly affected, not that it was ever startling. Few if any sailboats are built to this displacement category these days - but they remain popular with some long-distance sailors.
4. Ted Brewer's Comfort Ratio of 41.0 suggests that crew comfort of a Willard 30 in a seaway is similar to what you would associate with the motion of a heavy bluewater cruising boat. Pitching and rolling will be well damped - your cup of coffee on the salon table stands a reasonable chance of staying there in most conditions.
5. The Capsize Screening Formula (CSF) of 1.6 tells us that a Willard 30 would be a safer choice of sailboat for an ocean passage than one with a CSF of more than 2.0. 
---
A Few FAQs...
The Willard Company built four other versions of the 30-foot hull: the Searcher (a fishing boat style), the Nomad (a sedan), the Horizon (a motorsailer) and the Voyager (a pilothouse).
The Willard 30 is not in production anymore. The production ended in 1976 and only 30 of these sailboats were built.
The Willard Company was founded by C. Raymond Hunt in 1957 and specialized in building fiberglass boats. The company was later acquired by Joseph F. Willard Jr., who renamed it The Willard Company in 1961. The company produced several models of powerboats and sailboats until 2002, when it ceased operations due to financial difficulties.
The Willard 30 can sleep up to four people on board. There is a double berth in the forward cabin, a single berth in the main saloon and another single berth in the quarter cabin.
The standard version of the Willard 30 has a galley on the port side of the main saloon, a navigation station on the starboard side, a quarter cabin aft of the nav station and a head compartment forward of the main bulkhead. The optional version has a galley on the starboard side of the main saloon, a dinette on the port side, a larger head compartment aft of the dinette and no quarter cabin.

The Willard 30 is a stable and responsive sailboat that can handle various wind and sea conditions. It has a moderate sail area to displacement ratio of 15.5 and a displacement to length ratio of 375, which indicate that it is neither overpowered nor sluggish. It can reach speeds of up to 7 knots under sail and has a good balance between performance and comfort.

The average cost of a secondhand Willard 30 depends on the condition, equipment and location of the boat. According to YachtWorld, there is one Willard 30 for sale in the USA for US$34,900. According to Sailboat Guide, there is another Willard 30 for sale in Canada for US$17,500. These prices may vary over time and are not indicative of the market value of the boat.

The Willard 30 is a sailboat that has many positive and negative aspects, depending on the expectations and preferences of the sailor. Some of the pros are:


It is a sturdy and seaworthy boat that can handle rough weather and long voyages;

It has a spacious and comfortable interior with ample storage space, a galley, a head, a dinette and a double berth;

It has a pilothouse that provides shelter and visibility in all conditions, and allows for inside steering;

It has a cutter rig that offers versatility and balance in different wind angles.

Some of the cons are:


It is a relatively slow and heavy boat that does not perform well in light winds or tight manoeuvres;

It has a high fuel consumption and a small fuel tank, which limits its motoring range;

It has a low freeboard and a narrow side deck, which makes it wet and difficult to move around on deck;

It has a limited availability and a high price on the secondhand market, which makes it hard to find and buy.
The designer of the Willard 30 is William Crealock, a renowned naval architect and author who was born in England and lived in the US. He designed many offshore sailing yachts, such as the Crealock 37, the Pacific Seacraft 31, the Pacific Seacraft 34, the Pacific Seacraft 40, the Westsail 42 and the Westsail 43. He also wrote several books on sailing, such as Vagabonding Under Sail, Cloud of Islands and Cruising Under Sail. He died in 2009 at the age of 89.
The above answers were drafted by sailboat-cruising.com using GPT-4 (OpenAI's large-scale language-generation model) as a research assistant to develop source material; to the best of our knowledge, we believe them to be accurate.
---
Sep 29, 23 05:38 PM

Sailing characteristics and performance predictions, pics, specifications, dimensions and those all-important design ratios for the Hanse 400 sailboat...

Sep 29, 23 03:17 AM

Interested in the Gulf 32 sailboat? Here are the pics, specs and performance predictions you're looking for...

Sep 28, 23 04:04 PM

Sailing characteristics and performance predictions, pics, specifications, dimensions and those all-important design ratios for the Fuji 35 sailboat
---