The A-Z of Boating Jargon and Other Seafaring Expressions

Are you confused by boating jargon? Does it leave you 'all at sea'?
For instance, what is baggywrinkle for, when would you need a martingale, and what on earth does widdershins mean?
Perhaps you're a rugged old seadog fully conversant in nautical lingo, but if not this glossary of nautical jargon should ease your confusion...

From Sailmaker's Palm to Spreader...
Sailmakers' Palm ~ A strong, leather protective loop which fit across the palm of the hand.
Sag ~ To drift to leeward.
Samson Post ~ A strong post on deck for attaching the anchor or mooring lines to. 
SAR ~ Boating jargon for 'Search and Rescue'.
Read how SAR operates as part of the GMDSS System...

Scandalise ~ Another bit of boating jargon, meaning to de-power the mainsail by lifting the boom with the topping lift and slackening the leech.
Scantlings ~ Relatively small section (depth x breadth) beams supporting the deck and coachroof.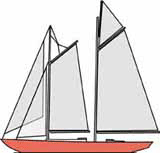 Schooner ~ A two-or-more masted sailboat, where the foremast is no taller (and usually shorter) than the aft-most mast That's unlike ketches and yawls where the aft-most mast (the mizzen) is always shorter than the main mast. The one shown here is a gaff-rigged schooner.

Read more about the different types of sailboat.
Scope ~ The length of anchor line that has been payed out.
Screw ~ Boating jargon for a propeller.
Scuppers ~ Cockpit or deck drains to carry water back to where it belongs.
Scuttlebutt ~ In bygone days, drinking water on a sailing boat was kept in wooden barrels, or butts. When it was time to open a new one, it was scuttled by driving a hole into it. It then became a 'scuttled butt'. When sailors gathered around it they were prone to exchange rumours and gossip, giving rise to the Navy term 'scuttlebutt'.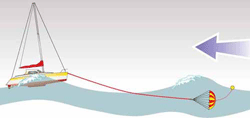 Sea Anchor ~ A parachute anchor attached to the bow to stop the boat and hold the bow into wind and sea in heavy weather.
Read more about parachute anchors...

Seacock ~ A valve which shuts off an underwater inlet or outlet passing through the hull.
Sea Room ~ Space in which a boat can manoeuvre clear of land or dangers.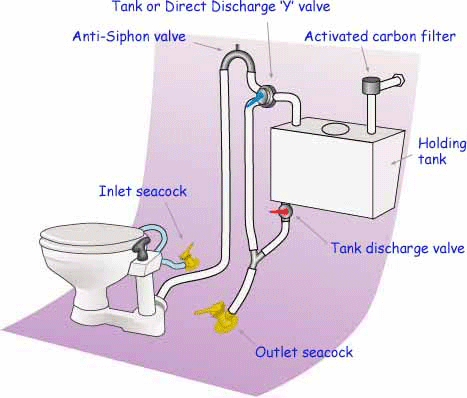 Sea Toilet ~ Also known as the 'head' or 'heads' - they used to be situated in the bow in old sailing vessels - these marine toilet installations discharge raw sewage over the side.
Fine when well offshore, but not so good in a marina or anchorage.

Increasingly though, international legislation requires that a holding tank be installed for subsequent discharge out to sea or pumped to appropriate installations alongside.

Seaway ~ A moderate or rough sea.
Seize ~ To bind two ropes together, or a rope to a spar, with a light line.
Serve ~ To cover and protect a splice or part of a rope with twine bound tightly against the lay.

Shackle ~ A horseshoe shaped metal link with a removable bolt across its open end.
Want to get 'Aback' to the begining of this A-Z list?
Shakedown ~ A trial to test a boats (and the crew's) fitness for the sea.
Sheave ~ The wheel inside a block through which a line runs.
Sheer ~ the curve of the deck-line when viewed from the side.
Sheet ~ A line attached to the clew of a sail or the end of the boom by which it may be controlled or trimmed.
Shipshape ~ Everything in place, ready for sea.
Ship, to ~ To set a component in its working position.
Shock cord ~ A bungee. An elasticated cord made of rubber strands inside a textile cover.
Shorten Sail ~ To reduce sail are by reefing or changing the sail.
Shove Off ~ More boat jargon, meaning to leave the dock.
Shrouds ~ The standing rigging – usually wire – that gives a mast athwartship support.
Side Lights ~ The running lights indication the port (red) and starboard (green) sides of the boat.
Skeg ~ A fixed fin used to support the leading edge of a rudder.
Skin fitting ~ Through-hull fitting.
Slab Reefing ~ A quick and simple method of reefing the mainsail.
Sloop ~ A single-masted sailboat with a single headsail and a mainsail. Also referred to as a Bermudan Sloop or a Marconi Rigged vessel.
The sloop shown here is masthead rigged; that is, with the forestay attached to the top of the mast.
In a fractionally rigged sloop, it's attached some distance down from the top of the mast.
Smack ~ A small sloop-rigged open fishing boat.
Small Craft Warning ~ Issued by the Coast Guard when sea conditions may be dangerous for small boats.
Snap Shackle ~ A shackle with a spring-loaded catch.
Snatch Block ~ A block that can be opened to allow a line to be put in it without having to run the whole length through.
Snub ~ To suddenly stop a rope.
Sole ~ The cabin floor
Spade Rudder ~ A cantilever rudder, not supported by a skeg.
Spar ~ A general term for any wood, carbon-fibre or metal pole used to carry or give shape to sails. For example masts, booms, gaffs, and spinnaker poles.
Spindrift ~ Spray blown along the surface of the sea.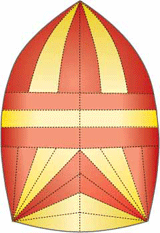 Spinnaker ~ A lightweight balloon type sail that's set 'flying' – that's to say not attached to a stay - for reaching or running. This one is a tri-radial, but others may be star cut or with a radial head.
Spinnaker Pole ~ A pivoting pole to which the 'tack' of a spinnaker is attached, the other end of the pole being attached to the mast,  supported by an uphaul and a downhaul, and controlled by a spinnaker guy.
Spinnaker Sock (or 'Snuffer' in boating jargon) ~ A fabric sheath with a plastic or fibre glass end into which the spinnaker is inserted. The spinnaker is set by raising the sock to the head of the sail, and doused (or snuffed) by pulling it back down.
A spinnaker can be a contrary beast, so this system is more likely to be used by cruising sailors; racers have a sufficient number of highly trained crew to manage without one.

Splice ~ To join two ropes or forming a loop in a single rope by weaving the strands together.
Split Pin ~ A soft metal pin folded back on itself to form an eye.

Spreader ~ Horizontal struts attached to the mast to spread the shrouds to a wider angle to better support the mast.
Next: Boating Jargon from Sprit to Topping Lift...
Oct 02, 23 12:17 PM

It's true that the ketch sailboat with its split rig can make an attractive cruising sailboat for a short-handed crew, but there is a downside to these types of sailboats

Oct 02, 23 08:47 AM

Thinking of buying a Hanse 548 sailboat? Perhaps you should first take a look at these pics, specs and key performance indicators...

Oct 02, 23 04:56 AM

Thinking of buying a Hanse 458 sailboat? Perhaps you should first take a look at these pics, specs and key performance indicators...
---