The Clove Hitch

How to Tie It & When to Use It
The Clove Hitch is one of the most useful hitches aboard a boat. It's probably most frequently used to attach a fender line to the guardwire or rail, but it can also be used to attach a line to a spar or another rope.
It's not a particularly secure hitch and can work loose if put under intermittent strain, particularly if it's applied from different angles. 
The Clove Hitch can be made more secure by taking the working end making a couple of half-hitches around the standing part in much the same way as the Round Turn and Two Half-Hitches.
How to Tie the Clove Hitch
Stage 1
Make a turn with the working end passing over the standing part;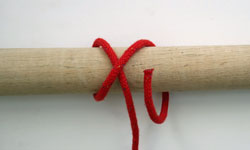 Stage 2

Make a second turn...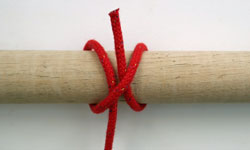 Stage 3

...passing the working end back under its own standing part.
Stage 4

Finally, cinch the knot up tight. It's as simple as that - you've tied a Clove Hitch.
---
You are here:~ Sailboat Cruising > Sailing Knots > How to Tie the Clove Hitch
---
---
Jul 11, 20 01:24 PM

Sailing the Catana 401 shows her to be very fast with frank accelerations. She is easy to handle, both under sail and with motors. The gentle steering

Jul 11, 20 11:09 AM

No monohulls here, just a list of catamaran sailboats for sale privately by their owners - and buyers won't pay brokerage fees either!

Jul 11, 20 10:40 AM

LAGOON 440, 2010 Description 4 cabins, 4 heads configuration; Rainman watermaker, 32 GPH; 800 litters fresh water tanks; Washing machine; BBQ; Stove and
---