Does A Ketch Sailboat Make
A Good Cruising Boat?
It's easy to confuse a ketch sailboat with a yawl so perhaps we should clear that up before we go any further. Both are two-masted rigs with a mainmast foremost and a smaller mizzen mast aft.
It's generally accepted that the difference between the two types comes down to the location of the mast in relation to the rudder post. In a yawl the mizzen is aft of the rudder post and in the ketch, it's forward.
But the real difference is one of purpose. The mizzen on a yawl is intended to help trim the boat, in capable hands giving them the ability to follow a compass course despite minor wind shifts.
This was a very handy feature in the days when commercial fishing was done under sail, but these days efficient autopilots and navigation aids have made this less important and the yawl has generally fallen out of favour.
| | |
| --- | --- |
| Ketch - Mizzen mast ahead of the rudder post | Yawl - Mizzen mast aft of the rudder post |

The Mizzen Sail on a yawl or Ketch Sailboat
The mizzen sail of a ketch is larger than that of a yawl and is there to add drive. And so it does - off the wind.
On the wind though, the mizzen is likely to add nothing but drag, being back-winded most of the time by the mainsail.
In these conditions the mizzen sail may as well be dropped, at which point the ketch becomes in effect an under-canvassed sloop.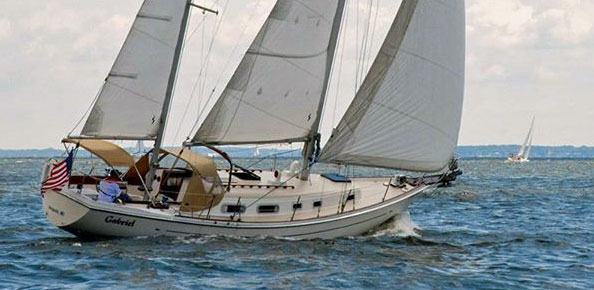 An Allied Princess 36 Ketch makes good progress to windward

The Mizzen Staysail
Off the wind a ketch is at its most efficient, particularly so if cutter rigged and with a mizzen staysail set. 
A Westerly 33 ketch with mizzen staysail set
That's the sail set between the head of the mizzen mast and the foot of the main mast, as on the Westerly 33 shown here.
But all the additional hardware - mizzen mast, sails, winches, standing and running rigging - comes with a considerable cost burden.
But there are benefits to be had from a split rig of a ketch:~
First, they offer greater flexibility for sail reduction, allowing a jib and mizzen configuration in strong winds; 
secondly, at anchor where with the mizzen set as a steadying sail, the boat will lay comfortably head-to-wind.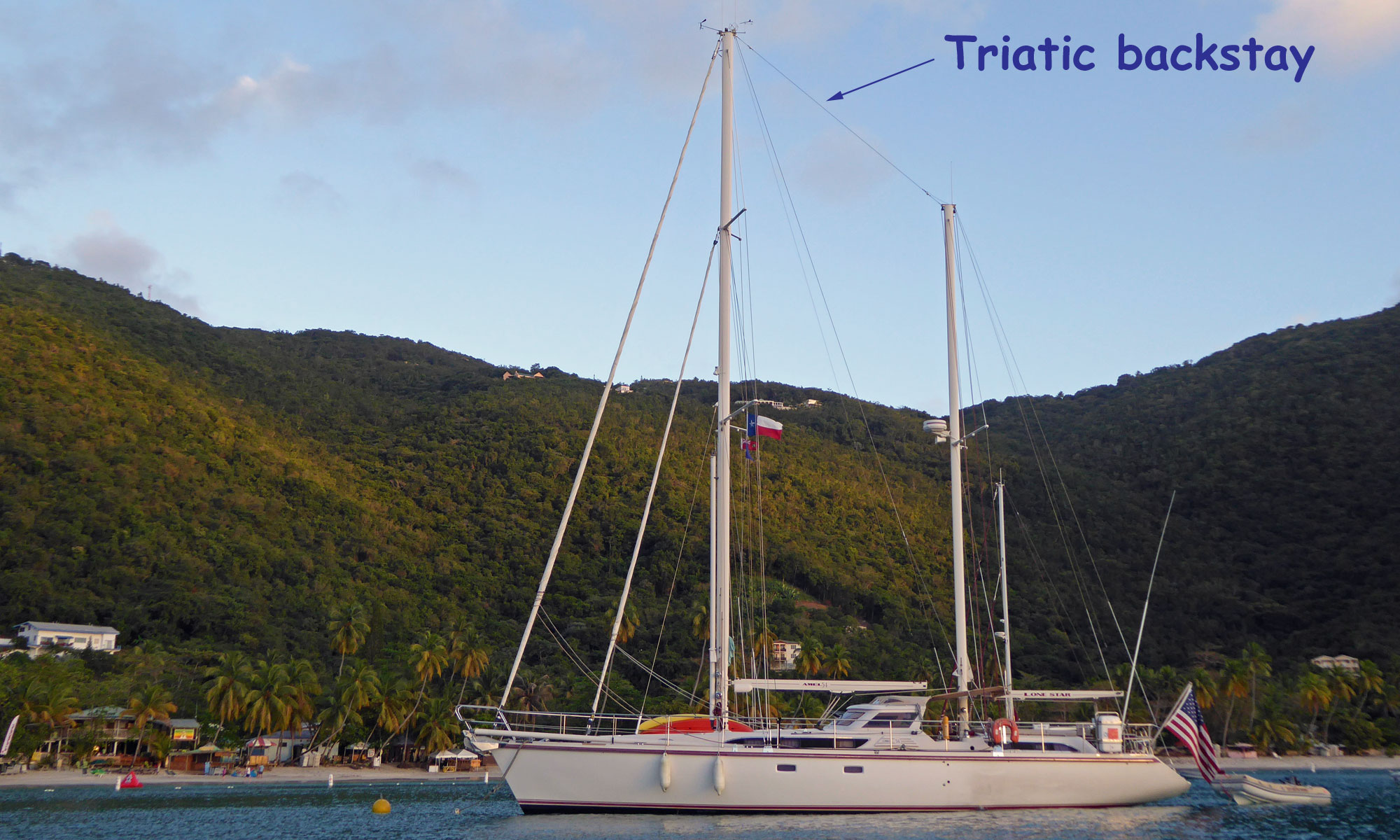 This Amel 54 cutter-rigged ketch sports a triatic backstay between the main and mizzen masts

The Staysail (Cutter Rigged) Ketch
Although you'll see many ketch sailboats with a triatic backstay tensioned between the two mastheads, each mast should be stayed individually.
Whilst this stay is ideally placed to act as an insulated SSB radio aerial, in the event of the loss of one mast it's almost guaranteed to result in the loss of the other.
A staysail ketch like the Amel 54 shown above will carry the following suit of working sails:~
jib;
staysail;
mainsail;
mizzen staysail;
mizzen;
A cruising sloop of a similar size has only two sails to make up the same sail area, which would be considerably more difficult for a short-handed crew to handle.
So in answer to the original question, although they're not the best choice for windward sailing, the ketch can make an ideal cruising sailboat.
Lastly, the mizzen mast on a ketch sailboat provides an ideal place to mount your radar scanner and wind generator. And as one old sea-dog once told me, a convenient thing to lean against when you're smoking your pipe.
---

A Few Examples of Ketch Rigged Cruising Boats
---
You are here: Sailboat Cruising > Types of Sailing Boats > Ketch Rig
---
---
Nov 20, 17 05:49 AM

We are selling our 2014 Lagoon 450 Fly bridge catamaran sailboat 'Chapter Two'. After 6 months of upgrades in January of 2015 we set sail with Jimmy Cornell's

Nov 19, 17 04:11 PM

This is a 2002 Belize Maestro (owners version) a very fast and smooth sailing catamaran. Ocean Mandalay was made in France (220v), sailed in the Med then

Nov 18, 17 07:13 PM

If you have an all-chain rode then yes, you definitely need an anchor snubber line. But what's best, a single snubber line or a bridle? Well, it depends...
---