Sailboat Rigging:
Part 2 - Running Rigging
Sailboat rigging can be described as being either running rigging which is adjustable and controls the sails - or standing rigging, which fixed and is there to support the mast. And there's a huge amount of it on the average cruising boat...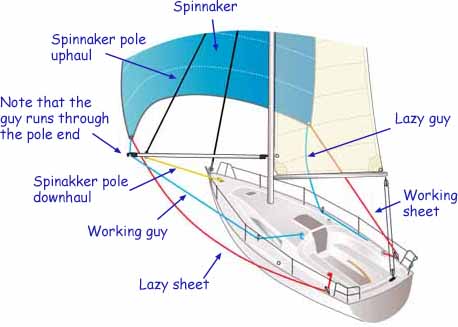 You'll need a whole lot more of it if you fly a spinnaker!
In the case of a cutter you'll need port and starboard runners - that's 2 more;
A jib furling line - 1 more;
An up-haul, down-haul and a guy for the whisker pole - 3 more;
A tackline, sheet and halyard for the cruising chute if you have one - another 3;
A mainsheet, halyard, kicker, clew outhaul, topping lift and probably three reefing pennants for the mainsail (unless you have an in-mast or in-boom furling system) - 8 more.
Total? 23 separate lines for a cutter-rigged boat, 18 for a sloop. Either way, that's a lot of string for setting and trimming the sails.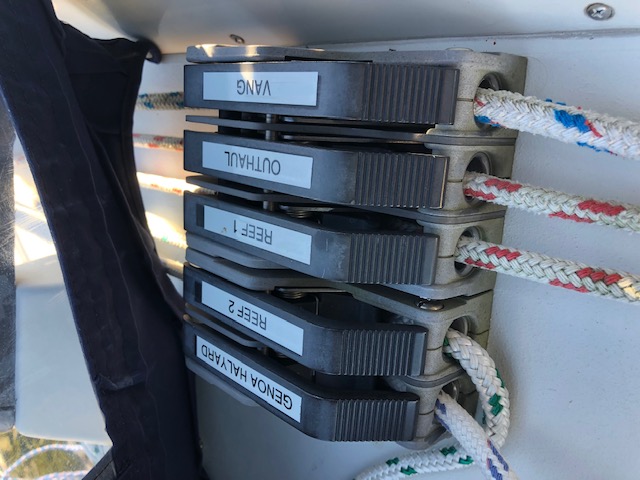 Coachroof mounted jammers on the portside of the main hatch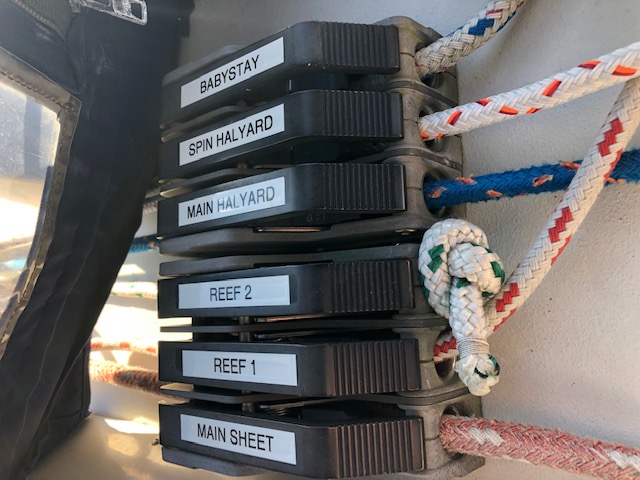 More control line jammers on the starboardside of the main hatch
Many skippers prefer to have all running rigging brought back to the cockpit - clearly a safer option than having to operate halyards and reefing lines at the mast. The downside is that the turning blocks at the mast cause friction and associated wear and tear on the lines.

The Essential Properties of Lines for Running Rigging
It's often under high load, so it needs to have a high tensile strength and minimal stretch.

It will run around blocks, be secured in jammers and self-tailing winches and be wrapped around cleats, so good chafe resistance is essential.

Finally it needs to be kind to the hands so a soft pliable line will be much more pleasant to use than a hard rough one.
Not all running rigging is highly stressed of course; lines for headsail roller reefing and mainsail furling systems are comparatively lightly loaded, as are mainsail jiffy reefing pennants, single-line reefing systems and lazy jacks.
But a fully cranked-up sail puts its halyard under enormous load. Any stretch in the halyard would allow the sail to sag and loose its shape.
It used to be that wire halyards with spliced-on rope tails to ease handling were the only way of providing the necessary stress/strain properties for halyards.
Thankfully those days are astern of us - running rigging has moved on a great deal in recent years, as have the winches, jammers and other hardware associated with it.

Modern Materials
Ropes made from modern hi-tech fibres such as Spectra or Dyneema are as strong as wire, lighter than polyester ropes and are virtually stretch free. It's only the core that is made from the hi-tech material; the outer covering is abrasion and UV resistant braided polyester.

But there are a few issues with them:~
For the same reason, sheaves must have a diameter of at least eight times the diameter of the line;
Splicing securely to shackles or other rigging hardware is difficult to achieve, as it's slippery stuff. Best to get these done by a professional rigger...
My approach on Alacazam is to use Dyneema cored line for all applications that are under load for long periods of time - the jib halyard, staysail halyard, main halyard, spinnaker halyard, kicking strap and checkstays - and pre-stretched polyester braid-on-braid line for all other running rigging applications.

Approximate Line Diameters for Running Rigging
But note the word 'approximate'. More precise diameters can only be determined when additional data regarding line material, sail areas, boat type and safety factors are taken into consideration.
Lengthwise it will of course depend on the layout of the boat, the height of the mast and whether it's a fractional or masthead rig - and if you want to bring everything back to the cockpit...
Oct 02, 23 12:17 PM

It's true that the ketch sailboat with its split rig can make an attractive cruising sailboat for a short-handed crew, but there is a downside to these types of sailboats

Oct 02, 23 08:47 AM

Thinking of buying a Hanse 548 sailboat? Perhaps you should first take a look at these pics, specs and key performance indicators...

Oct 02, 23 04:56 AM

Thinking of buying a Hanse 458 sailboat? Perhaps you should first take a look at these pics, specs and key performance indicators...
---