But if the halyard and the topping lift are operated from the mast, then this is where the reefing pennant should terminate too.
On some boats the halyard is operated from the mast and the topping lift from the cockpit - which is just plain daft - but if this is the case it's best to keep the halyard and the reefing line in the same location, as you can deal with the topping lift before you leave the cockpit and when you return to it.
Clearly it makes a lot more sense to have everything all in the same place - either at the mast or in the cockpit - so you can deal with it on your own if you have to.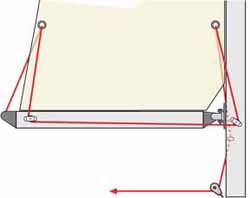 Single Line Reefing - a Simple, Seaworthy System
Ease the kicking strap, or vang as it's also known, then;
Ease the mainsheet;
Head up towards the wind;
Take up on the topping lift to support the end of the boom;
Release the halyard and drop the main by enough to pull in the reef;
Pull in the reef and secure the reefing line;
Tension halyard and secure;
Ease the topping lift;
Adjust course, trim sails - and it's job done!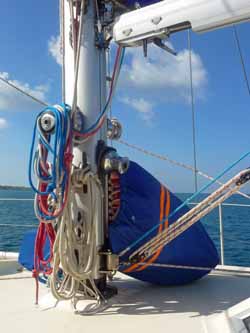 There's only enough room inside the boom for the first two reef tackles, so the third reef - if there is one - has to be done with a standard slab reefing arrangement.
This means that in the very worst conditions you'll have to go to the mast anyway!
I know some offshore sailors that use this system have just two deep slabs in the mainsail, and rely on the trysail when things get really unpleasant.
The trysail should have its own separate track and be kept bagged but ready for hoisting at the foot of the mast, as shown here.