'Seawind', my Allied Seawind MkII is for Sale

By owner Parker Misko
'Seawind' is an exceptional example of the capable Allied Seawind 32 with the rare factory optional Marconi cutter rig.
The original Allied Seawind was the first fiberglass boat to circumnavigate the world, and in 1975, the second version of this boat designed by naval architect Tom Gilmer began production.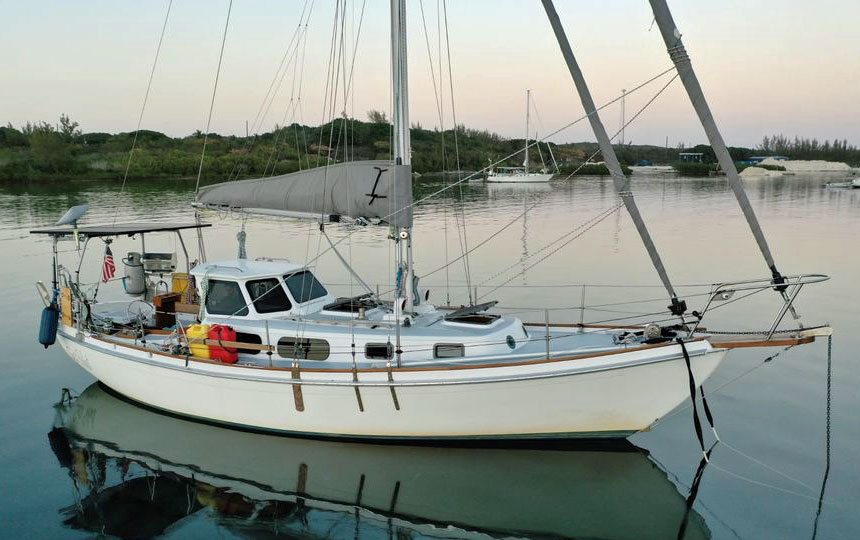 Currently located in Fort Lauderdale, Florida, 'Seawind' was built in 1979.
The slightly larger and beamier Seawind MkII has comfortable accommodations, including a huge amount of storage space.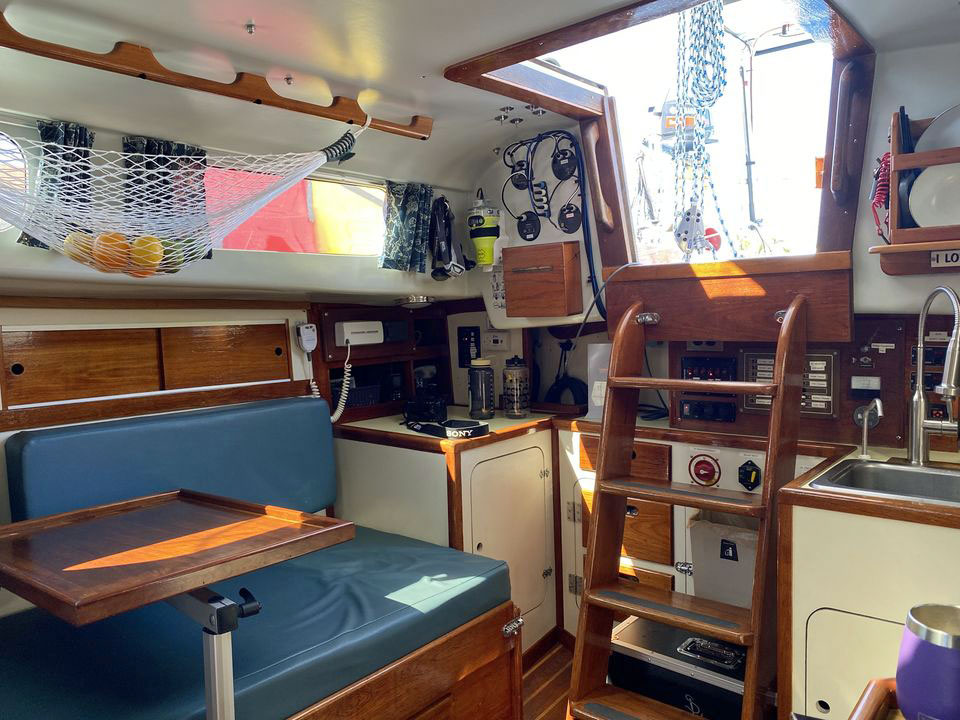 The Companionway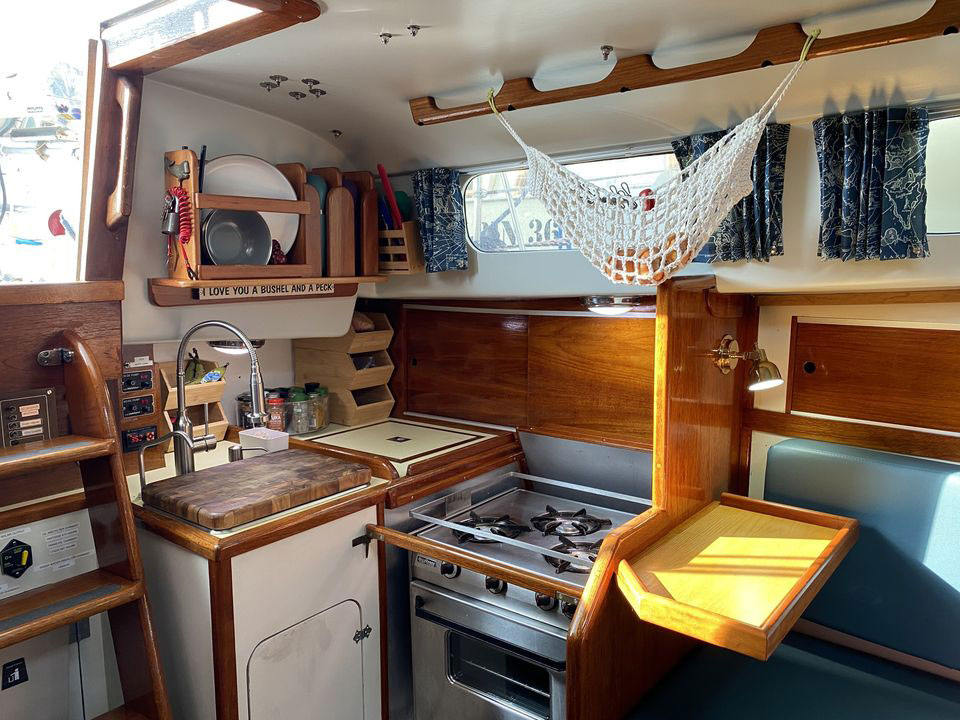 The galley is at the foot of the companionway on the port side
A Dickenson Newport cabin heater keeps the boat cozy when needed
Port side seating in the salon
Starboard side seating in the salon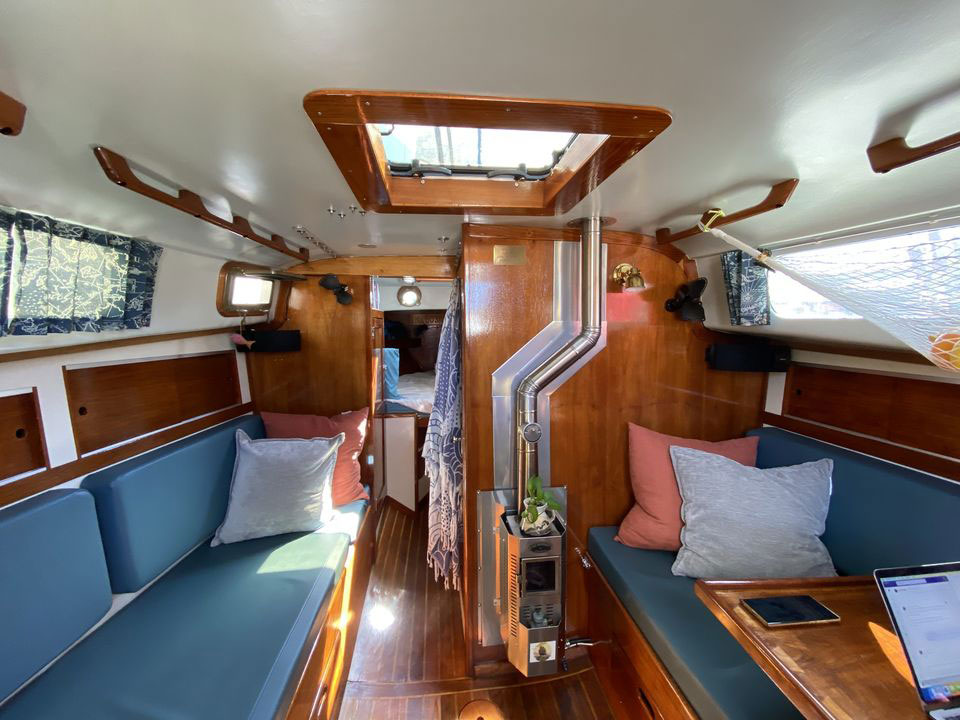 Looking forward into the forepeak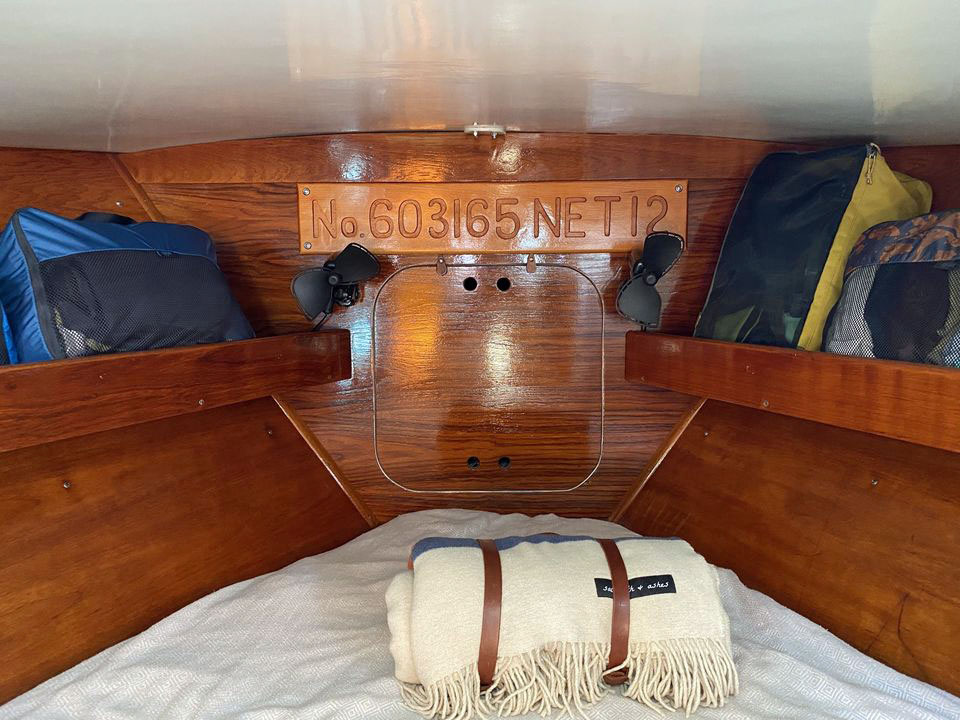 The Vee-berth in the forepeak
A clothes storage locker
Her heavy displacement, full keel with a protected rudder and propeller aperture, plus a fine entry of the bow give the Allied Seawind MkII a gorgeous and seaworthy hull shape.
The Allied Seawind MkII was overbuilt to be a strong and capable bluewater sailboat. This strong platform and successful lineage of the Seawind's design was the foundation for creating the boat you see in this listing.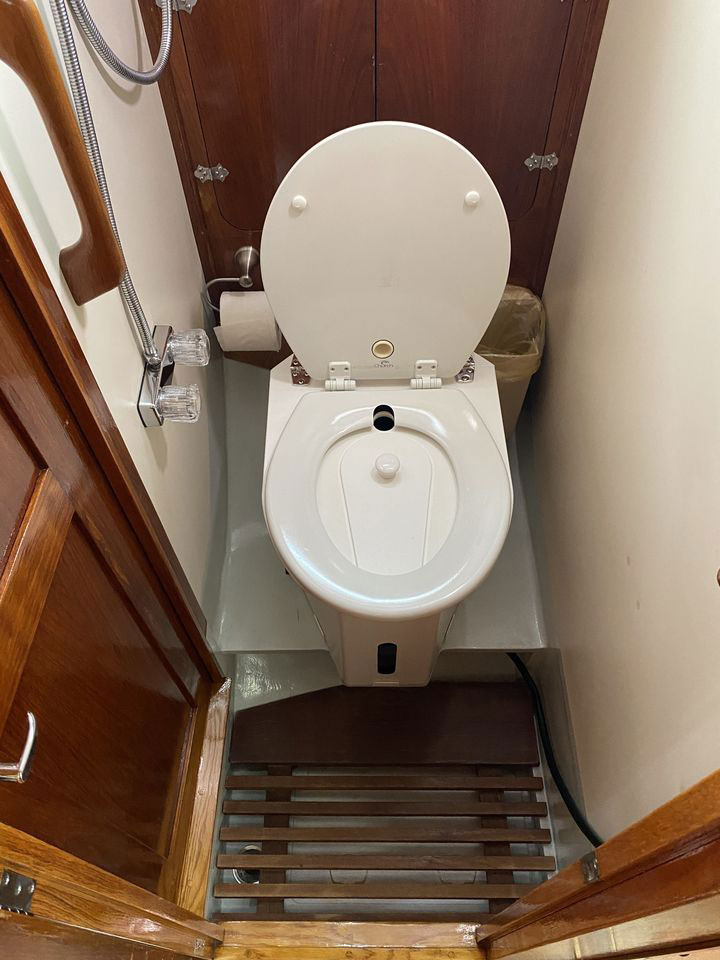 The head
'Seawind' is hull #89 of approximately 130 (MkI and MkII) and has undergone a massive restoration from 2016-2022, and now, she is in many ways much stronger than factory.
All of the work has been done with the best materials and with future preservation and serviceability in mind. Every system was designed with simplicity and reliability at the forefront.
'Seawind's restoration was done on Lake Erie where she spent her life in fresh water. The benefits of being in freshwater are apparent in the bronze and stainless fittings above and below the water, the aluminum mast and spars, as well as the trusty Bukh DV20 diesel engine.
The Bulk DV20 (20hp) marine diesel engine is fed from a 40-gallon tank
Since 2021, Katy and Parker have lived aboard 'Seawind' and have sailed extensively along the east coast of the USA and the Bahamas. Before that, we sailed Lake Erie extensively between refit projects. Her full keel and protected rudder with 4'6" draft means that shallow anchorages are no issue.
Weighing in at 14,900lbs dry with 5,800lbs encapsulated lead ballast, she remains upright in a breeze, is sea kindly, and always feels strong and safe.
Parker and Katy have been meticulous with her care and maintenance.
The Cockpit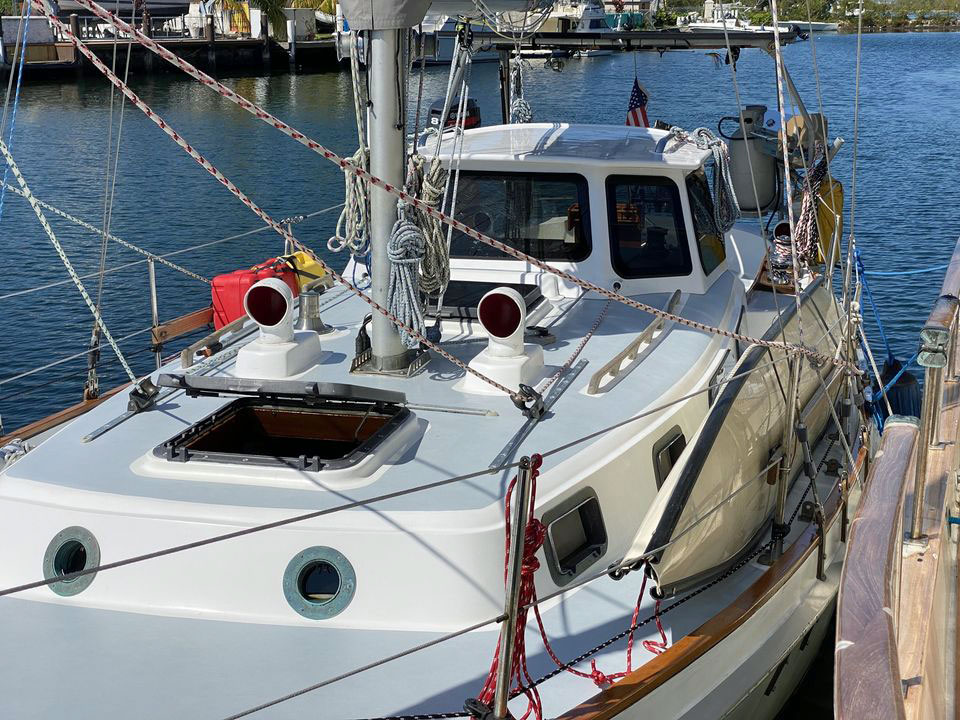 Halyards are handled at the foot of the mast
'Seawind' is an absolutely TURNKEY boat with comfortable living accommodations, superb sailing characteristics, and a small footprint which means small dockage fees, small air draft for bridges, small diesel fuel bills, and shallow anchorages. All you have to do is pick your first destination!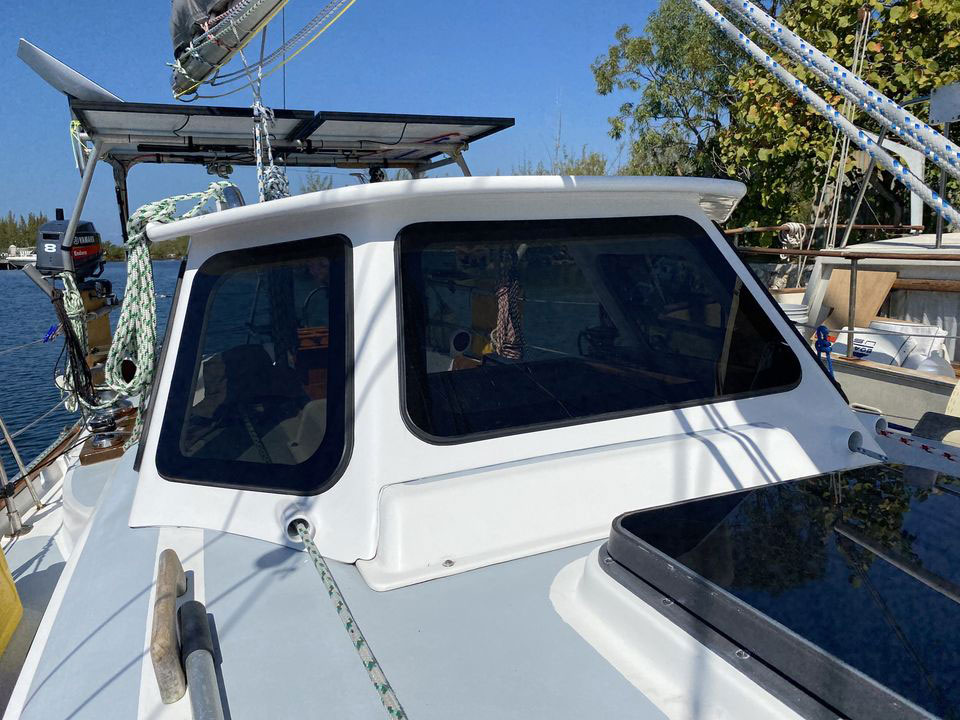 'Seawind' sports a custom hard dodger
General Specification for the Allied Seawind MkII
Underwater Profile: Long keel with partially cutaway forefoot
Hull Material: GRP (Fibreglass)
Length Overall: 31'7" (9.6m)
Waterline Length: 25'6" (7.8m)
Beam: 10'5" (3.2m)
Draft: 4'6" (1.4m)
Rig Type: Cutter
Displacement: 14,900lb (6,759kg)
Ballast: 5,800lb (2,631kg)
Designer: Thomas Gilmer
Builder: Allied Boat Company Inc (US)
Year First Built: 1975
Year Last Built: 1982
Number Built: 11
Tankage:
Diesel fuel capacity - 40 gallons
Freshwater capacity - 60 gallons

Propane capacity - 33 pounds in an aluminum tank
The hard dodger provides protection for the companionway
Sails & Rigging
New full batten offshore mainsail with 3 reefs and triple stitched seams; 

New 150% Genoa;

New heavy offshore built staysail; 

New 115% offshore high cut jib;

Asymmetrical spinnaker in like-new shape with ATN sock; 

New Harken furling units on forestay and inner forestay; 

New internal halyards; 

New

 running rigging.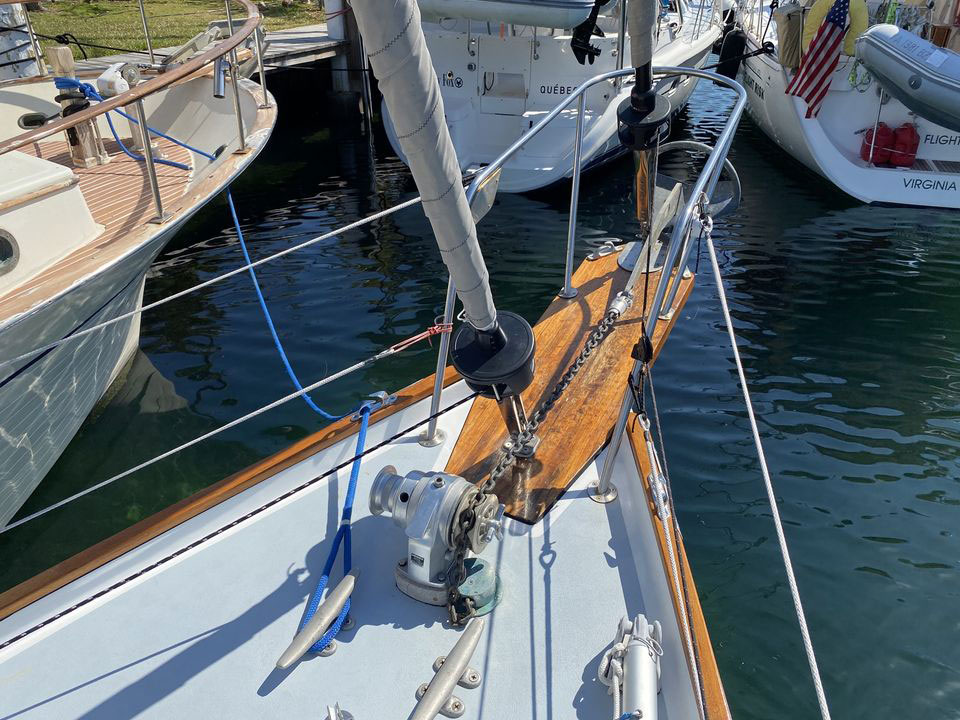 Both the headsail and the staysail are on Harken furling systems
Electrics & Instrumentation etc
Raymarine instruments (wind, speed, depth);

Xantrex Truecharge 40amp shore power charger;

70-amp Balmar alternator;

660 watts solar (Canadian Solar);

Battleborn lithium batteries;

AGM starting battery isolated from house bank; 

Victron electrical system; 

Pheonix 12|800 inverter with Bluetooth;

Smart solar 100|50 MPPT charge controller with Bluetooth;

BMV-712 smart battery monitor with Bluetooth;

Frigoboat refrigeration system with keel cooler; 

Newly built refrigerator box with 4" insulation; 

Dual bilge pump systems;

6 new Lewmar self-tailing winches.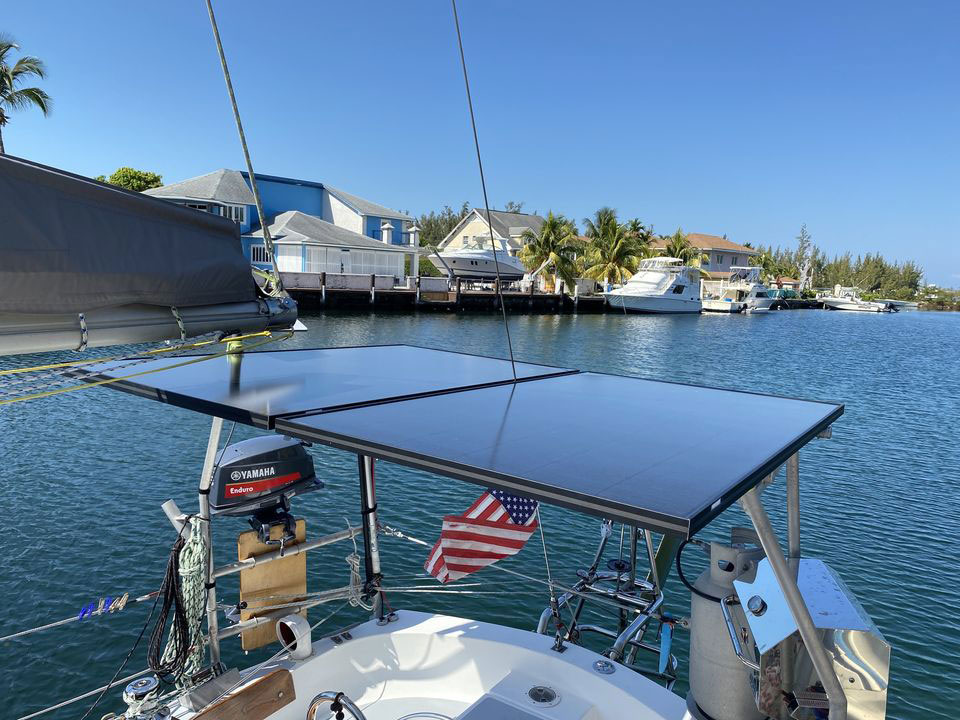 660 watts of solar power
New Lewmar self-tailing winches
Tender & Outboard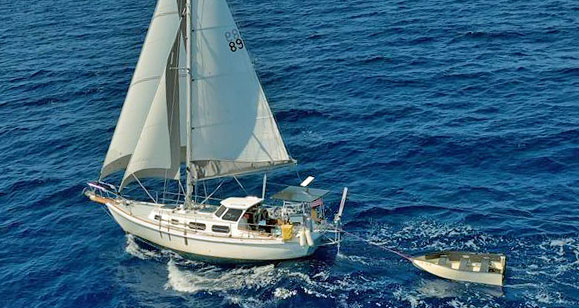 Broad reaching under her cutter rig with the tender towed astern
Safety and Other Equipment/Features
Complete interior and exterior restoration/refit;

Custom hard dodger;

Katadyn Powersurvivor 40e watermaker;

Flares and flare gun; Globa; 

Fix V4 EPIRB (2019);

Lifesling MOB system with hoisting system mounted in cockpit; 

Standard Horizon GX 2200 VHF with DSC calling and AIS receive with proximity alarms; 

Standard Horizon floating handheld VHF with GPS;

Fusion Marine radio system with Bose bulkhead (surface) mounted speakers;

Two 5-gallon potable water containers; 

Yamaha 6-gallon fuel tank;

One 5-gallon gasoline storage container;

One 5-gallon diesel storage container;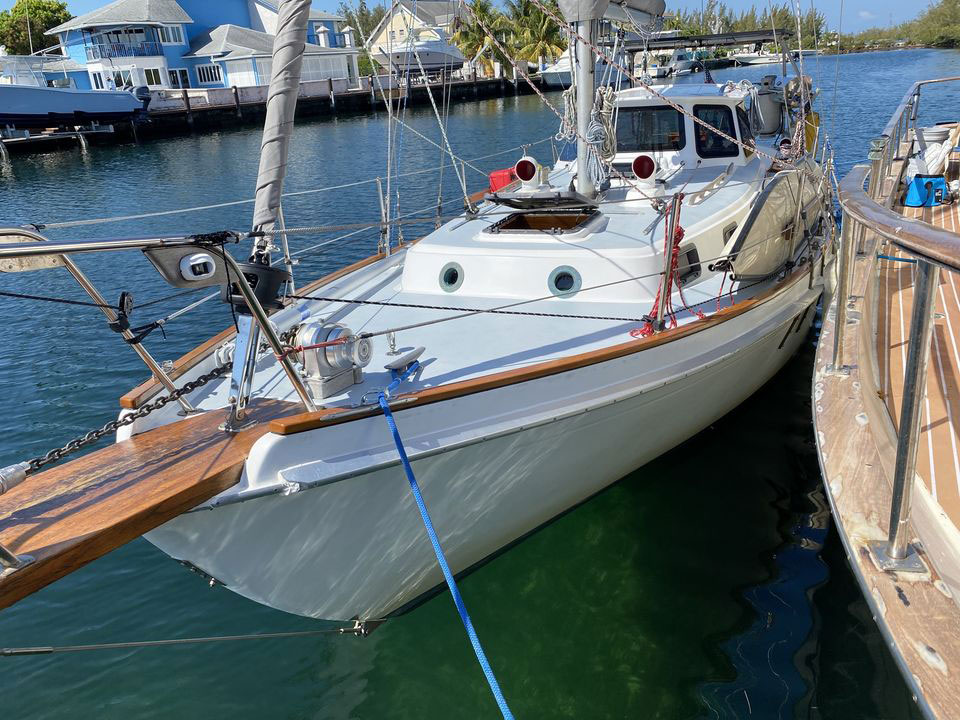 The foredeck
Asking Price & Contacting the Owner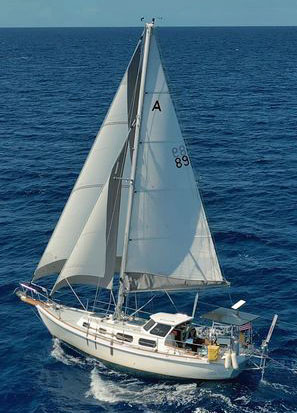 'Seawind'
We're asking $59,700 for 'Seawind', our Allied Seawind Mk II Cutter Rig long-distance liveaboard cruising yacht.
If you need more information or would like to be 'Seawind's new owner, please contact me, Parker Misko, here...
Based on Published Design Ratios for the Allied Seawind MkII Cutter:

Her Sail Area/Displacement Ratio of 13.6 suggests that she will need a stiff breeze to get her going. In light conditions, unless you've got plenty of time on your hands, motor-sailing may be the way to go.

Her Ballast/Displacement Ratio of 38.9 means that she's likely to benefit from being reefed early to keep her sailing upright in a moderate breeze.

Her Displacement/Length Ratio of 401 tells us she is firmly in the ultra-heavy displacement category. Load her up as much as you like and her performance will be hardly affected.


Ted Brewer's Comfort Ratio of 37.2 suggests that the comfort of her crew in a seaway would be similar to that associated with the motion of a moderate bluewater cruising boat - a predictable and acceptable motion for most seasoned sailors.

Nov 29, 23 08:35 AM

Here's where people with sailing equipment for sale advertise their stuff entirely free of charge. If you're looking for used sailing gear or other used boating accessories, here's where to find it!

Nov 10, 23 02:34 AM

My 47' Cheoy Lee sailboat is for sale. Designed by Bill Luders, she is a beautiful and functional liveaboard cruising yacht.

Oct 30, 23 04:22 PM

This article explores the journey of chartering a sailing yacht, from the initial planning stages to the final touches. It provides insight into the joys and challenges of embarking on a voyage of dis…
---