The Bulldog 30 Sailboat

Specs & Key Performance Indicators
The Bulldog 30, a heavy-displacement cruiser intended for construction in either aluminium or steel, was designed by Ted Brewer.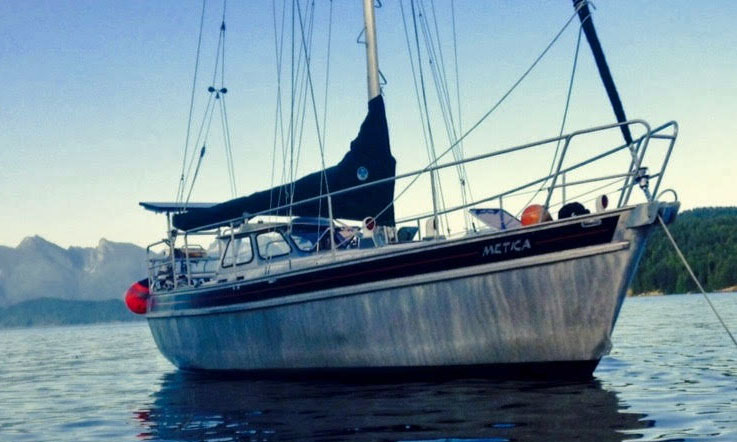 The Bulldog 30
Published Specification for the Bulldog 30
Underwater Profile: Long keel & transom-hung rudder
Hull Material: Aluminium or steel
Length Overall: 30'0" (9.1m)
Waterline Length: 26'0" (7.9m)
Beam: 10'5" (3.2m)
Draft: 4'11" (1.5m)
Rig Type: Cutter
Displacement: 12,000lb (5,443kg)
Designer: Ted Brewer
Builder: Various, intended for home construction
---
Published Design Ratios for the Bulldog 30
1. Sail Area/Displacement Ratio: 16.1
Less than 16 would be considered under-powered;
16 to 20 would indicate reasonably good performance;
Over 20 suggests relatively high performance.
2. Ballast/Displacement Ratio: 41.7
Under 40: less stiff, less powerful
Over 40: stiffer, more powerful
3. Displacement/Length Ratio: 305
Under 100: Ultralight
100 to 200: Light
200 to 275: Moderate
275 to 350: Heavy
Over 350: Ultraheavy
4. Comfort Ratio: 34.7
Under 20 indicates a lightweight racing boat
20 to 30 indicates a coastal cruiser
30 to 40 indicates a moderate offshore cruising boat
40 to 50 indicates a heavy offshore boat
Over 50 indicates an extremely heavy offshore boat
5. Capsize Screening Formula: 1.8
Under 2.0 (the lower the better): Better suited for ocean passages
Over 2.0: Less suited for ocean passages
Read more about these Key Performance Indicators...
---
Summary Analysis of the Design Ratios for the Bulldog 30
1. A Sail Area/Displacement Ratio of 16.1 suggests that the Bulldog 30 will, in the right conditions, approach her maximum hull speed readily and satisfy the sailing performance expectations of most cruising sailors.
2. A Ballast/Displacement Ratio of 41.7 means that the Bulldog 30 will stand up well to her canvas in a blow, helping her to power through the waves.
3. A Displacement/Length Ratio of 305, tells us the Bulldog 30 is clearly a heavy displacement cruising boat. You can load her down with all your cruising gear and equipment and it will hardly affect her waterline. Not an ideal choice for coastal sailing, but she'll come into her own on an offshore passage in testing conditions.
4. Ted Brewer's Comfort Ratio of 34.7 suggests that crew comfort of a Bulldog 30 in a seaway is similar to what you would associate with the motion of a moderate bluewater cruising boat - a predictable and acceptable motion for most seasoned sailors.
5. The Capsize Screening Formula (CSF) of 1.8 indicates that a Bulldog 30 would be a safer choice of sailboat for an ocean passage than one with a CSF of more than 2.0. 
---
The Bulldog 30: The Key Features...
The Bulldog 30 is a custom-built cutter designed by Ted Brewer. This aluminum-hulled beauty is a rare find on the market, but if you spot one, you'll be impressed by its features and performance. Here are some of the pros and cons of this husky little sailboat.
The Bulldog 30 has a sleek and efficient rig, with a single spreader mast that is deck stepped and features a slab reefing mainsail with twin reef points and lazy jacks. The jib and staysail are on Harken roller furling, and there are two spinnaker poles for downwind sailing. The sail area is generous, at 528 sq ft, giving the boat a good sail area/displacement ratio of 16:1. The boat also has running backstays on titanium blocks that can be used in heavy weather to reduce mast panting. The boat can reach speeds of up to 7.5 knots, according to the current owner, and handles well in light winds as well as strong breezes.
The cockpit is spacious and comfortable, with a permanent boom gallows that provides support and safety. The boat has an aft cockpit, which gives more room below decks and better visibility from the helm. The cockpit also has large scuppers and a liferaft locker under the seat. The steering is by tiller.
Below decks, the Bulldog 30 offers a cozy and practical layout, with ample storage and stowage throughout. The boat has one cabin and one head, with a folding double berth forward that doubles as a work bench when not in use. This feature might not appeal to some sailors who prefer a fixed vee berth, but it does offer more versatility and space for repairs or projects. The head is located on the port side, next to a large hanging locker. The salon has two good sea berths, a pilot berth and a quarter berth, both with lee cloths. The galley is on the port side, with a two-burner propane stove with oven, a sink with pressurized water, and a top-loading icebox. The navigation station is on the starboard side, with a chart table and an electrical panel. The boat has 75 gallons of fresh water capacity and 53 gallons of fuel capacity, which give it a good range for cruising.
The Bulldog 30 is not without its drawbacks, however. One of them is the limited headroom, which is only 5'10" in the salon and less in other areas. This might be uncomfortable for taller sailors or guests. Another drawback is the small holding tank, which is only 3 gallons and might require frequent pumping out or emptying in offshore waters. The boat also has a relatively high displacement/length ratio of 305, which means it is heavier than some other boats of its size and might not be as nimble or responsive in some situations.
Overall, the Bulldog 30 is a great sailboat for those who value speed, durability and seaworthiness over comfort and luxury. It is designed for offshore and long-range cruising by a couple or a small crew, and it can handle any weather conditions with ease. It is hard to imagine a thirty-footer more suited for blue water sailing and ocean voyages than this one.
The above text was drafted by sailboat-cruising.com using GPT-4 (OpenAI's large-scale language-generation model) as a research assistant to develop source material; we believe it to be accurate to the best of our knowledge.
---
Sep 29, 23 05:38 PM

Sailing characteristics and performance predictions, pics, specifications, dimensions and those all-important design ratios for the Hanse 400 sailboat...

Sep 29, 23 03:17 AM

Interested in the Gulf 32 sailboat? Here are the pics, specs and performance predictions you're looking for...

Sep 28, 23 04:04 PM

Sailing characteristics and performance predictions, pics, specifications, dimensions and those all-important design ratios for the Fuji 35 sailboat
---