The Contessa 32 Sailboat
The Contessa 32 is a classic sailboat, first introduced in the 1970s by British boat builder Jeremy Rogers in association with designer David Sadler. It's a design that strikes a balance between speed, seagoing ability and accommodation. This longstanding endurance of the model is testament to its design and robust build quality.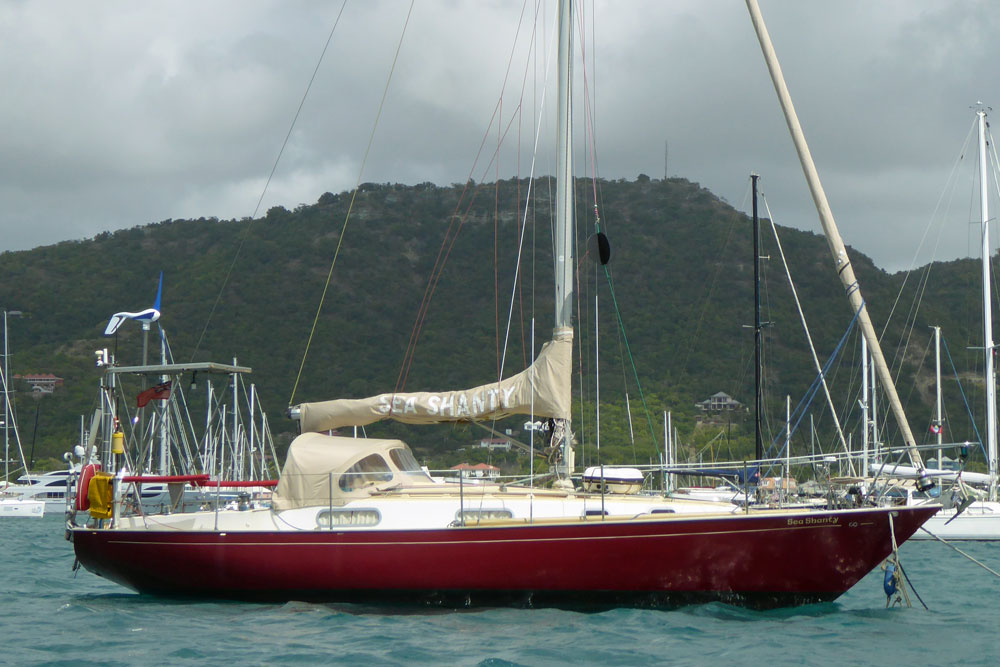 The Contessa 32 is renowned for its seakeeping qualities.
The boat was also built in Canada by J J Taylor & Sons.
Published Specification for the Contessa 32
Underwater Profile: Fin and Skeg
Hull Material: GRP (Fibreglass)
Length Overall: 32'0" / 9.8m
Waterline Length: 24'0" / 7.3m
Beam: 9'6" / 2.9m 
Draft: 5'6" / 1.7m
Rig Type: Masthead Sloop
Displacement: 9,500lb / 4,309kg
Designer: David Sadler
Builder: Jeremy Rogers Ltd (UK); J J Taylor & Sons (Canada)
Year First Built: 1972
Year Last Built: Still under production in UK
Number Built: 600+ to date
Owners Association: Contessa 32 Class Association
---
Published Design Ratios for the Contessa 32
When considering the Contessa 32 sailboat's ability to perform in a seaway, you would need to look at some of the published design ratios. In terms of the Sail Area/Displacement Ratio (SA/D), the Contessa has an above average figure of close to 18. This places it into the 'cruiser-racer' category indicating a good balance of cruising comfort and performance.

Further regarding the Ballast/Displacement Ratio, which provides an indicator of stability, the Contessa 32 also performs excellently with a ratio of about 48%. This high percentage indicates a heavy keel and good stability, again supporting its reputation as an excellent sea boat.
The Displacement/Length Ratio (D/L) of the Contessa 32 is approximately 269, placing it in the 'heavy cruiser' category. This indicates a sturdy and capable blue-water cruiser, well-suited for extended voyages and ocean-crossing trips. A hull with a high D/L ratio generally leads to a more comfortable ride in rough conditions.
On the Comfort Ratio (CR), the Contessa 32 has a ratio of about 30, which characterizes it as 'moderately heavy'. This means that it is an excellent choice for those looking for a comfortable and stable boat for cruising.
In terms of the Capsize Screening Formula (CSF), the Contessa 32 has a value of roughly 1.8, indicating a relatively low risk of capsize in extreme conditions. Its low CSF, coupled with the 1979 Fastnet Race (during which a Contessa 32 was the smallest boat to finish the race), affirmed its reputation for seaworthiness and strength in demanding situations, giving its owners a sense of safety and confidence.
Pros & Cons
The Contessa 32 sailboat's strengths lie in its robust design and admirable sailing performance, its solid handling and steadfast seaworthiness even in severe weather conditions. It is well-made with a quality finish, and its reputation has held up over the years as being not just a safe boat, but a boat that inspires security and confidence in its helm.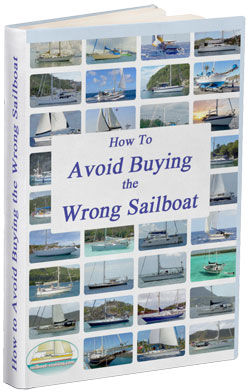 The essential eBook for potential boat buyers...
The Contessa 32 does have its weaknesses. Some owners have reported that despite its relatively comfortable interior, the available living space is somewhat limited, largely due to its narrow beam. This could be a draw-back for those planning extended cruising with larger crews.

Moreover, the traditional layout of the boat, while charming in its own right, may not appeal to those who prefer more modern and innovative interior designs. The cockpit is also not as spacious as some of the newer designs in its class, limiting outdoor living.
However, these minor inconveniences are often overshadowed by the boat's overall performance, and enduring appeal. Many prefer the Contessa 32 for its simplicity and straightforwardness, and the fact that you know exactly what you're getting – a reliable, capable, and prestigious heritage yacht.
The Competition
When matched against other similar boats in its class, such as the Nicholson 32 or the Westerly Storm 33, the Contessa 32 holds its own. It offers better stability than the Nicholson 32, and while the Westerly Storm 33 offers more room, the Contessa 32 arguably offers a more balanced and superior seagoing performance.

The sailing press has consistently given the Contessa 32 positive reports. It has been praised for its strong construction, seaworthiness, and the satisfactory speed it achieves under different wind conditions. This praise has been echoed by owners, many of whom have been captivated by the boat's charm and reliability.
Freedom & Adventure
Venturing into the realm of sentiments associated with the Contessa 32 sailboat, one is indeed struck by an overwhelming sense of freedom, adventure, and a love of the sea. This classic, beautifully made sailboat epitomizes the appeal of open water voyages are all about.

Freedom is expressed in the boat's veering away from complicated and modern-day designs. It doesn't try to be overly innovative but stays true to what a ship is meant to be – a sturdy vessel created to weather the harsh elements of the sea.
As for adventure, one only needs to recall the 1979 Fastnet Race, where the Contessa 32, against all odds, proved her might and mettle, reinforcing her status as a seaworthy vessel capable of handling almost anything mother nature can done out.
And lastly, love of the sea is reflected in every detail of the Contessa 32. From the traditionally designed interior to the superior handling and stability, the Contessa 32 is more than a boat; it is a testament to the enduring appeal and love of sailing, capturing the very essence of a seafaring way of life.
The Secondhand Market
As a prospective buyer, you need to consider the associated costs. Although the Contessa 32 can be found on the second-hand market, restoring, maintaining and running an older boat can incur considerable expenses over time, so prepare your budget carefully.

Truly, the Contessa 32 is a boat for the sailing purist, one looking for an authentic sailing experience coupled with the assurance of safety and the promise of adventure. It may have minor shortcomings in terms of space and modern finishes, but the heart of the boat – its nature as a true sea boat with a unique heritage – is what draws many sailors to it year after year.
Succinctly, the Contessa 32 is the epitome of a classic sailboat exuding strong elements of freedom, adventure, and love of the sea. Its design ration, pros, and cons make it a worthy choice for any potential buyer. Whether it's for its legendary history, its seaworthiness, its aesthetic appeal, or the sheer joy it brings to those who pilot her, there is undoubtedly something special about a Contessa 32. It's more than a boat. It's a lifestyle.
Its enduring popularity is also reflected in the availability on the secondhand market, where you might find models priced between $25,000 and $40,000, depending on age, condition and fitted equipment.
I wrote this article using GPT-4, OpenAI's large-scale language-generation model, as a research assistant to develop source material. I wrote the final draft in its entirety and believe it to be accurate to the best of my knowledge.
Dick McClary, creator and owner of sailboat-cruising.com
Other sailboats in the Contessa range include:
---
Nov 29, 23 08:35 AM

Here's where people with sailing equipment for sale advertise their stuff entirely free of charge. If you're looking for used sailing gear or other used boating accessories, here's where to find it!

Nov 10, 23 02:34 AM

My 47' Cheoy Lee sailboat is for sale. Designed by Bill Luders, she is a beautiful and functional liveaboard cruising yacht.

Oct 30, 23 04:22 PM

This article explores the journey of chartering a sailing yacht, from the initial planning stages to the final touches. It provides insight into the joys and challenges of embarking on a voyage of dis…
---