The Etap 28i Sailboat

The Etap 28i was designed by the French duo Harlé-Mortain and built in Belgium by Etap Yachting. The Etap 28i has a fractional sloop rig, a fixed fin keel, and a foam-cored construction that makes it unsinkable.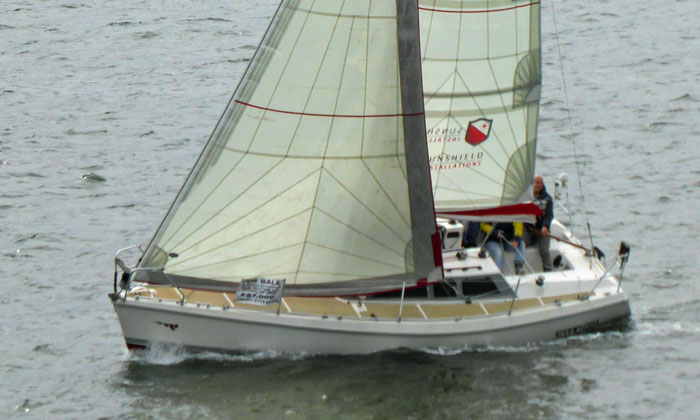 High performance sails on this Etap 28i
Published Specification for the Etap 28i
Hull Type: Fin keel with spade rudder
Hull Material:  GRP (fibreglass)
Length Overall: 28' 0" / 8.5m
Waterline Length: 23' 9" / 7.2m
Beam: 10' 3" / 3.1m
Draft: 5' 0" / 1.5m
Rig Type: Fractional Sloop
Displacement: 6,173lb / 2,800kg
Designer: Harle & Mortain
Builder: Etap (Belgium)
Year First Built: 1988
Year Last Built: 1997
Number Built: 450
---
Published Design Ratios for the Etap 28i
Sail Area/Displacement Ratio: 17.1
Ballast/Displacement Ratio: Not published
Displacement/Length Ratio: 205
Comfort Ratio: 17.2
Capsize Screening Formula: 2.2
Summary Analysis of Published Design Ratios for the Etap 28i
1. A Sail Area/Displacement Ratio of 17.1 suggests that the Etap 28i will, in the right conditions, approach her maximum hull speed readily and satisfy the sailing performance expectations of most cruising sailors.
2. In the absence of a published Ballast/Displacement Ratio for the Etap 28i we are unable to make an assessment of the boat's stiffness.
3. A Displacement/Length Ratio of 205, tells us the Etap 28i is a moderate displacement cruiser, which means she'll carry all your cruising gear without it having a dramatic effect on her performance. Most of today's sailboats intended for offshore cruising fall into this displacement category.
4. Ted Brewer's Comfort Ratio of 17.2 suggests that the Etap 28i will have the motion underway to that of a lightweight racing boat. Crew comfort will often be memorable for all the wrong reasons. Upwind in lively conditions the Etap 28i will slam enough to shake your fillings out with a motion that most cruising sailors have no desire to get used to.
5. The Capsize Screening Formula (CSF) of 2.2 indicates that a Etap 28i would not be the wisest choice of sailboat for ocean passage-making owing to the lower resistance to capsize in strong winds and heavy seas that is associated with sailboats with a CSF of 2.0 and above.
---
Any Questions?
No, the Etap 28i is not still in production. It was built (initially) by Etap Yachting in Belgium from 1988 to 1997 with about 450 boats completed.
No, the builder of the Etap 28i, Etap Yachting, is no longer in business. The company went bankrupt in 2009 and was taken over by Dehler Yachts, which later discontinued the Etap brand.
The Etap 28i has two cabins and six berths. It has a double "V"-berth in the bow cabin, two straight settee quarter berths in the main cabin and an aft cabin with a double berth on the port side.
The Etap 28i has a fixed fin keel as the standard option, with a draft of 5.00 ft (1.52m). It also has a lifting keel option, which reduces the draft to 2.95 ft (0.90m) when raised. The lifting keel is raised and lowered by a manual winch located in the cockpit. The winch is connected to a stainless steel cable that runs through a tube in the keel trunk and attaches to the cast iron keel. The keel can be adjusted to any position between the fully raised and fully lowered positions, depending on the water depth and sailing conditions.
The Etap 28i is a good performer, enjoyable to sail, well-suited for short-handed cruising and ideal for a couple with two children. It has a generous sail area/displacement ratio of 17.1, which means it can reach its maximum hull speed of 6.62 kn (12.26 km/h) easily in the right conditions.
The average cost of a secondhand Etap 28i may vary depending on the condition, equipment and location of the boat. However, based on some online listings, it may range from around £15,000 to £25,000 in the UK.
The designer of the Etap 28i is Philippe Harlé, who collaborated with Alain Mortain (Harlé-Mortain) for this project. Philippe Harlé was a prolific French naval architect who designed over 300 sailboats for various builders, such as Jeanneau, Beneteau, Dufour and Gib'Sea. Some of his notable designs include the Sun Fizz, the First Class Europe, the Gib'Sea Jamaica and the Feeling range.

The above answers were drafted by sailboat-cruising.com using GPT-4 (OpenAI's large-scale language-generation model) as a research assistant to develop source material; to the best of our knowledge, we believe them to be accurate.
---
Other sailboats in the Etap range include:
---
Sep 29, 23 05:38 PM

Sailing characteristics and performance predictions, pics, specifications, dimensions and those all-important design ratios for the Hanse 400 sailboat...

Sep 29, 23 03:17 AM

Interested in the Gulf 32 sailboat? Here are the pics, specs and performance predictions you're looking for...

Sep 28, 23 04:04 PM

Sailing characteristics and performance predictions, pics, specifications, dimensions and those all-important design ratios for the Fuji 35 sailboat
---