The Etap 28i Sailboat

The Etap 28i is a sharp performer, largely due to her generously roached, fully-battened mainsail and working jib set on a sporty fractional rig together with a deep-fin keel,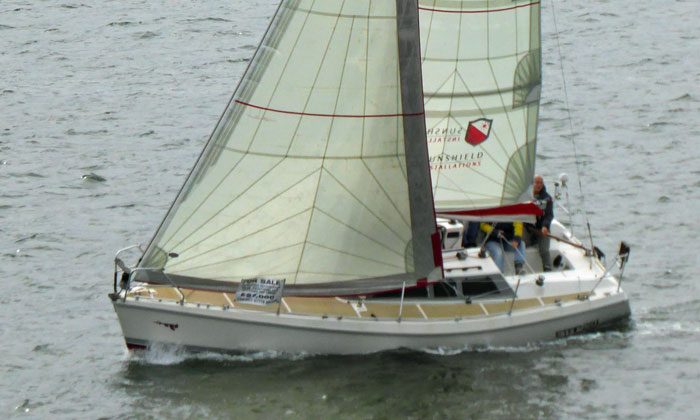 High performance sails on this Etap 28i
Published Specification for the Etap 28i
Hull Type: Fin keel with spade rudder
Hull Material:  GRP (fibreglass)
Length Overall: 28' 0" / 8.5m
Waterline Length: 23' 9" / 7.2m
Beam: 10' 3" / 3.1m
Draft: 5' 0" / 1.5m
Rig Type: Fractional Sloop
Displacement: 6,173lb / 2,800kg
Designer: Harle & Mortain
Builder: Etap (Belgium)
Year First Built: 1988
Year Last Built: 1997
Number Built: 450
Published Design Ratios for the Etap 28i
Sail Area/Displacement Ratio: 17.1
Less than 16 would be considered under-powered;
16 to 20 would indicate reasonably good performance;
Over 20 suggests relatively high performance.
Ballast/Displacement Ratio: Not published
Under 40: less stiff, less powerful
Over 40: stiffer, more powerful
Displacement/Length Ratio: 205
Under 100: Ultralight
100 to 200: Light
200 to 275: Moderate
275 to 350: Heavy
Over 350: Ultraheavy
Comfort Ratio: 17.2
Under 20 indicates a lightweight racing boat
20 to 30 indicates a coastal cruiser
30 to 40 indicates a moderate offshore cruising boat
40 to 50 indicates a heavy offshore boat
Over 50 indicates an extremely heavy offshore boat
Capsize Screening Formula: 2.2
Under 2.0 (the lower the better): Better suited for ocean passages
Over 2.0: Less suited for ocean passages
Summary Analysis of Published Design Ratios for the Etap 28i
1. A Sail Area/Displacement Ratio of 17.1 suggests that the Etap 28i will, in the right conditions, approach her maximum hull speed readily and satisfy the sailing performance expectations of most cruising sailors.
2. In the absence of a published Ballast/Displacement Ratio for the Etap 28i we are unable to make an assessment of the boat's stiffness.
3. A Displacement/Length Ratio of 205, tells us the Etap 28i is a moderate displacement cruiser, which means she'll carry all your cruising gear without it having a dramatic effect on her performance. Most of today's sailboats intended for offshore cruising fall into this displacement category.
4. Ted Brewer's Comfort Ratio of 17.2 suggests that the Etap 28i will have the motion underway to that of a lightweight racing boat. Crew comfort will often be memorable for all the wrong reasons. Upwind in lively conditions the Etap 28i will slam enough to shake your fillings out with a motion that most cruising sailors have no desire to get used to.
5. The Capsize Screening Formula (CSF) of 2.2 indicates that a Etap 28i would not be the wisest choice of sailboat for ocean passage-making owing to the lower resistance to capsize in strong winds and heavy seas that is associated with sailboats with a CSF of 2.0 and above.
Other sailboats in the Etap range include:
---
Sep 20, 22 09:56 AM

If you're a fan of traditional cruising yachts, then you must take a look at 'Silver Heels', a beautiful Alajuela 38 sailboat for sale...

Sep 18, 22 08:06 AM

Looking for used sailboats for sale that are capable of crossing an ocean? These cruising yachts are already in the Caribbean, but what are the risks and benefits of buying out there?

Sep 16, 22 08:12 AM

'Calypso', my Van de Stadt 30 sailboat is for sale. With all lines leading back to the cockpit, she's the perfect single-handers' liveaboard cruising sailboat.
---