The Feeling 720 Sailboat

Specs & Key Performance Indicators
The Feeling 720, a centreboard sloop, was designed by Joubert-Nivelt and built in France by Kirie Constructions.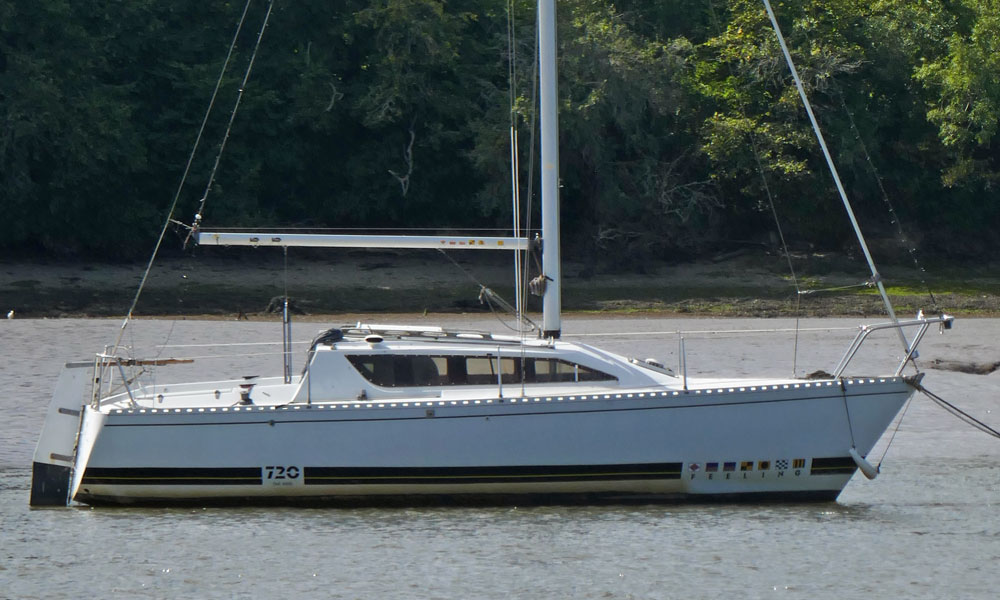 A Feeling 720
Published Specification for the Feeling 720
Underwater Profile: Centre-board keel & transom-hung rudder
Hull Material: GRP (Fibreglass)
Length Overall: 24'8" (7.5m)
Waterline Length: 20'6" (6.3m)
Beam: 8'10" (2.7m)
Draft: Max 4'3" (1.3m), Min 2'3" (0.7m)
Rig Type: Fractional sloop
Displacement: 3,968lb (1,800kg)
Designer: Joubert-Nivelt
Builder: Kirie Constructions (France)
Year First Built: 1982
Year Last Built: 1994
---
Published Design Ratios for the Feeling 720
Sail Area/Displacement Ratio: 21.3
Ballast/Displacement Ratio: 36.1
Displacement/Length Ratio: 206
Comfort Ratio: 15.5
Capsize Screening Formula: 2.2
Summary Analysis of the Design Ratios for the 
Feeling 720
1. A Sail Area/Displacement Ratio of 21.3 suggests that, in the right hands, the Feeling 720 will have enough performance to leave most other sailboats of similar waterline length well astern. 

2. A Ballast/Displacement Ratio of 36.1 means that a sailboat like the Feeling 720 (which doesn't have a stiffness-enhancing bulb keel), is likely to benefit from being reefed early to keep her sailing upright in a moderate breeze.
3. A Displacement/Length Ratio of 206, tells us the Feeling 720 is a light to-moderate displacement sailboat. If she's loaded with too much heavy cruising gear her performance will suffer to a degree.
4. Ted Brewer's Comfort Ratio of 15.5 suggests that the Feeling 720 will have the motion underway to that of a lightweight racing boat. Crew comfort will often be memorable for all the wrong reasons. Upwind in lively conditions the Feeling 720 will slam enough to shake your fillings out with a motion that most cruising sailors have no desire to get used to.
5. The Capsize Screening Formula of 2.2 tells us that a Feeling 720 would not be as good a choice of sailboat for ocean passage-making, owing to the increased risk of capsize in strong winds and heavy seas, when compared to a sailboat with a CSF of less than 2.0.
---
---
Feeling 720 Sailboat: A Review
The Feeling 720 was designed by Joubert-Nivelt, a renowned French naval architecture firm that has created many successful sailboats and motorboats. The Feeling 720 is part of the Feeling range, which includes models from 22 to 55 feet. The Feeling 720 was one of the first boats to feature a ballasted centerboard, which allows it to reduce its draft from 4'3" to 2'3" and access shallow waters.
The Feeling 720 also has a spacious and bright interior, with a deck saloon that offers panoramic views. The Feeling 720 is a fast and agile boat, with a good performance to windward and a docile handling in most weather conditions. The Feeling 720 is ideal for recreational sailors who want to explore the coastlines and swatchways of Europe and beyond.

Accommodation
The Feeling 720 has a clever accommodation layout that maximizes the space and comfort for a small boat. It can sleep up to five people in two separate cabins and a saloon.
The forward cabin has a double V-berth, a hanging locker and storage shelves.
The saloon has two single settee berths that can be converted into a double berth with an infill cushion. The saloon also has a folding table, storage lockers and shelves.
The aft cabin has a single quarter berth that can be used as extra storage space.
The galley is located on the port side of the companionway and has a two-burner gas cooker, a built-in icebox, a sink and storage cabinets.
The navigation station is located on the starboard side of the companionway and has a chart table, an instrument panel and storage drawers.
The head compartment is located opposite the galley and has a marine toilet, a sink and storage lockers.
Hull and Deck
The Feeling 720 has a fiberglass hull and deck with a balsa core for stiffness and insulation. The hull shape is round-bilged with a moderate freeboard and a flared bow. The deck is flush with no coachroof or cockpit coaming, giving it a sleek and modern look. The deck also has large windows that let in plenty of natural light into the saloon.
The cockpit is spacious and comfortable, with two long benches that can be used as sunbeds. The cockpit also has two lockers for storing sails and equipment. The cockpit is steered by a tiller that can be lifted up when not in use. The deck hardware is simple but functional, with two winches on the cabin top for halyards and reefing lines, two winches on the coaming for genoa sheets, two jammers for main sheet and centerboard control lines, four cleats for mooring lines, two bow rollers for anchoring, and a stainless steel pulpit, pushpit and stanchions with lifelines.
Mast and Rigging
The Feeling 720 has a masthead sloop rig with a single spreader aluminum mast that is deck-stepped on a compression post. The mast has an adjustable backstay for tuning the rig tension.
The boom is also aluminum and has two reefing points for reducing sail area in strong winds. The mainsail is fully battened and has lazy jacks for easy stowing. The genoa is roller-furling and has UV protection on the leech.
The spinnaker is optional and can be flown from a removable bowsprit or from the bow roller. The rigging is stainless steel wire with swaged terminals.
Keel and Rudder
The Feeling 720 has two keel options: a fin keel or a keel and centerboard.
The fin keel version has a cast iron fin with a lead bulb that gives it a low center of gravity and good stability. The fin keel has a draft of 4'3" and a ballast ratio of 35%.
The keel and centerboard version has a short fin with a lead bulb and a ballasted centerboard that can be raised or lowered by a control line in the cockpit. The centerboard reduces the draft from 4'3" to 2'3" and allows the boat to sail in shallow waters. The centerboard also improves the performance to windward by increasing the lateral resistance. The centerboard has a ballast ratio of 40%.
The rudder is a spade rudder that is hung on a stainless steel stock and connected to the tiller by a tiller extension. The rudder is balanced and responsive, giving the boat good maneuverability and steering control.
The above text was drafted by sailboat-cruising.com using GPT-4 (OpenAI's large-scale language-generation model) as a research assistant to develop source material; we believe it to be accurate to the best of our knowledge.
---
Oct 02, 23 12:17 PM

It's true that the ketch sailboat with its split rig can make an attractive cruising sailboat for a short-handed crew, but there is a downside to these types of sailboats

Oct 02, 23 08:47 AM

Thinking of buying a Hanse 548 sailboat? Perhaps you should first take a look at these pics, specs and key performance indicators...

Oct 02, 23 04:56 AM

Thinking of buying a Hanse 458 sailboat? Perhaps you should first take a look at these pics, specs and key performance indicators...
---