'Just Friends', a Hunter 376 for Sale

By owner Edmund Ruffin
My 1996 Hunter 376 named 'Just Friends' for sale! This well-designed vessel is 37 foot long with a draft of 5 feet. Currently the boat is located in Puerto Rico, but it can be delivered anywhere in Puerto Rico, the USVIs/BVIs, Bahamas, or Florida for free upon purchase of the vessel!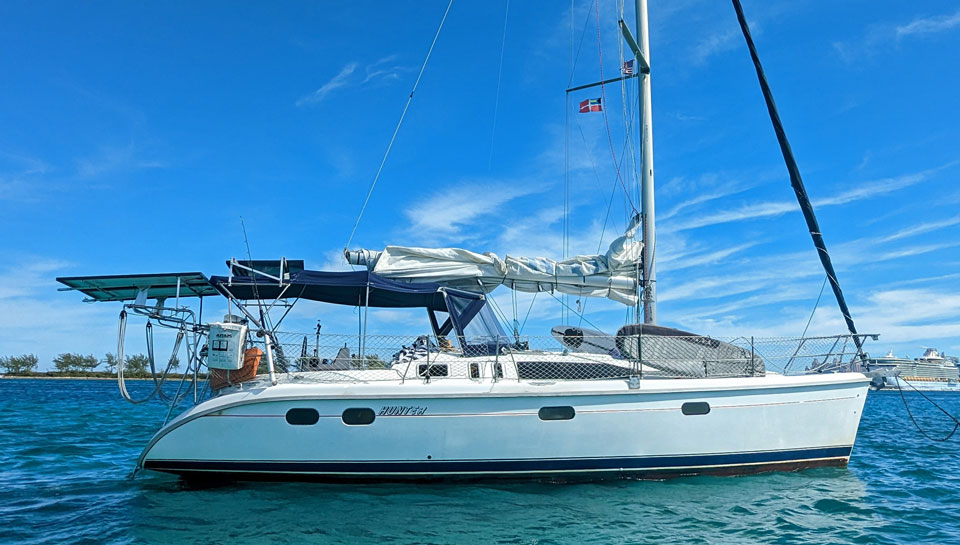 'Just Friends'
'Just Friends' had a full refit in 2020 - Watermaker, Electronics, Standing Rigging, Autopilot, A/C, AIS, Starlink etc.

This 1996 Hunter 376 is the ideal liveaboard sailboat!
The dodger and bimini keep the helm well sheltered from the elements
The vessel is outfitted with 1,100 watts of LG solar panels, a Bluetooth enabled MPPT Victron energy solar charge controller and comes with a portable 2000w Predator generator. This power is stored in 400Ah LiFePo4 Battle Born house batteries (2019), separate motor starter battery (2022). The 3,000 watt Victron Energy inverter allows you to run multiple 120V appliances simultaneously including the onboard air conditioning (with softstart), Starlink internet, TV, microwave, and any other appliance your heart desires.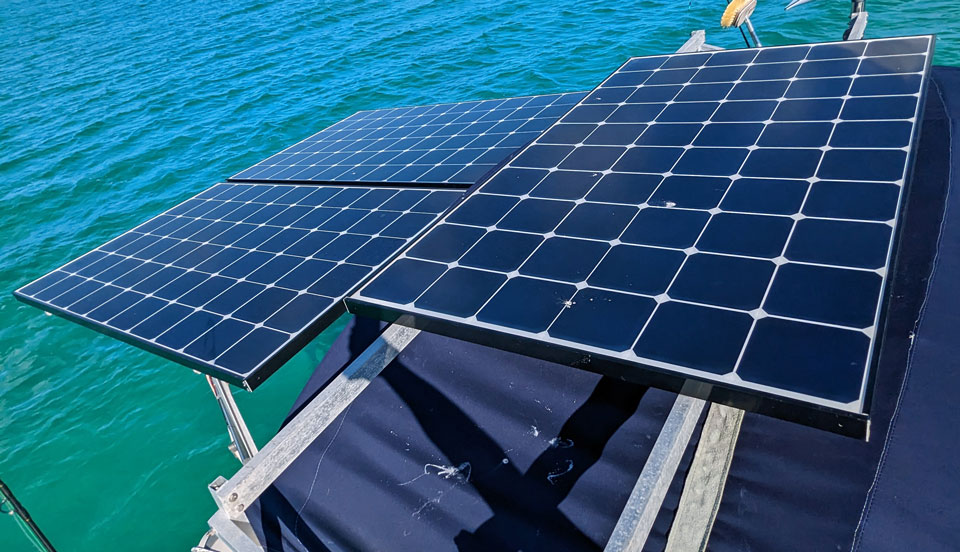 1,100 watts of solar panels...
Standing rigging was replaced in 2019, and the running rigging was replaced in 2021 and is in great shape. The main halyard was replaced in 2023. The Captains Aft Cabin has been refitted to include a new center lined queen-sized mattress and additional bilateral bed-side shelving for maximum storage during your offshore adventures.
The Captain's Cabin
With an estimated 3500 hours on the 40 HP 3JH3E Yanmar diesel (based on logs, there is no hour meter), it is in great shape and starts right away. Don't worry about fresh water as the vessel has a Seawater Pro watermaker installed that makes 15 gallons per hour! With a new water heater in 2019, enjoy a long hot shower in the cabin shower or on the walk-out transom under the stars.
The Seawater Pro watermaker produces 15gal/hour
The cockpit features a custom-made navy blue bimini which provides sweeping shade coverage from all directions. Additionally, the matching custom-made bright orange and navy-blue seat cushions and throw pillows allow for comfortable lounging or napping during overnight crossings utilizing the Garmin suite of electronics installed in 2020 (chartplotter, in-helm chain driven autopilot).

Along with a Garmin AIS, two AIS-linked man overboard beacons and an EPIRB, this Hunter is ready to explore the world!
Asking Price & Owner's Contact Details
'Just Friends'
I'm asking $70,000 (or best offer) for my Hunter 376 'Just Friends'.
If you'd like more information or want to be 'Just Friends' new owner please contact me, Edmund Ruffin, here...
---
Sailboat-Cruising.com says...
The Hunter 376 is a 37-foot monohull that was first built in 1996 and won a "Best Value" Award in Cruising World's 1997 Boat of the Year Awards. It shares a common hull with the Hunter 386 and the Hunter 380, but has some distinctive features that make it stand out.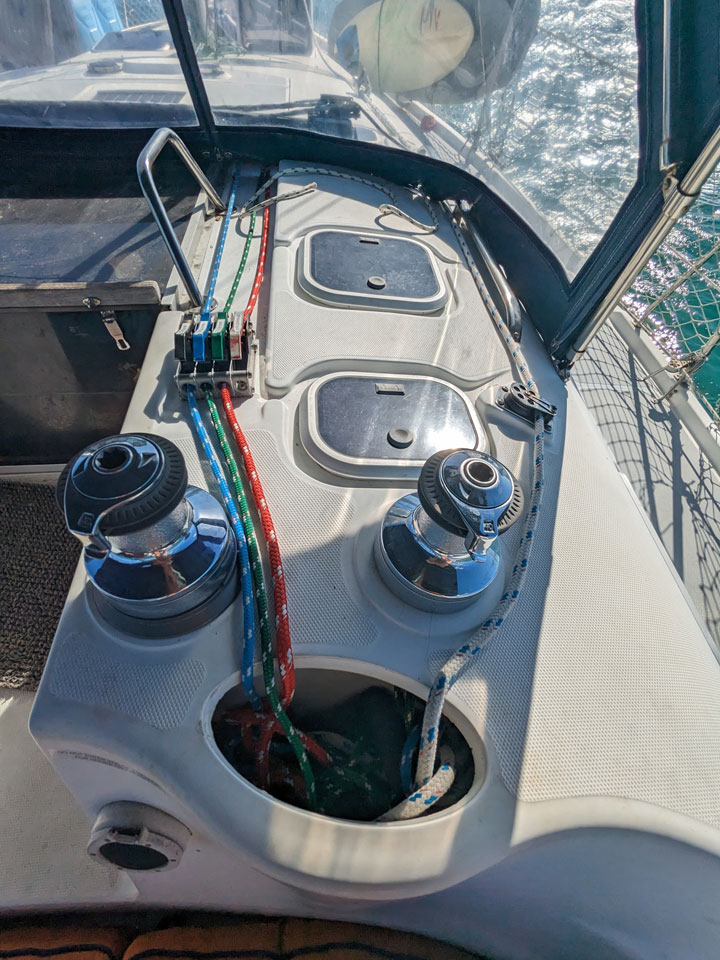 The handy sheet bin keeps the cockpit clear of rope tails
One of the most noticeable features of the Hunter 376 is its fractional sloop B&R rig, which eliminates the need for a backstay and allows for a large roach mainsail. This gives the boat more sail area and power, while reducing the load on the mast and rigging.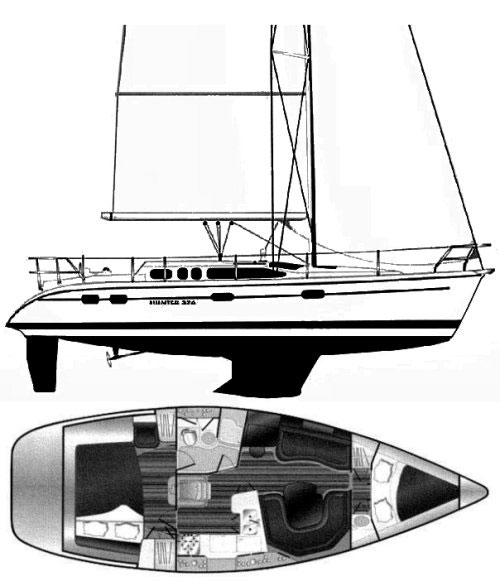 Sail plan (note the absence of a backstay) and accommodation layout
Another feature that sets the Hunter 376 apart is its wing keel or fin keel option. The wing keel has a draft of only 5 feet, which makes it ideal for shallow water sailing and anchoring. The fin keel has a draft of 6'6", which gives it more stability and performance in deeper water and heavier winds. Both keels are made of lead and provide a good balance between displacement and ballast.

The cockpit, looking forward...
The Hunter 376 also has a spacious cockpit with a walk-through transom, a swim platform and a stern rail seat. The cockpit has a wheel steering system with an instrument pod, a folding cockpit table and plenty of storage compartments. The cockpit is protected by a dodger and a bimini top, which can be connected by an optional full enclosure.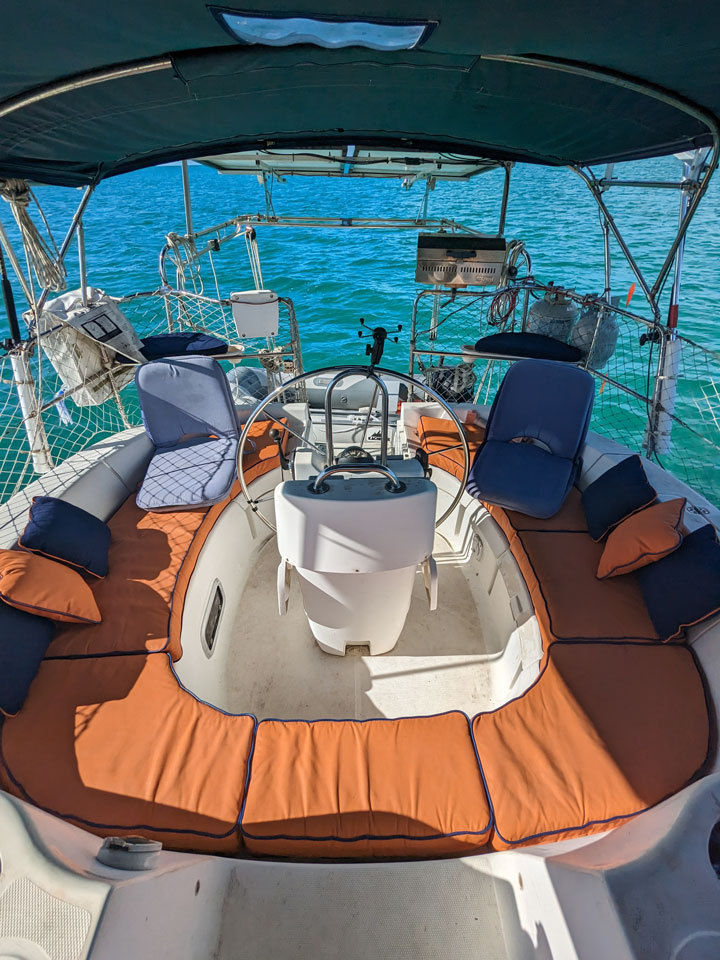 ...and looking aft.
How Comfortable Is the Hunter 376?
The Hunter 376 is not only a great sailing boat, but also a comfortable live-aboard boat. The interior of the boat is bright, airy and well-ventilated, thanks to nine opening hatches, seven opening ports and seven fixed hull ports. The boat also has plenty of natural light from a wraparound deck skylight that runs along the saloon.
Plenty of ventilation is provided by the forward opening deck hatches
The saloon is the heart of the boat, where you can relax, dine, entertain or work. It has a U-shaped dinette to starboard that can seat six people and convert into a double berth. It also has a settee to port that can seat three people and serve as a single berth. The saloon has fine woodwork, shelves for books, cabinets for storage and a CD stereo system.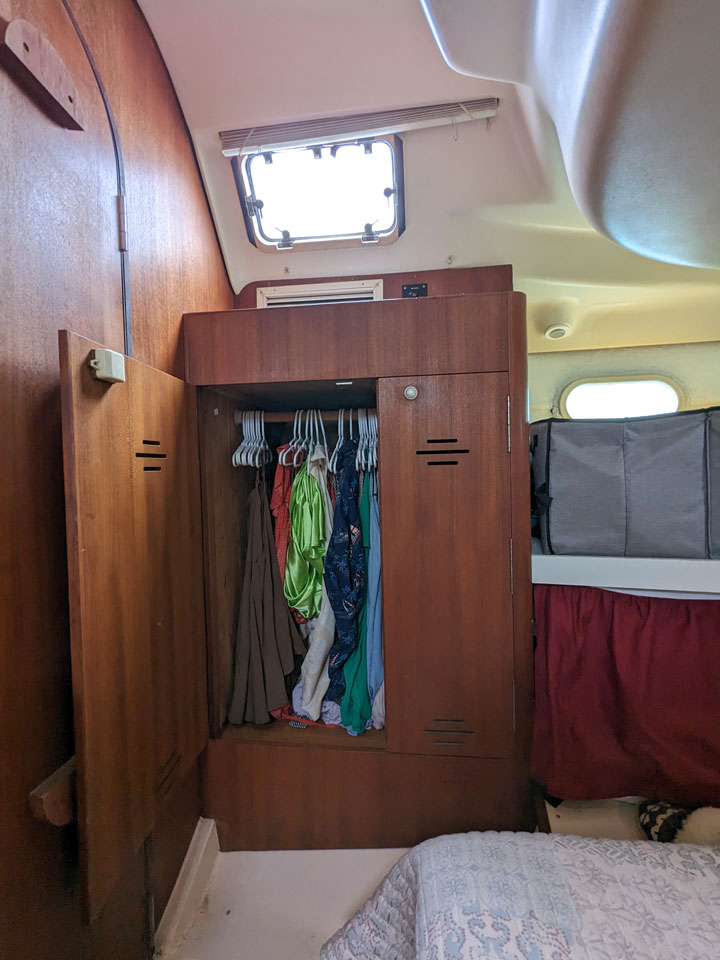 One of the two hanging lockers
The galley is located to starboard near the companionway, which makes it easy to pass food up to the cockpit or serve it below. It has Corian countertops, a three-burner propane stove with oven, two stainless steel sinks, a dual icebox with refrigeration and a microwave oven. It also has ample storage space for dishes, utensils and provisions.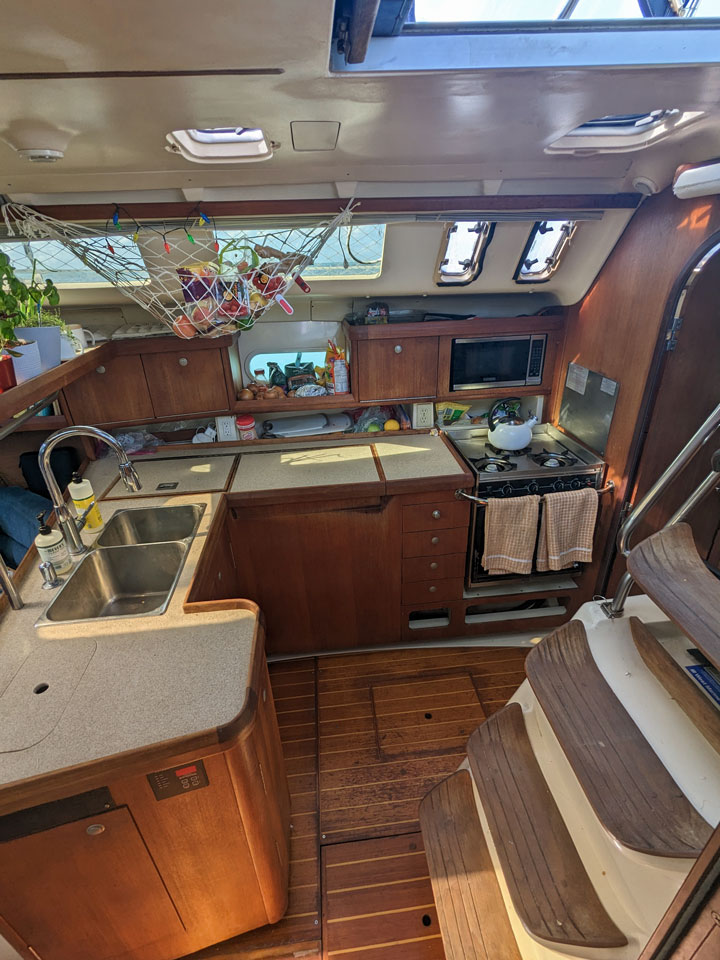 The galley is at the foot of the companionway steps on the starboard side
The head is located to port near the companionway and has two access doors: one from the saloon and one from the aft cabin. It has a marine toilet, a sink with vanity, a mirror and a separate shower stall with seat. The shower stall is independent of the head, which means you can use it without wetting the rest of the head.
The head and shower
The aft cabin is the master stateroom of the boat and has plenty of room for two people. It has a queen-size berth with an inner-spring mattress, two cedar-lined hanging lockers, drawers, shelves and a small settee. It also has four opening hatches, two hull ports and private access to the head.
The forward cabin is the guest stateroom of the boat and can accommodate two people as well. It has a V-berth with an inner-spring mattress, two cedar-lined hanging lockers, drawers, shelves and a vanity with sink and mirror. It also has two opening hatches and one hull port. A window in the cabin bulkhead opens into the saloon for more light and ventilation.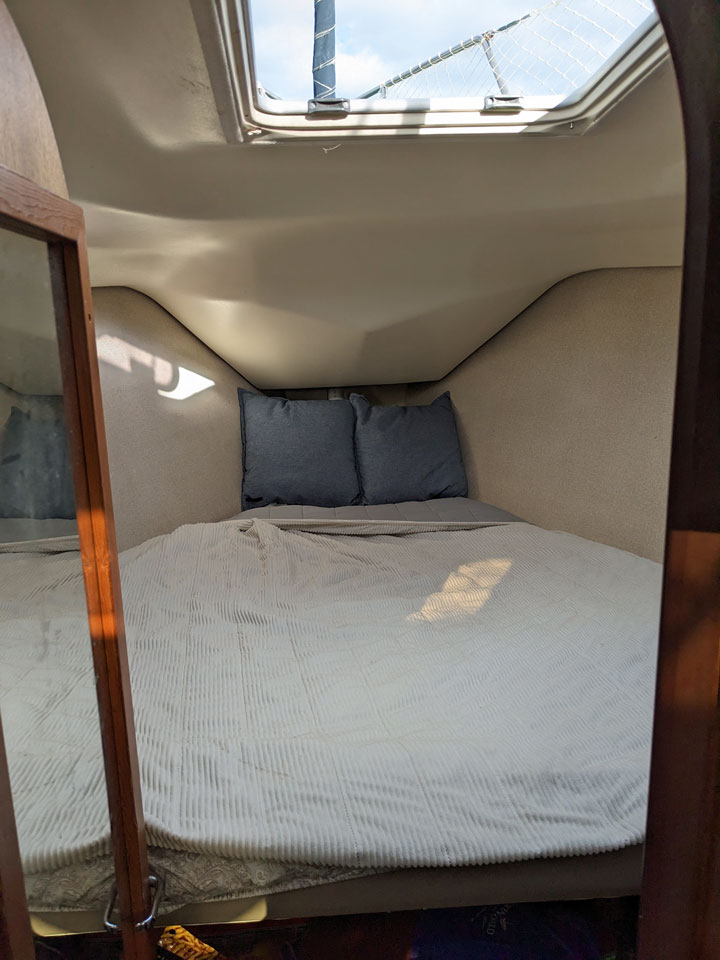 The V-berth in the forepeak
How Reliable Is the Hunter 376?
The Hunter 376 is not only comfortable but also reliable. It is built with quality materials and craftsmanship that ensure its durability and safety. The hull is made of fiberglass with balsa core above the waterline and solid fiberglass below. The deck is also made of fiberglass with balsa core and bonded to the hull with stainless steel bolts.
The engine is a 36-horsepower Yanmar diesel that provides enough power for motoring or maneuvering in tight spaces. The engine is located under the companionway steps in an insulated box that hinges up on pneumatic lifts for easy access from all sides. The engine drives a three-blade propeller through an SD31 saildrive unit.

The electrical system consists of two 12-volt batteries (one for starting and one for house) that are charged by an alternator or shore power. The boat has an AC/DC electrical panel with circuit breakers and wiring diagram. It also has outlets throughout the boat for plugging in appliances or electronics.
The plumbing system includes two water tanks (one under each settee) that hold 75 gallons of fresh water in total. The water pressure is provided by an electric pump or manual foot pump. The boat also has one fuel tank under the aft berth that holds 35 gallons of diesel fuel.
Dick McClary (owner/creator of sailboat-cruising.com) wrote this article, and used GPT-4, OpenAI's large-scale language-generation model, as a research assistant to develop source material. The author wrote the final draft in its entirety and believes it to be accurate to the best of his knowledge.
Oct 02, 23 12:17 PM

It's true that the ketch sailboat with its split rig can make an attractive cruising sailboat for a short-handed crew, but there is a downside to these types of sailboats

Oct 02, 23 08:47 AM

Thinking of buying a Hanse 548 sailboat? Perhaps you should first take a look at these pics, specs and key performance indicators...

Oct 02, 23 04:56 AM

Thinking of buying a Hanse 458 sailboat? Perhaps you should first take a look at these pics, specs and key performance indicators...
---