'Lazy Bones', an Irwin 54 Sailboat for Sale
SORRY, NOW SOLD!
For more boats like this one that are currently for sale please go to
Cruising Sailboats for Sale...
Although this boat is no longer available, the pics and text are retained here for the benefit of anyone researching this particular make/model of sailboat.
'Lazy Bones' is a completely equipped Irwin 54 Cutter, ready to go, in a slip at Ko'Olina Marina, Oahu, Hawaii.
Delivery to the west coast of the US is negotiable and we are happy to take all the time you need to learn 'Lazy Bones'. 
'Lazy Bones' is a Ted Irwin designed center-cockpit cutter, with three cabins and two heads including the ensuite master stateroom. She can easily accommodate 8 people with the two extra-long settees in the main saloon.
Irwin is known for being easy to sail short-handed with more space above and below deck than you will find on most other yachts of the same size.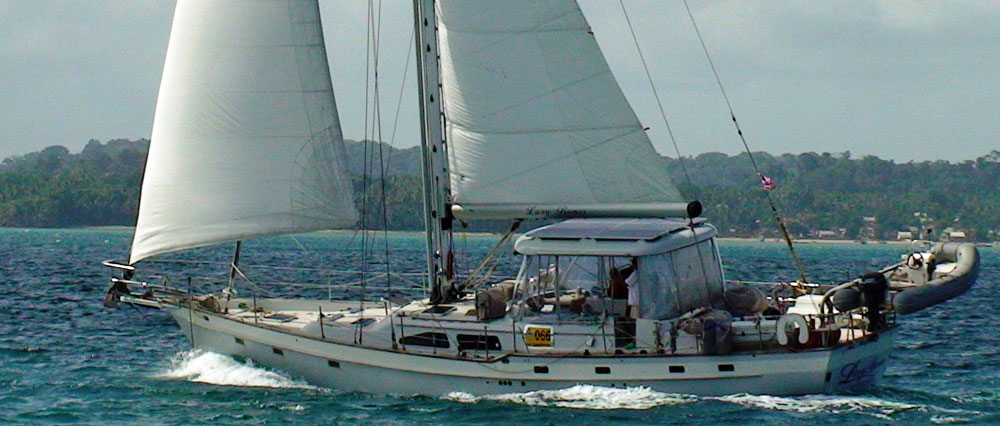 'Lazy Bones' making good progress under sail
Charter companies throughout the Caribbean have been using Irwin yachts for 30 years for their simplicity, and spaciousness and easy to maintain fiberglass decks.
Her shallow draft 1.7m (5' 8") has allowed us to anchor just about anywhere, and we have anchored more than 1,300 times in our circumnavigation around the world.
She holds 2,082 litres (550 gallons) of fuel and has an approximate range of 1,500 miles, enabling us to motor through times of little or no wind on long passages with no worries. If you are serious about cruising the world in comfort and safety and are looking for a proven world class circumnavigation yacht, then 'Lazy Bones' is not to be missed. 
My wife and I spent 13 years circumnavigating the world with 'Lazy Bones'. She has proven herself in every way, and has weathered almost every condition imaginable. We have upgraded and invested an additional $400,000 in 'Lazy Bones' since we purchased her in 1999, and we completed a major refit in Florida in 2017. 
At the end of 2019/2020 we varnished the floors of 'Lazy Bones' and put new non-skid on the deck. Few boats have the level of redundancy and upgrades that we have put on Lazy Bones. She offers amazing comfort and can be sailed by two people easily in any conditions. 
All lines run into the cockpit, and she has 3 large electric winches. She has enormous room both topside and down below, and has been well taken care of. Basically, 'Lazy Bones' is ready to go; everything you need is on board. All you need are your clothes and provisions! 
The Irwin 54 Galley

Redundancy is a big part of 'Lazy Bones'. We began by adding an extra freezer holding plate to the existing AC freezer (now two in total). Then we added separate 12v DC refrigeration and freezing as well. Having both AC and DC working gave us a comfortable backup and a more efficient use of our systems and power savings.
We also added 12V programmable timers to cycle the freezer and refrigerators on and off so they did not have to rely on thermostats which often fail.
We added four internal plexiglass doors to reduce loss of cold air when the fridge is opened, pull-out baskets, and a fan to help circulate air. We double-insulated the top-loading freezer and added an internal fan to circulate air.
We added dual freezer and refrigerator thermostats to measure temperature on the holding plates and at the top of each box to better manage temperature control.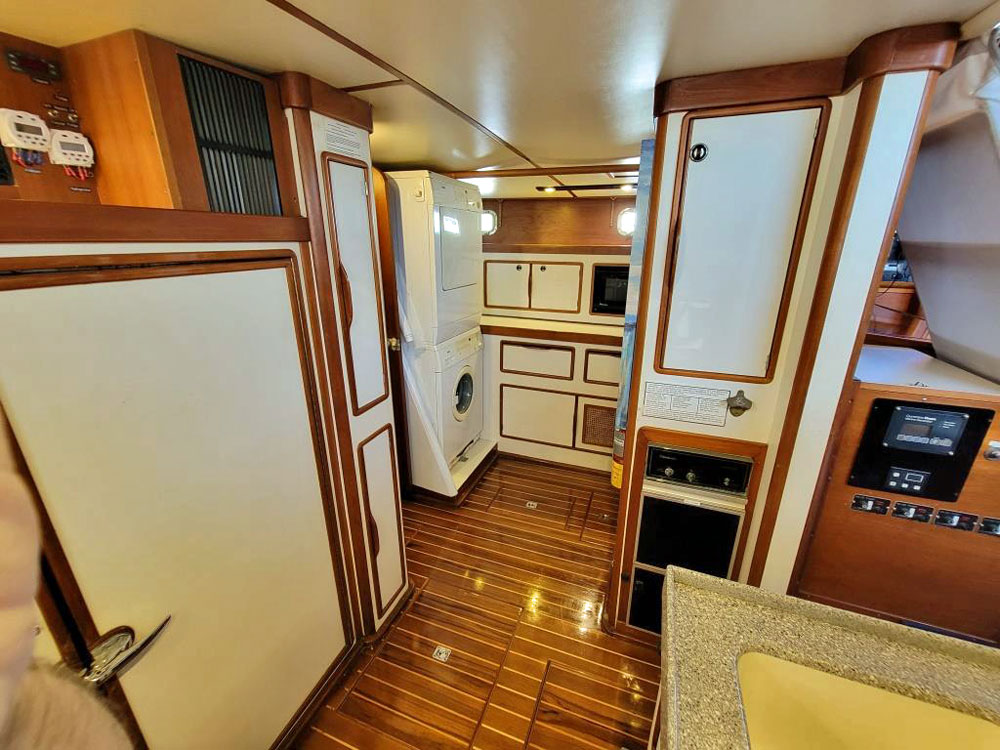 'Lazy Bones' extensively modified and improved galley, looking to port.
We added a separate water filtration for the cold water at the galley sink, as well as a valve to have water flow directly overboard from the sink, or to use the sink pump to expel water. We use the pump when we are at sea and the valve when we are at the dock.
We replaced the existing 110V washer and dryer with a Bosch 220V stackable washer and dryer, which are much more efficient.
We added extra switchable LED lighting throughout the galley for brightness.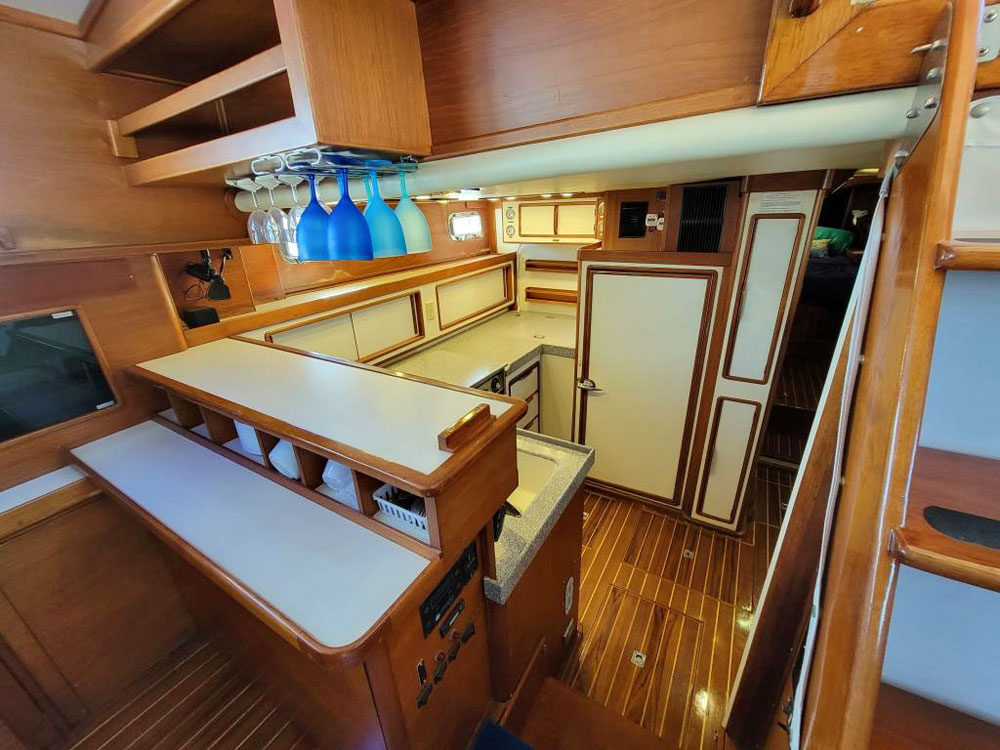 'Lazy Bones' extensively modified and improved galley, looking aft.
'Lazy Bones' Main Salon

We modified the bulkhead that separates the galley from the main saloon and added a Spectra Newport 700 watermaker (29 gallons/hour) which includes a ZBrain, UV and Autoflush panel, fully self-contained and serviceable from the cabin.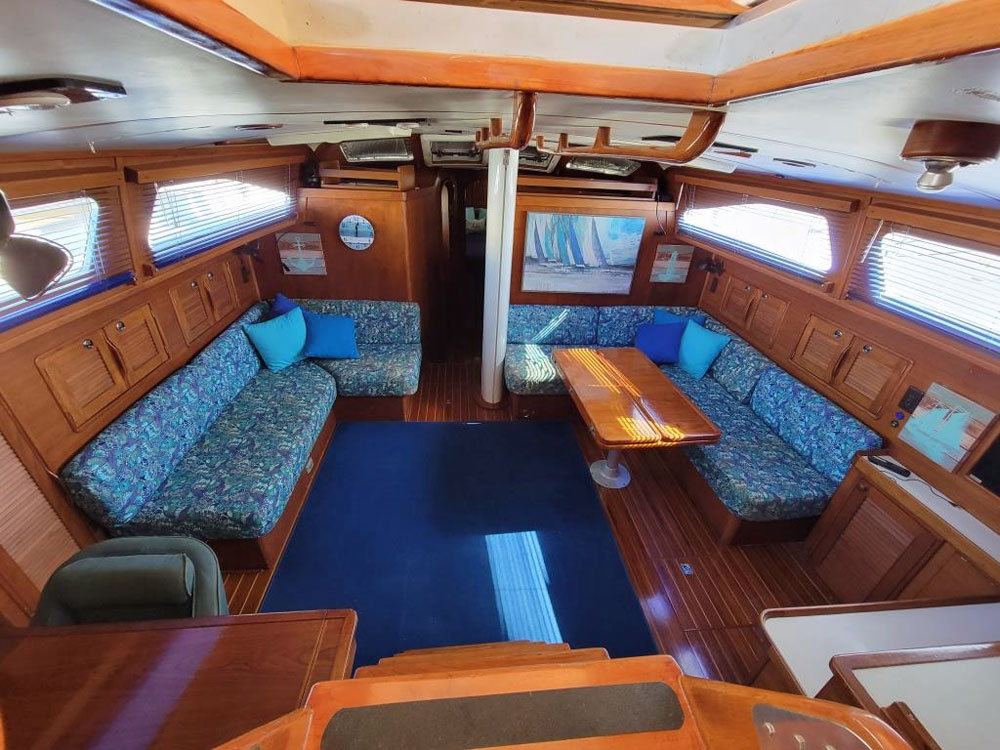 'Lazy Bones' can easily accommodate 8 people with the two extra-long settees in the main saloon.
On top of the watermaker, we built a pass-through set of shelves and compartments that hold plates, cups, bowls, silverware etc. making it easy to get dishes to and from the galley and saloon dining table.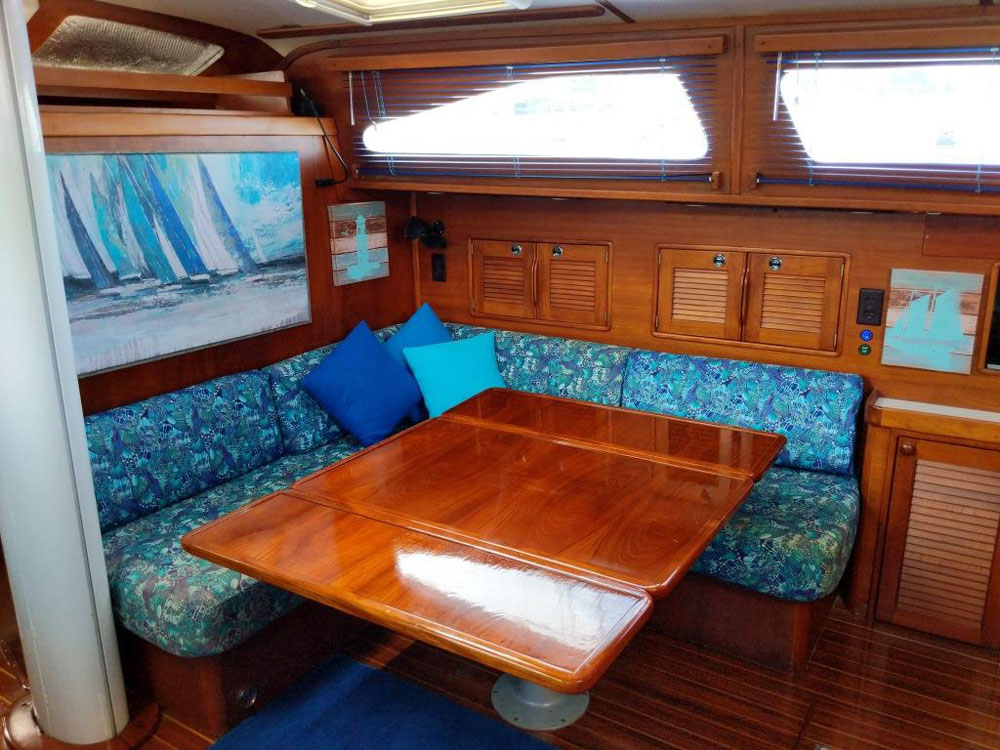 'Lazy Bones' dining table in the main saloon
'Lazy Bones' Master Aft Stateroom

We removed the rarely-used settee and built a large teak cabinet with four deep shelves for clothing storage and a large chart storage area on the top.
We added a 12V flatscreen TV, a 12V digital clock, extra lighting, USB ports throughout, and five Caframo fans. 
We also added a Caframo fan and extra lighting.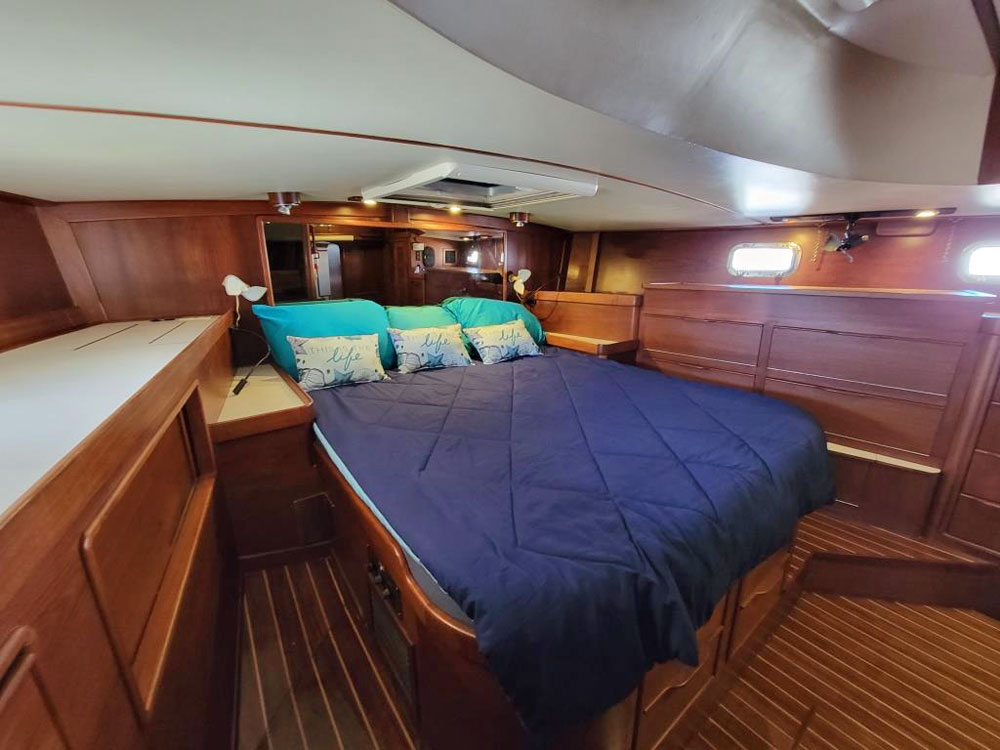 'Lazy Bones' well-appointed master stateroom in the aft cabin.
In the head we added a plexiglass and teak shower door, and a separate switch to use fresh or salt water when flushing the head.
We added a Y-valve for direct overboard flushing and/or use of a macerator pump when using the holding tank.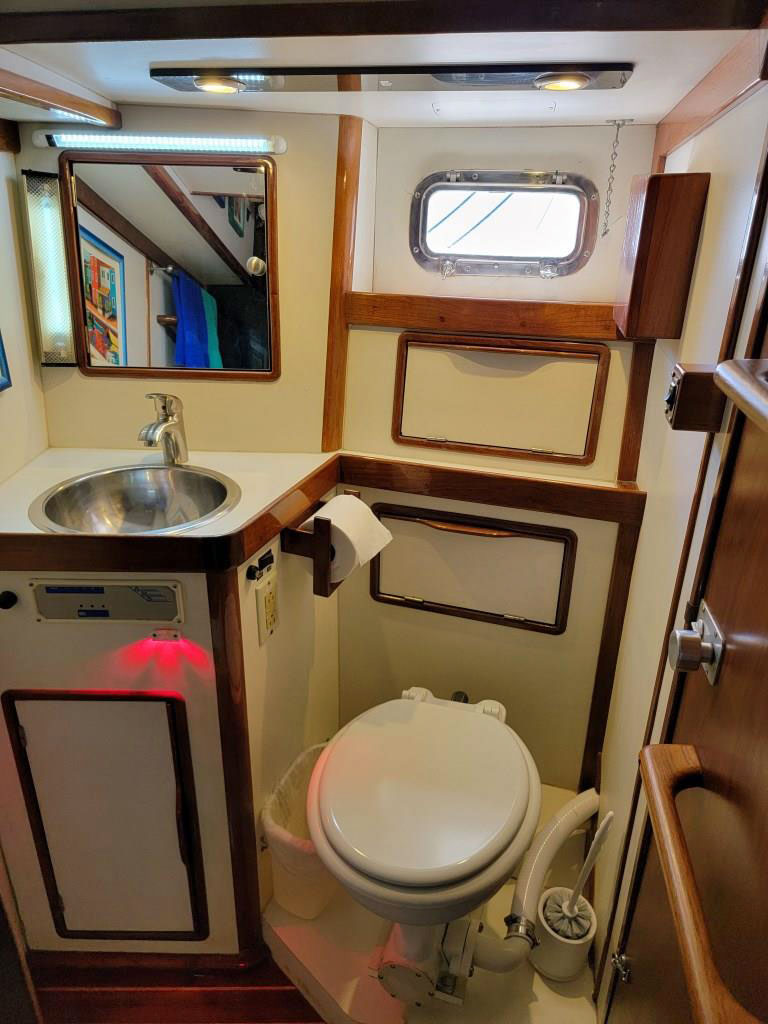 The owner has a separate shower and head compartment aft
The Forward Stateroom, Midships Stateroom and Head
The v-berth stateroom remains unchanged other than the addition of a 12V flatscreen TV, two fans, USB ports, and two fishing rod holders.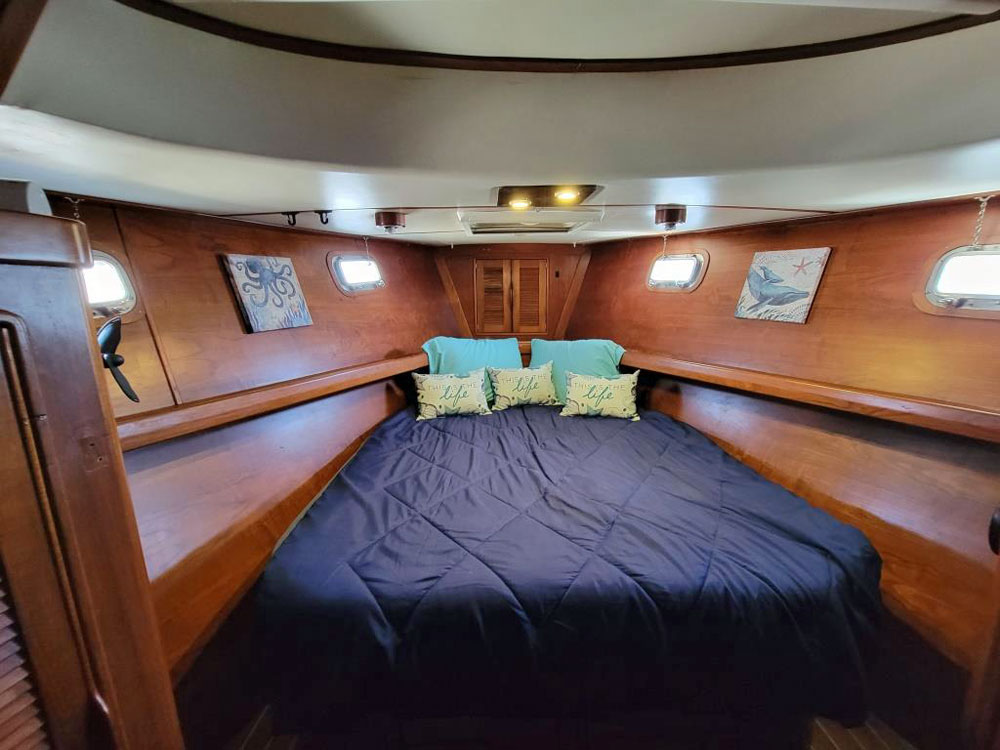 'Lazy Bones' has a comfortable double-berth in the forepeak
We changed the forward electric head to a very durable Skipper II manual head to be prepared in the event there was ever a power problem. 
The head also has a button for putting in freshwater orsalt water to fill the head. The head also has a Y-valve for direct overboard flushing and/or a macerator when using the holding tank. 
We also added a plexiglass and teak shower door to the forward head as well as a fan and extra lighting.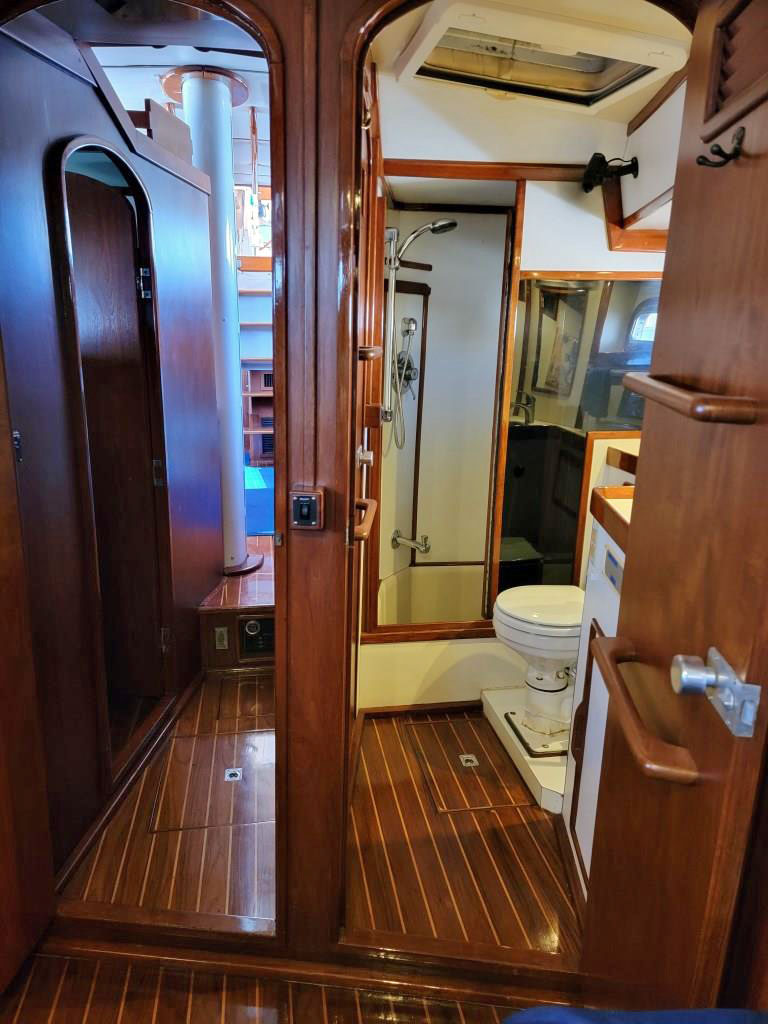 The head and shower compartment for the forecabin and midships cabin
The Navigation Station
We added a swivel captain's chair to the nav table to make it easier to work on the table underway, and added two pullout lap top shelves for additional computing, and a printer situated below the nav table.
We added 5 bilge switch controls, alarms and lights under the generator panel.
On the opposite side which houses the watermaker panel, we added separate engine, generator flow, and temperature alarms, plus refrigeration and freezing bypass switches, and a water full-tank alarm, when filling the water tank.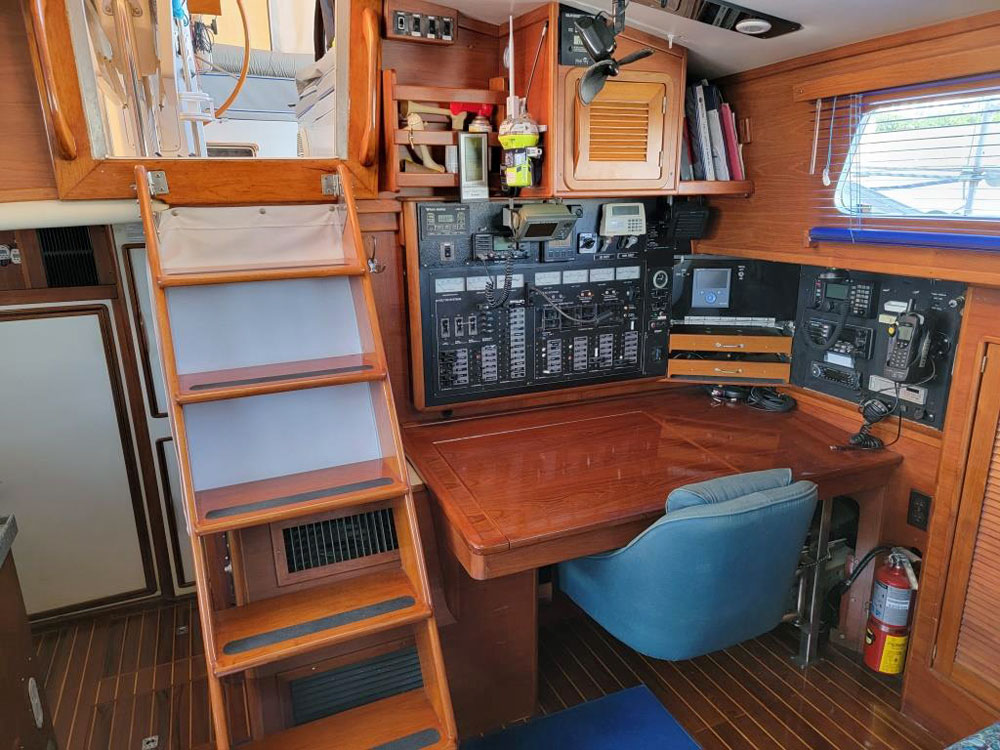 The well-equipped navigation station at the foot of the companionway
'Lazy Bones' Cockpit Electronics
We added a custom captain's chair to make hand steering easier.
We added stainless steel bars around the helm station to support additional electronics and to provide hand-holds in rough weather.
The helm station consists of Raymarine ES127 chart plotter/Quantum radar display, including wind, depth, speed instruments, two independent quadrant attached auto pilots, Interphase forward-looking sonar, Furuno GPS, two VHF radio mikes (separate radios), compass, and holders for two tablets as additional navigation devices and USB connections. 
We added a larger Sidepower 130 bow thruster. Standing at the helm station you have complete visibility in all directions and access to the bow thruster joy stick. 
There is also a second Furuno plotter/radar on the port side cabin top that is used as redundancy. We usually have two or three redundant plotters running with different map systems when going into tricky areas.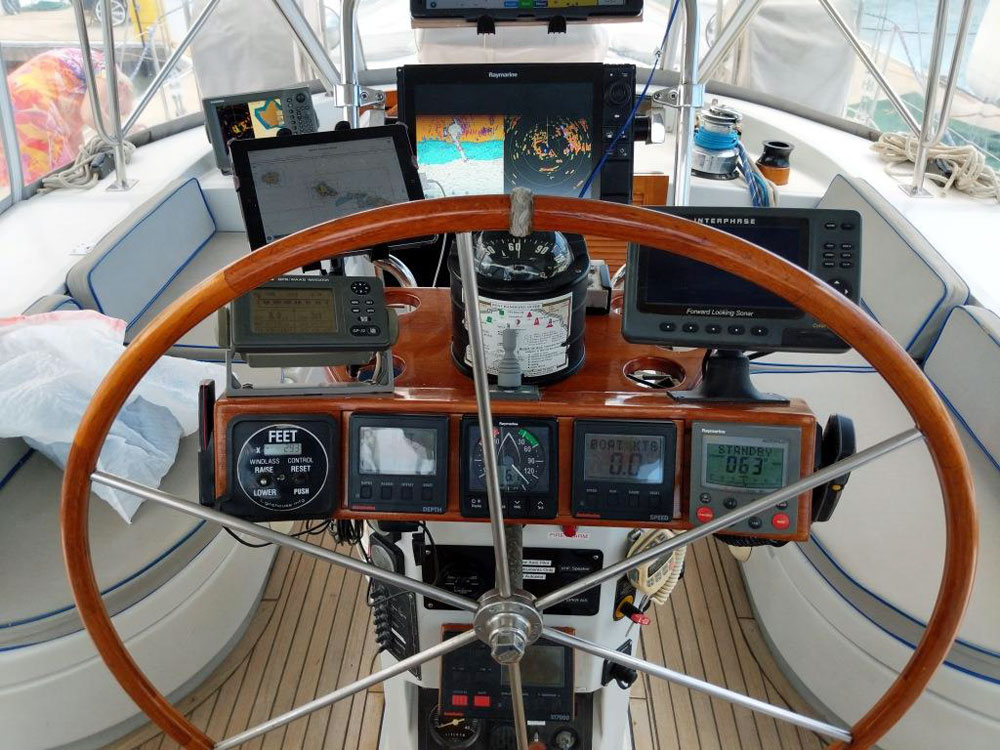 The helm station sports an impressive array of navigational instruments and repeaters
The Cockpit
The centre-cockpit is designed so the entire boat can be operated from the cockpit without having to go on deck.
We added removable King Starboard panels to the entry ways to allow for closing off the entry way without impacting running rigging that enters the cockpit and keeping the cockpit dry from any possible side wave entry.
We replaced the original wooden cockpit table with a very functional fiberglass table that expands, is easy to manage, and also contains storage and cup holders.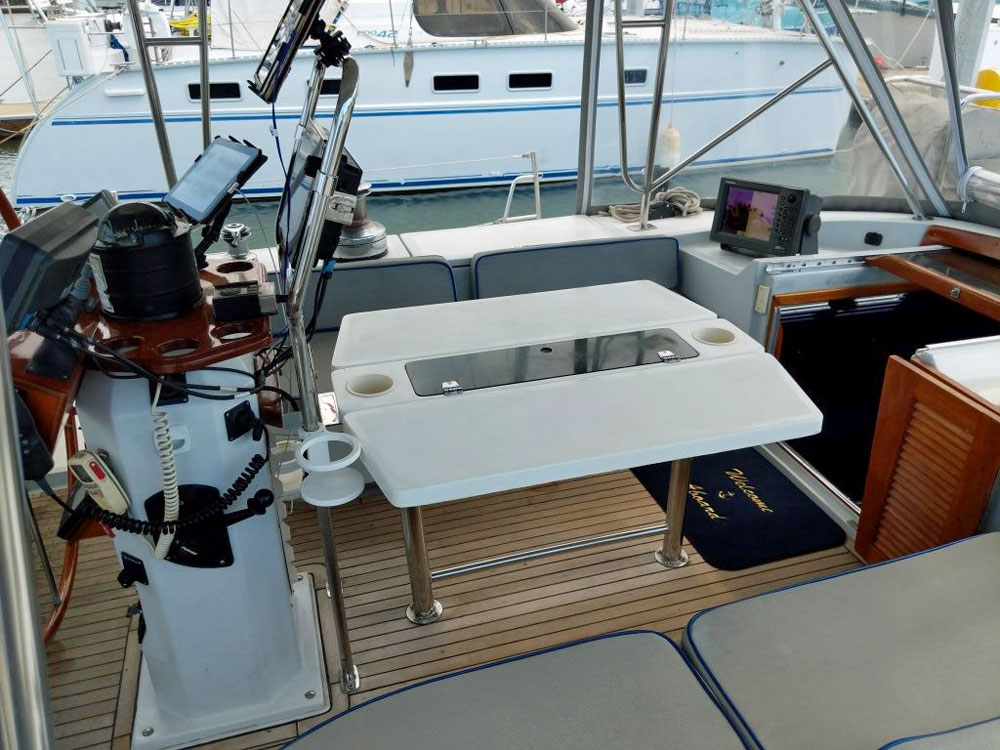 The non-standard fibreglass cockpit table is to the owner's design
We modified the port side insulated cooler and added refrigeration so we have a place with easy access for cold drinks and food, with a place to hold ice. This helps us avoid the need to use the galley refrigerator throughout the day.

We installed stainless steel handholds throughout the cockpit and on the ceiling to provide extra safety in any weather conditions.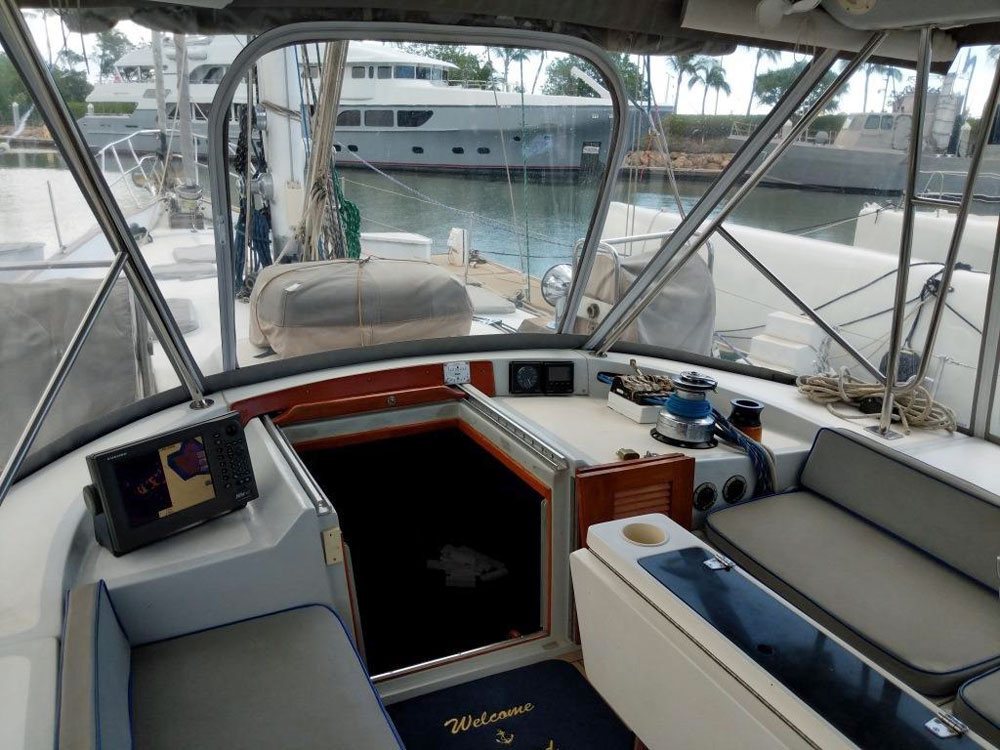 Excellent all-round view from the helm position
The Engine and Generator
Main Engine and Engine System
Engine Model: Yanmar 4LH-THE
Engine Hours: approx. 7,000+
Generator
120V/240V Onan Cummings 9KW. (2013)
Generator Hours: 450+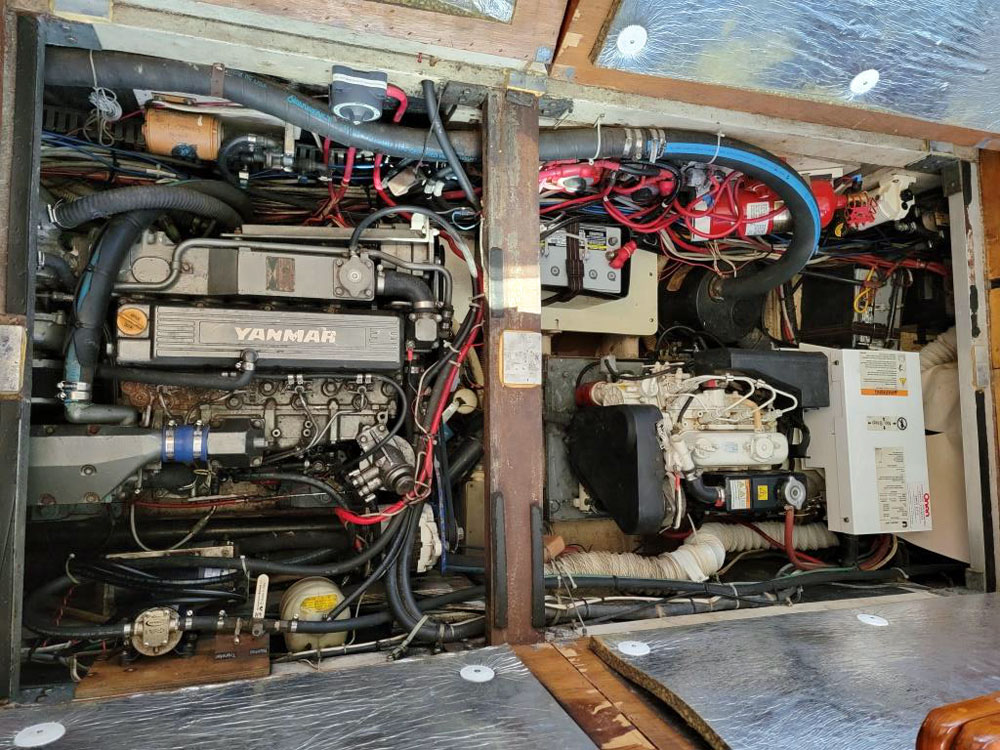 Good access to the engine and generator compartment
We have a huge inventory of spare parts for 'Lazy Bones' along with every manual and electric tool you would ever really need to make a repair and to maintain her.
To learn more about our boat and our adventures, check out some of the travelogues and anchor logs of our circumnavigation. We anchored more than 1300 times during our 13 years and the logs will be very useful for anyone wanting to follow in our footsteps.
Fair winds, Jeff and Gayle Allen

---
Jul 01, 22 03:18 AM

Interested in the Tartan 34 sailboat? Here are the pics, specs and performance predictions you're looking for...

Jun 29, 22 02:45 PM

'Endeavour' is a very special Tartan 34C, as you will see from the cutter rig modification, Ratcliffe wind vane auxiliary rudder self-steering, SSB radio, radar, and more.

Jun 28, 22 12:11 PM

The broad beam, large cockpit and spacious salon of the Dudley Dix Hout Bay 40 make for a very comfortable sailboat to live aboard and sail.
---