'Svea av Valleviken', an Overseas 35 Sailboat for Sale
The Overseas 35 'Svea by Valleviken' was launched in 2015 and sailed from northern Europe across the Atlantic, via the Canary Islands in 2018. Svea is now for sale in the Caribbean, so why not experience the delightful Windward Islands this winter?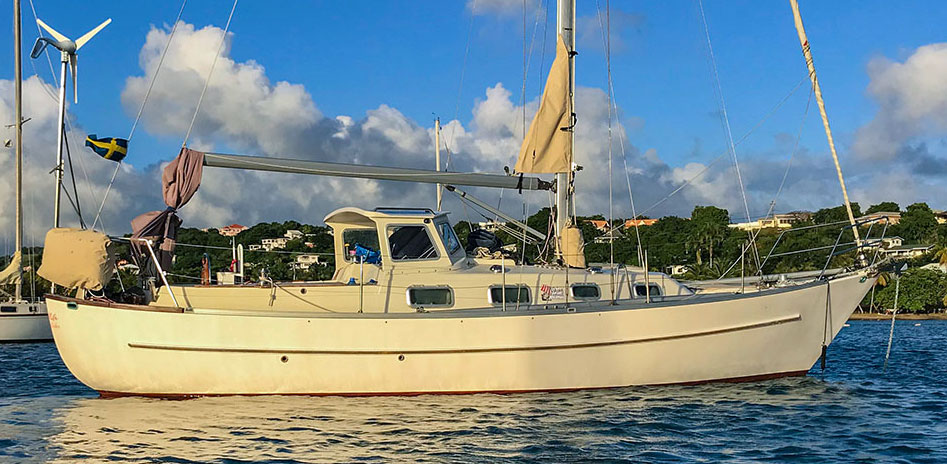 'Svea' at anchor in Prickly Bay, Grenada in the West Indies
Now you can buy our sturdy and safe Overseas 35 cruising boat that is already in the Caribbean – this way you can save six months of delivery sailing from northern Europe, across Biscay, the Canary Islands and 3-4 weeks on the Atlantic. Fly directly to the beautiful Caribbean and start your year in the sun now!
The winter in the Caribbean is warm and sunny; 28 ° in the air and 28 ° in the water, but with a breeze that constantly blows which makes it comfortable.
Explore Grenada, Carriacou and Petit Martinique before sailing over to St Vincent & the Grenadines with Union Island, Mustique, Bequia, Tobago Cays, Canouan and other fine smaller islands. Further north are St Lucia and Martinique where many go to refill with French wine and French garlic cheeses…
All the islands in the 'Windwards' are within easy reach. Many cruisers stay for several years because they have such a good time.
If you are a little more adventurous, you can steer further towards the Panama Canal and the South Pacific, where the sailing season begins in April/May.
About the Overseas 35
'Svea av Valleviken', an Overseas 35 launched 2015, is a well thought out long-distance pocket cruiser designed by the well-known Swedish designer Rolf Eliasson who did not want to compromise on the sailing characteristics when he designed the boat in the early 1980s.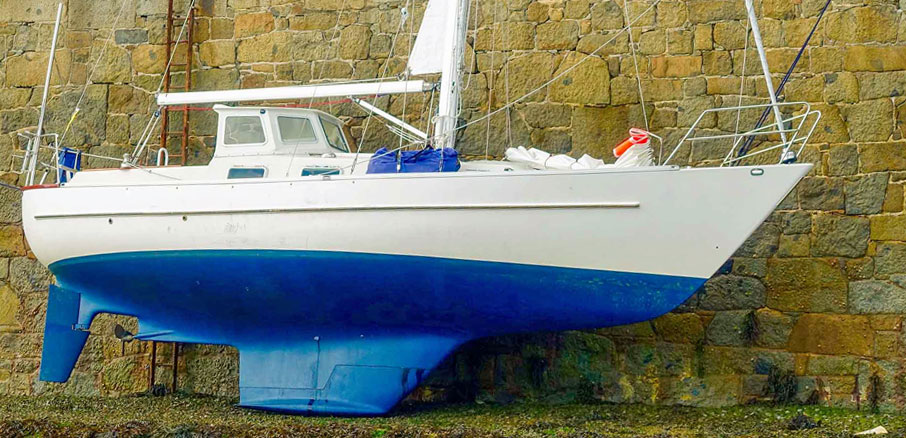 Dried out alongside, Svea's sturdy underwater configuration is clear to see. Note her bulb fin keel, protected MaxProp and semi-balanced skeg-hung rudder.
The Overseas 35 is a strong, safe around-the-world cruiser with decent space for a couple and all the equipment. The hard dodger makes long night watches protected and roller furling mainsail and genoa means that you rarely or never have to go up on deck. There is also a smaller self-tacking staysail for a bit of extra drive.

The boat journalist Curt Gelin wrote in his book '700 Sailboats in Test' about the Overseas 35:
"The Overseas 35 is a special long-distance cruiser signed by Rolf Eliasson. He was among the first with a relatively light boat equipped with a split lateral under body and with an interior for two on extended voyages. The boat came about when an advertiser in Gothenburg wanted to realize his vision of his own, perfect long-distance boat. The freeboard height was balanced with the needs of long-distance sailors and became high enough for standing height, but no more. In this way, the center of gravity ended up low, with increased stability as a result. The Overseas 35 was unusually nice to look at."

Interior of the Overseas 35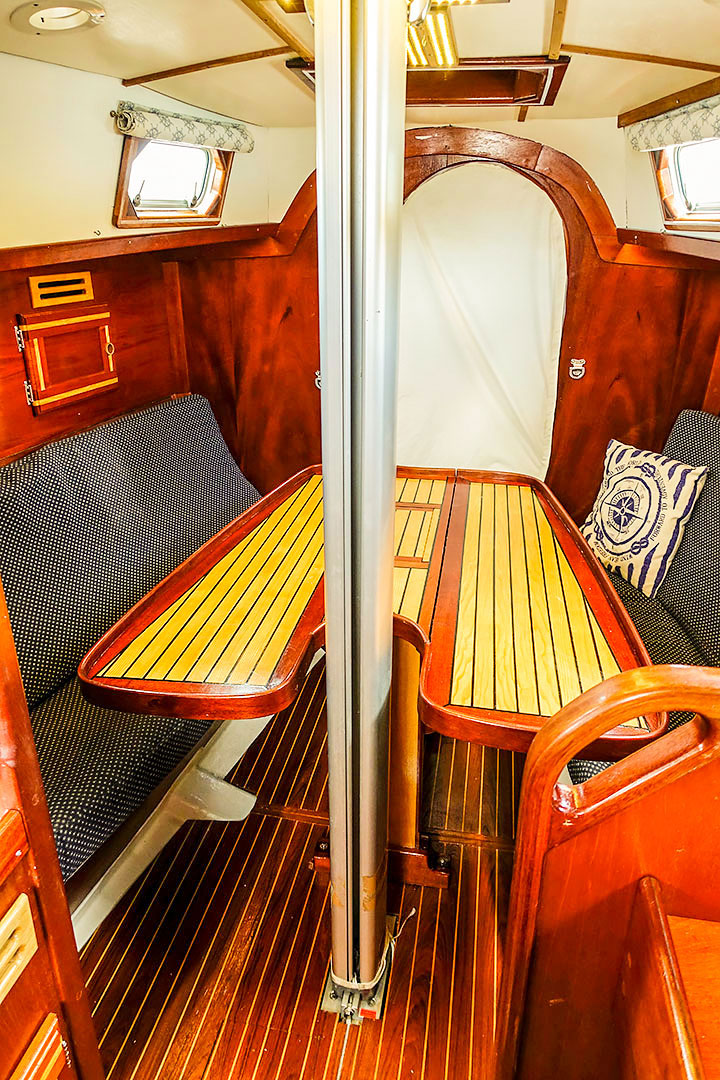 The salon has two full-length sofas with flexible water tanks underneath.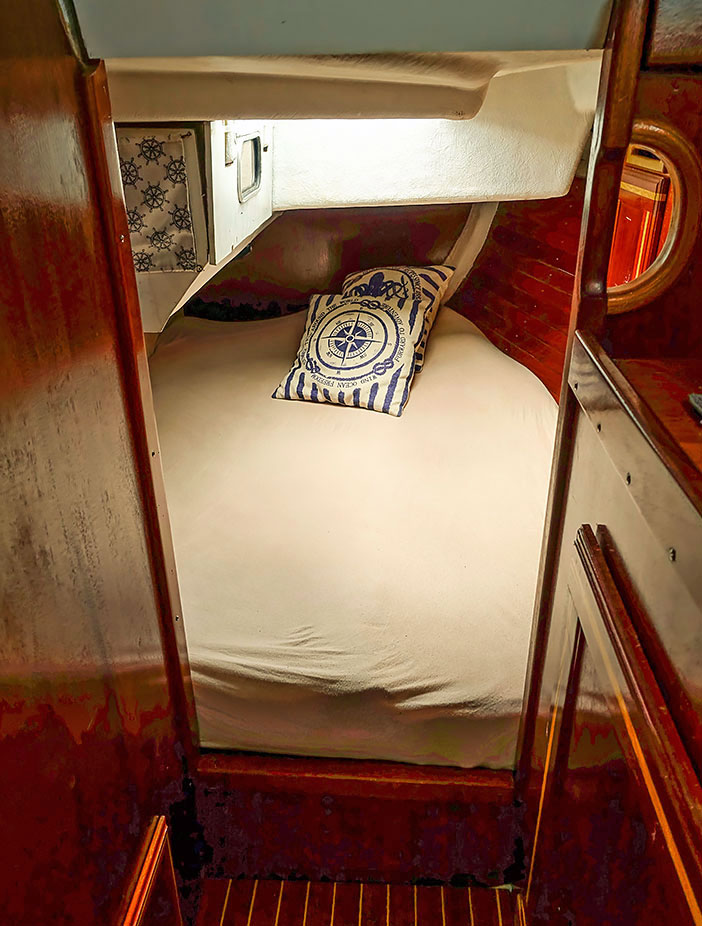 In the stern is a decently large double berth that we normally use.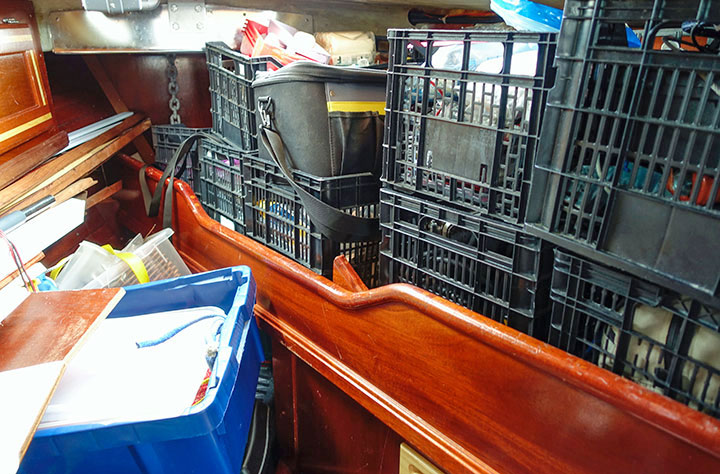 The forepeak has two berths on separate levels, but we only use it for storage.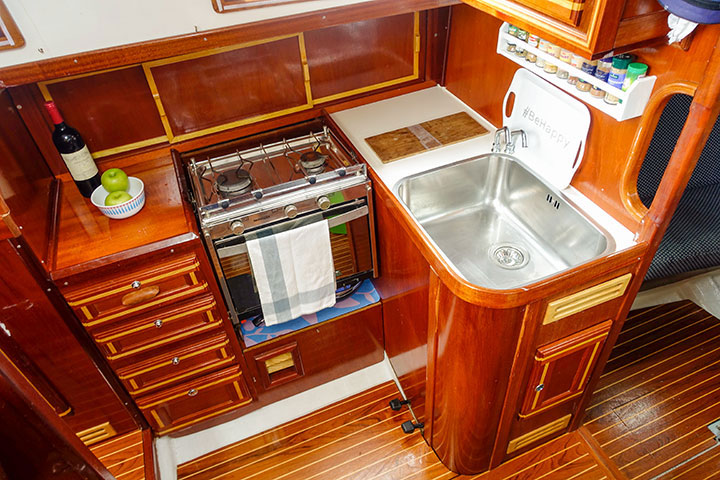 Kitchenette with two-burner gas kitchen served by two 6kg fiberglass bottles plus two 3kg CampinGaz bottles in a drained separate space in the stern.
An extra-large sink is good for many tasks and has both fresh and saltwater taps with foot pumps.

Fridge about 50 liters with top lid near the sink, with a Danfoss BD35F compressor.
A separate 230V freezer of about 20 liters is located under the navigation table and which can be operated over inverters from the battery bank or shore power.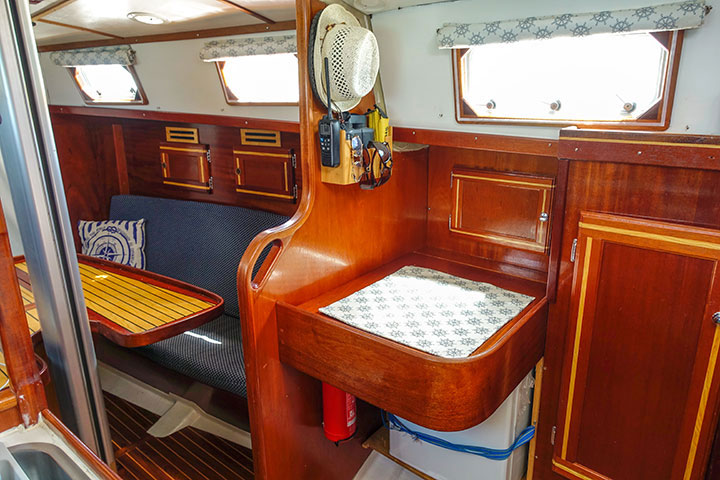 Svea's navigation station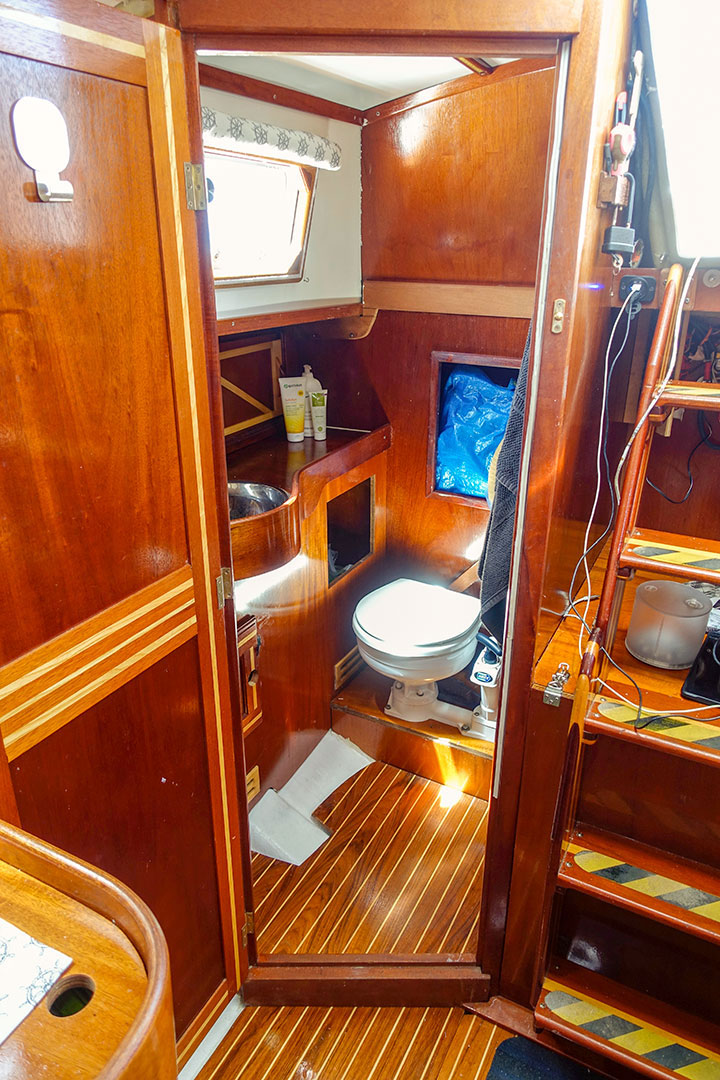 The head is located on the starboard side of the companionway
The Rig and Sailing Characteristics
The mast is a one-piece extrusion by Seldén.
The 25m2 mainsail was made by Sailmasters in Polyant Crosscut Dacron 351 grams. (P = 11.85m, E = 4.25m).
The mainsail has no battens and the leach is concave so as not to cause problems when rolling in - the reduced sail area is compensated by a 1.5m higher mast. The loose-footed mainsail makes the sail very easy to trim. 
The 28m2 roller genoa (T = 13.24m, J = 4.28m, canvas weight 280gr) and self-tacking jib of 12m2 (T = 10.04m, J = 2.64m, canvas weight 360gr is able to be used as a storm jib as well). Both from Hamels Sails, Karlshamn, new in 2015.
Total sail area is approximately 65m2.

Curre Gelin writes in his test: "The sailing properties gave a feeling of great safety, with fine balance, and that it was easy to drive, but still calm in the movements. At sea, the boat guarded well and cut through the lake dry and soft with the help of its slim, laid-out foreship. In the blows, it turned easily and the stability felt perfectly balanced with a definite final stiffness, without being over-stiff or sluggish in light winds".
The Engine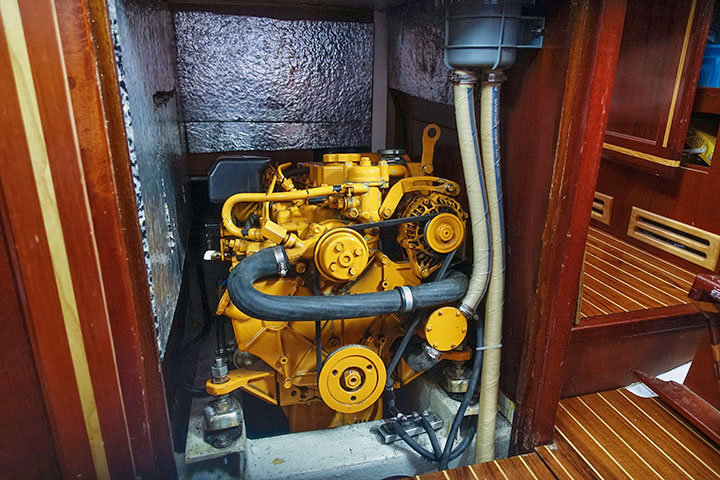 The engine is a 42 hp Vetus M4.17 with around 650 hours
'Svea' carries approximately 180 liters of diesel in two fuel tanks, with another 100 liters extra carried in cans.
Fuel consumption at 6 knots is about 1.5 liters per hour.
The Technical Systems
The electrical system
A Ctek DC-DC converter optimizes the charge from the motor generator.
A Victron smart MMTP regulator from the four solar cells (2 x 80W on doghouse roof plus 2 x 24W on swivel post in the stern - makes a big difference).
There is also an Air Breeze wind generator of 400W which has its own regulator.
The smart controller from Victron and a battery meter (Nasa BM-1) keep track of the charging and voltage in the batteries. The two batteries are brand new in January 2020, at 2x105Ah from Trojan. An Optima Bluetop 55 Ah is a starter battery.
'Svea' has hydraulic steering and an autopilot.
Lots of spare parts and extra equipment (some are not fitted yet, as a gas alarm).
A new Honda four-stroke outboard 2.3 hp (2020), and an emergency transmitter (PLB + Inreach) are included in the inventory.
Finally
There are certainly a few things to fix 6 years after launch, but all-in-all this is one of the best pocket cruisers that was constructed. Comparable quality to Halberg Rassy and Najad (and originally from the same Swedish island of Orust).
Asking Price & Contacting the Owner
---
Nov 29, 23 08:35 AM

Here's where people with sailing equipment for sale advertise their stuff entirely free of charge. If you're looking for used sailing gear or other used boating accessories, here's where to find it!

Nov 10, 23 02:34 AM

My 47' Cheoy Lee sailboat is for sale. Designed by Bill Luders, she is a beautiful and functional liveaboard cruising yacht.

Oct 30, 23 04:22 PM

This article explores the journey of chartering a sailing yacht, from the initial planning stages to the final touches. It provides insight into the joys and challenges of embarking on a voyage of dis…
---