The Sadler 29 Sailboat

The Sadler 29 is a classic British cruising sailboat designed by David Sadler and built by Sadler Yachts in the UK. It has a distinctive double-skinned foam-filled construction that makes it unsinkable, insulated, and quiet.
This masthead sloop has a roomy interior with six berths and various options for keel, rig, and layout. It is a stable, seaworthy, and easy-to-handle boat that has proven its performance in coastal and offshore sailing.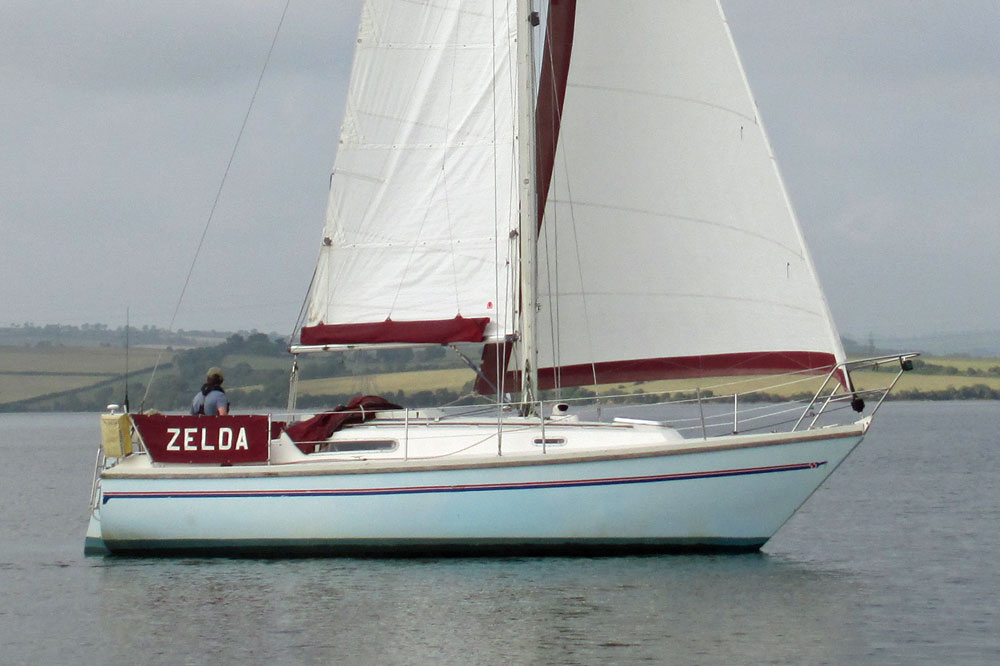 'Zelda', a Sadler 29 ghosts along in light airs
Published Specification for the Sadler 29
Underwater Configuration: Fin with transom-hung rudder
Hull Material:  GRP (fibreglass)
Length Overall: 28' 5" / 8.66m
Waterline Length: 22' 10" / 6.96m
Beam: 9' 6" / 2.90m
Draft: 4' 11" / 1.50m
Rig Type: Masthead Sloop
Displacement: 8,200lb / 3,720kg
Designer: David Sadler
Builder: Sadler Yachts (UK)
Year First Built: 1981
Owners Association: Sadler & Starlight Owners Association
---
Published Design Ratios for the Sadler 29
1. Sail Area/Displacement Ratio: 14.7
2. Ballast/Displacement Ratio: 41.5
3. Displacement/Length Ratio: 308
4. Comfort Ratio: 25.8
5. Capsize Screening Formula: 1.9
Summary Analysis of Published Design Ratios for the Sadler 29 
A Sail Area/Displacement Ratio of just 14.7 suggests that she'll need a stiff breeze to get her going. In any other conditions, unless you've got plenty of time on your hands, motor-sailing will be the way to go.

A Ballast/Displacement Ratio of 41.5 means that she'll stand up well to her canvas in a blow, enabling her to power through the waves.

A Displacement/Length Ratio of 308, tells us she's clearly a heavy displacement cruising boat. You can load her down with all your cruising gear and equipment and it will hardly affect her waterline. Not an ideal choice for coastal sailing, but will come into her own on an offshore passage in testing conditions.

Ted Brewer's Comfort Ratio of 25.8 suggests that crew comfort in a seaway is similar to what you would associate with the motion of a coastal cruiser, which is not encouraging news for anyone prone to seasickness. 

Her Capsize Screening Formula of 1.9 tells us that she would be a better choice of sailboat for ocean passage-making than one with a CS rating of more than 2.0. 
---
Other sailboats in the Sadler range include:
---
Any Questions?
The Sadler 29 is no longer in production. Production ended in 1988 after 400 units were built.
Sadler Yachts was founded by Martin Sadler in 1974 and started with the successful Sadler 25 design. The company expanded its range with the Sadler 32, 26, 34, and 29 models, all designed by Martin's brother David Sadler. In 1991, the company merged with Starlight Yachts to form Vector Marine Ltd, which continued to produce Sadlers and Starlights until 2004. In 2008, the company was revived by Mike Lucas as Sadler Yachts (2008) Ltd, which produced a new version of the Sadler 34 until 2012. The company is currently inactive.

The Sadler 29 has a single-spreader masthead sloop rig with a mainsail and a genoa or jib on a roller furling system. The standard mast height is 11.3 m (37 ft), but some boats have a taller mast of 12.2 m (40 ft) for more sail area.
The Sadler 29 has three keel options: a deep fin keel with a draft of 1.6 m (5.25 ft), a shallow fin keel with a draft of 1.3 m (4.25 ft), and a twin keel (or bilge keel) with a draft of 1.1 m (3.58 ft). The twin keel option allows the boat to take the ground and beach without support.
The Sadler 29 is a well-balanced and easy-to-sail boat that can handle various wind and sea conditions. It has a moderate displacement of around 3.6 tonnes (7,900 lbs) and a sail area of around 38 m2 (409ft2), giving it a good power-to-weight ratio. It is responsive and manoeuvrable at low speeds and stable and stiff at high speeds. It can reach up to 7 knots in moderate winds and up to 9 knots in strong winds.

The average cost of a secondhand Sadler 29 depends on the year, condition, equipment, and location of the boat. According to some online listings, the price range can vary from around £10,000 to £25,000.
David Sadler was a prolific yacht designer who created many popular sailboats besides the Sadler 29. Some of his other designs include the Contessa 26, Contessa 32, Contessa 35, Parker Seal Sinbad, Parker Seal 22, Parker Seal 27, Parker Seal 28, Parker Seal Super Seal 26, and Parker Seal Super Seal 39.
The above answers were drafted by sailboat-cruising.com using GPT-4 (OpenAI's large-scale language-generation model) as a research assistant to develop source material; to the best of our knowledge, we believe them to be accurate.
---
Oct 02, 23 12:17 PM

It's true that the ketch sailboat with its split rig can make an attractive cruising sailboat for a short-handed crew, but there is a downside to these types of sailboats

Oct 02, 23 08:47 AM

Thinking of buying a Hanse 548 sailboat? Perhaps you should first take a look at these pics, specs and key performance indicators...

Oct 02, 23 04:56 AM

Thinking of buying a Hanse 458 sailboat? Perhaps you should first take a look at these pics, specs and key performance indicators...
---