The Sadler 34 Sailboat
The Sadler 34, a masthead sloop, was designed by David & Martin Sadler and built in the UK by Sadler Yachts Ltd.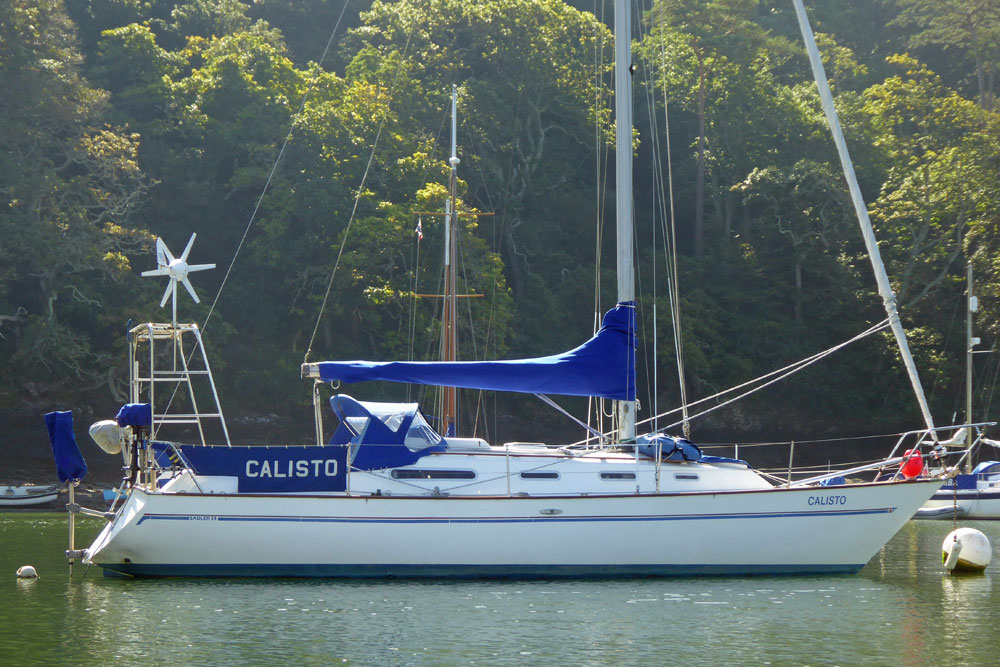 The Sadler 34
Published Specification for the Sadler 34
Underwater Profile: Fin with Skeg-hung Rudder
Hull Material: GRP (Fibreglass)
Length Overall: 34'9" (10.6m)
Waterline Length: 27'10" (8.5m)
Beam: 10'9" (3.3m)
Draft: 5'10" (1.8m)
Rig Type: Masthead sloop
Displacement: 12,800lb (5,806kg)
Designer: David & Martin Sadler
Builder: Sadler Yachts (UK)
Year First Built: 1983
Year Last Built: 1995 
Number Built: 260
Owners Association: Sadler and Starlight Owners Association
---
Published Design Ratios for the Sadler 34
1. Sail Area/Displacement Ratio: 14.6
2. Ballast/Displacement Ratio: 39.1
3. Displacement/Length Ratio: 265
4. Comfort Ratio: 28.0
5. Capsize Screening Formula: 1.8
Summary Analysis of the Design Ratios for the Sadler 34
1. A Sail Area/Displacement Ratio of just 14.6 suggests that the Sadler 34 will need a stiff breeze to get her going. In light conditions, unless you've got plenty of time on your hands, motor-sailing may be the way to go.
2. A Ballast/Displacement Ratio of 39.1 means that unless the bulk of the ballast is concentrated in a bulb at the foot of her keel, the Sadler 34 will have a tendency to heel excessively in a gust, and she'll need to be reefed early to keep her sailing upright in a moderate breeze. 
3. A Displacement/Length Ratio of 265, tells us the Sadler 34 is a moderate displacement cruiser, which means she'll carry all your cruising gear without it having a dramatic effect on her performance. Most of today's sailboats intended for offshore cruising fall into this displacement category.
4. Ted Brewer's Comfort Ratio of 28.0 suggests that crew comfort of a Sadler 34 in a seaway is similar to what you would associate with the motion of a coastal cruiser with moderate stability, which is not encouraging news for anyone prone to seasickness. 
5. The Capsize Screening Formula (CSF) of 1.8 tells us that a Sadler 34 would be a safer choice of sailboat for an ocean passage than one with a CSF of more than 2.0. 
---
Any Questions?
The history of Sadler Yachts is a story of a father-and-son team who created some of the most popular and seaworthy sailboats in the UK. Here is a brief summary of their achievements:


David Sadler was a civil servant and a self-taught yacht designer who started his career in 1969 by designing and building the Contessa 26 and the Contessa 32 with Jeremy Rogers in Lymington. These boats were based on the successful Folkboat design and became classics in their own right, winning many offshore races and cruising awards;

Martin Sadler was David's son who completed a yacht building course at Southampton College in 1972 and worked for Jeremy Rogers as well. He wanted to start his own boatbuilding business and invited his father to join him as a non-executive director;

Sadler Yachts Limited was incorporated in January 1973 and launched their first boat, the Sadler 25, in 1974. This boat was designed by David Sadler and was a fast and robust club racer and family cruiser that sold over 300 units until 1981;

In 1979, Sadler Yachts introduced the Sadler 32, another design by David Sadler that improved on the Contessa 32 with more accommodation, stiffness, and rating. The Sadler 32 was an elegant and seaworthy cruiser/racer that received great acclaim from the yachting press and customers. Over 300 units were built until 1989;

In 1981, Sadler Yachts launched the Sadler 29 and the Sadler 26, two boats that featured Martin Sadler's innovative idea of unsinkability. These boats had a sandwich construction with rigid polyurethane foam injected between the inner and outer hulls, making them virtually unsinkable even if holed. The Sadler 29 and 26 were also spacious and comfortable family cruisers that sold well in the UK and abroad;

In 1984, Sadler Yachts moved to a larger premises in Poole and expanded their range with the Sadler Starlight 35 and the Sadler Starlight 39, two performance cruisers designed by Stephen Jones. These boats had a more modern look and feel than the previous Sadlers, with sleek lines, sugar scoop transoms, wing keels, and fractional rigs.

In 1989, Martin Sadler designed the Sadler SE, a modified version of the Sadler 34 that had a more contemporary interior layout, a sugar scoop transom, and a taller rig. This boat was intended to compete with newer designs in the market, but only a few were built before Sadler Yachts ceased trading in 2008 due to financial difficulties;

After Sadler Yachts went out of business, some of their moulds were bought by other boatbuilders who continued to produce new or refurbished Sadlers for special orders. Some parts and services for Sadler boats are still available from other sources.
There were two versions of the Sadler 34 built: the original version designed by David Sadler, and the SE version designed by Martin Sadler. The SE version had a more modern interior layout, a sugar scoop transom, and a taller rig.
The accommodation in the Sadler 34 is spacious and comfortable for a boat of its size. It has a double berth in the forepeak, a U-shaped dinette that converts to a double berth in the saloon, a quarter berth aft, and a separate heads compartment with a shower. The galley is well-equipped with a two-burner stove, an oven, a fridge, and a sink. The chart table is large and has plenty of storage space.
The Sadler 34 has four keel options: a deep fin keel, a shallow fin keel, a bilge keel, and a lifting keel. The deep fin keel has a draft of 1.83 m and a ballast ratio of 43%. The shallow fin keel has a draft of 1.37 m and a ballast ratio of 46%. The bilge keel has a draft of 1.22 m and a ballast ratio of 48%. The lifting keel has a draft of 0.76 m when raised and 1.68 m when lowered, and a ballast ratio of 45%.

The Sadler 34 is a fast and seaworthy sailing yacht that can handle various weather conditions. It has a balanced helm, good directional stability, and easy handling. It performs well upwind and downwind, and can reach speeds of up to 7 knots in moderate winds. It is also very stiff and stable, thanks to its sandwich construction and high ballast ratio.
The average cost of a secondhand Sadler 34 depends on the year, condition, equipment, and location of the boat. According to YachtWorld, the price range for Sadler 34 boats for sale as of December 2021 is between £29,950 and £32,330.
No, this boatbuilder is no longer in business. Sadler Yachts ceased trading in 2008 due to financial difficulties. However, some parts and services for Sadler boats are still available from other sources.
David Sadler was the designer of several popular sailboats, such as the Contessa 26, Contessa 32, Contessa 35, Sadler Starlight 35, Sadler Starlight 39, and others. Martin Sadler was his son and collaborator who designed the SE version of the Sadler 34 as well as the Sadler Barracuda.
The above answers were drafted by sailboat-cruising.com using GPT-4 (OpenAI's large-scale language-generation model) as a research assistant to develop source material; to the best of our knowledge, we believe them to be accurate.
---
Other sailboats in the Sadler range include:
Nov 29, 23 08:35 AM

Here's where people with sailing equipment for sale advertise their stuff entirely free of charge. If you're looking for used sailing gear or other used boating accessories, here's where to find it!

Nov 10, 23 02:34 AM

My 47' Cheoy Lee sailboat is for sale. Designed by Bill Luders, she is a beautiful and functional liveaboard cruising yacht.

Oct 30, 23 04:22 PM

This article explores the journey of chartering a sailing yacht, from the initial planning stages to the final touches. It provides insight into the joys and challenges of embarking on a voyage of dis…
---