The Westerly Centaur Sailboat

Specs & Key Performance Indicators
If you are looking for a small, sturdy and affordable sailboat that can handle a variety of conditions and destinations, you might want to consider the Westerly Centaur 26.
This classic British cruiser was designed by Jack Laurent Giles and built by Westerly Marine between 1969 and 1980, with over 2,400 units produced.
It is one of the most popular and successful models in the history of British boatbuilding, and still has a loyal following among recreational sailors and enthusiasts.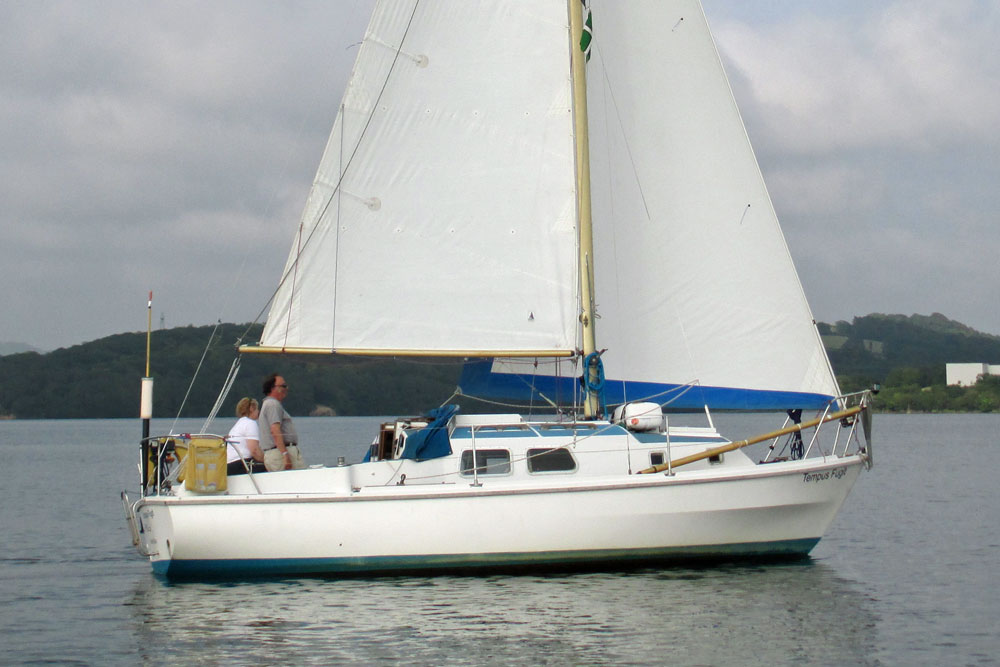 The Westerly Centaur 26: A Classic British Cruiser
Published Specification & Design Ratios for the Westerly Centaur
Underwater Configuration:  Bilge keels and spade rudder
Hull Material: GRP (fibreglass)
Length Overall: 26' 0" / 7.92m
Waterline Length: 21' 4" / 6.5m
Beam: 8' 5" / 2.57m
Draft: 3' 0" / 0.91m
Rig Type: Masthead Sloop
Displacement: 6,700lb / 3,039kg
Designer: Laurent Giles
Builder: Westerly Marine Ltd (UK)
Year First Built: 1969
Year Last Built: 198
Number Built: 2,444
Owners Association: Westerly Owners Association
---
Sail Area/Displacement Ratio: 14.6
Ballast/Displacement Ratio: 41.8
Displacement/Length Ratio: 308
Comfort Ratio: 26.7
Capsize Screening Formula: 1.8
read more about these all-revealing Key Performance Indicators...
How does the Westerly Centaur 26 perform?
The Westerly Centaur 26 is not a fast or sporty boat, but it is a reliable and seaworthy one. It has a masthead sloop rig with a reported sail area of 30.1m², which gives it enough power to sail well in light to moderate winds.
It has a displacement of 3,039 kg and a ballast of 1,270 kg, which gives it a high Ballast/Displacement Ratio of 41.8%. This means it is stiff and stable, and can carry a lot of sail without heeling too much.
It also has a high Displacement/Length Ratio of 308, which means it is heavy and solid, and can handle rough seas and strong winds without being easily overpowered or damaged.
It has a hull speed of 6.4 knots, which is respectable for its size and type.
What are some of the features and options of the Westerly Centaur 26?
The Westerly Centaur 26 has a simple and functional design that has stood the test of time. It has:
What do owners and reviewers say about the Westerly Centaur 26?
The Westerly Centaur 26 has received many positive reviews and testimonials from owners and experts over the years. Here are some of the common praises and criticisms that have been expressed about this boat:
"The Westerly Centaur 26 is a well-built, well-designed and well-equipped boat that offers great value for money. It is easy to maintain, repair and upgrade, thanks to its simple construction and wide availability of spare parts and accessories. It is also easy to find and buy, thanks to its large production numbers and popularity."
"The Westerly Centaur 26 is a versatile and adaptable boat that can suit different sailing styles and preferences. It can be used for day sailing, weekend cruising, coastal hopping or ocean crossing, depending on the owner's skills and ambitions. It can also be customized and modified to fit different needs and tastes, thanks to its flexible layout and options."
"The Westerly Centaur 26 is a safe and comfortable boat that can handle a range of weather conditions and sea states. It has a strong and solid hull that can withstand impacts and stresses. It has a stable and forgiving motion that can cope with waves and winds. It has a spacious and cozy interior that can accommodate up to five people in comfort."
"The Westerly Centaur 26 is not a fast or agile boat that can compete with modern designs or racers. It has a relatively low sail area-to-displacement ratio that limits its speed potential. It has a relatively high displacement-to-length ratio that reduces its responsiveness and maneuverability. It has a relatively low aspect ratio rig that reduces its pointing ability and windward performance."
"The Westerly Centaur 26 is not a sleek or stylish boat that can impress with its looks or features. It has a dated and boxy appearance that reflects its age and function. It has a basic and functional interior that lacks some modern conveniences and amenities. It has a limited and outdated equipment list that may require some upgrades or replacements."
Summary
The Westerly Centaur 26 is a classic British cruiser that has proven its worth and popularity over the decades. It is a boat that offers a lot of advantages for a small price, such as:
But it is also a boat that has some drawbacks that may deter some cruising sailors, such as:
The Westerly Centaur 26 is not a boat for everyone, but it is a boat for many.
It is a boat for those who value practicality over speed, comfort over style, versatility over specialization, affordability over luxury.
It is a boat for those who want to enjoy sailing without breaking the bank or compromising on quality.
It is a boat for those who love classic British cruisers.
Other sailboats in the Westerly range include:
I wrote this article using GPT-4, OpenAI's large-scale language-generation model, as a research assistant to develop source material. I wrote the final draft in its entirety and believe it to be accurate to the best of my knowledge.
Dick McClary
---
Jun 07, 23 01:51 AM

Looking for used sailboats for sale that are capable of crossing an ocean? These cruising yachts are already in the Caribbean, but what are the risks and benefits of buying out there?

Jun 04, 23 08:32 AM

If you're looking for a unique Bluewater Cruising Yacht for sale in the Caribbean, then 'Shindig' is certainly worth a look...

Jun 04, 23 06:26 AM

Here's where people with sailing equipment for sale advertise their stuff entirely free of charge. If you're looking for used sailing gear or other used boating accessories, here's where to find it!
---