The Westerly Centaur Sailboat

Specs & Key Performance Indicators
The Westerly Centaur was designed by Laurent Giles and built in the UK by Westerly Marine Ltd.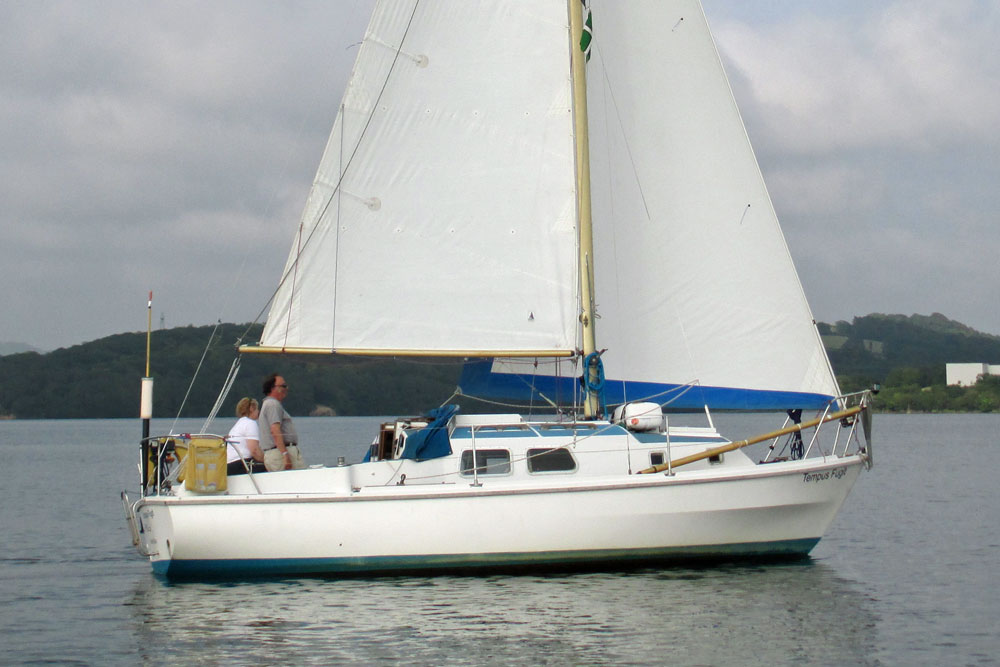 A Westerly Centaur 26 sailing on River Tamar in the UK
Published Specification for the Westerly Centaur
Underwater Configuration:  Bilge keels and spade rudder
Hull Material: GRP (fibreglass)
Length Overall: 26' 0" / 7.92m
Waterline Length: 21' 4" / 6.5m
Beam: 8' 5" / 2.57m
Draft: 3' 0" / 0.91m
Rig Type: Masthead Sloop
Displacement: 6,700lb / 3,039kg
Designer: Laurent Giles
Builder: Westerly Marine Ltd (UK)
Year First Built: 1969
Year Last Built: 198
Number Built: 2,444
Owners Association: Westerly Owners Association
Published Design Ratios for the Westerly Centaur
1. Sail Area/Displacement Ratio: 14.6
Less than 16 would be considered under-powered;
16 to 20 would indicate reasonably good performance;
Over 20 suggests relatively high performance.
2. Ballast/Displacement Ratio: 41.8
Under 40: less stiff, less powerful
Over 40: stiffer, more powerful
3. Displacement/Length Ratio: 308
Under 100: Ultralight
100 to 200: Light
200 to 275: Moderate
275 to 350: Heavy
Over 350: Ultraheavy
4. Comfort Ratio: 26.7
Under 20 indicates a lightweight racing boat
20 to 30 indicates a coastal cruiser
30 to 40 indicates a moderate offshore cruising boat
40 to 50 indicates a heavy offshore boat
Over 50 indicates an extremely heavy offshore boat
5. Capsize Screening Formula: 1.8
Under 2.0 (the lower the better): Better suited for ocean passages
Over 2.0: Less suited for ocean passages
Summary Analysis of Published Design Ratios for the 
Westerly Centaur
1. A Sail Area/Displacement Ratio of just 14.6 suggests that she'll need a stiff breeze to get her going. In any other conditions, unless you've got plenty of time on your hands, motor-sailing will be the way to go. 
2. A Ballast/Displacement Ratio of 41.8 means that she'll stand up well to her canvas in a blow, enabling her to power through the waves.
3. A Displacement/Length Ratio of 308, tells us she's clearly a heavy displacement cruising boat. You can load her down with all your cruising gear and equipment and it will hardly affect her waterline. Not an ideal choice for coastal sailing, but will come into her own on an offshore passage in testing conditions.
4. Ted Brewer's Comfort Ratio of 26.7 suggests that crew comfort in a seaway is similar to what you would associate with the motion of a coastal cruiser, which is not encouraging news for anyone prone to seasickness. 
5. Her Capsize Screening Formula of 1.8 tells us that she would be a better choice of sailboat for ocean passage-making than one with a CS rating of more than 2.0. 
Other sailboats in the Westerly range include:
---
Jan 21, 23 01:37 PM

Here's where people with sailing equipment for sale advertise their stuff entirely free of charge. If you're looking for used sailing gear or other used boating accessories, here's where to find it!

Jan 21, 23 08:28 AM

The Hustler 35 sailboat is a hugely capable classic offshore cruiser. My 'Sea Wraith' has recently had an extensive mechanical and equipment refurbishment to ensure she is absolutely ready to take on…

Jan 11, 23 09:07 AM

Large, well-equipped cruising yachts of this size can cross oceans in relative comfort and speed, but you'll need deep pockets to operate and maintain them.
---