The Westerly Oceanlord 41 Sailboat

Specs & Key Performance Indicators
The Westerly Oceanlord 41, a masthead sloop, was designed by Ed Dubois & Mike Parham and built in the UK by Westerly Yachts Ltd.

Published Specification for the Westerly Oceanlord 41
Underwater Profile: Fin keel with spade rudder;
Hull Material: GRP (Fiberglass);
Length Overall: 40'6" (12.3m);
Waterline Length: 35'3" (10.7m);
Beam: 13'6" (4.1m);
Draft: 5'6" (1.7m);
Rig Type: Masthead Sloop;
Displacement: 20,878lb (9,470kg);
Designer: Ed Dubois, Mike Parham;
Builder:  Westerly Yachts Ltd (UK);
Year First Built: 1990;
Number Built: 100
Owners Association: Westerly Owners Association.
---
Published Design Ratios for the Westerly Oceanlord 41
1. Sail Area/Displacement Ratio: 14.9
2. Ballast/Displacement Ratio: not published
3. Displacement/Length Ratio: 213
4. Comfort Ratio: 27.4
5. Capsize Screening Formula: 1.9
Summary Analysis of the Design Ratios for the Westerly Oceanlord 41
1. A Sail Area/Displacement Ratio of just 14.9 suggests that the Westerly Oceanlord 41 will need a stiff breeze to get her going. In light conditions, unless you've got plenty of time on your hands, motor-sailing may be the way to go.
2. The Ballast/Displacement Ratio of the Westerly Oceanlord 41 doesn't appear to have been published. If you are able to provide it, please contact us.
3. A Displacement/Length Ratio of 213, tells us the Westerly Oceanlord 41 is a moderate displacement cruiser, which means she'll carry all your cruising gear without it having a dramatic effect on her performance. Most of today's sailboats intended for offshore cruising fall into this displacement category.
4. Ted Brewer's Comfort Ratio of 27.4 suggests that crew comfort of a Westerly Oceanlord 41 in a seaway is similar to what you would associate with the motion of a coastal cruiser with moderate stability, which is not encouraging news for anyone prone to seasickness. 
5. The Capsize Screening Formula (CSF) of 1.9 tells us that a Westerly Oceanlord 41 would be a safer choice of sailboat for an ocean passage than one with a CSF of more than 2.0. 
---
More about the Westerly Oceanlord 41...
The Westerly Oceanlord 41 is an extended version of the Westerly Sealord 39, which was launched in 1986. The Oceanlord has a longer stern section that adds more space to the aft cabin and the cockpit. The boat has a semi-balanced spade rudder and a 3.5-ton fin keel that give it good maneuverability and stability.
The rig is a masthead sloop with a single pair of spreaders on a deck-stepped mast. The boat has a moderate sail area of 65.2 square meters (702 square feet), which makes it slightly underpowered but easy to control in most conditions. The boat can reach a hull speed of 9.3 knots (10.7 mph) and has a comfortable motion at sea.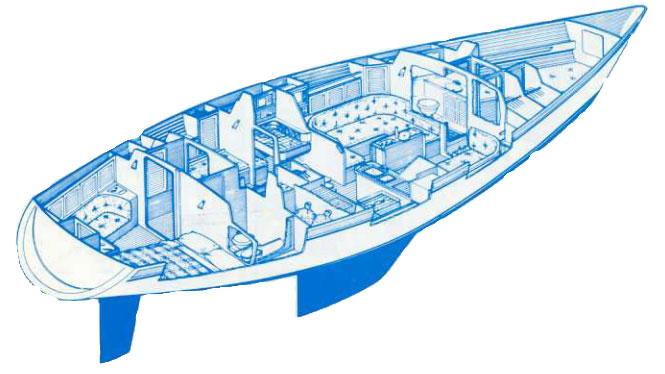 Westerly Oceanlord accommodation layout
The Oceanlord 41 was built in fiberglass with high-quality joinery and fittings. The boat has a solid reputation for being sturdy, reliable and seaworthy. The boat can accommodate up to six people in three separate cabins, plus two more in the saloon if needed. The boat has ample storage space, water capacity and headroom throughout. The boat is best suited for coastal cruising, but some owners have sailed it around the world.

Accommodation
The Oceanlord 41 has a spacious and practical accommodation layout that offers privacy and comfort for the crew. The boat has two cabins: a large owner's cabin aft and a double cabin forward. The boat also has two heads, one ensuite with the aft cabin and one shared by the other cabins.
The owner's cabin is accessed through a corridor from the saloon or from the cockpit through a hatch. The cabin has a centerline double berth, a dressing table, a hanging locker, drawers and shelves. The en suite head has a marine toilet, a sink and a shower.
The forward cabin has a V-shaped double berth, a hanging locker, drawers and shelves. The twin bunk cabin has two single berths, one above the other, and some storage space.
The saloon is bright and airy, with large windows and hatches that provide natural light and ventilation. The saloon has an L-shaped settee to port that can convert into a double berth if needed, and a straight settee to starboard that can be used as a single berth.
The navigation station is located to starboard, aft of the saloon settee. It has a large chart table, an instrument panel, a swivel seat and some storage space.
The galley is located to port, opposite the navigation station. It has an L-shaped counter with a double sink, a three-burner stove with oven, a refrigerator and freezer, and plenty of cupboards and drawers for storing food and utensils.
Hull and Deck
The Oceanlord 41 has a sleek and elegant hull shape that is designed for performance and comfort. The hull has a moderate freeboard that reduces windage and improves visibility from the cockpit. The hull also has a flared bow that helps to keep the deck dry in choppy seas.
The deck is wide and flat, with molded nonskid surfaces for safety and ease of movement. The deck has plenty of handrails, cleats, fairleads and stanchions for securing lines and fenders. The deck also has several hatches, portholes and dorade vents for light and ventilation below.
The cockpit is deep and long, with two-meter (6.6-foot) benches that can be used for sleeping or lounging. The cockpit has a rigid windscreen with a sprayhood that protects the crew from the elements. The cockpit also has a binnacle with a wheel steering system, an engine control panel, an autopilot, a compass and a folding cockpit table. The cockpit has a large locker to port that can store sails, lines and other gear. The cockpit has a mainsheet traveler on the aft cabin coachroof and two sheet winches within reach of the helmsman. All the halyards and running rigging are led aft to the cockpit through clutches and winches on the coachroof.
The bow has a large anchor locker with an electric windlass and a bow roller. The boat can carry two anchors, one on the bow and one on the stern. The boat also has a stainless steel pulpit, a bow sprit and a forestay with a roller furling system for the genoa.
The stern has a stainless steel pushpit with a split backstay and a boarding ladder. The boat also has a transom platform with a shower and a davits system for lifting a dinghy.

The above text was drafted by sailboat-cruising.com using GPT-4 (OpenAI's large-scale language-generation model) as a research assistant to develop source material; we believe it to be accurate to the best of our knowledge.
---
Other sailboats in the Westerly range include:
---
Sep 30, 23 11:02 AM

Experience luxury and performance with our Bavaria 44AC sailboat! With its well-crafted interiors, state-of-the-art navigation gear, spacious layout, and robust sailing capabilities, it's perfect for…

Sep 29, 23 05:38 PM

Sailing characteristics and performance predictions, pics, specifications, dimensions and those all-important design ratios for the Hanse 400 sailboat...

Sep 29, 23 03:17 AM

Interested in the Gulf 32 sailboat? Here are the pics, specs and performance predictions you're looking for...
---