The Westerly 33 Sailboat

Specs & Key Performance Indicators
The Westerly 33, a bilge-keeled masthead sloop, was designed by Laurent Giles and built in the UK by Westerly Yachts Ltd.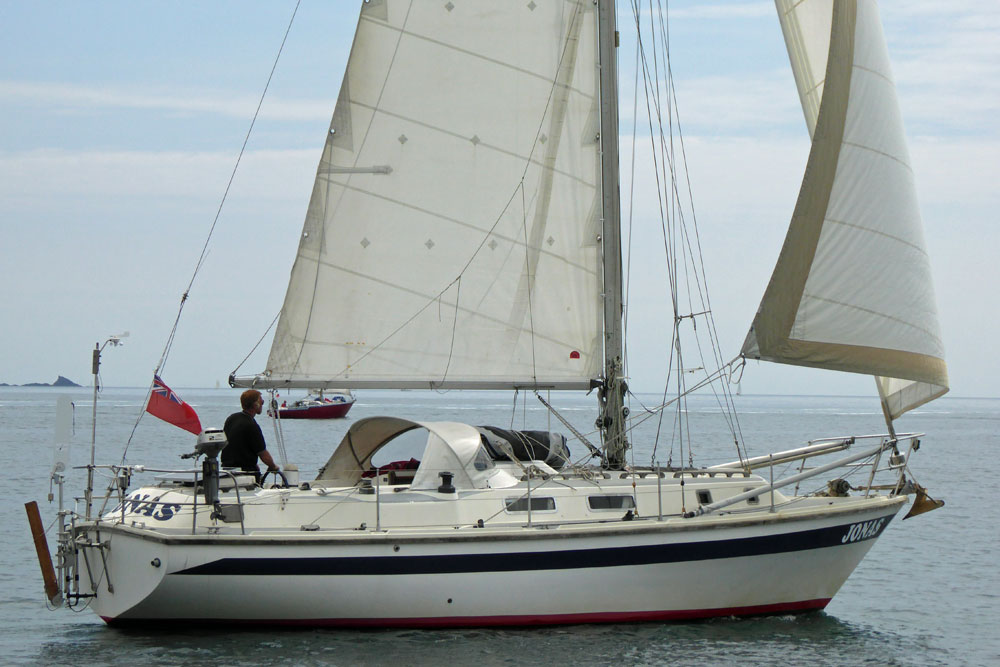 The Multi-Option Westerly 33
Published Specification for the Westerly 33
Underwater Profile: Bilge keels with Skeg-hung Rudder (Fin Keel version was also produced)
Hull Material: GRP (Fibreglass)
Length Overall: 33'3" (10.1m)
Waterline Length: 28'5" (8.7m)
Beam: 11'2" (3.4m)
Draft: 5'5" (1.7m)
Rig Type: Masthead Sloop (Ketch version was also produced)
Displacement: 14,341lb (6,505kg)
Designer: Laurent Giles

Builder: Westerly Yachts Ltd (UK)
Year First Built: 1975
Year Last Built: 1977
Number Built: 235
Owners Association: Westerly Owners' Association
---
Published Design Ratios for the Westerly 33
1. Sail Area/Displacement Ratio: 14.3
2. Ballast/Displacement Ratio: 42.2
3. Displacement/Length Ratio: 277
4. Comfort Ratio: 29.9
5. Capsize Screening Formula: 1.8
Summary Analysis of the Design Ratios for the Westerly 33
1. A Sail Area/Displacement Ratio of just 14.3 suggests that the Westerly 33 will need a stiff breeze to get her going. In light conditions, unless you've got plenty of time on your hands, motor-sailing may be the way to go.
2. A Ballast/Displacement Ratio of 42.2 means that the Westerly 33 will stand up well to her canvas in a blow, helping her to power through the waves.
3. A Displacement/Length Ratio of 277, tells us the Westerly 33 is a heavy displacement cruising boat. You can load her down with all your cruising gear and equipment and it will hardly affect her waterline. Not an ideal choice for coastal sailing, but she'll come into her own on an offshore passage in testing conditions.
4. Ted Brewer's Comfort Ratio of 29.9 suggests that crew comfort of a Westerly 33 in a seaway is similar to what you would associate with the motion of a coastal cruiser with moderate stability, which is not encouraging news for anyone prone to seasickness. 
5. The Capsize Screening Formula (CSF) of 1.8 tells us that a Westerly 33 would be a safer choice of sailboat for an ocean passage than one with a CSF of more than 2.0. 
---
More about the Westerly 33
The Westerly 33 is a 10.1-meter (33-foot) monohull sailboat that was designed by Jack Laurent Giles and built by Westerly Marine between 1977 and 1985. It is a moderate displacement sailboat that is slightly underpowered, but very stable and stiff with a high resistance to capsize. It is best suited as a coastal cruiser, but some owners have also sailed it across oceans.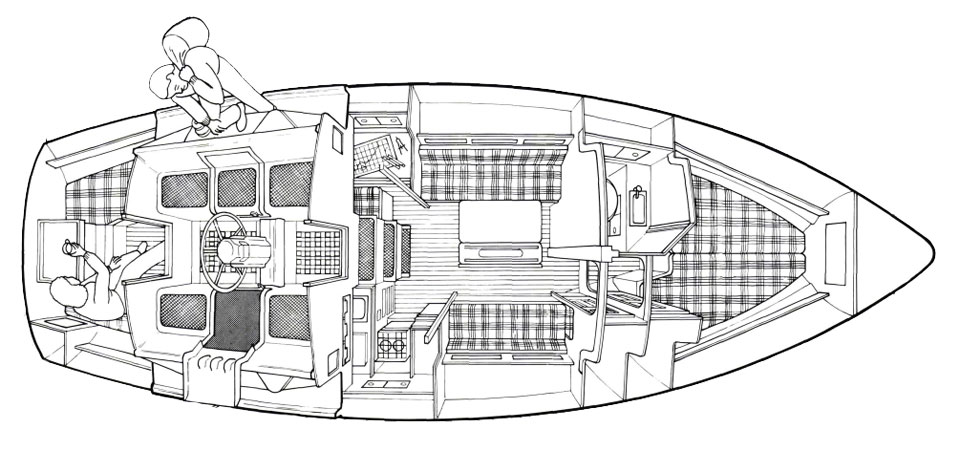 Westerly 33 Accommodation Layout
Accommodation
One of the main attractions of the Westerly 33 is its spacious and comfortable accommodation, which can sleep up to seven people in three separate cabins. The layout varies depending on the model, but generally includes:
A forward cabin with a V-berth or double berth, storage lockers and shelves, and access to the anchor locker;
A saloon with a U-shaped dinette that converts to a double berth on the port side, and a settee that converts to a single berth on the starboard side. The saloon also has storage cabinets, bookshelves, and a folding table;p
A galley on the port side aft of the saloon, with a two-burner stove with oven, a sink with hot and cold water, a refrigerator or icebox, and plenty of counter space and storage;
A navigation station on the starboard side aft of the saloon, with a chart table, an instrument panel, and a seat;
A head compartment on the starboard side amidships, with a marine toilet, a sink with hot and cold water, a shower, and storage;
An aft cabin on the port side aft of the galley, with either two single berths or one double berth, storage lockers and shelves, and an opening hatch.
The interior of the Westerly 33 is well-lit by several portholes and hatches, and well-ventilated by dorade vents and fans. The headroom is generous throughout, ranging from 6 feet (1.83 meters) in the forward cabin to 6 feet 4 inches (1.93 meters) in the saloon. The decor is warm and cozy, with teak woodwork, blue upholstery, and brass fittings.
Hull and Deck
The hull of the Westerly 33 is made of fiberglass reinforced plastic (FRP), which is strong, durable, and low-maintenance. The hull shape is round-bilged with a moderate beam and freeboard, which gives it good stability and seaworthiness. The hull color is usually white or cream, but some owners have painted it in different colors.
The deck of the Westerly 33 is also made of FRP with a balsa core for stiffness. The deck layout is simple and practical, with wide side decks, high lifelines, sturdy handrails, and ample cleats for mooring lines. The cockpit is spacious and comfortable, with either a tiller or a single wheel steering system, depending on the model. The cockpit also has two large lockers for storage, a folding table for dining, and cushions for seating. The cockpit is protected by a sprayhood or a dodger, and some models also have a bimini or a full enclosure for extra shelter. The transom has a boarding ladder for easy access to the water.
Other versions bases on the same hull...
The Westerly 33 has several versions that differ in some aspects of the design, such as the rig, the keel, the cockpit, and the interior layout. Some of the most common versions are:

The Westerly 33 Sloop, which has a sloop rig with a single mast and a single headsail;
The Westerly 33 Ketch, which has a ketch rig with two masts;
The Westerly 33 Cutter, which has a cutter rig with a single mast and two headsails;
The Westerly 33 Discus, which has a sloop or ketch rig with a center cockpit and an aft cabin with an en-suite head.
The above text was drafted by sailboat-cruising.com using GPT-4 (OpenAI's large-scale language-generation model) as a research assistant to develop source material; we believe it to be accurate to the best of our knowledge.
---
Other sailboats in the Westerly range include:
Sep 29, 23 05:38 PM

Sailing characteristics and performance predictions, pics, specifications, dimensions and those all-important design ratios for the Hanse 400 sailboat...

Sep 29, 23 03:17 AM

Interested in the Gulf 32 sailboat? Here are the pics, specs and performance predictions you're looking for...

Sep 28, 23 04:04 PM

Sailing characteristics and performance predictions, pics, specifications, dimensions and those all-important design ratios for the Fuji 35 sailboat
---