The Westsail 32 Sailboat
The Westsail 32, a heavy displacement long-keeled cutter, was designed by William Crealock and built in the USA by the Westsail Corporation.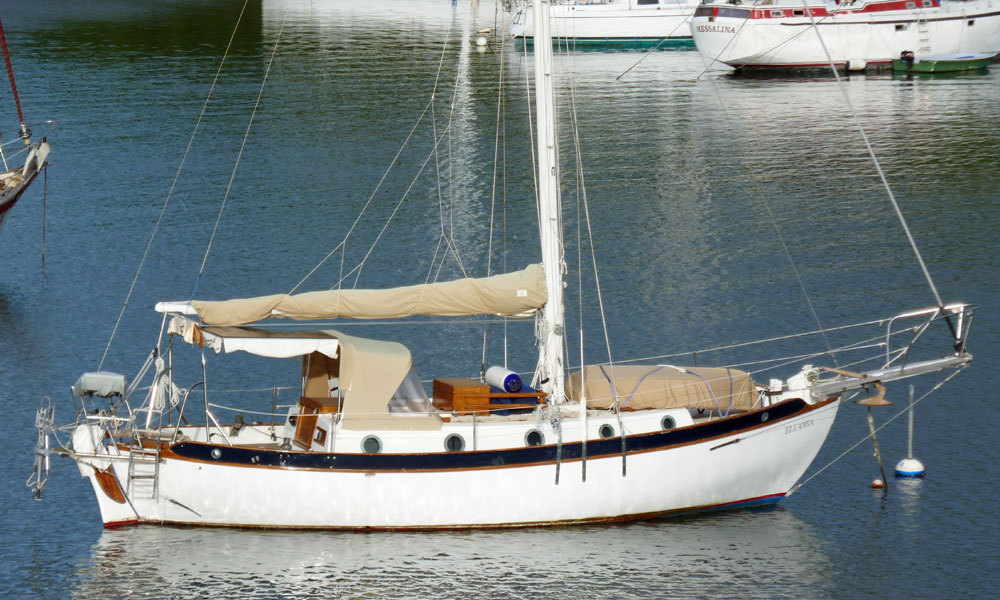 A Westsail 32 sailboat
Published Specification for the Westsail 32
Underwater Profile: Long keel with transom-hung rudder
Hull Material: GRP
Length Overall: 32'0" / 9.75m
Waterline Length: 27'6" / 8.4m
Beam: 11'0" / 3.4m
Draft: 5'0" / 1.5m
Rig Type: Cutter
Displacement: 19,500lb / 8,845kg
Designer: Bill Crealock
Builder: Westsail Corporation. (USA)
Year First Built: 1971
Year Last Built: 1981
Number Built: 830
Owners Association: Westsail Owners Association
---
Published Design Ratios for the Westsail 32
1. Sail Area/Displacement Ratio: 16.7
Less than 16 would be considered under-powered;
16 to 20 would indicate reasonably good performance;
Over 20 suggests relatively high performance.
2. Ballast/Displacement Ratio: 36.0
Under 40: less stiff, less powerful
Over 40: stiffer, more powerful
3. Displacement/Length Ratio: 419
Under 100: Ultralight
100 to 200: Light
200 to 275: Moderate
275 to 350: Heavy
Over 350: Ultraheavy
4. Comfort Ratio: 42.9
Under 20 indicates a lightweight racing boat
20 to 30 indicates a coastal cruiser
30 to 40 indicates a moderate offshore cruising boat
40 to 50 indicates a heavy offshore boat
Over 50 indicates an extremely heavy offshore boat
5. Capsize Screening Formula: 1.6
Under 2.0 (the lower the better): Better suited for ocean passages
Over 2.0: Less suited for ocean passages
read more about these all-revealing numbers...
---
Summary Analysis of the Design Ratios for the Westsail 32
1. A Sail Area/Displacement Ratio of 16.7 suggests that the Westsail 32 will approach her maximum hull speed readily and satisfy the sailing performance expectations of most cruising sailors.
2. A Ballast/Displacement Ratio of 36.0 means that unless the bulk of the ballast is concentrated in a bulb at the foot of her keel, the Westsail 32 will have a tendency to heel excessively in a gust, and she'll need to be reefed early to keep her sailing upright in a moderate breeze. 
3. A Displacement/Length Ratio of 419, tells us the Westsail 32 is firmly in the ultra-heavy displacement category. Load her up as much as you like and her performance will be hardly affected, not that it was ever startling. Few if any sailboats are built to this displacement category these days - but they remain popular with some long-distance sailors.
4. Ted Brewer's Comfort Ratio of 42.9 suggests that crew comfort aboard a Westsail 32 in a seaway is similar to what you would associate with the motion of a heavy bluewater cruising boat. Pitching and rolling will be well damped - your cup of coffee on the salon table stands a reasonable chance of staying there in most conditions.
5. The Capsize Screening Formula (CSF) of 1.6 tells us that a Westsail 32 would be a safer choice of sailboat for an ocean passage than one with a CSF of more than 2.0. 
---
Cruisers' Questions about this Sailboat...
The Westsail 32 design has a long history. The hull shape is descended from the double-ended pilot and rescue boats designed by the Norwegian naval architect Colin Archer. These boats were designed for extreme seaworthiness in the rough conditions of the North Sea. The late 19th century Archer design was first adapted for pleasure sailing by William Atkin, who, in 1928, designed a 32-foot (9.8 m) double-ended boat called Eric based on Archer's 47' rescue boat design. This design was later refined into Thistle, which replaced Eric's gaff rig with a bermuda rig, and has a flush deck. The Westsail 32 was directly derived from the earlier Kendall 32, of which only a few were made, and was adapted for fibreglass construction by William Crealock.
The Westsail 32 is not known for being a fast boat, but rather for being a sturdy and reliable one. She has a hull speed of about 7 knots (13 km/h), but her average speed in cruising conditions is likely to be lower, depending on the wind, waves, and load. She can carry a lot of weight without affecting her performance too much, which makes her ideal for long-distance voyages.
The Westsail 32 is widely regarded as one of the most seaworthy sailboats ever built. She has a reputation for being able to handle any weather and sea condition, and for being able to survive storms that would sink other boats. Her double-ended hull shape, heavy displacement, and low center of gravity make her stable and resistant to broaching and capsizing. Her thick fiberglass hull and solid construction make her strong and durable. Many Westsail 32 owners have sailed across oceans and around the world in their boats, proving their seaworthiness.
The Westsail 32 has a spacious and cozy interior, with plenty of headroom, storage space, and ventilation. She can accommodate up to seven people, although four or five would be more comfortable. She has a V-berth forward, followed by a head with shower, a main saloon with two settees that can convert to berths, a U-shaped galley to port, and a quarter berth to starboard. 
The price of a Westsail 32 depends on the condition, equipment, and location of the boat. A new Westsail 32 kit cost about $12,000 in the early 1970s, but most owners spent much more to finish and outfit their boats. A used Westsail 32 can range from $20,000 to $80,000 or more today, depending on the market and the quality of the boat.
Tere are many resources available for anyone interested in learning more about the Westsail 32. Some of them are:


The book "Westsail: The World's Best Sailboat" by Bud Taplin, the former general manager of Westsail Corporation and the current owner of Worldcruiser Yacht Company, which provides parts and services for Westsail boats;

The website of "Worldcruiser Yacht Company", which has a lot of information, photos, and videos about the Westsail 32 and other Westsail models.

The website of the "Westsail Owners Association", which has a forum, a newsletter, a registry, and other resources for Westsail owners and enthusiasts.

The Facebook group "Westsail Owners Group", which has over 2,000 members who share their experiences, advice, and photos of their Westsail boats.

The YouTube channel "Westsail 32", which has dozens of videos of Westsail 32 boats sailing, cruising, and being restored.
The above answers were drafted by sailboat-cruising.com using GPT-4 (OpenAI's large-scale language-generation model) as a research assistant to develop source material; to the best of our knowledge, we believe them to be accurate.
---
Nov 29, 23 08:35 AM

Here's where people with sailing equipment for sale advertise their stuff entirely free of charge. If you're looking for used sailing gear or other used boating accessories, here's where to find it!

Nov 10, 23 02:34 AM

My 47' Cheoy Lee sailboat is for sale. Designed by Bill Luders, she is a beautiful and functional liveaboard cruising yacht.

Oct 30, 23 04:22 PM

This article explores the journey of chartering a sailing yacht, from the initial planning stages to the final touches. It provides insight into the joys and challenges of embarking on a voyage of dis…
---