The Anchor Bend Knot

How to Tie It & When to Use It
The Anchor Bend Knot isn't a bend or a knot; it's a hitch. Sailors of old referred to 'bending-on an anchor' and the name of this knot originated from those times. 
It's an extremely strong and reliable knot, much more so than the commonly used bowline or round turn and two half-hitches. Consequently, the anchor bend knot should be your first choice when making a long-term attachment to a shackle or similar item of hardware. 
But why 'long-term'? Because once it's been under tension the anchor hitch can be almost impossible to undo.
How to Tie the Anchor Bend Knot
Stage 1
Take a turn through the shackle.
Stage 2

Then take another one. After all one good turn deserves another!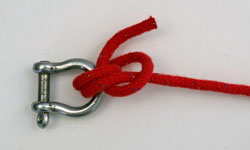 Stage 3

Now pass the working end through both turns. If you cinch the knot up tight at this stage you should sieze the the working end to the standing part.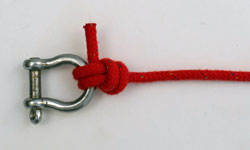 Stage 4

But for a super-strong and reliable connection with no need for siezing, pass the the working end through both turns a second time.
Apr 12, 21 03:51 AM

No monohulls here, just a list of catamaran sailboats for sale privately by their owners - and buyers won't pay brokerage fees either!

Apr 12, 21 03:46 AM

'Rampant' is a comfortable 40ft cruising catamaran which I have owned for 20 years. I am the second owner, and the vessel has been well maintained and

Apr 12, 21 03:32 AM

Here's where people with sailing equipment for sale advertise their stuff entirely free of charge. If you're looking for used sailing gear or other used boating accessories, here's where to find it!
---