A Sail Boat Galley Layout for
Offshore Cruising

A practical, seagoing boat galley is a vital element in all good cruising sailboats. And it's not just the quality and layout of the individual components that make up the galley, but also where it's situated in the boat itself.
Some people enjoy cooking on a sailboat. I don't - eating's more my thing.
For me, anyone that can conjure up a nourishing meal on a pitching, rolling boat is a treasure beyond value and should be cherished unreservedly.
And anything that can be done to make his or her life easier is likely to bring rich culinary rewards.
An efficient galley is a good place to start, the principal requirements for which are...

A Good Location for the Boat Galley
The location should be well ventilated and easily accessible to both the cockpit and the saloon. The common arrangement is for it to be at the foot of the companionway, and this has much in its favour.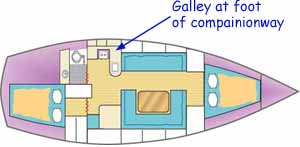 Is this the best location for the galley?
This part of the boat is less prone to violent pitching, there's good natural ventilation through the companionway and hot food and drinks may be easily passed up to the cockpit.
There's not a lot you can do about the rolling, but the cooker should be gimballed on its longitudinal access which will largely take care of that.
Some centre cockpit boats that have a linear galley in the passageway linking the after-cabin to the rest of the boat, on the basis that there's not much else you can do with the space.
This is a less successful arrangement than those that have an L-shaped galley with the cooker and sinks in the conventional place, and only the work tops and refrigerator tucked into the passage way.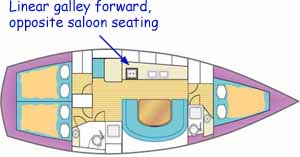 Or is this, more forward, location best?
Another common location for a linear galley is forward, opposite the saloon seating.
Not the best place for it in my view - it's just too far from the main hatch.
The chance of getting a full mug of tea from the galley to the cockpit in anything of a blow is pretty slim.

Ventilating the Boat Galley
The cooking process, for those of you that aren't familiar with it, produces a deal of steam and heat which will create condensation and encourage the dreaded mildew.
An opening portlight or extractor fan above the galley will go a long way to relieving this unwanted side effect, if the ventilation provided by the companionway is insufficient.

A Good Working Layout for the Boat Galley
Cooker, fridge, sink and worktop arrangement in a practical galley arrangement
The three main units - cooker, sinks and refrigerator - should be close together so that the cook can reach all three without having to move more than a step or two, which is more easily achieved with a U-shaped or L-shaped galley than the linear arrangement.
A restraining harness should be rigged to secure the cook in close to the cooker when it's on the windward side of the boat, and there should be a stout metal bar across the front of the cooker to keep the cook from accidentally falling onto it when it's to leeward.
But beware! When secured by the harness, the cook has nowhere to go if he spills a pan of hot liquid, and many serious scalds have occurred this way. In boisterous conditions, it's a sound idea to wear a full length waterproof apron, or the lower half of your foulies.
There should be an adequate worktop area, with 3" (75mm) high sturdy fiddles, and a heatproof area to put down a hot pan.
Stainless steel sheet should be fixed to protect adjacent cabinetry and the hull side outboard of the cooker, as these surfaces can get very hot.
A good boat galley will have stainless steel dual sinks - one for washing, the other for draining. They should be deep enough (150mm to 200mm) to retain plates, and to prevent spillage when the boat rolls.
And it's no bad idea to have both a freshwater and a seawater supply at the sink. Just remember which is which when you're filling the kettle!
Jan 21, 23 01:37 PM

Here's where people with sailing equipment for sale advertise their stuff entirely free of charge. If you're looking for used sailing gear or other used boating accessories, here's where to find it!

Jan 21, 23 08:28 AM

The Hustler 35 sailboat is a hugely capable classic offshore cruiser. My 'Sea Wraith' has recently had an extensive mechanical and equipment refurbishment to ensure she is absolutely ready to take on…

Jan 11, 23 09:07 AM

Large, well-equipped cruising yachts of this size can cross oceans in relative comfort and speed, but you'll need deep pockets to operate and maintain them.
---