The Ins and Outs of a Boat Toilet
My first 'proper' cruising yacht, a Nicholson 32, sported a Lavac boat toilet - and very efficient and reliable it was too. Pumping it created a vacuum which sucked out the er, contents. But to flush it, the lid had to be closed so that the vacuum could be created.
Once flushed, the vacuum remained for a while, firmly holding down the lid - which was a little irritating in the event of a queue…
Traditionally known as 'the heads' owing to the forward position normally allocated for it in old sailing vessels, pump operated sea toilets can be a little temperamental if not properly cared for.
They'll either smell, leak (in which case they'll definitely smell), the pump will block or the pipes will fur up. All of these unhappy events can be prevented by correct installation and regular maintenance – which we'll return to later.
First though, we'll take a look at the common types of boat toilet…

The Manually Pumped Sea Toilet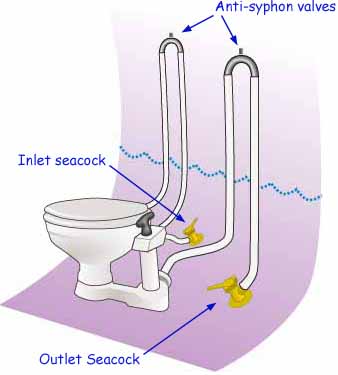 Artwork by Andrew Simpson
Your boat toilet's malicious streak can come to a head (sorry) when it has been installed below the waterline, where it has the capability of sinking the boat if not fitted with siphon breaks on both inlet and outlet pipes.
Otherwise, for a toilet installed below the waterline, or one which becomes below the waterline when the boat is heeled, pumping flushing water in (and waste water out) will induce a siphon effect – flooding and eventually sinking your boat. 
Anti-Siphon Valves are essential!
Remember to use Marine Sanitation Grade hose for all the discharge pipework to avoid permeation and resulting smells, and use double clips on all pipework connections to avoid leaks.
---

The 12v Electric Macerator Sea Toilet
These are intended for those with electrical power to spare and a reluctance to operate their right arm. Now everything is taken care of by the push of a button and your boat's batteries.
One 12v pump sucks the flush water in and another delivers the waste either directly into the sea or to a holding tank.
Incorporated into the unit is a macerator which, much in the way of a culinary blender, reduces the waste and toilet paper to liquid form before pumping it either over the side or into a holding tank.
---

A Portable/Permanent Marine Toilet System
These are entirely self-contained units. Installation is as simple as finding some secure place to put it.
The design of these units is simple; the waste falls by gravity into a detachable tank beneath the bowl which is periodically taken off the boat and emptied.
Typically they hold between 2 and 5 gallons of waste, and are very suitable for small sailboats or as an acceptable alternative to a holding tank installation.
---

How to Keep the Boat Toilet Working
We've all seen it happen. Man with length of flexible toilet hose trying grimly to beat it to death on the dock, chunks of unpleasant stuff flying in all directions.
Just why do our boat toilet pipes get like that? It's because we don't flush them properly!
It's not enough to stop pumping just as soon as the toilet bowl is clear of the unmentionable – you've got to keep going until it exits the thru-hull fitting.
If you don't, it will be left in the pipe, the pump or the macerator where sooner or later it ruin your day.

So How Long Should I Keep Pumping?
For as long as it takes to clear the whole length of discharge hose and that of course depends on how long it is. The solution is simple…
Put a few sheets of toilet paper in the pan, start pumping and count the strokes;
Get another person to check when it emerges at the other end, add another half-a-dozen strokes or so and that's how many times you must pump it on every use;
Then click the switch across to 'dry' and pump a few more strokes to empty the pipes down to the water line and that's it, job done
---
You are here: Sailboat Cruising > Sailboat Accessories > Boat Toilet
---
---
Dec 09, 17 05:08 PM

Looking for used sailboats for sale that are capable of crossing an ocean? These cruising yachts are already in the Caribbean, but what are the risks and benefits of buying out there?

Dec 09, 17 04:35 PM

After just two wonderful sailing seasons, we have made the difficult decision to sell our beautiful boat. The perfect live aboard cruising catamaran is

Nov 30, 17 04:43 PM

s/v 'Fox', a 2005 Melvin and Morelli design. Registered in Canada. Fully bluewater ready. 4 cabin version. 'Fox' is a beautiful and fast catamaran. She
---