Get Free Hot Water from a
Boat Water Heater
A boat water heater can usually be retro-fitted without too much difficulty, as long as your boat has a freshwater cooled engine. This type of marine engine, unlike a raw seawater cooled engine, has a separate closed system with its own header tank, which is then cooled by a freshwater/seawater heat exchanger.
The other requirement is for a pressurised domestic water system. A manually pumped system, laudable though it is, just won't do - but it's usually a straight forward affair to convert it to a pressurised system.
On a boat thus equipped, you can get that rare commodity; something for nothing - and you should take advantage of it.
Any boat that uses its engine fairly regularly produces hot water as a by-product of the combustion process, and it's free. Once you've shelled out for the equipment that is - which in this case is a boat water heater known as a marine calorifier.
This device is effectively an insulated heat exchanger, which plumbed into the engine cooling water system will transfer heat from the engine into the domestic water supply.
A typical hot and cold domestic water installation is shown in the illustration below.
How a Boat Water Heater System Works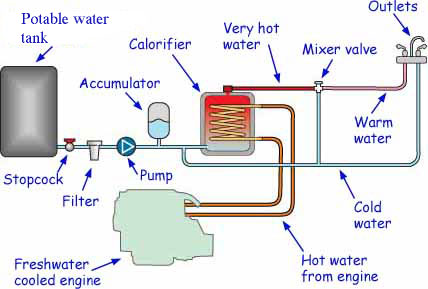 A boat water heating system with calorifier and accumulator tank
Artwork by Andrew Simpson
This system incorporates both a pump and an accumulator. Most water pressure pumps maintain steady pressure by cycling on and off, producing a pulsed delivery.
The accumulator tank, containing water and air - usually but not always separated by a diaphragm - absorbs this pulsation and provides steady flow. Some pump manufacturers now produce microprocessor-controlled variable-speed pumps which eliminate cycling and make the accumulator tank redundant.
The mixer valve operates thermostatically, introducing a metered amount of cold water into the outlet flow, thus maintaining regulated temperature and conserving hot water.
The pipework from the engine should be as short as possible to minimise heat loss, and should be installed lower than the level of the engines header tank.
Calorifiers are well insulated and will continue to provide warm water for an hour or two after the engine has been turned off, but if you haven't run the engine for a much longer period, turning on the hot tap won't produce the desired result.

Immersion-Type Water Heaters
Electric immersion heaters, much like the larger versions we're accustomed to at home, require AC power, so unless you've got a generator aboard their use is restricted to when you're alongside and hooked-up to an onshore supply.
Immersion heaters are often combined with a calorifier in a single unit.
The stainless steel Isotherm units shown here are the immersion/calorifier type and are equipped with a thermostat.
In immersion heater mode, they draw around 6.5A at 120V. 
---

Hot Water from the Sun!
Intended for campers, but perfect for sailors cruising in warm, sunny climes.
Cheap and effective - every cruising sailor should have a couple of these on board!

Gas Water Heaters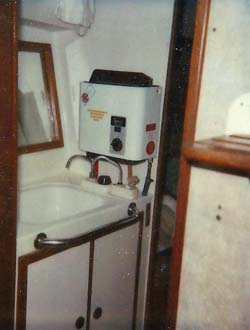 Not recommended - a gas water heater.
Bulkhead mounted gas water heaters like the one shown here are no longer popular on sailboats, many skippers believing that they're just too plain dangerous.
If you do decide to invest in one of these however, make absolutely sure that it has an automatic low gas pressure cut-off switch and a flame failure device fitted, and it's properly serviced and regularly maintained.
I used to have one on a previous boat - this one in fact, on my Nicholson 32 'Jalingo' and lived to tell the tale.
But would I have another? No, definitely not.
In fact I'm not even going to tempt you with an example.
My advice? Don't touch them, and if you've got one — get rid of it!
Jan 21, 23 01:37 PM

Here's where people with sailing equipment for sale advertise their stuff entirely free of charge. If you're looking for used sailing gear or other used boating accessories, here's where to find it!

Jan 21, 23 08:28 AM

The Hustler 35 sailboat is a hugely capable classic offshore cruiser. My 'Sea Wraith' has recently had an extensive mechanical and equipment refurbishment to ensure she is absolutely ready to take on…

Jan 11, 23 09:07 AM

Large, well-equipped cruising yachts of this size can cross oceans in relative comfort and speed, but you'll need deep pockets to operate and maintain them.
---