Understanding the
Prismatic Coefficient in Yacht Design
So, what exactly is the Prismatic Coefficient (or Block Coefficient as it's also known) and why do sailboat designers get so involved with it?
Well, hull drag and wave-making resistance isn't only a function of length and surface area; the shapes of the immersed fore and aft hull sections have an influence upon it too.
What is actually crucial is the rate of change of the cross-sectional areas of the hull.
A boat whose hull changes slowly will slip through the water easier and generate less wavemaking resistance than a hull with a rapid rate of change.
This is where the prismatic coefficient comes in; it's a measure of how quickly the cross-sectional area changes, or in sailing parlance, of how full or fine the ends are.
The coefficient is defined as 'the ratio of the immersed volume to the volume of a prism with its length equal to the waterline length and cross-sectional area equal to the maximum cross-sectional area' and is quantified as:~
Prismatic Coefficient (Cp) = V/(AxL)
Where:

V is the immersed volume of the hull in cubic feet
A is the maximum cross-sectional area in square feet.
L is the waterline length in feet.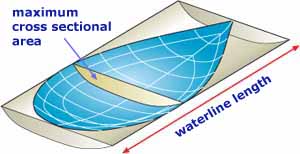 Factors affecting the Prismatic Coefficient
The Cp thus indicates the longitudinal distribution of the underwater volume of a yacht's hull.
But it doesn't end there...
The American Admiral David W Taylor discovered while working on warship design during the 1st World War that, for every speed/length ratio, there's an optimum Cp, as follows:
S/L Ratio

1.0 and below

1.1

1.2

1,3

1.4

1.5

1.6

1.7

1.8 and above

Cp

.525 (fine)

.54

.58

.62

.64

.66

.68

.69

.70 (full)
So for a displacement boat sailing at its maximum Speed/Length Ratio of 1.34, the optimum Cp is 0.63. But in light conditions most boats won't achieve anything like their hull speed, and so would be punished in these conditions by a Cp optimized for hull speed.
And herein lays the designer's dilemma, as his creation will sometimes be nudging along gently in light airs and at others blasting along at hull speed or beyond. Knowledge of the predominating conditions in the area that the boat is to be sailed will help him select the Cp.
It's something of a black art, based on technical knowledge and empirical guesswork - and having made his decision, he's likely to keep it very close to his chest.
For more on Cp and other design ratios, take a look at General Hull Form Equations...
Nov 22, 22 05:09 AM

Medium sized cruising yachts like these are often the sailboat of choice for short-handed crews, and if properly equipped and maintained, will take long offshore voyages in their stride.

Nov 22, 22 04:53 AM

Thinking of buying a Dehler 38 sailboat? Perhaps you should first take a look at these pics, specs and key performance indicators...

Nov 21, 22 06:22 AM

Thinking of buying a Moody 41 Classic sailboat? Perhaps you should first take a look at these pics, specs and key performance indicators...
---