The Best Saltwater Trolling Lures for Sailboat Fishing
There are a huge selection of saltwater trolling lures to choose from. Some of them are great fish catchers - others though, aren't. And some of them aren't best suited for fishing from a sailboat.
Unlike sport fishermen, we cruising sailors are not fishing for sport or profit - we just want to catch a delicious and nourishing fish to eat on passage.
Most of us won't have a vast collection of lures aboard to choose from; so we really do need to know which ones will get the job done. 

Saltwater Trolling Lures Best Suited for Fishing from a Sailboat -
What to Choose & What to Avoid...

1. Speed Range
We cruisers are likely to be moving through the water at speeds of 2 to 8 knots so it's vital that our lures are designed to operate within that range.
Some lures are designed for big game fishing which involves charging around at 12 knots or more. These are of no use to us; they won't wriggle enticingly at our more languid pace and are likely to be ignored entirely by our piscatorial prey. 
Often the designed operating speed can be found on the packaging, or less frequently on the lure itself. If in doubt, ask the dealer.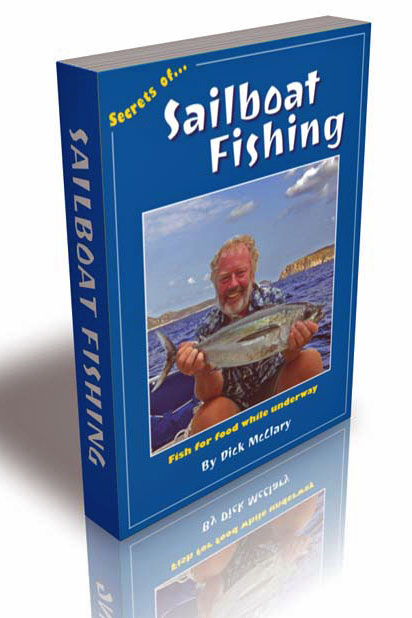 But the Right Lure is only part of the story...

2. Lure Size
I'm guessing that you won't be wanting the inconvenience of a huge denison of the deep sea thrashing around in the cockpit, particularly so if it's sporting a pointed bill or a razor sharp set of dentures.
Whilst it's true that one of these might snap up a small lure, it's more likely to consider it not worth the effort. 
Ideally, we want fish of 10 to 30lb or so. Lures of around 6" (150mm) will be fine for these. As a general rule, don't go smaller than 4" (100mm) or longer than 8" (200mm).

3. Lure Durability
We want lures that will catch fish time-and-time again, without getting badly beaten up or falling apart. For example, soft-plastic lures will definitely to catch fish, but it may well be just the one. A single chomp from a toothy critter such as a wahoo or barracuda and it's likely to be 'game over' for one of these - and they're expensive!
Jointed plugs are to be avoided too - often the engineering isn't as good as it might be. You're likely to be left with one half of the lure on the end of your line while your fish makes off with the other.
An exception is the skirted lure. Yes, the plastic skirt does get beaten up after it's been mauled by a few fish, but they are cheap and easily replaced - and they're too effective to be left out.

4. Hookability
Diving plugs (aka hard swimbaits) are very effective lures, but those fitted with a pair of treble hooks should be treated with a deal of respect. It's all too easy to get one of these embedded in your own finger, particularly when unhooking a lively fish.
Lures with a single hook are much safer to handle than those with multiple treble hooks, and are every bit as likely to get a secure hook-up.
In summary, to avoid disappointment...
Choose lures designed to operate within your boat speed range;
Choose lures under 8" (200mm) long;
Avoid Fragile lures, particularly expensive ones like soft-plastic swimbaits and jointed plugs;
Avoid lures sporting multiple treble hooks.

Examples of Trolling Lures You Should Have Aboard
Everyone has their favourites - these are mine.

Cedar Plugs
If you have just one lure aboard, make sure it's one of these.
A proven fish-catcher and pretty much indestructible.
The Cedar Plug is the absolutely must-have saltwater trolling lure for the cruising sailor.
---

Metal Spoons
Another indestructible fish-catcher - these are best fished slow and deep on a planer or downrigger gear.
This one is a Huntington Drone Spoon.
---

Skirted Lures
These are fitted with lure-heads of differing designs for various sea conditions.
The detachable skirts are cheap and easily replaceable.
This set of four is supplied in a lurebag.
---
And finally...
Having the right saltwater trolling lure is only part of it.
If you're interested in knowing...
how to make up a simple and effective trolling line;
how to decide on the best lure for the prevailing sea conditions, light levels, water clarity and your boat speed;
how far astern you should be towing it;
whether to troll it on or close to the surface or really deep down;
how to get the lure down deep without using a heavy lead weight on your trolling line;
how to attract fish to the vicinity of your boat and excite them into grabbing your lure;
how to catch good fish without spending a fortune on expensive tackle;
how to select the right gear for the job;
how to connect it together with the correct knots and properly made crimped connections;
...then you'll need to download my eBook 'Secrets of Sailboat Fishing'...
Sep 29, 23 05:38 PM

Sailing characteristics and performance predictions, pics, specifications, dimensions and those all-important design ratios for the Hanse 400 sailboat...

Sep 29, 23 03:17 AM

Interested in the Gulf 32 sailboat? Here are the pics, specs and performance predictions you're looking for...

Sep 28, 23 04:04 PM

Sailing characteristics and performance predictions, pics, specifications, dimensions and those all-important design ratios for the Fuji 35 sailboat
---