Why a Water Ballast System is Worth Thinking About
A water ballast system in a cruising boat? Not a concept the traditionalists are likely to accept unreservedly. But providing the boat isn't dependent on this for stability it can be very beneficial in a seaway.
Such a water ballast system was part of the design philosophy when we built our cruising boat Alacazam, where it just supplements the permanent ballast in the keel bulb providing additional weight to windward when required.
The water is carried in two tanks on each side at the extremity of the waterline beam, each capable of being independently filled and drained by two 12v electric pumps. This is well below the point of maximum beam, but provides substantial benefits.

Benefits of a Water Ballast System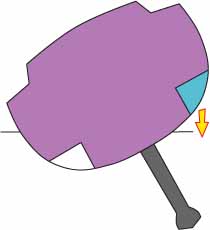 ---
Freshwater or Seawater Water Ballast?
Initially the cruising man in me was reluctant to forego the increased freshwater capacity that the ballast tanks could provide, so they were used to supplement the standard water tanks located close to, and either side of, the centreline.
However, after lugging over 1,000lbs of this additional water all the way across the Atlantic without using any of it, I converted it to a seawater system.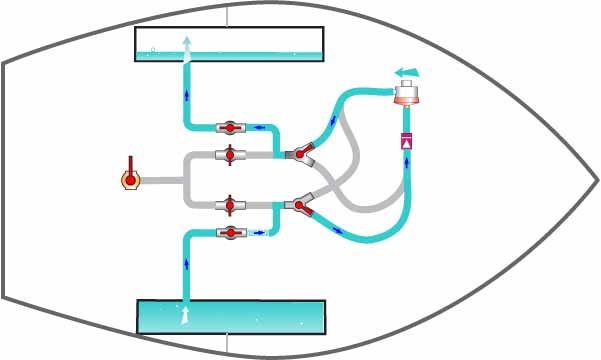 Now I can get rid of it and replace it as required, and think of it as adjustable displacement. Tacking is done by opening a couple of simple valves and switching on the appropriate transfer pump. The boat's then tacked in the normal way, and then when the transfer is complete, the valves are closed and the pump's switched off.
Hard on the wind, with both windward tanks full, Alacazam heels about 6 degrees less for the same sail area and wind strength than she otherwise would, and sails quicker as a consequence. The concentration of outboard weight in the centre section of the boat noticeably improves the fore-and-aft stability, and coupled with less heel, reduces pitch and roll appreciably, the increased displacement making the boat generally more comfortable.
As the wind moves aft, the forward tank is drained and when well off the wind both tanks are drained. Of course in a short-tacking situation, the valve turning and pump switching involved in swapping the water from one side to the other requires a lot more rushing about that I'm accustomed to, so we only use the water ballast system on long offshore tacks.
The downside is that the tanks and the plumbing take up space that could otherwise be used for stowage, but there's no doubt that a moderate degree of water ballast in a light-ish displacement cruising yacht can improve both her performance and crew comfort.

Jan 21, 23 01:37 PM

Here's where people with sailing equipment for sale advertise their stuff entirely free of charge. If you're looking for used sailing gear or other used boating accessories, here's where to find it!

Jan 21, 23 08:28 AM

The Hustler 35 sailboat is a hugely capable classic offshore cruiser. My 'Sea Wraith' has recently had an extensive mechanical and equipment refurbishment to ensure she is absolutely ready to take on…

Jan 11, 23 09:07 AM

Large, well-equipped cruising yachts of this size can cross oceans in relative comfort and speed, but you'll need deep pockets to operate and maintain them.
---