Yacht Services Trinidad & Tobago
Yacht Services & Facilities in Trinidad & Tobago
The availability of a variety of yacht services on Trinidad is largely a result of its location south of the path of summer hurricanes.  It used to be that many Caribbean cruisers sailed their boats south to be laid-up ashore in one of the boatyards there as a result of a clause in their insurance policies making it wise to do so.
Recently, a change in our insurers attitude to risk allows us to lay our boats up throughout the summer throughout the Eastern Caribbean providing certain measures are taken, so fewer of us are compelled to make the annual trip south to this hot and humid island purely on the basis of insurance requirements.
However the yacht services and facilities in Trinidad still match those of anywhere in the Eastern Caribbean, and their prices are extremely competitive. As a result, Trinidad can offer the cruising yachtsman a great deal...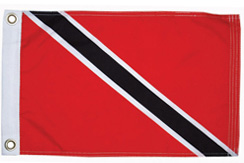 National Flag of Trinidad & Tobago
Currency: Trinidad and Tobago dollar (TT$)
Language: English
International Dialing Code: +1 (868)
Ports of Entry: Chaguaramas (Trinidad), Scarborough & Charlotteville (Tobago)
---
Click on any one of the following to find an on-island provider:~

If the particular Yacht Service or Facility that you're looking for isn't shown here, it means that it probably isn't available on this island. If you know differently, then please let us know...

Boatyards & Marinas
Trinidad:
Coral Cove Marina: ph 868-634-2040
Crews Inn: ph 868-634-4384;
IMS Yacht Services: ph 868-634-4328;
Peake Yacht Services: ph 868-634-4420;
Power Boats: ph 868-634-4303; More info...
Sweet Water Marina: ph 868-634-4046;
Tropical Marine: ph 868-634-4502;
Tobago:
None known
---
Power Boats
Location: Chaguaramas Bay, Trinidad;.
Phone: (868) 634-4303; Fax: (868) 634-4327;
Services & Facilities: Power Boats are a full service, secure boatyard with long and short term storage ashore for sailboats and powerboats. All yacht services and facilities listed above are available either within the yard or close by. Wifi is available throughout the compound, and there are six self-contained, air conditioned rental apartments for those who wish to get off their boats.
Website: powerboats.co.tt
email: pbmfl@powerboats.co.tt
---
---

Chandleries & Fishing Gear Suppliers
Trinidad:

3M Interamerica Inc: ph 868-623-8917;
Boaters Shop: ph 868-634-2628;
Budget Marine: ph 868-634-2006;
Dockyard Sales and Service: ph 868-634-4272;
L.P. Marine & Industrial Supplies: ph 868-633-3395;
Marine Warehouse: ph 868-634-4150;
Marc One Marine Supplies: ph 868-634 2259
Peake Chandlery: ph 868-634-4388;
Peake Yacht Services: ph 868-634-4420;
Tobago:
None known
---

Diesel Mechanics
Trinidad:

Desi Mc Intosh: ph 868-634-1268;
Dockyard Mechanics: ph 868-634-4272;
Gittens Engine Sales & Services: ph 868-634-2304;
Goodwood Marine: ph 868-634-2203
Marine Power Services: ph 868-672-8355;
Placid Lawrence: ph 868-730-4036;
Raymond Kernahan: ph 868-732-0337;
The Boatyard: ph 868-634-4536;
Trintrac: ph 868-672-5329

Yacht Maintenance Services: ph 868-634-1165;
Tobago:
None known
---

Dinghy Repair & Liferaft Services
Trinidad:

Caribbean Safety Products: ph 868-636-1732;
Marine Consultants: ph 868-625-1309;
Marine Safety Equipment Service & Sales: ph 868-634-4410;
Maxwill Inflatable Work: ph 868-735-5634;
Tobago:
None known
---

Dive Centres

Trinidad:

Rick's Dive World: ph 868-634-3483
Tobago:
None known
---

Electrical & Electronic Services
Trinidad:

Caribbean Marine Electrical: ph 868-634-2359;
Dockyard Electrics: ph 868-634-3280;
Dockyard Electronics: ph 868-634-4272;
Kiss Energy Systems: ph 868-634-4929;
Revtech: ph 868-774-1901;
Sure Power: ph 868-757-0771
T & T Marine Electrical: ph 868-634-1042;
Tobago:
None known
---

Gas Bottle Refills

Trinidad:

Ian Taxi: ph 868-632-7833;
Tobago:
None known
---

Hull Painting and Brightwork Specialists
Trinidad:

Anthony Penn: ph 868-778-7913;
Awon's Marine Services: ph 868-682-5584;
Boatwords and More: ph 868-731-4483;
Classic Yacht Service: ph 868-798-5190;
Clinton Brewster: ph 868-633-4393;
Garth Walker Yacht Repairs: ph 868-762-5159;
Julius Mills: ph 868-739-6446;
Kent Andrews: ph 868-743-7881;
KNJ Marine Services: ph 868-634-1021;
Laine Company Boatworks Ltd: ph 868-685-3308;
La Serena Varnish Works: ph 868-689-1433;
Lester Lewis: ph 868-687-6483;
Marcus Joseph: ph 868-755-4696;
Michelle Matthews: ph 868-743-7881;
Rainbow Company: ph 868-681-7437;
Rawle's Boat Painting: ph 868-681-7437;
Richard Varnishing Services: ph 868-682-3370;
Ricky Denoon: ph 868-777-6995;
Taylor's Varnishing: ph 868-760-3667;
Vessel Integrity Preservation: ph 868-634-4327;
Yacht Maintenance Services:  ph 868-634-1165;
Tobago:
None known
---

Hull Repair & Gelcoat Specialists
Trinidad:

Barker Gelcoat Restoration: ph 868-694-0064;
Boatwords & More: ph 868-731-4483;
Caribbean Carbon Works: ph 868-497-4964
Garth Walker Yacht Repairs: ph 868-762-5159;
Industrial Marine & Control Specialist: ph 868-681-4434;
KNJ Marine Services: ph 868-634-1021;
Marc One Marine Supplies: ph 868-634-2259;
Yacht Maintenance Services: ph 868-634-1165;
Tobago:
None known
---

Laundries for Cruisers
Trinidad:

Chin's Laundry & Dry Cleaning Services: ph 868-622-3733;
Master's Laundrys: ph 868-634-1294;
Tobago:
None known
---
Trinidad:

The Boatyard: ph 868-634-4536;
Trintrac: ph 868-672-5329;
Tobago:
None known
---

Refrigeration and Air Conditioning Engineers
Trinidad:

Coast to Coast Services: ph 868-625-9712;
Cold Keate: ph 868-766-6541;
Marine Refrigeration & Aircon Services: ph 868-620-7312;
Nau-T-Kol Marine Refrigeration: ph 868-634-2174;
Tobago:
None known
---

Rigging Services
Trinidad:

Billy's Rigging: ph 868-634-4161;
Thomas & Sons: ph 868-623-4280;
Trinidad Rigging: ph 868-634-2227;
Tobago:
None known
---

Sailmakers,  Canvaswork & Upholstery
Trinidad:
Ace Sails and Canvas: ph 868-634-1521;
Alpha Upholstery and Canvas: ph 868-683-1713;
Barrow Sail Loft: ph 868-634-4137;
Calypso Marine Canvas: ph 868-634-4010;
Dynamite Marine: ph 868-634-4269;
Eniath's Upholstering: ph 868-665-5825;
Jimmy Aboud: ph 868-625-2904;
Marine & General Upholsterers: ph 868-633-4645;
North Sails: ph 868-634-4868;
Radica Trading: ph 868-627-2315;
Rahaman's Upholstery Supplies: ph 868-657-7400;
Shah's Upholstery Centre: ph 868-640-0242;
Superb Sails & Canvas Works: ph 868-634-2746;
Superb Sails & Canvas Works: ph 868-634-2747;
The Upholstery Shop: ph 868-634-4143;
Thomas & Sons: ph 868-623-4279;
Ullman Sails: ph 868-634-4178; 
Webster's Canvas Works & Upholstery: ph 868-758-2956;
Tobago:
None known
---

Shipwrights & Carpenters
Trinidad:

A & G Yacht Works: ph 868-634-1206;
Austal: ph 868-222-9055;
Craftline Woodworking: ph 868-349-6680;
Fortress Woodworking: ph 868-634-4510;
John Francois Woodworking: ph 868-634-2066;
Laine Company Boatworks Ltd: ph 868-685-3308;
Master Yachts Carpenter & Cabinet Maker: ph 868-664-8431;
Same Crew Woodworking: ph 868-779-1232;
Soca Sailboats: ph 868-627-0092;
The Ship's Carpenter: ph 868-634-2205;
Tobago:
None known
---

Watermaker Services
Trinidad:

Echo Marine: ph 868-634-2027;

Tobago:
None known
---

Welding & Stainless Steel Fabrication
Trinidad:

Barrow Sail Loft: ph 868-634-4137;
Chaguaramas Metal Works: ph 868-634-1164;
Equipment and Supply: ph 868-657-8838;
KJ Welding Supplies: ph 868-632-6824;
MDG Welding Services: ph 868-634-4025;
Superior Machine Shop & Engineering Works: ph 868-653-1870;
Trincity Chrome: ph 868-663-6692;
UAL Weldequip: ph 868-675-3473;
West Coast Fabricators & Welders: ph  868-743-6913;
Tobago:
None known
---

Yacht Management & Guardianage
Trinidad:

Chute D'eau Marine: ph 868-634-1231;
Goodwood Marine: ph 868-634-2203;
Tobago:
None known
---

Yacht Surveyors
Trinidad:

Associated Marine Design: ph 868-634-1671
Billy's Rigging: ph 868-634-4161
Chute D'eau Marine: ph 868-634-1231
Taylor Engineering Agencies: ph 868-632-0506
Tobago:
None known
---
Jan 22, 21 07:45 AM

'WYRD' is a 1981 Tartan 37. This classic Sparkman & Stephens design performance cruiser, hull #309 is a clean example of one of the most desirable Tartan's

Jan 20, 21 04:25 AM

Here's where people with sailing equipment for sale advertise their stuff entirely free of charge. If you're looking for used sailing gear or other used boating accessories, here's where to find it!

Jan 18, 21 04:55 AM

'About Time', a centreboard version of the Sabre 38, is the perfect combination of a racer-cruiser that can take you around to the Florida Keys, the Bahamas,
---