The Alden 50 Sailboat

Specs & Key Performance Indicators
The Alden 50, a heavy displacement cruiser, was designed and built in the USA by Alden Yachts.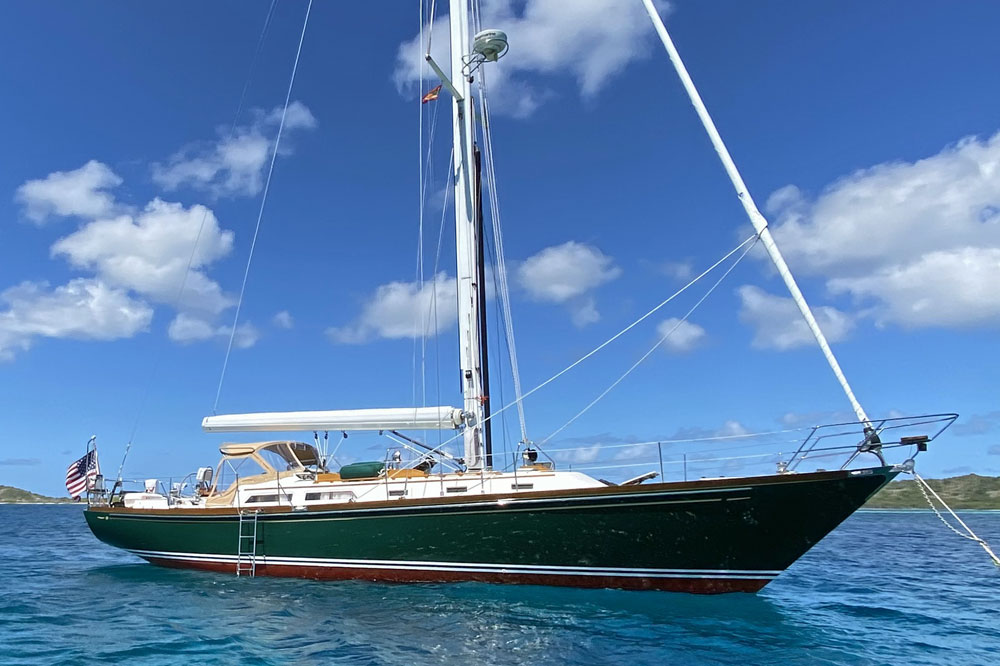 An Alden 50
Published Specification for the Alden 50
Underwater Profile: Stub keel with centreboard, and skeg-hung rudder
Hull Material: GRP (Fibreglass)
Length Overall: 50'4" (15.3m)
Waterline Length: 37'1" (11.3m)
Beam: 13'6" (4.1m)
Draft: max 10'4" (3.2m), min 5'6" (1.7m)
Rig Type: Masthead sloop
Displacement: 38,000lb (17,237kg)
Designer: Alden Yachts
Builder: Alden Yachts (USA)
Year First Built: 1996
Year Last Built: 1998
Number Built: 3
Published Design Ratios for the Alden 50
1. Sail Area/Displacement Ratio: 15.5

Less than 16 would be considered under-powered;
16 to 20 would indicate reasonably good performance;
Over 20 suggests relatively high performance.
2. Ballast/Displacement Ratio: 42.9
Under 40: less stiff, less powerful
Over 40: stiffer, more powerful
3. Displacement/Length Ratio: 333
Under 100: Ultralight
100 to 200: Light
200 to 275: Moderate
275 to 350: Heavy
Over 350: Ultraheavy
4. Comfort Ratio: 44.7
Under 20 indicates a lightweight racing boat
20 to 30 indicates a coastal cruiser
30 to 40 indicates a moderate offshore cruising boat
40 to 50 indicates a heavy offshore boat
Over 50 indicates an extremely heavy offshore boat
5. Capsize Screening Formula: 1.6
Under 2.0 (the lower the better): Better suited for ocean passages
Over 2.0: Less suited for ocean passages
Summary Analysis of the Design Ratios for the Alden 50
1. A Sail Area/Displacement Ratio of just 15.5 suggests that the Alden 50 will need a stiff breeze to get her going. In light conditions, unless you've got plenty of time on your hands, motor-sailing may be the way to go.
2. A Ballast/Displacement Ratio of 42.9 means that the Alden 50 will stand up well to her canvas in a blow, helping her to power through the waves.
3. A Displacement/Length Ratio of 333, tells us the Alden 50 is clearly a heavy displacement cruising boat. You can load her down with all your cruising gear and equipment and it will hardly affect her waterline. Not an ideal choice for coastal sailing, but she'll come into her own on an offshore passage in testing conditions.
4. Ted Brewer's Comfort Ratio of 44.7 suggests that crew comfort of a Alden 50 in a seaway is similar to what you would associate with the motion of a heavy bluewater cruising boat. Pitching and rolling will be well damped - your cup of coffee on the salon table stands a reasonable chance of staying there in most conditions.
5. The Capsize Screening Formula (CSF) of 1.6 tells us that an Alden 50 would be a safer choice of sailboat for an ocean passage than one with a CSF of more than 2.0. 
Cruisers' Questions
That's an interesting question. There are different types of keels that have different advantages and disadvantages depending on your sailing goals and preferences. Here are some pros and cons of a stub keel with a centerboard versus a fin keel:

A stub keel with a centerboard allows you to adjust the draft of your boat by raising or lowering the centerboard. This can be useful for sailing in shallow waters or beaching your boat. A fin keel has a fixed draft that limits your access to some areas.
A stub keel with a centerboard may have less performance than a fin keel, especially when sailing upwind. A fin keel offers better lateral resistance and stability, which translates into higher speed and less leeway. A stub keel with a centerboard may also create more drag when the centerboard is down.
A stub keel with a centerboard requires more maintenance and complexity than a fin keel. You need to operate the mechanism that controls the centerboard, which may involve ropes, pulleys, winches, or hydraulics. A fin keel is simpler and more robust, as it is bolted to the hull.
A stub keel with a centerboard may take up some space inside the boat, depending on how the centerboard is stored when raised. A fin keel does not affect the interior volume of the hull.

As you can see, there is no definitive answer to which keel type is better. It depends on your sailing style, preferences, and needs. Some sailors prefer the versatility and shallow draft of a stub keel with a centerboard, while others prefer the performance and simplicity of a fin keel.
John G. Alden was a naval architect who opened his design office in 1909 and became famous for his fast and seaworthy offshore boats. He designed a broad range of boats and yachts, many of which have become true classics. Some of his best-known sailboat designs are:

The Malabar series, which won many offshore races between 1923 and 1932.
The Sakonnet One-Design, which was designed for the Sakonnet Yacht Club, where Alden learned how to sail.
The Cheoy Lee Offshore series, which were built by Cheoy Lee Shipyards in Hong Kong and became popular cruising boats.
The Boothbay Challenger and Boothbay Explorer, which were large ketch-rigged motor sailers that combined comfort and performance.
Other sailboats in the Alden range include:
Nov 29, 23 08:35 AM

Here's where people with sailing equipment for sale advertise their stuff entirely free of charge. If you're looking for used sailing gear or other used boating accessories, here's where to find it!

Nov 10, 23 02:34 AM

My 47' Cheoy Lee sailboat is for sale. Designed by Bill Luders, she is a beautiful and functional liveaboard cruising yacht.

Oct 30, 23 04:22 PM

This article explores the journey of chartering a sailing yacht, from the initial planning stages to the final touches. It provides insight into the joys and challenges of embarking on a voyage of dis…
---