The Biscay 36: A Classic Bluewater Cruiser

Specs & Key Performance Indicators
If you are looking for a traditional, sturdy and comfortable cruising yacht that can take you across oceans, you might want to consider the Biscay 36. This sailboat was designed by Alan Hill and built in the UK by Robert Ives Ltd and Falmouth Boat Construction Ltd from 1974 to 1990. Only 29 units were produced, making it a rare and sought-after boat among long-distance sailors.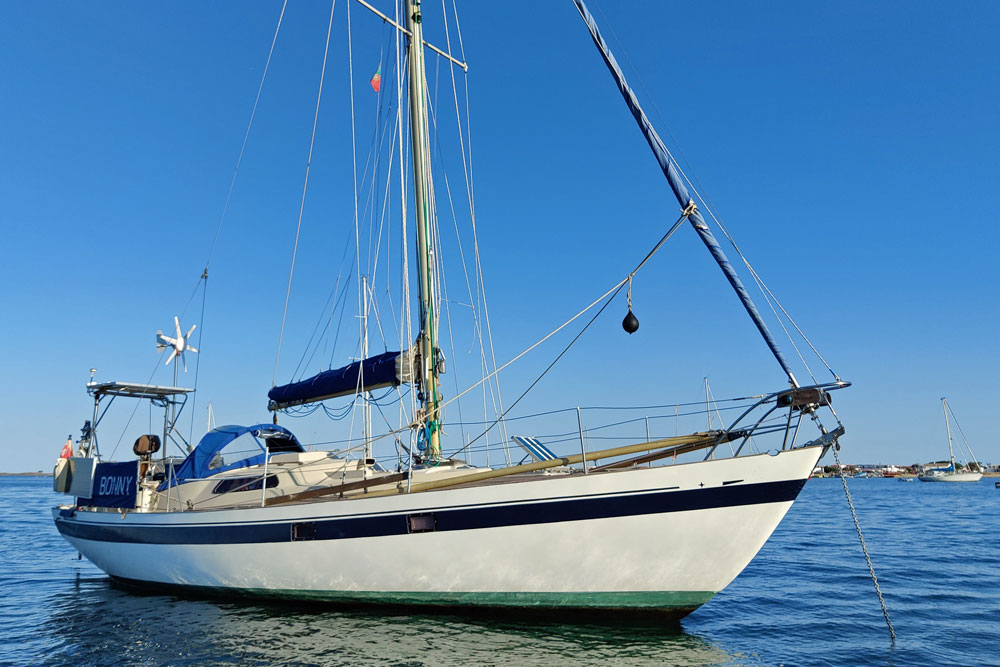 A Biscay 36 Sloop
Published Specification for the Biscay 36

Underwater Profile: Long keel
Hull Material: GRP (Fibreglass)
Length Overall: 35'11" (11.0m)
Waterline Length: 27'0" (8.2m)
Beam: 10'9" (3.3m)
Draft: 5'9" (1.8m)
Rig Type: Masthead sloop*
Displacement: 15,680lb (7,112kg)
Designer: Alan Hill
Builder: Robert Ives Ltd together with Falmouth Boat Construction Ltd. (UK)**
Year First Built: 1974
Number Built: 29
* Also available as a ketch
** Robert Ives Ltd created the deck & hull mouldings, fitting out and completion by Falmouth Boat Construction Ltd.
---
Published Design Ratios for the Biscay 36
1. Sail Area/Displacement Ratio: 14.6
2. Ballast/Displacement Ratio: 42.2
3. Displacement/Length Ratio: 356
4. Comfort Ratio: 34.3
5. Capsize Screening Formula: 1.7
Summary Analysis of the Design Ratios for the Biscay 36
1. A Sail Area/Displacement Ratio of just 14.6 suggests that the Biscay 36 will need a stiff breeze to get her going. In light conditions, unless you've got plenty of time on your hands, motor-sailing may be the way to go.
2. A Ballast/Displacement Ratio of 42.2 means that a sailboat like the Biscay 36 (which doesn't have a stiffness-enhancing bulb keel), is likely to benefit from being reefed early to keep her sailing upright in a moderate breeze.
3. A Displacement/Length Ratio of 356, tells us the Biscay 36 creeps into the ultra-heavy displacement category. Load her up as much as you like and her performance will be hardly affected, not that it was ever startling. Few if any sailboats are built to this displacement category these days - but they remain popular with some long-distance sailors.
4. Ted Brewer's Comfort Ratio of 34.3 suggests that crew comfort of a Biscay 36 in a seaway is similar to what you would associate with the motion of a moderate bluewater cruising boat - a predictable and acceptable motion for most seasoned sailors.
5. The Capsize Screening Formula (CSF) of 1.7 indicates that a Biscay 36 would be a safer choice of sailboat for an ocean passage than one with a CSF of more than 2.0. 
---
Any Questions?
No, the Biscay 36 is not in production anymore. The last boat was built in 1990 after a construction run of only 29 units
The Biscay 36 was built by two companies: Robert Ives Ltd and Falmouth Boat Construction Ltd. Robert Ives Ltd created the deck and hull mouldings, while Falmouth Boat Construction Ltd did the fitting out and completion. Robert Ives Ltd was founded in 1969 by Robert Ives, a former naval architect who worked for Camper & Nicholsons. The company specialized in building high-quality fiberglass yachts, such as the Cygnus range. Robert Ives Ltd ceased trading in 1992. Falmouth Boat Construction Ltd was established in 1974 by John Peake, a former employee of Robert Ives Ltd. The company continued to build custom yachts until 2013, when it was acquired by Falmouth Boat Co., which still operates today as a boat repair and maintenance service.
The Biscay 36 was available as either a ketch or a sloop. The main mast is supported by two sets of spreaders and shrouds on each side. The mizzen mast is shorter and has no spreaders.
The Biscay 36 has only one keel option: a long keel. This means that the keel extends along most of the length of the hull, the aft end of which supports the rudder. 
The Biscay 36 is not a performance-oriented boat, but rather a comfortable and safe cruiser. It has a heavy displacement of 15,680lb (7,112kg), which makes it slow to accelerate and hard to manoeuvre in tight spaces. It also needs a good breeze to get going, as its sail area/displacement ratio is only 14.6. However, once underway, it sails smoothly and steadily, with little heel or motion. It can handle rough seas and strong winds well, thanks to its high ballast/displacement ratio of 42.2 and its low capsize screening formula of 1.7. It is also easy to balance with its ketch rig, which allows adjusting the sail area according to the conditions.
The price of a secondhand Biscay 36 may vary depending on its condition, equipment and location. According to Yachtworld, the current listings range from £29,950 to £49,950, with an average of £39,950. However, these prices may not reflect the actual market value, as the Biscay 36 is a rare and desirable boat that may sell quickly or privately.
The designer of the Biscay 36 was Alan Hill, a British naval architect who worked for several yacht builders and magazines. He designed many other sailboats, such as the Trident 24, the Trident Challenger 35, the Trident Voyager 35, the Trident Warrior 35, the Trident Warrior 40, the Trident Venturer 38, the Trident Venturer 40, the Trident Venturer 44 and the Trident Venturer 50.
The above answers were drafted by sailboat-cruising.com using GPT-4 (OpenAI's large-scale language-generation model) as a research assistant to develop source material; to the best of our knowledge, we believe them to be accurate.
---
Sep 30, 23 11:02 AM

Experience luxury and performance with our Bavaria 44AC sailboat! With its well-crafted interiors, state-of-the-art navigation gear, spacious layout, and robust sailing capabilities, it's perfect for…

Sep 29, 23 05:38 PM

Sailing characteristics and performance predictions, pics, specifications, dimensions and those all-important design ratios for the Hanse 400 sailboat...

Sep 29, 23 03:17 AM

Interested in the Gulf 32 sailboat? Here are the pics, specs and performance predictions you're looking for...
---